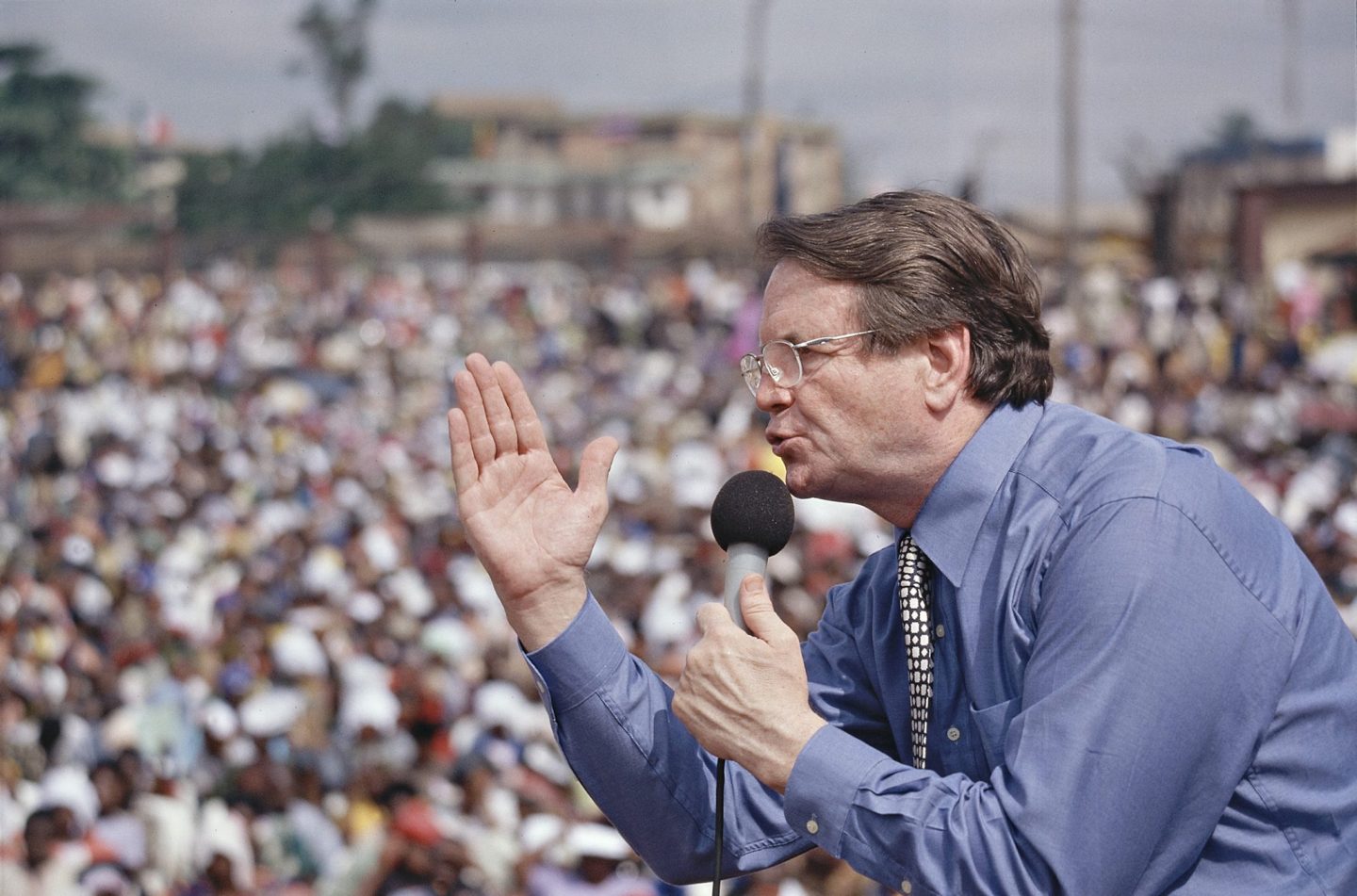 God told Reinhard Bonnke: "You will plunder hell to populate heaven for Calvary's sake." The Pentacostal evangelist was called home to be with the Lord on Saturday, December 7, 2019. He is survived by his wife, Anni, three adult children and eight grandchildren. Photo from Evangelist Bonnke's official Facebook page.
And the God of abundance gave Reinhard Bonnke 79 million instead.
For 60 years, he preached the Gospel with fiery passion and unabated urgency, and is credited with having led 79 million people to Christ.
In a July 2015 post on the Christ for All Nations (CfAN) Facebook page, Bonnke related:
"First and foremost He is a Savior. The Bible is all about Him saving. In my young years in Africa God asked me what I wanted, but it was to see if I wanted what He wanted. I knew of course what that was – souls to be saved. He knew my heart and gave me the chance to choose. This was a defining moment. I said, 'Lord I am not asking for a million dollars but for a million souls.' Immediately the answer from heaven came: 'You will plunder hell to populate heaven for Calvary's sake.' In the years to follow I have seen tens of millions of souls saved. May it stir your heart to do the same."  
Even after retirement, the Pentecostal evangelist and founder of Christ for All Nations (CfAN) continued to urge fellow believers to reach out to others.
"Today is always the most opportune day. The Holy Spirit is never on vacation," he wrote on his Facebook page less than two months before his passing.
On Saturday, December 7, 2019, Bonnke completed his race.
"Today is always the most opportune day. The Holy Spirit is never on vacation."
In a press release on his death, Brian Houston, Senior Pastor of Hillsong Church, said: "I love the way salvation resonates in his spirit, whether he's on a platform speaking to millions or behind the scenes having a chat – Jesus is always on his lips."
While Bonnke's ministry was mostly focused in Africa — he once held a crusade in Lagos, Nigeria, attended by 1.6 million people — his gargantuan influence extended far beyond the continent. 
It was felt here in Singapore, too.
In December 1985, with the help of seven local churches, Bonnke held a five-day crusade at the old National Stadium, which was packed by crowds of up to 50,000 at each service. By the end of the event, at least 7,000 had decided to give their lives to Christ.
An excerpt about the Singapore crusade from the book, Plundering Hell to Populate Heaven: The Reinhard Bonnke Story, written by former journalist Ron Steele, reads:
"On the night Reinhard preached on the baptism of the Holy Spirit, thousands experienced the reality of this wonderful Bible promise. Never before have we heard an entire stadium full of people singing in tongues," was the amazed comment of one Chinese organiser.
"An odd thing happened during that service. As Reinhard preached on the Holy Spirit, a large white bird suddenly flew into the middle of the stadium and hovered all the while within the arcs of the powerful floodlights.
"'It is a sign from God! The Holy Spirit is here,' people whispered to each other in the stands. As cripples jumped out of wheelchairs and cancers disappeared, the comment was heard over and over, 'This is a breakthrough for Singapore.'"
Following Bonnke's passing on December 7, Christian leaders swiftly offered tributes to his life and the impact he had made in Singapore and around the world:
Pastor Yang Tuck Yoong, senior pastor, Cornerstone Community Church:
"In 1998, it was my first time I met the evangelist and I remember — we were having lunch, a few of us — and he looked at me over the lunch and he said, 'I want to pray for you, young man.' And he laid hands on me and prophesied over my life. That really launched me, I would say, into who I am today. And I think that he is one of two of the greatest influences in my life, together with my spiritual father, Dr Brian Bailey. Reinhard Bonnke played a major role in my life. 
"We hosted him in 2002 for our fire conference here and that's where I got that fire — hallejujah — and, you know, Reinhard was the original fire starter here.  
"Today we want to salute a very, very great man in our generation. I think, apart from Billy Graham he's led more people to Christ than anybody else that I know. You know, when you go to Nigeria, to the cities of Nigeria, they have a saying, it's: 'Are you post-Reinhard Bonnke or pre-Reinhard Bonnke?', because every time Reinhard Bonnke crusades come to a city in Africa, in Nigeria, the percentage of Christianity skyrockets, and so he's made a tremendous impact in Africa and also in all our lives and we will miss him.
"I will miss him. I've really been cultivating this amazing friendship with him, you know, just writing to him and him just responding with such great love and care. He said, 'Pastor Yang I want to come to Wales and I want to speak at the Bless Wales Conference.' And it's sad that we will not have him in Wales, but we will see him in heaven."
Pastor Derek Hong, senior pastor, Good Gifts City Church and City Missions Church:
"Reinhard Bonnke was always an inspiration and challenge to the Body of Christ. His passion to 'plunder hell and populate heaven' resonates within whenever I interact with pre-believers. May his legacy energise us to do the work of an evangelist (2 Timothy 4:5)."
Mr Thio Gim Hock, evangelist and chief executive of real estate company OUE:
"Bonnke is one of God's generals of faith. He preached an uncompromising Gospel and has seen millions come into the kingdom. Only a few months ago he was in Singapore and we fellowshipped, and you can sense the fire still burning in him. He has his well-deserved rest and I dearly would like to be like him when I go."
Dr Suzette Hattingh, founder of missions agency Voice in the City, former evangelist at CfAN:
"To many, he was a legacy and indeed what an amazing legacy he was. To others, (he was) the most amazing evangelist of our time, and indeed he was just that and much more! To me, he was all of that, but most of all my dad, my mentor and earthly father (who) I called at all times during good and bad times! How often (I called) my dad from across the world just to say 'hi', to share, pray, laugh, cry … or just to share … He was my dad through hard times and good times.
"But when the eyes of the master eagle gets dim, eyes that were so sharp, wings folding, wings that mounted up on the wind of the Spirit, flying the heights of God, the eagle goes to the Master Eagle … to his prepared home in eternity … worshipping his King."
Evangelist Daniel Kolenda, president and CEO of CfAN, Bonnke's successor:
"Evangelist Bonnke drew some of the largest live audiences in history. In November of 2000, at a single meeting in Lagos, Nigeria, 1.6 million attendees heard him preach the truth of salvation through faith in Jesus Christ. From big cities to the bush, in deserts, jungles and savannahs, similar crowds assembled in almost every nation in Africa.
"It wasn't Reinhard Bonnke's speaking alone that drew the masses. The multi-day events were always marked by the miracle-working power of God. From the start of his ministry in 1967 to his last Gospel campaign in 2017, thousands upon thousands were healed. The creative work of the Holy Spirit dissipated cancers, opened blind eyes, reset broken minds and shook the Church to once again believe for the 'greater works' promised by Jesus Himself.
"Those who knew him off-stage can testify to his personal integrity, genuine kindness and overflowing love for the Lord. His ministry was inspired and sustained by his rich prayer life, his deep understanding of the Word and his unceasing intimacy with the Holy Spirit."