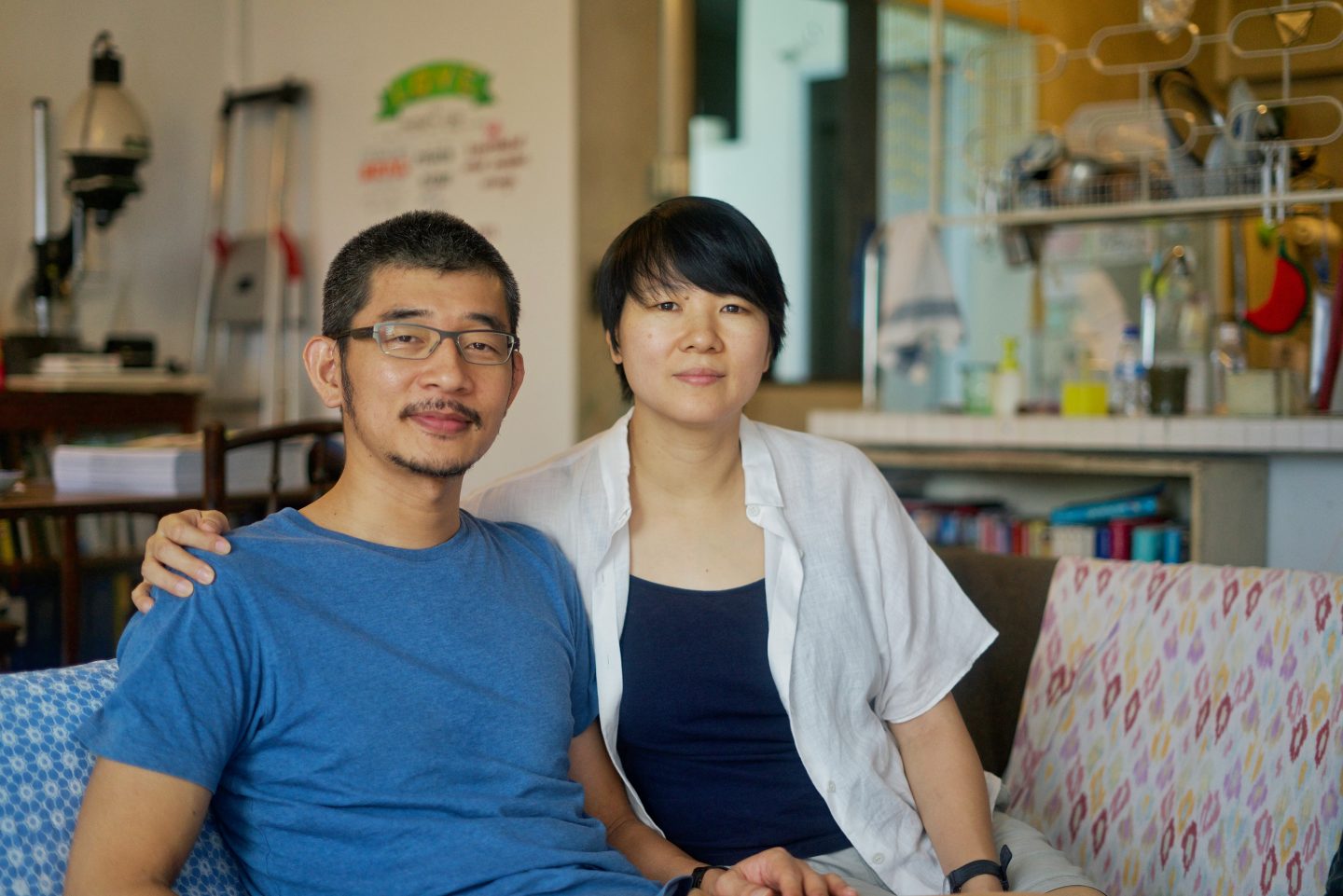 Eitaro Ogawa (left) and Tamae Iwasaki (right) in their home. The couple found Christ in 2004 through an Alpha programme. Photo by Rachel Phua.
It won't take you long to notice the chemistry that Eitaro Ogawa and Tamae Iwasaki enjoy. The couple live and work together, previously at the Singapore Tyler Print Institute (STPI) and now as the duo behind art group Keyakismos. 
On the Thursday morning they meet Salt&Light, they are bright and cheery in their own home at Bukit Panjang, riffing off each other from across their dining table, made from an old wooden door.
Tamae: "Once I had a strong sense that we had to leave our jobs. I told Eitaro. He wasn't as sure, and asked, 'When?' I said, 'NOW…'"
Eitaro: "She's dangerous."
#relationshipgoals
Love lost and found
But the once self-proclaimed "best couple", both 45, has not always had it this good over the course of their 18-year marriage. There was a whirlwind proposal, an affair and talk of divorce.
Eitaro and Tamae both entered their relationship with personal baggage.
Tamae had multiple boyfriends and girlfriends growing up – three- to four-month relationships that hinged on sexual attraction. A string of events had taught her not to trust anyone: Molested at four, she became a bully-turned-bullied in primary school, and saw her parents divorce at 18.
Eitaro, meanwhile, was addicted to pornography, and already in a relationship.
But like star-crossed lovers, the couple's attraction was instantaneous. Eitaro and Tamae met in art school, becoming close friends over the course of three months, starting with a ten-hour phone call. Then, Tamae unexpectedly cut off all contact when she realised Eitaro liked her, although she thought of him as just a really close 'bro'. She did not want another complicated relationship.
But their friendship left a deep impression on Eitaro. Five years later, he successfully reestablished contact with Tamae. She had been pursuing further studies in Europe, but happened to be back in Japan for a few months when he called.
Tamae, who was used to living life led by her emotions, said: "It was strange, but when we met, I immediately knew I was going to marry him."
Eitaro jokingly interjects: "I'm a little bit worried now."
By their third meeting, the pair exchanged rings bought off the streets for ¥2,000 – about S$25 – right before Tamae flew back to Portugal.
Ten months later, in 2000, they were newlyweds.
Who is Jesus?
Eitaro and Tamae, artists by trade, moved to Singapore in 2001 after both of them secured a job at the Singapore Tyler Print Institute. In 2004, they were invited to two separate Alpha sessions. Tamae was adamant about not attending, having seen friends sucked into cults. But she reluctantly tagged along as her husband was keen.
Eitaro tells me that he had always been curious about spiritual matters, reading books on New Age religion, Buddhism and Islam. But the concept of a Man who declared that He came to tell the Truth fascinated him. 
"One of the biggest barriers to Christianity is the idea of Jesus, I think. Many people agree that there is a God, but what stumbles them is, 'Why must we believe in Jesus?'"
As Eitaro dug deeper into Christianity, Jesus struck him as a profound character. 
"Other religious teachers and philosophers see a problem in life and went out on a limb to find the answer. Great, that's like me, like Socrates," he says.
"But Jesus is different. He said, 'I'm telling you the Truth'. He doesn't just guess what the Truth is. He knows and he states it." 
"Jesus is different. He said, 'I'm telling you the truth'. He knows and he states it."
Eitaro gives the example of the woman who was caught in adultery (John 8:1-11). She had broken the law and the Pharisees wanted to stone her. They brought her to the feet of Jesus, hoping to implicate him as well.
Jesus answered in a way that astonished Eitaro when he read the passage: "'Let any one of you who is without sin be the first to throw a stone at her.' (John 8:7) He had not broken the law. At the same time, he demonstrated forgiveness."
Eitaro fell in love with Jesus. On a weekend away with his Alpha mates, he had to make a choice.
"When I went up and said, 'I believe', I started to cry non-stop. At that moment, I was convinced He was the one I'm looking for." 
To his surprise, Tamae was standing next to him, also in tears. 
Love put through the test 
Life carried on. Husband and wife grappled with what faith entailed. Tamae hated going to church. She went along every Sunday just to appease Eitaro. But inside, she felt like the church community was an inauthentic bunch, holding up a pretence that all is well.
For many years, it was "headache and stomachache" every Friday when there was cell, she recounts, laughing.
In 2007, Tamae had an affair with a woman, despite what she says was a deep love for Eitaro. "He never gave up on me", she says, despite her troubled past. 
The affair caused so much inner turmoil that she decided to write down what was happening in a notebook – hoping Eitaro would find out. 
He did. And he wanted a divorce. He wanted to leave his family – they had one daughter by then – and flee. Eitaro felt like he had lost his best friend, that he had been betrayed by the person he had put all his trust in.
And if he had always been obedient to God, why did He allow this?
At this point of deepest doubt, the Gospel came alive in him. 
Eitaro received a revelation – that Jesus, the Son of Father God, had been betrayed by people He loved and sent to die in agony. But as Jesus hung on the Cross, He said: "Father, forgive them, for they do not know what they are doing" (Luke 23:34).
"Father, forgive them, for they do not know what they are doing (Luke 23:34)." 
Eitaro suddenly saw how Jesus went through excruciating pain so that men like himself could be forgiven by God. He knew he had to forgive his wife.
"Please help me to do it," he cried out. 
And the Lord was faithful. Over time, Eitaro felt the Father tending to his wounds, while surfacing his addiction to pornography. In this marriage, no one was better than the other. 
Tamae was relieved when Eitaro said he would not leave the family. But it took a couple more years before she truly repented.
"My life went back to normal, but the temptation was still there. If someone else approached me, my desire would just switch on. I couldn't control myself. It was a nightmare."
Never turning back
Tamae experienced her first breakthrough in 2012. She had been transferred to the logistics department at work. She thought the move would be temporary, but after three months, her hopes of returning to her creative role dried up.
The artist in her was frustrated. So frustrated that for the first time in close to a decade, Tamae prayed. 
"Immediately I heard an audible voice, saying 'Don't go back'," she recalls.
The response stunned Tamae. God did exist. 
"Everything turned around from there. I knew there was God looking at me, and he knew me inside and out. I was so embarrassed."
"I knew there was God, who was looking at me and who knows me inside and out."
So she told herself: I have to be an honest person. If God sees everything, there's no point hiding her thoughts from her husband.
Neither did she fight the transfer. If the Almighty was real, He would have a better path for her than what she could imagine, she came to believe.
Tamae's newfound openness helped the marriage get back on its feet. Now that her relationship with God was rekindled, she began to be drawn towards the spiritual. And she started to grasp God's wondrous plans for her marriage. 
"When I become too emotional while making decisions, I ask myself, 'Is this really logical?' That's something I'm learning from Eitaro – to reason and plans things out," Tamae shares as an example of how she has come to learn to appreciate the differences between her and her husband.
"But I also know that God is using my spontaneous personality to shape Eitaro. Because sometimes, he thinks too much before he makes a choice. I'll tell him, 'No, I'm 100% sure.'" 
Getting to know God better has also helped the couple redefine what love means to them. Both say that the world still believes love revolves around sex and self-gratification – just like they used to.
"When we don't know God, we aren't satisfied with our lives. And when we aren't, we seek to satisfy ourselves through other things, including sex," Eitaro says.
"But when we realise the other party in the relationship can't completely satisfy our needs, we say, 'I have to have another person, or pornography, or another fantasy'. It's so dirty and wrong.
"Marriage is about sharing God's goodness between two people made in the image of God. It's a relationship where we find joy in sharing, giving and receiving."
Called back home 
After 17 years in Singapore, Eitaro and Tamae are planning to return to Japan as missionaries. Only about 1% of the country's population are Christians.
One of their goals is to restore family values among those they minister to. Despite its success on the world stage economically, Japan also has the second-highest suicide rate in Asia, and it is infamous for its workaholic culture.
"Japanese people are doing so well at work, and there are many things they do that we admire. Yet, I sense they don't know the purpose of life," Eitaro says. "There are many struggling families there." 
Being the more measured of the two, he was at first apprehensive to take the missionary route, though his wife was all set to leave her job once God spoke to her about it. 
"Aiyah, since God is really so real, I'm confident that if he called us back to Japan, he's going to take care of us," Tamae quips. "So I'm not worried about finances at all. Eitaro, of course, as a father, a husband …"
"You mean as a human being," Eitaro retorts playfully. "It's not about being a man or a woman. We have two kids. In primary school." 
It was the story of Lazarus (John 11:1-44) that allayed his fears early on. After Mary and Martha's brother had died, Jesus hinted that he would resurrect Lazarus as he made his way to visit the deceased's family. By the time Jesus arrived, those who were mourning were upset at him, thinking he would not raise Lazarus from the dead (John 11:37), though he could. The man had been buried for four days (John 11:17).
"Their minds are going, 'no, Lazarus is dead, and he's not going to come up'," Eitaro says. "But Jesus is saying, 'No, he's not going to stay dead, so that His name will be glorified'."
This taught Eitaro how far removed the human mind is from Jesus'. Christ had such complete faith in the Father that when he called Lazarus to rise, the dead man did.
"And so I sensed that God was telling me, 'Eitaro, no matter how many times I tell you not to worry, you will, because you are human'," he says. "'But which task is more difficult? To raise a dead person, or to provide for your family of four?'"
Blushing, Eitaro says that he apologised to God and thanked Him. "I'm talking to the Creator here." 
To find out more about Eitaro and Tamae's upcoming move back to Japan, read the second story from this two-part series: 
It's all about prayer: These Japanese artists will be bringing the Gospel back to their homeland
The videos above were produced by TrueLove.Is, a ministry of 3:16 Church that provides stories and resources for Christians who want to know more about LGBT issues.