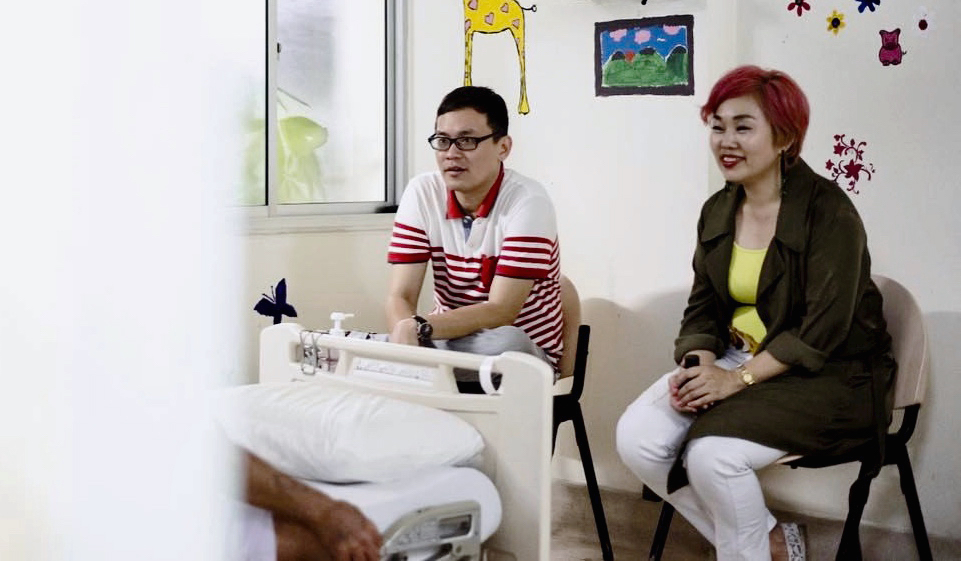 Eugene Ow (left) chatting with a HIV patient. All photos courtesy of CHCSA.
"When people know what illness I have, they look at me differently," says Mr Tan*, who tested positive for human immunodeficiency virus (HIV) in 2014.
"I'm careful to keep this under wraps. If I reveal that I'm HIV positive, I think all my friends may run away," he adds ruefully, admitting that he, too, was once ignorant, believing that HIV is contagious by contact.
But there was one couple who did not run away.
"They are like my second family"
Eugene and Estelle Ow met Mr Tan when he was warded in Tan Tock Seng Hospital's Communicable Diseases Centre (CDC) in May 2014.
The Ows are volunteers with the patient care services arm of City Harvest Community Services Association (CHCSA).
In spite of the heavy stigma surrounding the disease when the ministry started in 1999, a handful of CHCSA volunteers received training at the Communicable Disease Centre and started visiting HIV/Aids patients in isolated wards on a regular basis. 
When the Ows first met Mr Tan, he had contracted a viral infection which, due to his lowered immunity levels, had spread to his brain. This caused weakness in half of his body and rapid weight loss. The independent businessman was suddenly rendered helpless.
"When people know what illness I have, they look at me differently. But not Eugene and Estelle."
"Eugene counselled my husband as he was very low in spirits," recalls Mrs Tan*. "He also massaged my husband's limbs to improve his blood circulation." 
It has been four years since her husband was discharged but the Ows continue to keep in touch, taking the Tans out for meals or buying food for them.
"I always look forward to their visits as it means I'll have delicious food to eat and I can choose what I want!" chirps Mr Tan, 58.
"… Whether it is KFC or McDonald's or char kway teow," adds Mrs Tan, fond memories filling the spartan flat with laughter.
"I treat Eugene like a son," says the childless Mrs Tan, 56. "We are really thankful for the both of them."
It seems the feeling is mutual.
"Mr and Mrs Tan are very close to my heart," reveals Eugene, 32.
He understands the struggles Mr Tan had to grapple with.
At 15, Eugene fell into a month-long coma. Doctors couldn't diagnose the cause and even told his parents to prepare for the worst. By God's grace, he awoke and like Mr Tan, had to relearn how to walk and go about his daily life.
The near-death experience allowed Eugene to speak into Mr Tan's life as he was living proof that people can recover from debilitating illnesses.
Eugene is immensely proud of the progress that Mr Tan has made and keeps reminding the latter how far he has come – from sickly and depressed when they first met, to the jovial man that he is now. Mr Tan has even recovered enough to be working part-time.
"I'm here to build relationships. I don't see this simply as voluntary work – just chit chat, buy them food. It's more than that. I want to impact lives," says Eugene, a business owner who, together with his wife, is living out John 15:12.
His volunteering has not only gained him an "extra set of parents", it also gained him a wife as Eugene and Estelle met during their volunteering!
In fact, Mrs Tan got to know of their relationship even before most of their friends, because she saw them out on a date near her workplace!
"It was a very special feeling and I'm so happy that they got married," beams Mrs Tan. "Now hurry and have a child for us to dote on!"
From tattooed gangster to trusted friend
Another volunteer who joined the patient services ministry was Joanna Lim, who was just 19 at the time.
She found she had to deal with the misconceptions about the disease even within her own family.
"The first few months when I returned home after the ward visits, my mom wouldn't allow me to sit on the sofa or enter the kitchen. She would usher me straight to the shower, concerned that I may bring germs back and infect the rest of the family with HIV," recounts Joanna, now 30.
But after her mom spoke to friends and learned more about the disease, her attitude changed.
"It went from, 'Eh, don't sit on the sofa' to 'What time you coming home on Monday?' You could see the change and I was glad."
The patient care team had two main aims: 1) Meet the physical needs of HIV/AIDS patients through food, medication and touch therapy (massage), and 2) address discrimination.
The team was divided into two – the ward visit team and the home visit team.
"When we volunteers do not fear getting in contact with the patients, it reflects the acceptance that we have for them. We are saying we care and we want to show love to you now matter how you may have gotten HIV/AIDS," explains Joanna, who has been volunteering for the past 11 years.
Despite the volunteers' good intentions, things were not always smooth sailing.
It was not easy to befriend the HIV/AIDS patients, remembers Joanna, as many carried the baggage of having endured discrimination for months and years.
Many questioned her intentions. She even met a patient, Uncle Chong*, who scolded her for nine months straight – sometimes even using vulgarities – often for no apparent reason.
She was not the only volunteer who got a tongue lashing from the hardened ex-gangster, who had tattoos all over.
"As we understand our role there, which is to be a friend to them and to reach out to them in the love of Christ, then you learn to position yourself accordingly. So even if they scold you, you learn not to take it personally and you choose to continue serving," she says.
What also helped was the camaraderie among the volunteers.
Says Joanna: "Whenever we need support, feel down, we just share and we've learned to validate each other, so that we can continue this journey together."
Joanna was set to read accountancy at the National University of Singapore, but decided to major in social work instead.
Her persistence, as well as other volunteers', eventually paid off.
When they noticed that Uncle Chong had stopped scolding them, they seized the opportunity to build a relationship with him.
This continued even after his discharge from the hospital and his move to a nursing home. They also had the opportunity to share the Gospel with him and he finally accepted Christ about five years ago.
Today, he calls the volunteers family and treats Joanna like a daughter. They continue to visit him in the nursing home and always make special efforts to celebrate major holidays like Christmas and Chinese New Year with him.
In fact, Uncle Chong's isn't the only life that has been transformed in this process.
Joanna was set to read accountancy at the National University of Singapore, but decided to major in social work instead.
"It was this ministry that inspired me to be in the profession that I'm in now," says the probation officer who helps young offenders at the Ministry of Social and Family Development.
"I never expected this, but this is just how the grace of God works," she muses.
Music to soothe the soul
Vanessa Ng, another volunteer, was a professional singer who was seeking purpose to her craft.
A chance conversation six years ago brought that renewed purpose.
Upon finding out that a group of HIV/AIDS patients was unable to be home to celebrate Christmas, her cell group leader asked if Vanessa would like to lead a group to sing to them. She readily agreed, keen to use her talents to bless others.
The experience left an indelible mark on her.
"These are the people whom you don't see on a daily basis, not even a weekly or monthly basis. And I realised this is what Jesus is all about – it is really going out of the four walls of the church and going to the highways and the byways," says Vanessa, 29.
The one-off event soon turned into a monthly one. The group goes from ward to ward, singing the patients' favourite songs.
"This is what Jesus is all about – going out of the four walls of the church."
Vanessa was moved when other volunteers told her that wheelchair-bound Uncle Tay*, who has been discharged, continued to make the arduous journey from home to the centre by bus just to hear the group sing.
He even double checks the time with the volunteers to make sure he doesn't miss the group when they visit.
Some in the group have gone on to build on that relationship with Uncle Tay after they bumped into him near their offices.
"They just kept going back to talk to him whenever they were in the area. This friendship just evolved into something entirely not expected," she says with a wide grin.
As Eugene, Joanna and Vanessa reflect on their volunteering journey with HIV/AIDS patients, they are in awe of how the ministry has flourished. As Vanessa aptly puts it: "It's really amazing how God can use even the little things that we do."
*Names have been changed to protect the privacy of persons involved.
Six facts about HIV/AIDS in Singapore
According to the Ministry of Health (MOH), there were 434 new cases of HIV infections reported among Singapore residents in 2017.
The total number of HIV-infected residents (as of end 2017) is 7,982, of whom 1,960 have passed away.
Sexual intercourse remains the main mode of HIV transmission, at 96%. MOH advocates remaining faithful to one's spouse and to avoid casual sex, or sex with sex workers. 
Heterosexual transmission accounted for 36% of all cases, while 50% were from homosexual transmission and 10% from bisexual transmission.
Besides transmission via unprotected sex, HIV can also be transmitted by sharing injection needles or piercing instruments (e.g. tattoo guns or acupuncture needles) with infected persons, receiving inflected blood or blood products and during pregnancy, childbirth or breastfeeding.
Contrary to commonly held views, HIV cannot be transmitted by hugging, touching or kissing, insect bites or contact via objects such as shared food or toilet seats.
If you are led to support or volunteer with ministries caring for those living with HIV/AIDS, you can get in touch with CHCSA or Catholic Aids Response Effort.