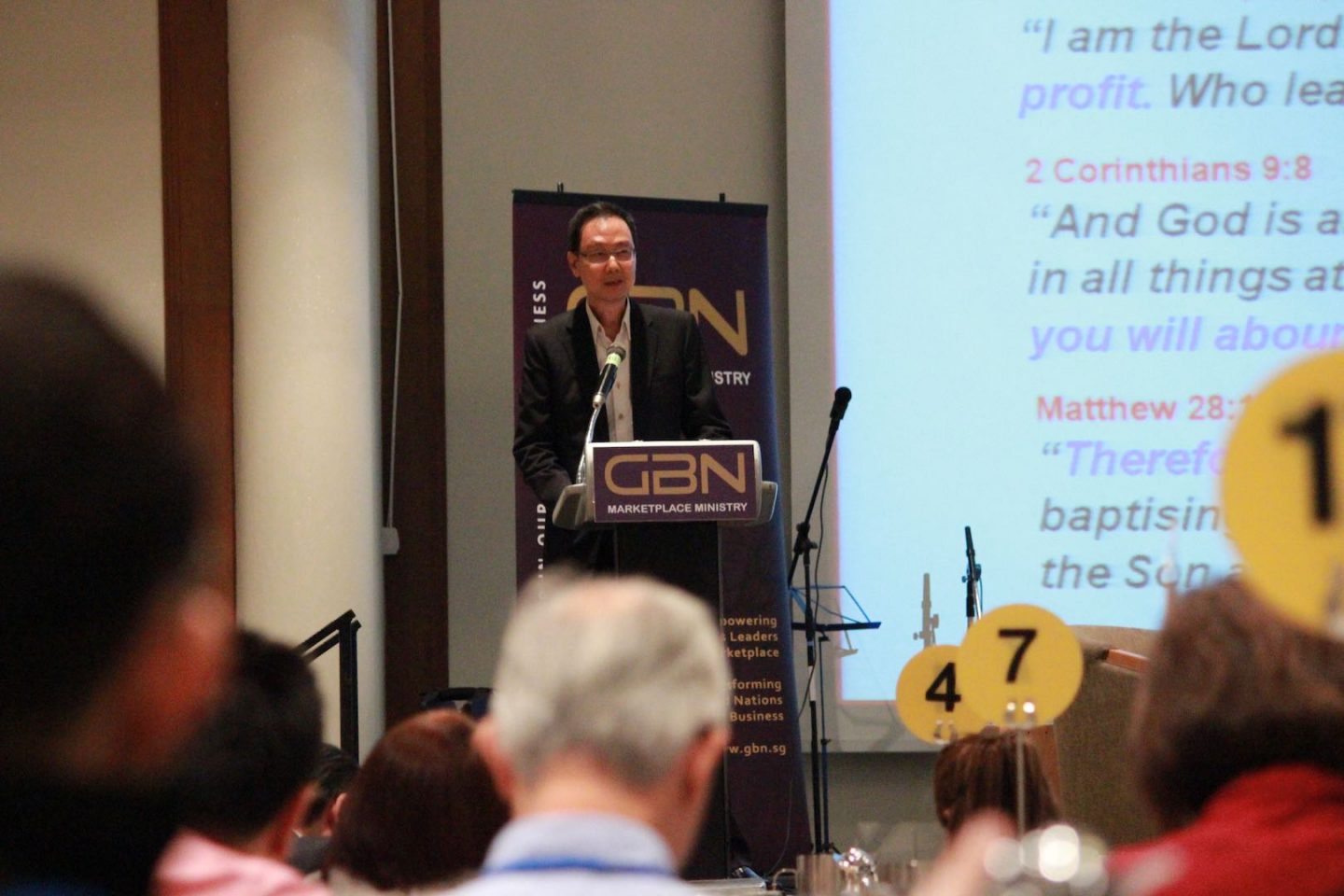 Alfred Wong, founder of Noel Gifts International, sharing with participants at a GBN event. All photos courtesy of GBN.
Gordon* was going through a difficult patch in his business when he decided to sign up for Global Business Network's Business Empowerment Circle.
He hoped the year-long course and mentorship programme would give him the knowledge he needed to navigate his company through a rough patch.
After talking to his mentor, Gordon managed to uncover the issues plaguing his business. And not just that, he discovered how his relationships with God, at home and in the community had a bearing on his business as well.
Through the Business Empowerment Circle, his relationship with God was rekindled and he began to apply the godly values he learnt to his marriage and business. 
"A lot of the time, business issues may also have a lot of issues that 'tag along' – issues in spiritual life, relationships with spouse and families, in the church or the community as a whole," says Linda Hui-Isaac, a Global Business Network (GBN) council member.
This is why GBN – an independent Christian marketplace ministry founded in 2000 – is keen to train and equip business owners, not just in Singapore, but around the region.
Transforming culture
Many business owners view their companies as mere money-making enterprises. But Hui-Isaac, who is in her 40s, and fellow GBN council member, Chandra Widjaja, 52, believe that businesses have the power to transform nations.
Hui-Isaac and Chandra Widjaja believe that businesses have the power to transform nations.
"Before we can actually transform nations and communities, we need to first transform culture. And transforming culture comes from transforming leaders," says Hui-Isaac, who is also the founder and managing director of digital marketing firm, Crown Mercado Alliance.
"When leaders understand their divine purpose and are empowered with godly values and ethics to carry out the businesses they have been called to, they can influence culture."
GBN empowers Christian business leaders, particularly of small businesses, by providing training and mentorship opportunities.
The programme framework covers leadership, financial stewardship, goal setting,  managing people and partnerships.
At the core of the programme is a focus on discovering one's God-given destiny, to help leaders understand why they are placed where they are placed and how the Great Commission is part of their calling in the marketplace.
Mentor ministry
A business owner herself, Hui-Isaac is keenly aware of the struggles other business owners face. They often walk a very lonely path as they are unable to find communities where they can share openly about their struggles.
Essentially the Business Empowerment Circle is a reflection of Hebrews 10:24-25 put into practice in the marketplace.
"That's why we have the Business Empowerment Circle programme, where a small group of business leaders gather on a monthly basis to discuss business issues and also business ethics," says Hui-Isaac.
These monthly meetings help lay down foundations on how to run businesses successfully, based on biblical principles.
The marketplace ministry, which is run by about 40 volunteers, also has a pool of 10 mentors. These mentors, who are established business owners or marketplace leaders from various fields, are then paired with those in the programme.
Essentially the Business Empowerment Circle is a reflection of Hebrews 10:24-25 put into practice in the marketplace.
The mentors, who have gone through similar experiences as those under their charge, are often able to share the lessons they have learned along the way and offer sound advice.
One body
As GBN is an independent parachurch organisation, it has also managed to attract business owners who are pre-believers, as well as believers who may have wandered away from the church.
The neutral platform that GBN provides allows members to glean from the teachings of God, as well as find a supportive community, observes Hui-Isaac.
GBN's neutral platform allows members to glean from the teachings of God, as well as find a supportive community.
"But of course, our ultimate hope is that they will find faith in God and, for those who have left the church, to return."
Some might even find themselves rethinking life choices.
In its outreach efforts, GBN has partnered with Christian organisations from Singapore, Malaysia, Thailand and Vietnam, sharing know-how with no strings attached.
"We complement the churches because we provide the business marketplace element through what we are doing," says Widjaja.
"We are not particular about whether our partners market the Business Empowerment Circle under GBN or not; we are flexible. So as long as they see the benefit of using our materials, we are okay to train the facilitators and help them get this going," says Widjaja, who is currently a director of an electrical cable distribution company.
Referencing Romans 11: 35-36, Hui-Isaac adds: "In everything that we do, our approach is about proclaiming the Kingdom. It is only when we come together in unison as one body of Christ that we'll be able to mobilise and invade the kingdom of darkness."
Keen to join the Business Empowerment Circle 2019?
Next year's theme is Doing Business God's Way. It will focus on biblical principles for the marketplace and is a practical look at how Christian businesses should be managed.
Whilst this series is designed for business owners, all are welcome to participate and learn Kingdom principles which may also be applicable to their workplace.
The 2019 sessions will begin in the month of January. Registration closes December 31, 2018. Sign up here.