WHAT I WISH MY DAD KNEW  
Is your daughter growing up and no longer a daddy's girl? Do you want to nurture a close relationship with her?
Join Kallos at their first-ever webinar for dads of pre-teen and teen daughters, and learn how you can be the dad your daughter needs.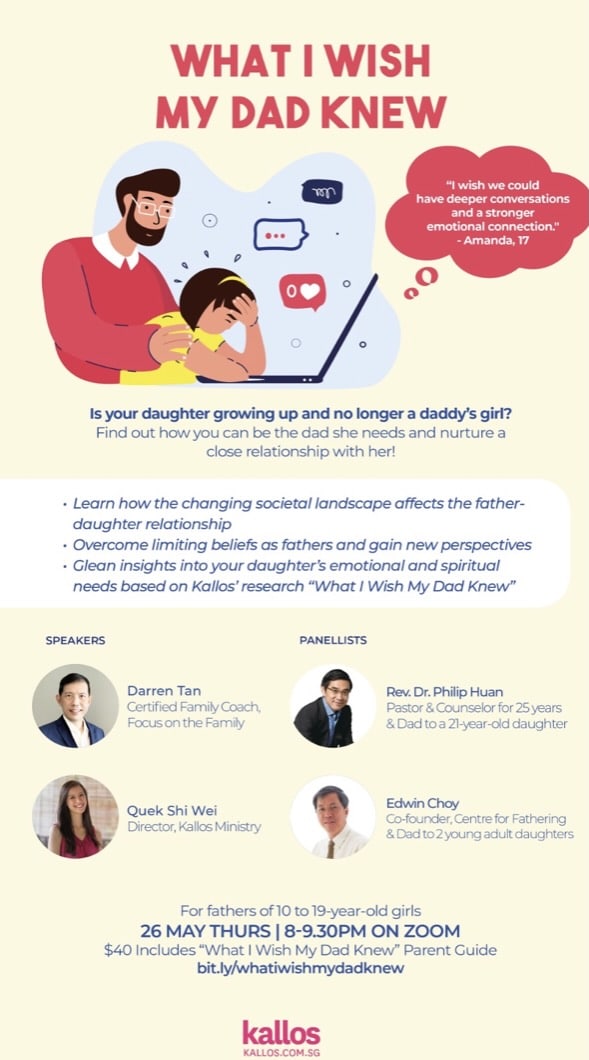 What you will learn:
How the changing societal landscape affects the father-daughter relationship;
To overcome limiting beliefs as fathers;
To glean insights into your daughter's emotional and spiritual needs based on Kallos' research 5 Things I Wish My Dad Knew;
To gain new perspectives from the panel of thought leaders.
Includes "What I Wish My Dad Knew" Parent Guide (based on research with 100 local teen girls).
Who should attend:
Fathers of 10- to 19-year-old girls.
Speakers:

Darren Tan 
Certified Family Coach, Focus on the Family
Family Life Ambassador, Ministry of Social and Family Development
Quek Shi Wei 
Director, Kallos Ministry
Panellists:
Rev Dr Philip Huan 
Pastor and Counsellor for 25 years & Principal Consultant, ChurchLife Resources
Edwin Choy 
Co-founder, Centre for Fathering
Date: May 26, 2022  
Time: 8pm-9.30pm
Cost:  S$40
Click here to register.
About the organiser:
The world needs a voice to ​young girls who are struggling to live out God's purpose in their lives because they are grappling with issues of identity, faith and life. Since 2014, Kallos has become that much needed voice to many ​young girls.
At Kallos, the aim is to empower young women globally to be advocates of inner beauty and confidence, and to boldly live out their God-planned design.
Kallos magazine is its main discipleship platform​, teaching and inspiring young women from 12 to 25 with a focus on promoting and modelling godly values.​