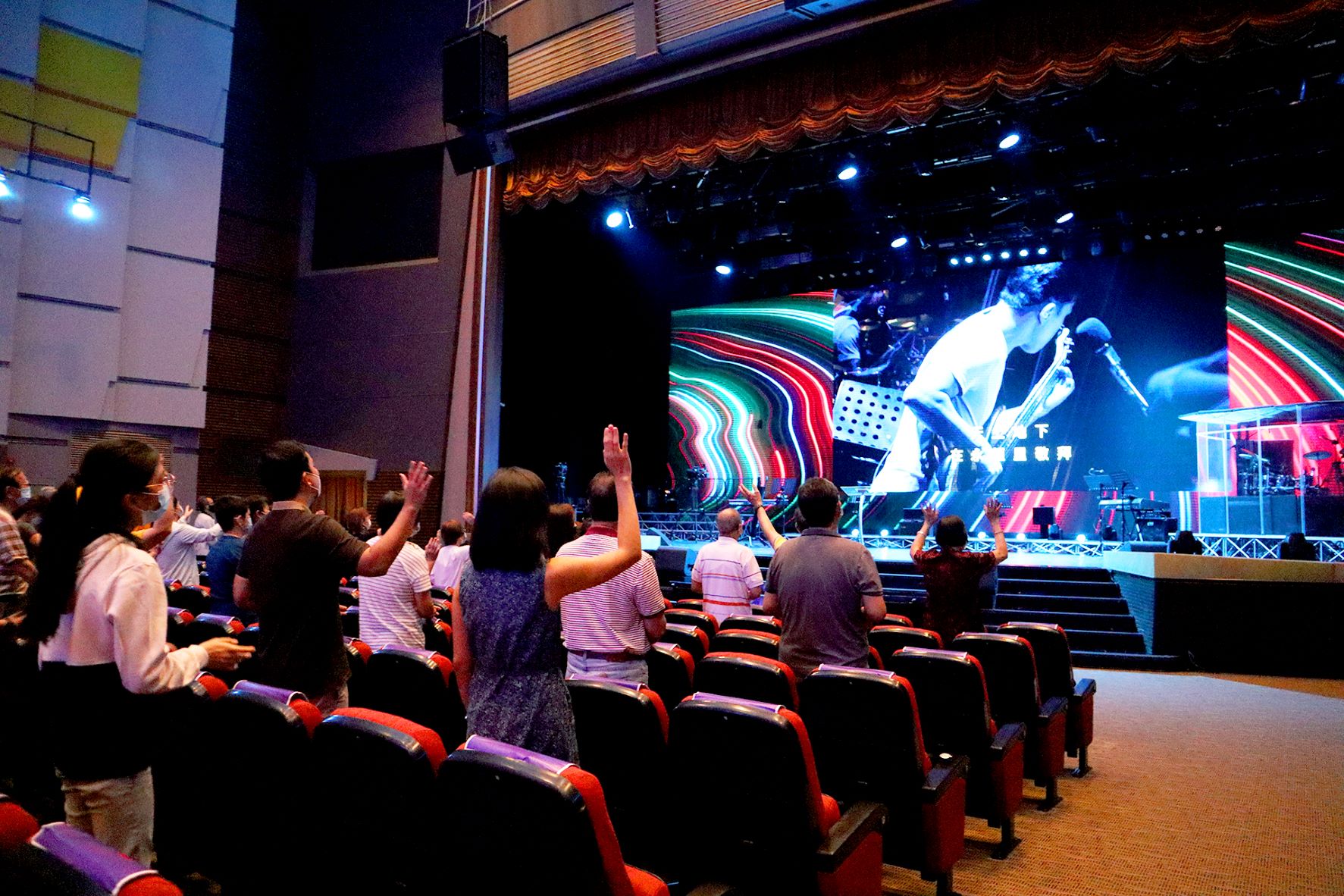 Worship service at Lighthouse Evangelism. Photo courtesy of Lighthouse Evangelism.
As Singapore prepares to transition to living endemically with the coronavirus, the authorities have been taking gradual steps to increase the capacity limits for large-scale gatherings.  
Since August 19, up to 1,000 vaccinated worshippers can attend church services, if venues are large enough to accommodate various zones of 50 people and abide by other safe distancing guidelines. This is up from 500 from August 10 and 100 prior to that.
In the past month, churches in Singapore have been ramping up capacity in their venues to welcome worshippers back to the pews.
"It has required more effort on the part of our leaders and members … but we are thankful that people are pulling together for such a time."
Bethesda (Bedok-Tampines) Church (BBTC), for instance, will have three English services that can accommodate up to 400 vaccinated people each this week, up from a previous maximum of 300.
BBTC's services for the vaccinated are currently 90% filled.
Tickets for its sole service for the unvaccinated, capped at 50 people, are usually snapped up in less than 15 minutes. 
According to a pastor in the senior leadership team at BBTC, slightly more than half of its congregants are coming back onsite for its adult services across all languages, compared to its attendance before the Covid-19 pandemic.
Most of its children and teenagers are also back on-site in close to pre-pandemic numbers. 
Zion Bishan Bible-Presbyterian Church was seeing about 75% of its members on-site weekly, prior to the first heightened alert phase in May. When it started running English services for up to 250 people last Sunday (Sept 12), slightly less than half the church – which has about 1,500 members – came.
The church runs a total of eight services on Sunday, with half of them in English. On alternate weeks (such as the 1st and 3rd), the service takes up to 250 (all vaccinated); while on the other weeks (2nd and 4th), the service takes up to 50 (regardless of vaccination status). In this way, every member of the church can theoretically attend church on-site at least twice a month.
Said its Senior Pastor Alby Yip: "Since the beginning of this year we had to, not just increase the number of services, but also form congregations around each of these new services. It has required more effort and sacrifice on the part of our leaders and members (more than half our congregation has shifted to meeting in the afternoon), but we are thankful that people are pulling together and bearing with this, for such a time."
Zoning difficulties 
But despite the easing of restrictions from August 19 to allow for up to 1,000 vaccinated worshippers, some churches say that they are not able to open up weekend services beyond a few hundred worshippers as most of their venues are only able to have a maximum of four to six zones of 50 people each. Each zone still has to be separated by a physical partition or three metres of spacing.  
For a church to have 1,000 worshippers in a service, 20 zones that can hold up to 50 people each are required. Each zone has to have the requisite separation from each other, apart from other rules.
"As it is, many members already feel the new normal is to attend worship once a month."
"Even though the cap has been raised for vaccinated services, we have difficulty increasing the maximum capacity due to the zonal segregation and the 3m separation," said Rev Canon Terry Wong from Marine Parade Christian Centre (MPCC).
MPCC's Sunday English service for the vaccinated currently takes a maximum of 135 worshippers in three zones. Alongside its services for the unvaccinated, the church sees an average of 200 people in attendance every weekend now. This is about 80% of their pre-Covid attendance.  
With cases on the rise in recent days, most churches have found that not all members are ready to return onsite, even with increased capacity.
Queenstown Chinese Methodist Church used to have about 1,300 people attending its services on Sunday, before Covid-19 ravaged the world. Last month, its total weekly attendance was around 200 people, or an 85% plunge.  
"For our church, we managed to increase by one additional zone – our 6th zone – making our maximum number of pax 300.  Thus, from September, we can have 300 people in our sanctuary and another 300 people at our level 4 worship hall," said Rev Ling Tieng Ngung from Queenstown Chinese Methodist Church. 
"Precautionary measures present greater challenges for larger-sized churches … The resumption of in-person worship in greater numbers and frequency is primarily hindered by the imposition of the measures," he added.  
"It takes the same number of people to put on a service for 50 as it does for 500."
The BBTC pastor said the biggest issue, perhaps, is the 3m separation required between zones as they take up a lot of space in any given hall. 
"Our main sanctuary's capacity has more than halved to just over 400 (8 to 9 zones) under the current guidelines," said the pastor. 
Rev Ling noted that as some worshippers can no longer come to church as freely as they used to, their sense of belonging starts to diminish and their interpersonal relationships with other worshippers become more distant.  
"If this situation persists, more worshippers will become accustomed to attending online services, deeming it unnecessary to return to in-person worship in church. Personal worship will displace corporate worship and the body of Christ as a faith assembly will lose cohesion. As it is, many members already feel the new normal is to attend worship once a month," he said.  
Though its 10am Mandarin service for vaccinated people can take up to 300 people, the take-up rate for its on-site seats for September was only half to three quarters filled when the seats were released.  
Over at St Andrew's Cathedral, church leadership is taking a more gradual approach to opening up via a two-stage transition.  
They have been conducting 14 weekend services in English, Mandarin and other languages. From September 4, each of the services, whether for the vaccinated or not, is open to only 50 people, or a total capacity of 700. Before Covid-19 occurred, they were able to have more than 4,000 worshippers on weekends.  
From October 2, the Cathedral intends to lift its capacity to about 100 or 150 persons, or two to three zones of 50, for each worship venue.    
"It's very easy for members to attend worship as if they were watching TV. Some have even stopped online worship altogether."
"While the new guidelines for worship services allow up to 1,000 vaccinated worshippers, we are still required by law to maintain social distancing, keep to small groups of 5 and stay in zones of not more than 50. This means that the seating capacity of each of our worship venues has not changed," explained its Vicar, Rev Canon Lewis Lew in a video address to its members.   
Some churches have only recently re-started on-site services.  
Lighthouse Evangelism began holding on-site services from September 5, after having its last service on May 9.  
They are able to have up to 800 attendees for all of its four services on Sunday, as each service can take a total of 200 vaccinated people. Its take-up rate for September 5 was about 75%, or 600 people. Its pre-Covid weekend attendance numbers used to number about 7,500. 
Said Executive Pastor Desmond Tian: "As Lighthouse Evangelism has the capacity to increase the number of attendees, we will look into increasing this number in the weeks to come after we monitor the situation and work out any manpower issues. We look forward to having as many of our congregants return to church for services after such a long while."   
The importance of gathering together 
All the church leaders Salt&Light spoke to acknowledged that regular participation in church services is important for the mental and spiritual well-being of their flock. 
The regular and routine attendance of worship services in a physical space ensures timely delivery of biblical sustenance, cultivates spiritual discipline and embodies a belonging to one body. In pre-Covid days, worshippers could gather after services for meal fellowships and lay hands on one another in prayer.  
Said Canon Lew to Salt&Light: "Many are yearning for unhurried fellowship time on church premise. With the guidelines stating no mingling allowed on church premise and services kept short, many have turned to meet more regularly outside of church and after services. On the other hand, others have questioned the purpose of coming to church since there are now many other options available online."  
"Once we start rationalising our choice to do away with this particular spiritual discipline, what's stopping us from doing the same with others?"
Rev Ling agreed that many worshippers are attracted to online worship offerings. 
"This presents questions such as: Do they attend worship every Sunday? Do they attend service from the start to the end, or do they channel surf? It's very easy for members to attend worship as if they were watching TV. Some have even stopped online worship altogether, and started to do other activities in the time slot which was previously dedicated to attending church service. It is very critical to resume in-person service every Sunday," he said.  
Over time, the concern is that believers lose the habit of attending church. 
"If it was important before, why wouldn't it be important now? Is attending online service really equivalent to coming onsite in every way? What does it say about a believer should personal convenience trump every other factor in the decision-making process? Once we start rationalising our choice to do away with this particular spiritual discipline, what's stopping us from doing the same with others?" asked the BBTC pastor. 
Opening up safely
Balancing the rate of opening up with safety and health concerns has not been easy to navigate.
"The safety and well-being of the staff and church members are of utmost importance. The Covid-19 situation in Singapore has been volatile over the past 18 months and we cannot help but learn to adapt to the situation while managing feelings of frustration, anxiety and worry," said Canon Lew.  
Pastor Tian said it is "not without reason" that there are stringent guidelines given that the communal activities that are common in churches may result in the forming of new Covid-19 clusters.  
"It will not help the process of moving to a new normal, or learning to live with the virus, if we are still governed by 2020 measures."
Yet he also acknowledged that it is "imperative" for churches to engage their members and suggested it be done through small group meetings and other outreach programmes that adhere to regulations set by the authorities.   
Pastor Yip said the elderly segment present a unique challenge. 
"We do not want to expose the vulnerable elderly and yet they are also accustomed to, and benefit a lot from, gathering in person. They are much less familiar with worshipping online," he noted. 
He believes gathering in-person is especially needful for these groups of people: (a) believers staying alone, or who are the only believers in their household; (b) children and (c) youth. 
"We are deeply social and spiritual beings and the strength of Singapore today is also predicated on the recognition of these deeper needs."
The BBTC pastor observed that certain key factors have a noticeable impact on whether members return for onsite service, such as  young parents only returning when Children's Church (Sunday School) reopens or attendance dropping when there is a spike in the number of cases. 
Given the long-drawn nature of a global pandemic, some churches feel it is time to learn to live with Covid-19 and reduce the restrictions gradually.  
"The zonal template used since 2020 has become less necessary, especially now that we have Trace Together and a high rate of vaccination. We have also settled into a mode of non-singing, safe distancing and minimal mingling. The risks are far less than those faced in other sectors. It will not help the process of moving to a new normal or learning to live with the virus if we are still governed by 2020 measures," said Canon Wong.  
The BBTC pastor pointed out that one of the major issues is the fact that non-vaccinated services are limited to 50 people.
"A service needs to be held to ensure that even those who are not vaccinated have equal access to service – but it takes the same number of people to put on a service for 50 as it does for 500," he said. 
"This is what any society ravaged by a pandemic will need – shalom through and through."  
Current guidelines do not permit a service taking place in one hall to be broadcast live to another hall on premises. He hopes that this rule can be changed to allow them to have a larger vaccinated congregation in one hall, with the service simultaneously beamed to a smaller hall for 50 unvaccinated attendees, as long as the church ensures complete separation of the groups, with separate entry and exit points. 
 "We hope the authorities will consider this change, which would be reasonable given that concurrent services are now allowed under the existing guidelines," he said. 
Canon Wong suggested keeping the safe distancing measures and masking but removing the need for zones. He also hopes for soft singing and Antigen Rapid Testing (ART) self-testing for live singers to be allowed.  
"We are deeply social and spiritual beings and the strength of Singapore today is also predicated on the recognition of these deeper needs. This is what any society ravaged by a pandemic will need – shalom through and through."  
---
RELATED STORIES:
Up to 500 vaccinated worshippers, live worship, in church services from August 10: MCCY
Searching for the "ones": A reflection on church and community
Has church become a spectator sport?: Ps Benny Ho on the 1-year mark of the pandemic