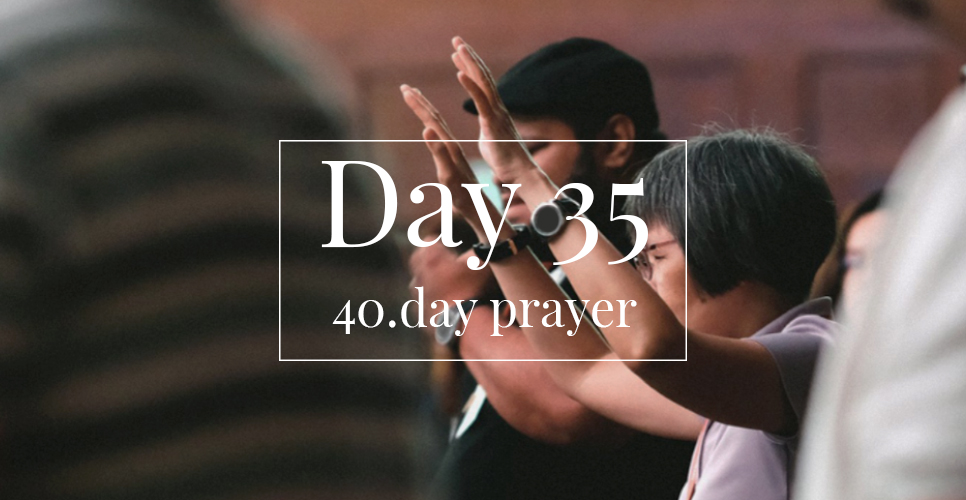 Photo courtesy of LoveSingapore
Bible reading for 40.DAY 2019 | August 4: 1 Peter 1:3-4
---
We are born to hope.
Peter is writing to believers who have every reason to despair. They are aliens and exiles in a hostile world (1 Peter 1:1, 11). They are grieved by various trials (1 Peter 1:6). They are treated worse than second-class citizens because of their identification with Christ.
And yet they have every reason to hope, because they are born again.
Hope is the confident expectation that we will experience the goodness of God.
The idea of the new birth goes back to Jesus, who said, You must be born from above (John 3:7). But the term, born again, was first used by Peter, who says we are born again to a living hope (1 Peter 1:3).
Peter is a theologian of hope (1 Peter 1:3, 13, 21; 3:5, 15). But what is hope?
Hope is the confident expectation that despite all evidence to the contrary, we will experience the goodness of God in the land of the living (short term) as well as in the age to come (long term).
This hope has nothing to do with rosy optimism and wishful thinking with no basis in reality. The Christian hope is alive and real because it is grounded in the historical reality of the resurrection of Jesus Christ and linked to our inheritance in the age to come (1 Peter 1:3-4, 21).
This hope will never be disappointed or denied (Romans 5:5).
The painful bereavement, the bitter divorce, the terminal illness, or the loss of sight or limb is not a dead end, but a new beginning. The worst thing that happens to a disciple of Jesus can and should be the dawn of a new day, the start of the best years of his or her life.
Outsiders don't know what to make of the Christian hope. And yet Peter urges us to give an answer to anyone who enquires of the reason and basis of our hope (1 Peter 3:15).
The new birth produces a new and living hope within us. We are born again to hope. This hope is yours. But it's not passive or automatic. You must choose to hope, especially when you are most tempted to despair.
We are born again to hope. This hope is yours.
The first imperative of this letter is Peter's command to hope: Set your hope fully on the grace that will be brought to you at the revelation of Jesus Christ (1 Peter 1:13).
This is your Father's world. When wrong is strong, when might is "right", when the good is out of sight, thou shalt not despair. Thou shalt hope!
PrayerWatch
This bicentennial, we celebrate a great reality: The Singapore Church! We are born again to a living hope through the resurrection of Jesus Christ. 
Singapore, A Home with Hope and Heart. Are we there yet? Do we want to be?
 
So much depends on us, the born again heralds of living hope. Hope is a person. His name is Jesus (Andrew Goh).
 
Beneath our first world façade are complex layers of social concerns. Physically, mentally and emotionally, we are not in the pink of health. We are a nation at war with diabetes, depression and dementia. Sociologically, we are becoming more unequal and fragmented along class divides. Materially, we have the chronic poor who live below the poverty line.
 
Pray for the Church, the herald of Living Hope. Ask God for a bigger heart to work deeper together. Ask for a stronger will to find better ways to spread Living Hope among the vulnerable in our housing estates, workplaces, campuses, and communities. May we be our Government's best ally to secure the shalom of our city.
 
Singapore, a City of Hope for the Ageing. Are we there yet? Do we want to be?
 
We are one of the fastest ageing nations in Asia. We top the world in life expectancy at 84.8 years. But years spent in poor health is also up (The Straits Times, June 20, 2019).
 
Watch and pray. In January 2019, an online media report carried this headline: Shocking rise in suicides from an unexpected age group. While those aged 60 and above make up only 10% of our population, they had the highest suicide rate (37%) across all age groups in 2017.
 
Should we not be concerned? Why are so many of our senior citizens choosing to end their lives? Reasons include: helplessness, hopelessness, meaninglessness, and a deep sense of despair due to social isolation, fear of worsening health, and fear of becoming a burden to family and friends (SOS).
 
In our culture of filial piety, this is shocking news. We are collectively answerable to God for this sorry state of affairs. We need to repent. We owe the isolated elderly a message of Living Hope.
 
Be a good neighbour. Befriend one or two or more elderly in your block and bring them Living Hope.
 
Pray that every church will start an inter-generational outreach to serve the lonely elderly. That no elderly will be left to languish in isolation. That a great many will encounter Jesus and be born again.
 
Believe for healing miracles. Believe for testimonies of hope that will go viral, herald Hope, and re-script headlines: No longer sentenced to isolation. No longer trapped in hopelessness. No longer overwhelmed by despair. No longer helpless!
 
May our senior citizens be strong in body, soul, and spirit in their sunset years. May they be a sign and a wonder in our city. A generation flourishing with hope, declaring: Grow old along with me! The best is yet to be (Robert Browning). 
---
Read the devotional from Day 34, August 3: Fisher of men here. 
If you have enjoyed reading Salt&Light...
We are an independent, non-profit organisation that relies on the generosity of our readers, such as yourself, to continue serving the kingdom. Every dollar donated goes directly back into our editorial coverage.
Would you consider partnering with us in our kingdom work by supporting us financially, either as a one-off donation, or a recurring pledge?
Support Salt&Light