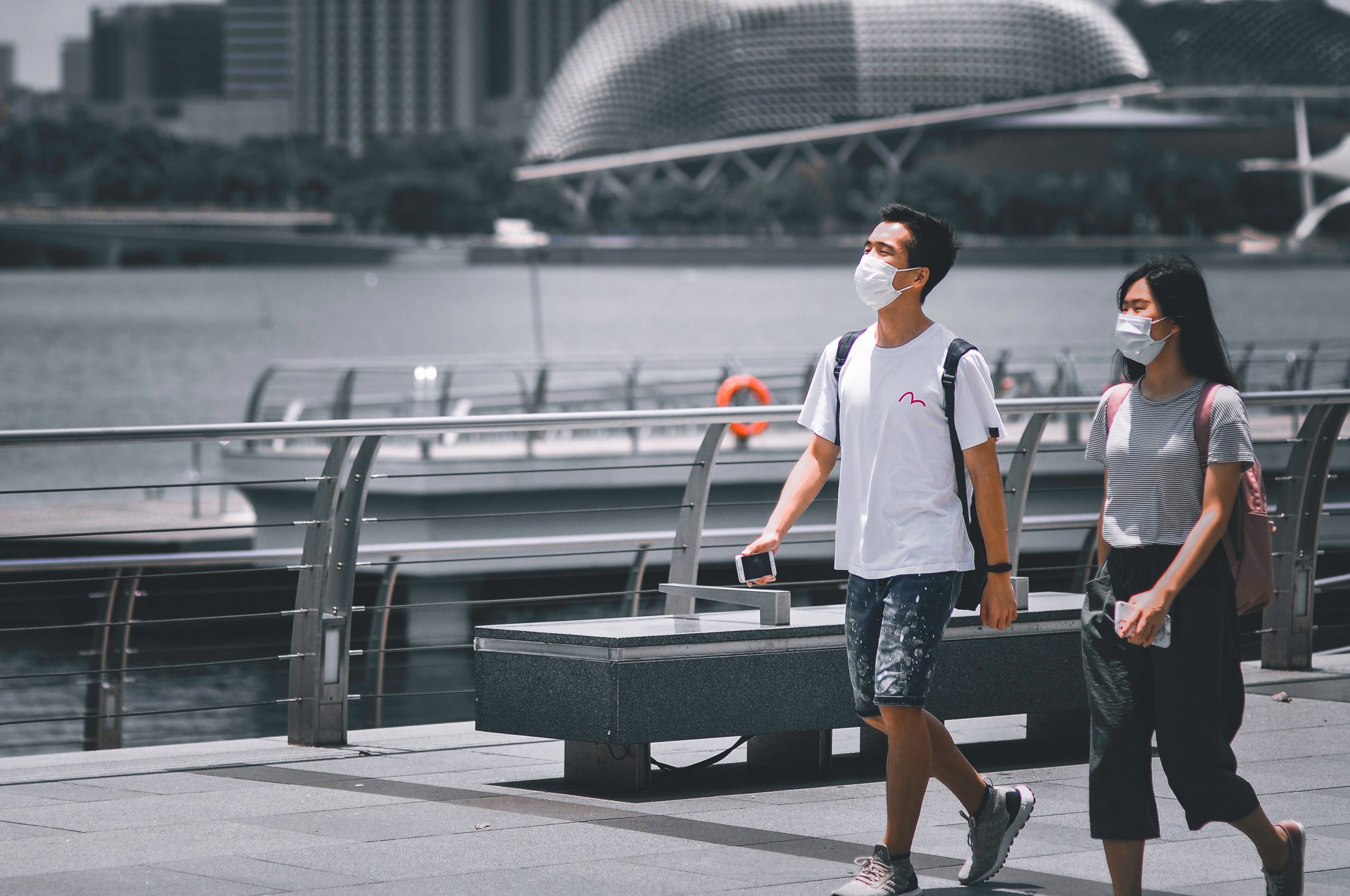 As Singapore goes into "Heightened Alert", what is occupying our hearts and minds? Photo by Victor He on Unsplash.
"Hunkering down again," a girlfriend had texted me, and that's what stayed on my mind as I approached the first day of Singapore's "Heightened Alert" today (May 16).
Included on the list of tightened restrictions is one about no spectator sports. But the authorities had not considered the sea of faces in front of LCD screens, following a plethora of church services available for the watching. And more – split screen functions allowing the tandem screening of yet another church service with, perhaps, a more engaging speaker.
My cynicism sipped on the coffee in front of me as I included myself among the attention deficit crowd. Truth would have me tell that it isn't always that I'm hanging on to every last word the preacher(s) might be mouthing online.
The collective gloom of many "here we go again" reasons aside (no dining out being a major contributor), I tuned in to the 7th Sunday of Eastertide service at Covenant Community Methodist Church, with the sermon topic: "The One Who Ascended Will Also Descend!"
The Scripture reading was from Acts 1:6-11, and Rev Dr Malcolm Tan's message addressed four questions:
What happened at the Ascension?
What was the meaning, or purpose, of the Ascension?
How, then, shall we live because of the Ascension?
What does it mean for our future hope?
I was gradually waking up.
What happened? At the Mount of Olives, 40 days after the Resurrection, the disciples gathered around the risen Christ had one question for Him: Are You going to restore the kingdom to Israel like now?
It's not for you to know, Jesus said. What you need to know is that you will receive power when the Holy Spirit comes on you, and you will be My witnesses.
And after He said this, He was gone – taken up into the sky, hidden by a cloud.
There was a distinct purpose to it all, with more than a hint of irony: "The Ascension is about the absence of Jesus from this world, but yet it is also about the presence of Jesus in this world, for He was with the disciples as they went forth," said Ps Malcolm.
"God not only made us but He saved us. And when He saved us, He gave us a destiny. May we never miss that destiny."
On their part, the disciples "represented and carried with them the presence of the risen Christ". (Acts 1:7-8)
The point was clear: We're disciples too … or, we're supposed to be – ones with a Great Commission given into our hands, "heightened-ly restricted" in Phase 2 or not.
"The Ascension implies that we're not just waiting for heaven. We have an assignment from God for these times that we live in, before He returns.
"His last commission is our first concern: Go and bring the Gospel to the nations."
Thank God that Jesus ever liveth to make intercession for us (Hebrews 7:25), because I was nowhere near done with my "this not allowed, that not allowed" ruminations when the third question was raised: How then shall we live because of the Ascension?
Ps Malcolm's suggestions: Know who you are by knowing Whose you are. Just as importantly: Know that what has happened to Him has also happened to you.
He explained: "When He died, you and I died as well. And when He rose again, we also rose with Him to newness of life. And when He went up to heaven, we also go with Him to heaven. And when He is seated in the heavenly places, we too are seated with Him. This is our heavenly position. I am in Christ and Christ is in me." (Colossians 3:1-4)
The third thing to know is: Know where to fix your hearts and minds.
He expounded: "Jesus died and rose again. That's worth much, much more than all the things that the world has to offer you. Fix your heart and mind on the Kingdom of God: Jesus is coming again."
Finally (and hear the trumpet call): Know what will be yours and my future hope.
He exalted: "Christ's Ascension is the archetype and pledge of our own ascension to heaven (1 Thessalonians 4:13-18). Jesus will come again, and we will surely be with him forever. Praise be to God!"
But he also exhorted: "Set your hearts on things above – the greater cause of the Kingdom of God! God has a plan for your life and my life, and all the things that we do in our everyday life must fit into God's perfect plan.
"All of us have a special call from God on our life. God not only made us, but He saved us. And when He saved us, He gave us a destiny. May we never miss that destiny."
This was no longer a spectator sport. Was I still tuned in?
"This same Jesus (Acts 1:11) will come back again in the same way. Watch out that no one deceives you (Matthew 24:4-5)."
"He not only gave us a destiny, He gave us the power to carry it out. May you and I never miss God's calling on each and every one of our lives."
Are you still tuned in?
---
MORE DEVOTIONALS FOR THE COVID SEASON:
Rev Edmund Chan: What will it take to stay loyal to our King?
Reflection and Discussion
Are you still listening out for the voice of God (John 10:27), in spite of all that's happening in Singapore and around the world?
What's He saying about how you can live out His call on your life over the next four weeks of Phase 2?
If you have enjoyed reading Salt&Light...
We are an independent, non-profit organisation that relies on the generosity of our readers, such as yourself, to continue serving the kingdom. Every dollar donated goes directly back into our editorial coverage.
Would you consider partnering with us in our kingdom work by supporting us financially, either as a one-off donation, or a recurring pledge?
Support Salt&Light