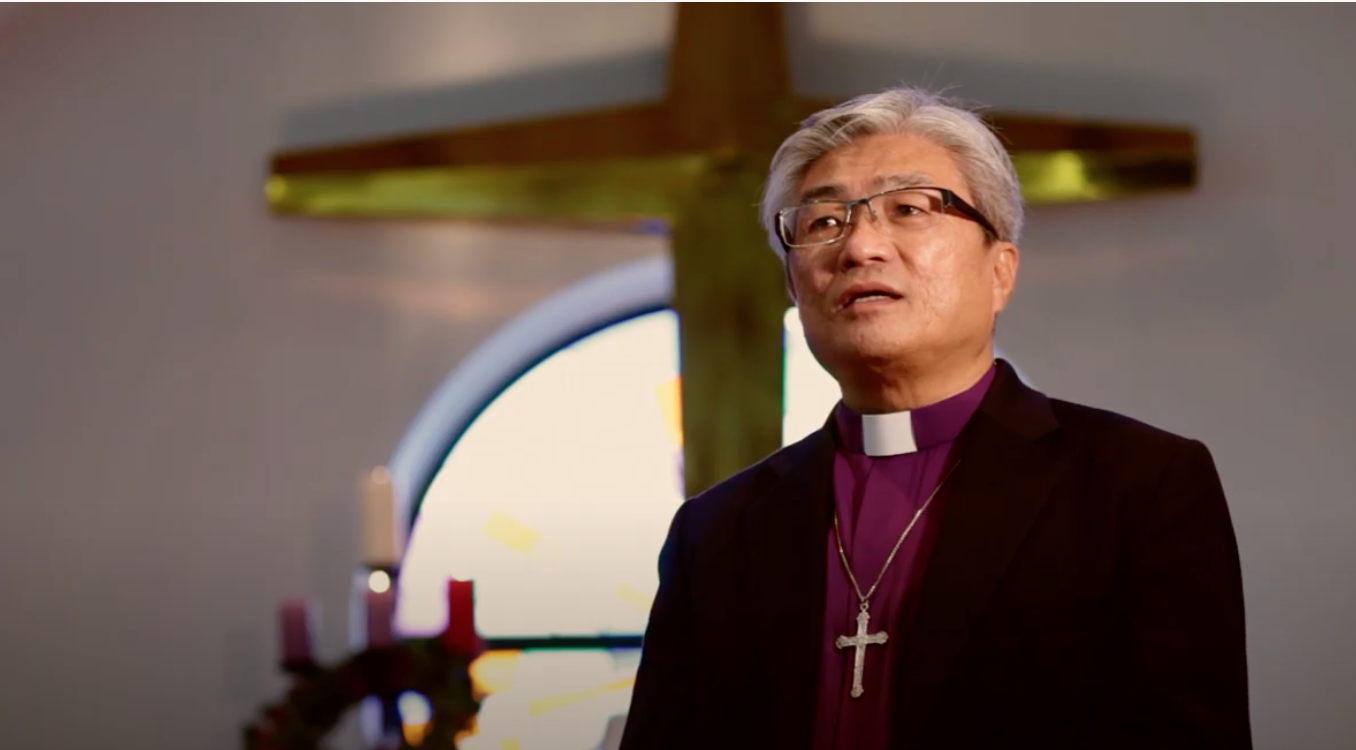 Noting that churches, groups and individuals have stepped up to provide food, comfort and prayer to those affected by the pandemic, Bishop Dr Chong Chin Chung said: "This is the social holiness we seek to embody." Screengrab from Christmas Greetings from the Bishop 2016 video.
An exhortation to social holiness will mark Bishop Dr Chong Chin Chung's Aldersgate Day message on Sunday, May 24, when the Methodist Church in Singapore (MCS) remembers the day on which its founder, John Wesley, felt his heart "strangely warmed". 
With churches closed and streamed services the current norm, Bishop Chong's pre-recorded Aldersgate sermon offers the opportunity for unity as one message is beamed across the online platforms of all 46 of the MCS' churches.
The pause the pandemic has given "has allowed the Methodist church to gather as one for our annual Aldersgate service to remember our founder's heart-warming revival experience. What we have celebrated as individual churches can now be observed as 46 connected churches – a Methodist connexion made possible by the internet age," Dr Anthony Goh, Chairman of the Council on Communications, MCS told Salt&Light.
All 46 churches have chosen to use the Aldersgate service, though the number and timing of services may vary. 
Bishop Chong's sermon will be framed by worship and liturgy and presented as a full service in English and Chinese. For the Emmanual Tamil Annual Conference (ETAC) of the MCS, there will be voiceover in Tamil.
Wesley never ceased to seek growth and Christian perfection throughout his days – a pursuit all Methodists should undertake too.
While it does not set out to be a substitute for the annual Aldersgate conference – absent from the MCS calendar this year – it is representative of the Aldersgate Combined Worship Service that has closed that keynote event for the last two decades.
Salt&Light was given a preview of Bishop Chong's sermon, in which he drives home the point that while the Aldersgate Experience marked a decisive turnaround in John Wesley's spiritual life, Wesley never ceased to seek growth and Christian perfection throughout his days – a pursuit all Methodists should undertake too.
Wesley was at a group meeting on the night of May 24, 1738 on Aldersgate Street in London when he heard Martin Luther's Preface to the Epistle to the Romans being read. He later wrote in his journal: "While he was describing the change which God works in the heart through faith in Christ, I felt my heart strangely warmed."
Those with whom he subsequently gathered and reached out to became known as the first Methodists.
Wesley went on to set out his counsel on social holiness by doing good, which Bishop Chong will speak more on.
Entitled "Loving God, Serving Together … With Hearts Strangely Warmed", the sermon is an extension of the one Bishop Chong preached at the launch of MCS' 135th anniversary celebrations in February.
At the time, the gravity of the coronavirus situation was only just taking hold, but church congregations had already thinned out. Nonetheless, he issued a clarion call to his flock to good works by considering "whose neighbour am I?" (Luke 10:23-37).
"What we have celebrated as individual churches can now be observed as 46 connected churches."
The "Loving God, Serving Together" theme continues to undergird the slate of anniversary programmes. However, many of the initiatives have had to be suspended or expressed differently due to the Circuit Breaker restrictions.
Donations to The Giving Methodist continue to be received online, but its partner Eat-Share-Connect befriender project is on hold.
The Family Carnival, originally scheduled for May 30 as the year's highlight, has been postponed. The Simply Good-Healthy Family Meals cookbook that was to have been promoted then will be sold at individual Methodist churches instead, when services are allowed to resume (see below).
The Heritage Day & Exhibition set for July 11 will now be held on October 23.  
Meanwhile, the MCS' 135 Days of Prayer began on April 5 via Whatsapp. It is centred on COVID-19 intercession and will run until August 17.
---
The Aldersgate service, with a sermon by Rev Dr Chong Chin Chung, the Bishop of the Methodist Church of Singapore (MCS), will be streamed at various times on Sunday, May 24 by all 46 of MCS' churches. 
Methodist Church marks 135 years in Singapore with acts of love
Come back, Neighbour: A Methodist reflects on 135 years of God's faithfulness
Simply Good
The Simply Good-Healthy Family Meals cookbook was compiled by three members of the MCS' General Conference Women's Society of Christian Service (GCWSCS). Home cooks themselves, Laureen Ong-Tam, Gnanamany Phillip and Chan Lai King tested and modified 30 recipes to cater to people of all levels of cooking ability and resources.
The meals are said to take about 45 minutes to prepare, and estimated to cost $10 or less, with careful grocery shopping and use of what is already in most kitchens. They are planned with a family of four in mind.
 
Available in English, Malay, Mandarin or Tamil, the cookbooks can be purchased for $10 through all Methodist churches once Circuit Breaker measures are lifted. 
If you have enjoyed reading Salt&Light...
We are an independent, non-profit organisation that relies on the generosity of our readers, such as yourself, to continue serving the kingdom. Every dollar donated goes directly back into our editorial coverage.
Would you consider partnering with us in our kingdom work by supporting us financially, either as a one-off donation, or a recurring pledge?
Support Salt&Light