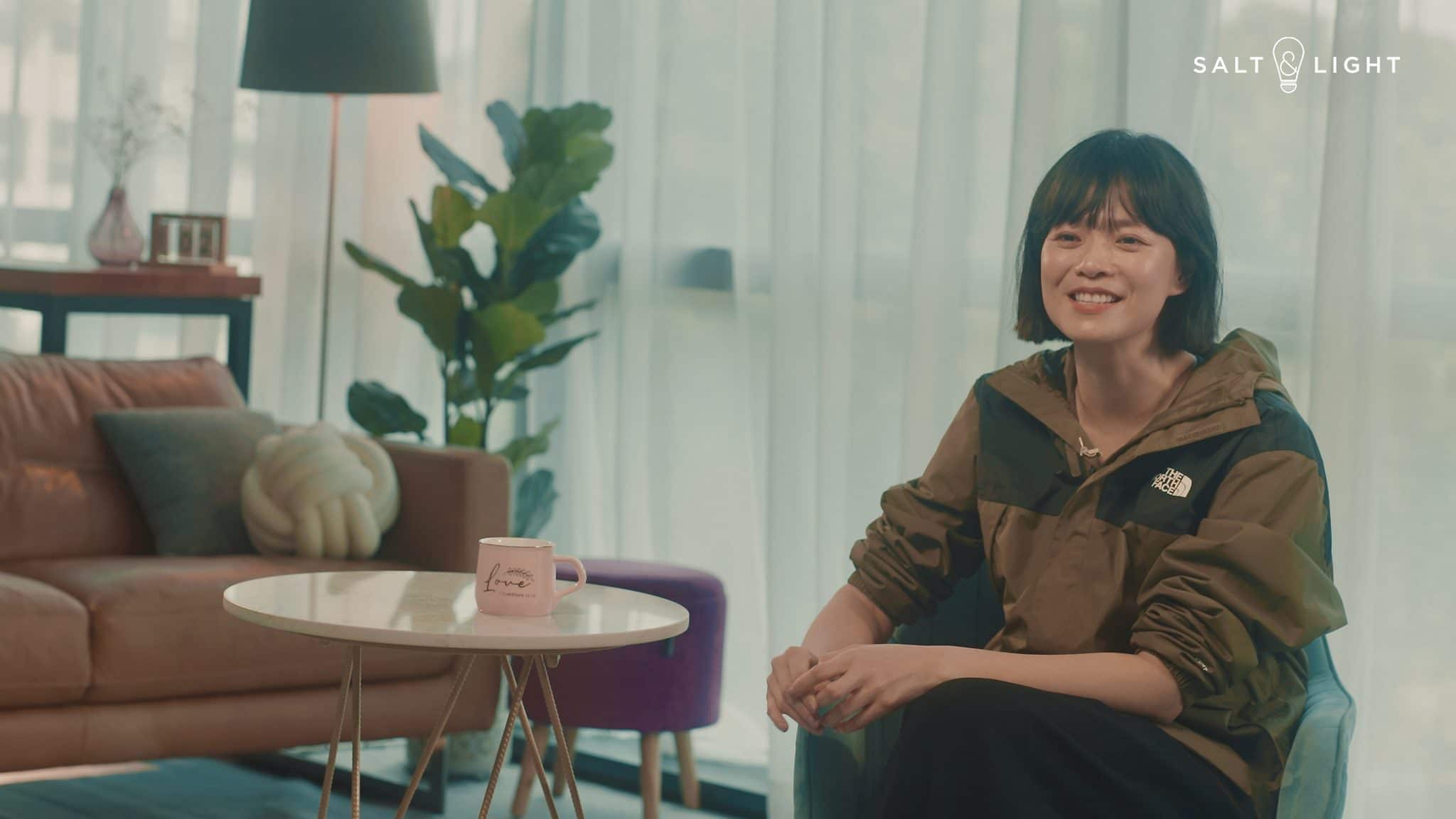 Felicia Chin hopes that sharing uplifting stories at hhm.sg will bring hope to those who are struggling and lost.
"Is it too shallow of me to say this …," Felicia Chin sheepishly quips, "But I don't know how to choose my own wardrobe!"
She is dressed in an olive sports jacket over a plain black outfit, an endearingly bemused expression in her eyes as a new colleague tamps down a few rebellious wisps of her hair before the cameras roll.
The truth is – for the 37-year-old actress and TV host who was discovered by Mediacorp as an 18 year old – she has not had to fuss over her own wardrobe, hair or makeup on set for the past 19 years.
This is a new one.
Yet the sporty outfit Felicia has picked for her first video interview since joining 还好吗 (hhm.sg – the name means "how are you doing?") as a presenter/content creator, is telling.
It speaks of coming full circle for the bubbly, athletic girl next door, who as a newly discovered star with a bright, new chapter ahead of her was observed to have a fondness for pairing sports jackets with everything.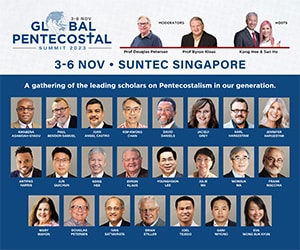 The turning point for Felicia came in 2015, when she knelt in a toilet cubicle and said her first prayer.
But in those early years, stardom had come at a price.
Joining the industry after winning the prestigious Star Search competition in 2003, she had struggled with public – and even her own – expectations.
Felicia shared with CNA Lifestyle: "One day, I was out with a friend, sitting on the floor at an MRT station – City Hall or something. I received a message. A stylist friend texted me, 'Eh, someone saw you sitting on the floor. I think you'd better stand up.'
"It was like the movie The Princess Diaries, where a normal, common person suddenly has to learn a lot of etiquette. Suddenly, I couldn't do this and that." 
While she became so successful that she ranked among the "Seven Princesses", a name coined by the media for the most sought-after young actresses, secretly she "felt lost and a fraud".
After seven years, she "ran away" to business school in Beijing in 2010.
The turning point for Felicia would come in 2015, when she knelt in a toilet cubicle and said her first prayer. Soon after, she accepted Christ. 
When she returned to Mediacorp, she found herself thriving for the next seven years. In April this year, she won her 10th Top 10 Most Popular Female Artistes trophy at the Star Awards 2022.
"I guess it's that tugging of the heart you don't want to regret."
Today, she is ready to make new choices again and to do "what speaks to me right now".
"I guess it's that tugging of the heart you don't want to regret," she says of her move from Mediacorp to 还好吗.
June 30 was Felicia's last day at Mediacorp. She is taking a month's break before starting on August 1 with 还好吗 – a new platform telling stories of hope in Chinese.
She shares with Salt&Light how her years of quavering self-esteem ("I was on the brink of bulimia"), tearful struggles as a young artiste, and yearning for a father after her dad died from cancer when she was 17, have taken her through some dark days.  
But because she "knows what it's like to feel really low", she hopes that sharing uplifting stories at 还好吗 will bring hope to those who are struggling and lost.
What's going through your mind as you take the big leap of faith to join hhm.sg?
Starting at 还好吗 feels a bit like going back to school! Everything is new: What stationery to bring? Will my classmates like me? (Laughs)
It's funny because I went back to school in 2010. Now I'm doing something new in 2022. There's a lot of deja vu moments – the day of announcement, going to a new environment.
It's similar, but definitely different because now I feel God is with me. He is telling me that: Hey, you know, 不一样 (not the same), it's different because I am with you. Every step I'm with you.
Have there been encouragements along the way?
My decision last year to take three months' leave to study in Bible school was a little "yes" from me to God.
After I said "yes", there were more work projects that came in that were really enticing! But I had already agreed to attend Bible school. So I think along the way, because of the yes-es to Jesus, eventually when the right opportunity came to join 还好吗, it wasn't that tough for me to switch to a different path.
And along the way there were confirmations. I remember there was a Word on Wednesday, like a Bible study, in my church on Romans.
"Because of my yes-es to Jesus, eventually when the right opportunity came to join 还好吗, it wasn't that tough a decision."
And almost consecutively, two of the sermons spoke so much to me, it was as if every word was for me, like God was reassuring me that He's with me.
Then at Pentecost this year, my friends and I were worshipping online and we really felt the move of the Holy Spirit. I was just sharing with them about a dream that I had. In the dream, a cow was eating paper. I woke up feeling very puzzled. What does it mean? Why is the cow eating paper?
As we were talking about it, suddenly one of my friends said: "Do you remember you were encouraging us to chew on God's Word?" And then suddenly, it clicked. The paper is the pages of the Bible. God is telling me to chew on His Word. 
Was it difficult to leave Mediacorp, where you have been for the past 19 years?
I'm very grateful to Mediacorp. I was a seed and they were my garden. That's where my water, my soil came from. You know, in a garden there might be sun, there might be rain, there might be clouds. But I was allowed space to grow.
I'm truly thankful that I am leaving with a lot of love and support. And although it's definitely not a goodbye, I do look back and and think that, wow, the past years were definitely good years.
还好吗
tells stories of hope in Chinese. Is this significant to you?
Yes. What spoke to me about 还好吗 was that it is something for the Chinese community.
I have often reflected on why I'm placed primarily in Chinese dramas ever since I came into this industry. There must be a reason I have a certain connection with the Chinese audience.
"These two, three years, I have felt the prompting: Felicia, go read the Chinese Bible!"
These two, three years, I have felt the prompting: Felicia, go read the Chinese Bible, go read the Chinese Bible! And I'm like: Very hard leh! I opened the Chinese Bible and there were a lot of words I didn't really know.
But last year, I got the chance to attend some classes at Chinese Tung Ling Bible School. And because of that, I decided to open the Chinese Bible and started reading it.
Now I read the Bible in English and in Chinese. As I piece everything together, I feel it's not a coincidence that maybe my next step forward is in this direction. That's why I said yes to 还好吗.
Why do you think stories are so powerful?
Because I think life influence lives. It's funny, stories are something you can't even touch, right? It's something that you see visually or you feel in your heart. But stories can give people a certain sense of hope. The resonance is very important.
What do you think will be the difference between telling stories as an actress and telling stories at 还好吗?
I've never really separated work from who I am as a Christian. (I try, I'm not perfect!) Even when I was filming, I always prayed to God before we started, during and sometimes even after filming: What do You have in mind for this project? May You come and bless the people in this project. Lead me to people You want me to touch today on set.
Whatever gifts or talents that I have, I just hope to be making a positive contribution and not fear what God has in store for me. Because I know there's a lot of learning to do, but sometimes God might lead us to things that seem bigger than ourselves.
Stories of hope, in particular, are so precious. Hope is so lacking in the real world. It's easy to feel in despair, especially when you don't really know who to turn to. You feel helpless and defenceless. These are all very real things that people face. And Christ is a hope that is definite. That's quite amazing, right? Who else can give you that!
How personal is God to you?
When I was 17, my father passed away because of cancer. My family tried to just survive and be strong and go on with life. But as I look back, I think my father has always been an anchor for me growing up. Having him in the family meant a lot to me.
"I realised tears of joy is a real description. God was giving me a taste of what it's like with Him in my life."
So when he was gone, the family had to weather quite a number of storms. And that was very hard for me. There was that void inside of me, you know, and I was always searching for meaning and purpose in life from the time I was 17 onwards. I read a lot of self help books, all that.
But nothing quite filled that void till the first time I went to church in 2015. It was a weekday afternoon, Wednesday, I think. And although there was no service, I just felt all my fears disappear when I walked into the church. It felt like waves of love upon me. That was supernatural. I'd never felt that kind of love before.
It was a love that does not judge you, a love that just wants to comfort you where you are. And that was the first day that I knew that God is love and perfect love expels all fears. (1 John 4:18)
I remember when I received Christ in 2015, I was driving home after church. Suddenly I started crying. But that crying was like joyful crying. It was like you are so happy, but yet, you're crying and you don't understand what's happening to you. At that moment, I even said: "哇, 演戏都应该演不到这个情绪吧!" (I think I wouldn't even be able to act this emotion out!)
Then you realise that "tears of joy" is a real description. I just feel that maybe God was giving me a taste of what it's like with Him in my life.
You have been through moments of pain, loneliness and loss. What do you want to say to those who are going through the same?
I just want to share that if you are going through struggles, seeking meaning or purpose in life, you can whisper to Father God everything that you're going through. And He cares. He cares for each and every one of us so intimately.
It's okay to just cry out to Him just like I did many years ago at the back of my kitchen. He's here to heal the brokenhearted. He's here to help bind up our wounds.
I feel that there are a lot of people who might be hurt or really brokenhearted – just know that you can always, always, always count on God. And that's the only thing that I can really say so assuredly that you can count on.
---
RELATED STORIES:
"God is in the business of restoring my family": Felicia Chin on her hope this Christmas
"God told us: Trust in me": Deon and Chew Chor Meng on their hope despite illness
"The devil came to kill, steal and destroy but God restored my life": Actor Li Nanxing
From party girl to World Vision ambassador: Belinda Lee's journey of faith
"God answers prayers": Veteran Under One Roof actor Moses Lim on his miraculous healing
If you have enjoyed reading Salt&Light...
We are an independent, non-profit organisation that relies on the generosity of our readers, such as yourself, to continue serving the kingdom. Every dollar donated goes directly back into our editorial coverage.
Would you consider partnering with us in our kingdom work by supporting us financially, either as a one-off donation, or a recurring pledge?
Support Salt&Light