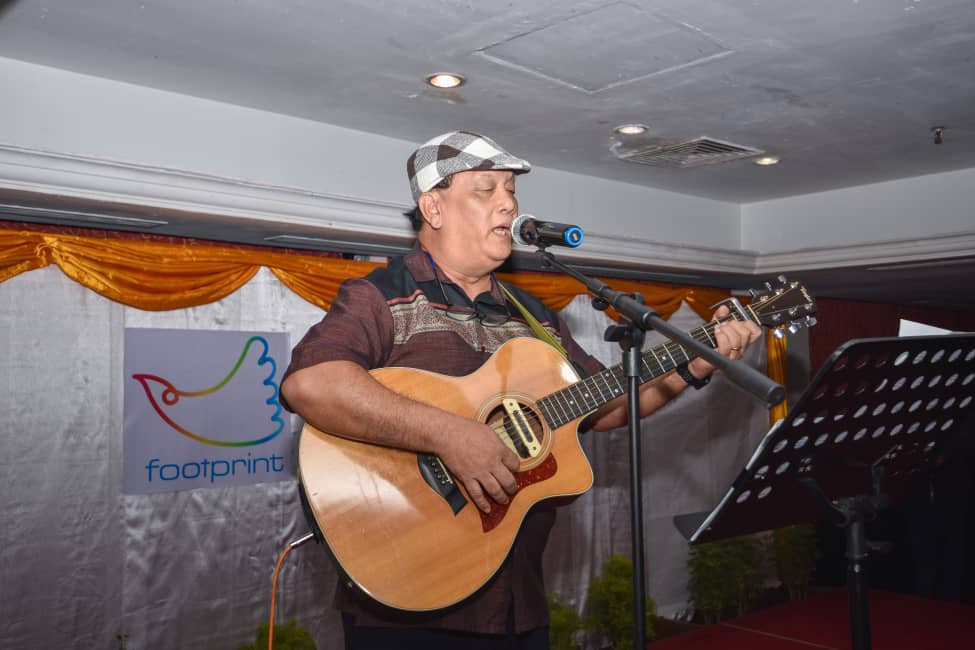 "My vision is to see the Glory of God cover Sarawak as God's people lift up the name of Jesus Christ when they worship Him," said Pastor David Cheng, a worship pastor at Emmanuel Baptist Church in Kuching. Photo of Ps David Cheng from his Facebook page.
"Give us some time to grieve but fret not, we are still at peace. Death has no sting," said Anders Cheng in a message to concerned friends and supporters over the news that his father, Pastor David Cheng, is Malaysia's first COVID-19-related death.
Pastor Cheng, 60, from Emmanuel Baptist Church in Kuching, passed away at 11am this morning (March 17) at Sarawak General Hospital, reported The Star.
In the message, Anders, a teacher, thanked friends for their support and prayers in the past days, quoting a song that his father, a worship pastor, had written:
"Over all over all
He's the ruler over all
And my life in Him is secured"
He added that Pastor Cheng "will be cremated later today and because of the lockdown, how the memorial service would be done may be very different".
"My dad is in a place where there is no more pain, sickness, grief, sorrows or worries, and he's in a better place than all of us. So with that, we are putting on our garments of praise and still rejoicing through this storm."
Anders' mother and sister are also reported to have tested positive for COVID-19.
"We are putting on our garments of praise and still rejoicing through this storm."
"As of now, I'm concerned more for my mom and sis and pray that their immunity will clear it without any further complications," said Anders.
"Pray with me for my health too that I won't be tested positive and my sister and mom will be ok, (and that) we will come out stronger," he said.
In a statement today, the state disaster management committee announced that it is still in the process of identifying the source of the Pastor Cheng's infection.
It added that 193 close contacts of the pastor have been traced and are undergoing home quarantine.
The secretariat said 45 COVID-19 cases in Sarawak have been traced to four clusters, namely Sri Petaling cluster, Kuching (church) cluster, Sarikei cluster and one more cluster in Kuching, the source of which has yet to be identified. 
The glory of God in Sarawak
In a testimony on the Emmanuel Baptist Church (EBC) website, Pastor Cheng said he came to know Christ around 1977.
"The thought of going into full-time was not really my main objective in life until I felt a tugging in my heart that one day I will serve Him full-time. However, I just brushed aside the thought.
"My greatest joy is to see people encountering the Presence of God during the time of worship."
"After working in the marketplace for more than 10 years, the divine time for me to enter into full-time ministry came when the late Pastor Philip James was visiting EBC. The Lord confirmed God's call for me through him to serve as the Worship Pastor at EBC.
"I remember I was still working with MBF Finance as their credit officer and it was about that time that the company went into a separation scheme exercise for all staff. Even though the regional manager wanted me to stay on, I sensed in my heart that it was time to obey God to serve Him in a full-time capacity. The moment came in 1998, and I was called to be the Worship Pastor of EBC.
"My greatest joy is to see people encountering the Presence of God during the time of worship. The Bible verse that stirs my passion regarding worship is found in Psalm 40:3: He put a new song in my mouth, a hymn of praise to our God. Many will see and fear the Lord, and put their trust in him.
"May we see many continue to experience the reality of God through worship.
"Indeed, when we learn to worship the Lord in spirit and in truth, we will experience life transforming worship.
"Another desire of mine is to see the nurturing and rising of the next generation of worship leaders who are also passionate for the Presence of God and know how to lead the people in worship.
"My vision is to see the Glory of God cover Sarawak as God's people lift up the name of Jesus Christ when they worship Him."
In the midst of COVID, "there exists a hope, unshakeable, everlasting and true": What Beatrice Chao learnt from her father, who died battling SARS
"In times of affliction and fears, live for what really matters," challenges Rev Edmund Chan