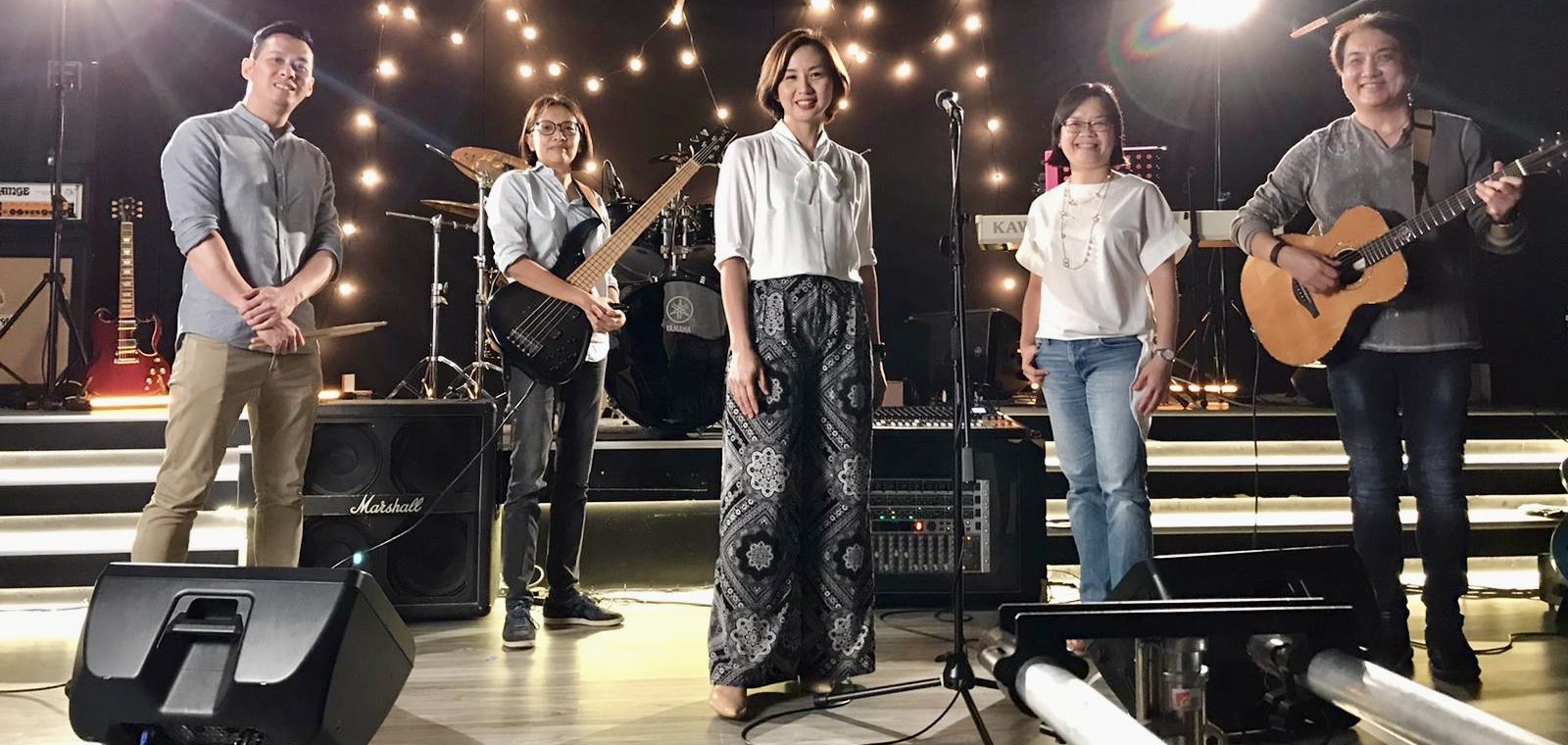 In an online performance released on June 20, actress-host Evelyn Tan (centre) sang a song composed by Yvonne Cheong. Cheong was gifted the talent of songwriting after her cancer diagnosis. The songs in the performance accompany testimonies of miraculous healing and transformation. Cheong and her team – most not formally trained in music – also shared the miracles of how they came to produce songs of worship. All photos courtesy of Yvonne Cheong.
Yvonne Cheong locked herself in her car and cried and cried.
Under the weight of having to juggle her breast cancer diagnosis, tests, consultations on treatment options, her family and stress at work, Cheong crumbled.
The mother of four cried out to God in desperation, yearning for His presence and comfort.
Strangely, she began to sing.
"The words and melody of a completely new song came when I opened my mouth," Cheong, now in her early 50s, told Salt&Light. 
It was out of the norm for Cheong, who works in the retail banking industry. For she had no musical training. Nor had she ever sung in a choir.
The songs gave her "courage and comfort" to go through her surgeries.
Since this experience in 2016, she has gone on to write some 60 songs about God's love.
Through a series of divine connections, God brought into her life other musicians – many not formally trained – to help her arrange and take her songs beyond her circle of friends:
In 2019, Cheong was among cancer patients and survivors invited to perform at a charity concert by National Cancer Centre Singapore (NCCS). Besides doing a vocal solo of Seasons of Life, she was able to share her testimony with an audience of 400.
In 2020, Joyful Praise, produced with a collaborator, won in all three categories of a music video competition.
Just over a week ago (June 20), she and a team launched Miracles of Love, a bilingual online presentation with songs and testimonies "from ordinary men and women who have encountered the work of an extraordinary God" in their lives. The intention is to spread God's love and share the message of salvation.
A white pavilion
The cancer diagnosis in 2016 rocked Cheong's world.
The thought of undergoing a mastectomy filled her with anguish and fear. She wondered if she would to die. But most of all, she was worried about her family and her children. The youngest was in Primary 3 at that time.
"The words and melody of a completely new song came when I opened my mouth."
"I wondered why me? I've been a good Christian," 
"I couldn't even bring myself to pray," she said.
Until that afternoon she locked herself in her car and cried out to God.
The song she started singing was about God holding her hand. 
"I saw an image of a white pavilion in a garden, surrounded by beautiful blooms of flowers in different colours.
"God was seated in the pavilion and He was waving at me to walk towards Him."
Cheong saw herself walking down the path that led to the pavilion. When she met God, He held her hand, embraced and comforted her.
She knew that she had entered God's presence, and had found peace in Him.
She would name this song In His Sanctuary.
"All these singers are having their concerts online. Why isn't God having His?"
In the car that day, Cheong was reminded of Isaiah 43:2: When you pass through the waters, I will be with you; and through the rivers, they shall not overwhelm you; when you walk through fire you shall not be burned, and the flame shall not consume you.
She took it as God's promise that He would be with her through cancer, and that she would emerge unscathed.
It gave her a new strength and assurance that would help her soldier through the next few years, which included four surgeries over nine months and cancer medication which left her feeling downcast.
"Whenever things were tough, I would have a song," said Cheong.
The songs would come with bible verses. They reminded her of God's character and the promises He had for her.
Her car would become her recording studio, where she would sing songs that came to her into her phone. Over four years, Cheong accumulated more than 60 songs.
During the hardest time of her life, God became her source of comfort and tower of strength whenever she was afraid.
A talent from a lost bird
Among the people God sent to help Cheong take her songs to a wider audience is Wan Yew Fai, 56, a forensic accountant. 
At the age of 15, he moved from Malaysia to study at Anglo-Chinese School in Singapore in 1979.
He left the clubs he used to play at, and resolved to play the guitar only for causes that would glorify God.
He stayed with his mother's cousin – until one day while playing with his aunt's pet bird, he forgot to shut the windows and the bird flew away. Too embarrassed to continue staying at his aunt's, Wan  moved out. 
He thought that he would be homeless.
Then his school principal called a group of foreign boys to his office. The principal told them of an available house near the school where they could stay. Wan moved there.
Wan's roommate – Loo Hin Chong, now an elder at RiverLife church – taught him to play the guitar. Wan enjoyed it, and joined a church band.
But he was not very good at playing the guitar. A church member commented that he didn't know what Wan was playing.
A defeated Wan prayed: "How I wish I could play by ear and not be left behind."
Two years later, Wan's prayer was answered when he began to recognise the chords that suited each rhythm. Within two weeks, Wan was able to play by ear. 
He began playing regularly at gigs, and headed a band at Kent Ridge Hall during his days at the National University of Singapore.
In 2017, Wan was involved in a cycling accident while racing in a triathlon. He emerged without a scratch, and believed that God had spared him.
He left the bands and clubs he used to play at, and resolved to play the guitar only for causes that would glorify God. They included corporate fellowship groups and cancer support group, Inspired.
Cheong started chatting with Wan after he had played the guitar at a CBD Fellowship session. The two became friends and Wan began producing instrumental accompaniment for Cheong's songs, which were previously sung unaccompanied.
They collaborated in a music video competition organised by Cheong's church, Trinity Christian Centre, in 2020. The Mandarin song, Joyful Praise, written by Cheong, was a winner in all the three categories. 
She would also rope in Wan as guitarist and music arranger when she got the idea of putting together a virtual musical performance.
Fast and furious
The idea for the virtual performance came in mid 2020, when Cheong watched artiste after artiste putting on online concerts during the Covid pandemic.
"All these singers are having their concerts online. Why isn't God having His?"
She was careful not to proceed with something that was not God's plan.
But one day, while having lunch at work, the ideas for an online concert came fast and furiously. She knew that it would fit two possible themes: Love and miracles. 
She took it as a sign from God to proceed. 
Cheong shared her idea with friends at the CBD Fellowship, a group of believers working in the Central Business District who meet on alternate Wednesdays for lunch, fellowship and worship, and often hear from invited speakers. 
Just like the Israelites who had to take the first step into the Jordan river before the water parted, Cheong and the team took the leap of faith and followed God's lead.
Through connections from this group, God sent people of different abilities to form a team to turn the idea of a virtual performance into a reality. 
Same day delivery
The online concert, Miracles of Love, features four songs and four testimonies.
The team wanted to present Jesus' love through the anchor story of the prodigal son. They met on the morning of January 16 and prayed to find a modern day example that people could relate to.
That same evening, the husband of a team member – Lai Li Fang – told her about Eric Lim, who had been being paralysed from a fall, but was miraculously healed. 
 Lai's husband had met Lim – a cell group leader from his church – for the first time that very afternoon.
Only God could have orchestrated the timing so miraculously, Lai told Salt&Light.
Lim's story of transformation is one of four stories shared in the 45-minute video presentation.
Lim's story is accompanied by the song, My Deliverer. It was sung by Lai, a business head in enterprise banking who is in her 50s. Like Cheong, Lai is not a professional musician.
Lai had initially written the song for Christmas, when she received it while walking home from the MRT station one day. 
God used their five loaves and two fishes to create a tool to draw people to Him.
The song had come so quickly that she had to find a quiet corner at the void deck to record it on her smartphone.
She adapted the lyrics and tune to pair it with Lim's testimony.
The other three songs in the concert were written by Cheong. One of them, Beautiful Child of God, was sung by celebrity Evelyn Tan, who was personally touched by the lyrics. 
The team provided an altar call at the end of the concert to allow viewers to respond to Jesus in the privacy of their homes.
The team had never produced a musical presentation before. Many had not been formally trained in music, and several of them had only just met. But God enabled them to work as one and complete the vocal recordings and filming within two weekends.
"What is miraculous is that God used what we have – our five loaves and two fishes" to create a special tool to draw people to Him, said Cheah.
---
Watch and share Miracles of Love below. If you know of someone who has been touched by God, and would like to connect with the team, email [email protected].
---
RELATED STORIES:
Beyond access ramps, "Let Us Consider" how to truly include the differently abled
If you have enjoyed reading Salt&Light...
We are an independent, non-profit organisation that relies on the generosity of our readers, such as yourself, to continue serving the kingdom. Every dollar donated goes directly back into our editorial coverage.
Would you consider partnering with us in our kingdom work by supporting us financially, either as a one-off donation, or a recurring pledge?
Support Salt&Light