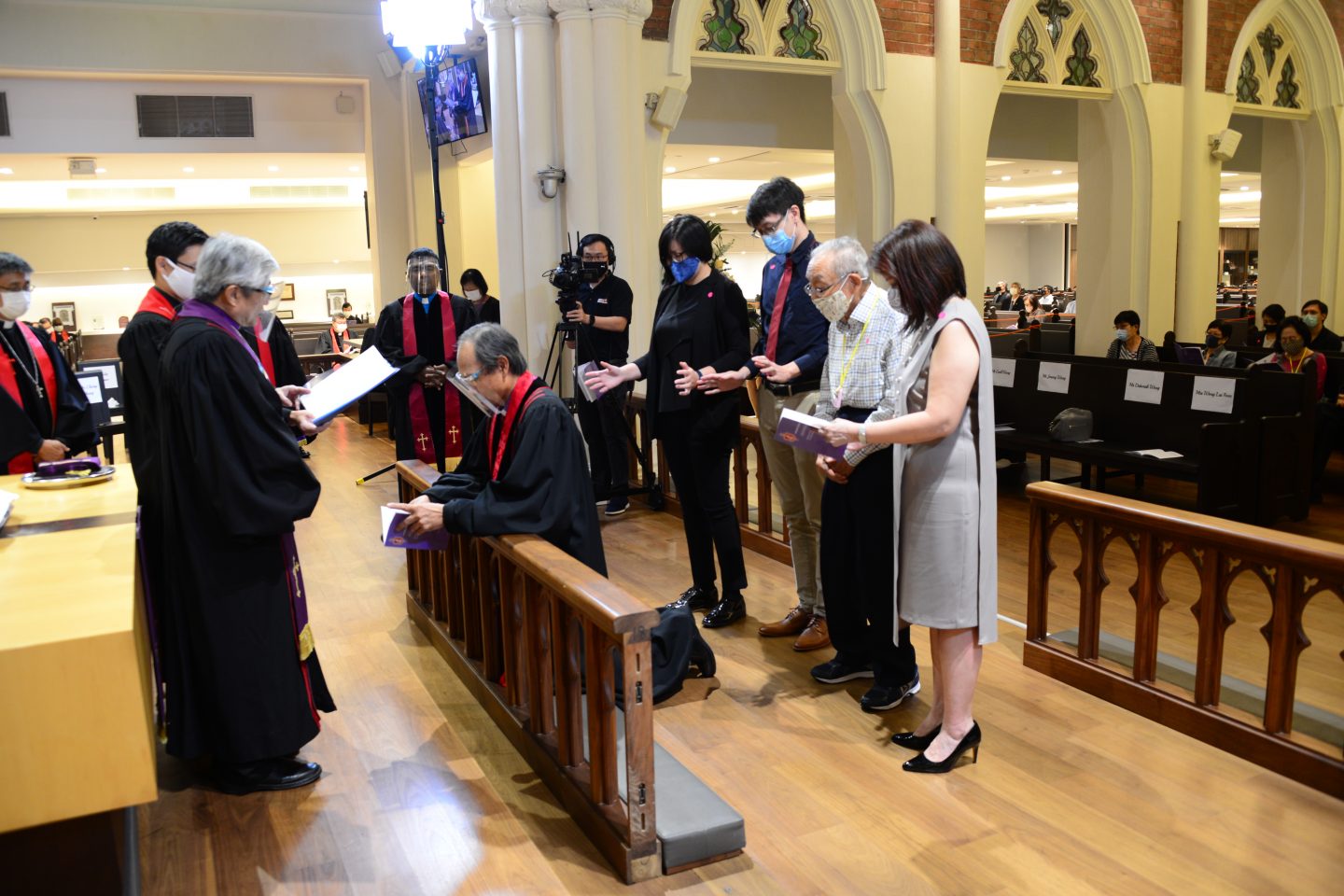 Bishop Dr Gordon Wong (kneeling) being prayed over by Bishop Emeritus Dr Chong Chin Chung (left) and the Presidents of MCS's three Annual Conferences. Bishop Wong's family stands behind him. All photos courtesy of The Methodist Church in Singapore.
Rev Dr Gordon Wong, 59, was tonight (Dec 4) consecrated as the Bishop of the 12th Quadrennium of The Methodist Church in Singapore, under the soaring arches of the oldest church in its fold, Wesley Methodist Church.
The Consecration Service was attended by close to 100 church leaders, senior pastors, heads of Methodist agencies and Methodist school principals, who were undeterred by the mandatory wearing of masks and social distancing measures.
Almost 800 joined the one-and-a-half-hour service via livestream.
The solemnity of the occasion was overlaid with a patina of warmth, as the new Bishop not only thanked the leaders presiding over the service and the Methodist family present, but also welcomed his 98-year-old father, Mr Cecil Wong, his wife Lai Foon and children Deborah and Jeremy, as well as the spouses of the Bishops Emeriti by name.
The video anthem, The Reason We Serve, performed by the Methodist Festival Choir, was conducted by Bishop Wong's wife, Lai Foon, 58.
Also showing up in support were the Most Rev Archbishop William Goh of the Roman Catholic Arch Diocese of Singapore, as well as leaders from the National Council of Churches: NCCS President and Synod Moderator of the Presbyterian Church, Rt Rev Keith Lai; Anglican Bishop Rt Rev Titus Chung; Lutheran Bishop Terry Kee; Col Rodney Walters from The Salvation Army Singapore; and Rev Dr Chua Chung Kai from the Evangelical Free Church.
Another 800 others joined the one-and-a-half-hour service via livestream, a number that reflected the strength of the Methodist body, the largest Protestant denomination in Singapore.
A Christian calling to groan
The new Bishop surprised the church by starting his sermon with a groan. Three groans, in fact.
"Groan, Groan, Groan.
"No, the sermon title does not describe my feeling on being consecrated as the next Bishop of MCS. Though I confess that I did groan quietly upon my first realising that I had been elected, and I suspect the very public nature of the Bishop's office will give me many more occasions to groan and groan again," said Bishop Wong with characteristic good humour.
"Our calling is to empathise and cry. To mourn. To lament. To groan."
Groaning, he explained, is repeated in Romans 8:22-28. Creation groans, humans groan, the Holy Spirit groans.
"Tom Wright, an Anglican bishop and Bible scholar, believes that this passage in Romans 8 is God's Word to the Church especially during this terrible Covid-19 pandemic.
"Bishop Tom Wright thinks that this groaning is not just our human condition. It is also our Christian calling. He writes, 'The initial calling of the Church, first and foremost, is to take our place humbly among the mourners.'"
Bishop Wong added: "The calling of the Church is not to give a lecture to the world on who is responsible for bringing this pandemic upon us all.
"Our calling is not so much to explain or 'fix the blame'. Our calling is to empathise and cry. To mourn. To lament. To groan. This is how Romans 8 describes intercessory prayer.
"Let's be a people who intercede with compassion for a world that is groaning and suffering."
But Bishop Wong pointed out that, while Paul uses the word for "groan" three times in this passage, he uses the word for "hope" six times.
"What is Paul's point? We do groan, but we do not groan as those without hope.
"While Paul uses the word for 'groan' three times in this passage, he uses the word for 'hope' six times."
"We groan with God. We hope in God. And thirdly, we should work with God for good," said the Bishop.
"There are many different ways God works with us in all things to bring about good in this world of groaning. In so doing, we obey the greatest commandment in Scripture which is to love God by loving our neighbour."
Bishop Wong's message underscores MCS's 135th anniversary combined fund-raising efforts this year, when more than $1.7 million was raised as financial aid to more than 600 families.
The service closed with an uncommon Benediction – one that symbolically united the different facets of the local Methodist Church as Bishop Emeritus Dr Chong Chin Chung delivered the Benediction in Chinese, Bishop Emeritus Dr Robert Solomon in Tamil, Bishop Emeritus Dr Wee Boon Hup in English, and Bishop Dr Gordon Wong in Greek.
Serving more than 44,000
MCS's current officeholders – Bishop Wong, and the Presidents of MCS's three Annual Conferences, Rev Stanley Chua, Rev Dr Gregory Goh, and Rev Philip Abraham – will serve until 2024.
In his new role, Bishop Wong oversees MCS's 46 churches with more than 44,000 members, provides counsel to 15 Methodist schools, and offers support to MCS's social welfare arm, Methodist Welfare Services (MWS), which runs 20 community-based care centres and programmes.
He will also represent MCS in inter-faith relations and interactions with the Government.
Rev Dr Gordon Wong elected new Bishop of the Methodist Church
"The Church must address those facing stress": Trinity Christian Centre and Methodist Welfare Services grant more aid to community
Methodist Church marks 135 years in Singapore with acts of love
If you have enjoyed reading Salt&Light...
We are an independent, non-profit organisation that relies on the generosity of our readers, such as yourself, to continue serving the kingdom. Every dollar donated goes directly back into our editorial coverage.
Would you consider partnering with us in our kingdom work by supporting us financially, either as a one-off donation, or a recurring pledge?
Support Salt&Light