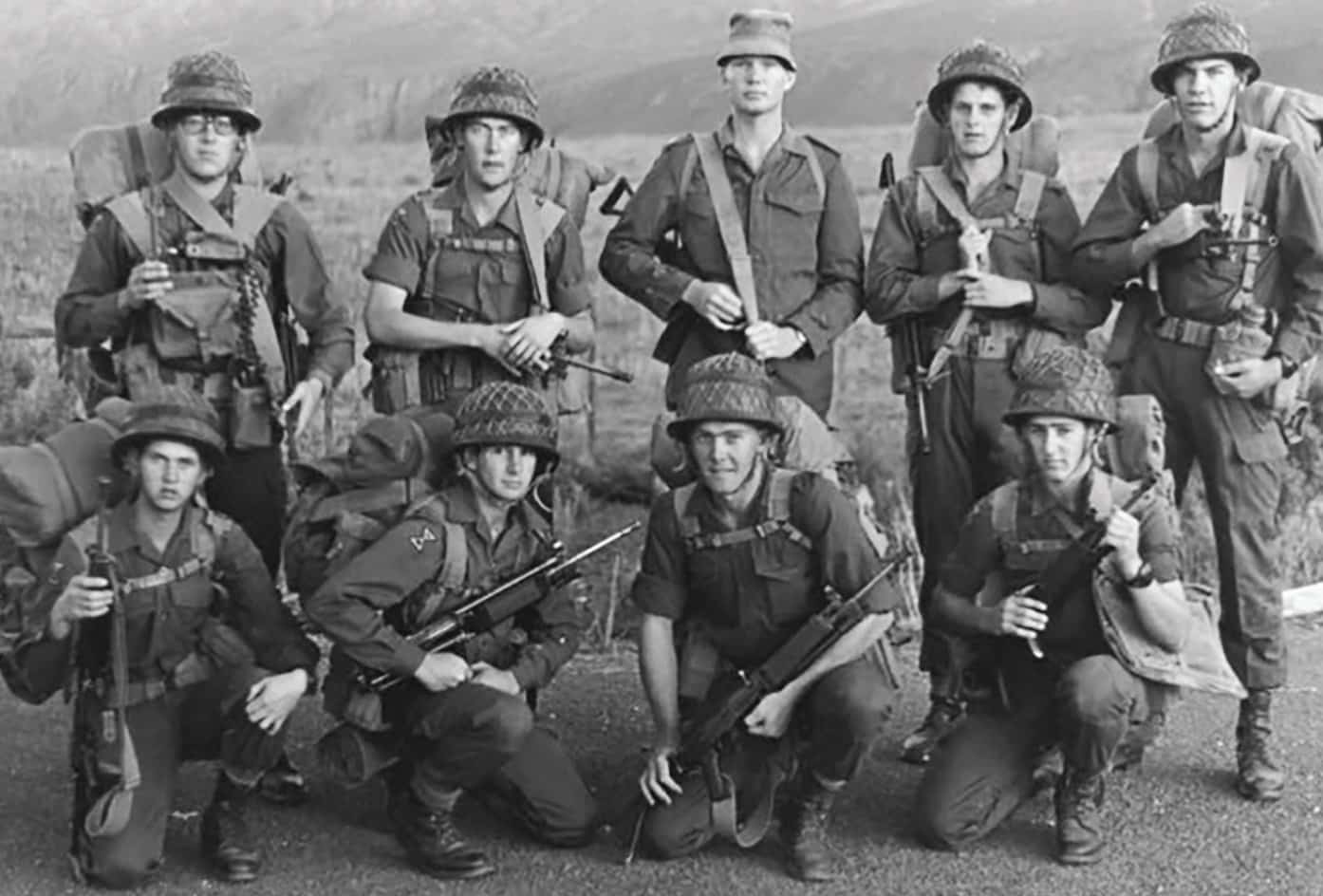 A young Dian (front row, second from right) ready for the 120km route march in Officer School. All photos courtesy of Pastor Dian Botha.
Diederik Johannes Botha (Jr) – Dian for short – was a fighter.
In 9th grade, he broke the school record for the most canings in one year – 60 lashes. As a teenager in South Africa, he got into fistfights with grown men at pubs.
At 14, he joined the youth league of the Afrikaner Weerstands Beweging (Afrikaner Resistance Movement), a neo-nazi fascist group championing white supremacy.
It was the 1970s and, fed with racist ideology, he started his own gang that abused people of colour. The gang had several run-ins with the law, from traffic violations to assault and theft. But each time, his lawyer dad bailed him out. 
The friend he never wanted
While Dian was busy with his fists both in and out of school, his classmate, Frank, was living an opposite life. 
Frank was an A* student and a top rugby player. Despite his many talents, Frank – a Christian – was known to be humble and kind.
As he behaved differently from the rest of the students, many of them – including Dian – could not tolerate him. Once, a drunk Dian was on the verge of yet another fight when Frank went up said: "You can't live like this. Repent and give your life to Jesus."
He was on the verge of yet another fight when Frank said: "You can't live like this. Repent and give your life to Jesus."
In return, Dian whacked him on the head with a club. Frank got up from the floor and said he forgave Dian but he would still need to repent.
Dian made a note to stay away from the "loony".
In the days ahead, Frank continued to show Dian brotherly love. Once, in a lodge together during a trip, Dian wanted to smoke. Frank, who had asthma, wordlessly headed outside to wait in the freezing winter cold instead of making a fuss. When he returned, shivering, he even offered to make Dian a cup of coffee. Dian was flabbergasted.
Shortly afterwards, in Dian's final year of high school, he tragically lost three of the closest people in his life: His father died of a heart attack, his best friend smashed into a tree in a drunken stupor, and his then girlfriend committed suicide. It was one of the lowest points in Dian's life.
"I felt as though a mountain of guilt and darkness had been lifted off my shoulders."
One Wednesday during that time, Dian happened to pass Frank's room in the boarding school. Guitar music streamed from the room.  
Though Dian intended to walk past, he was inexplicably drawn towards the room. Peeping in, he saw Frank worshipping God.
When Frank saw him, he beckoned Dian into the room. Looking straight into Dian's eyes, Frank said: "You are going to receive Jesus, right here and now."
To his surprise, Dian felt ready for that and quietly agreed. He asked matter-of-factly: "What must I do?"
Frank told him to kneel down and confess all his sins to God. As Dian opened his heart to God and began listing his sins and asking God for forgiveness in repentance, something changed.
"I felt as though a mountain of guilt and darkness had been lifted off my shoulders. I felt free. I felt new," Dian told Salt&Light.
He realised: "I am a preacher. I can do this for the rest of my life."
Caning, arrests and counselling in the past had not changed him. Yet this time, he felt changed.
In the following months, as Frank discipled him, Dian began making restitution to those he had wronged in the past. He went to shop owners to ask for forgiveness for stealing items like jeans and chocolates and paid them back. He even sought forgiveness from mothers whose daughters' hearts he had broken over the years.
Once it came to everyone's attention that the gangster of their school had become a believer, more Christians revealed themselves. They gathered for Bible study and the school saw a revival.
As Dian carried his Bible on his way to sharing the Gospel one day, he realised: "I am a preacher. I can do this for the rest of my life."
In the thick of war 
But life channeled him to the military for National Service instead.
At the time he was required to do an initial two years, and then serve in the reserve force for 900 more days.
As a child who loved to fight, Dian had been waiting and looking forward to joining the military for a long time.
Selected for Officers School, he was also eventually picked to be part of an elite unit, the Pathfinders, a specialised team of soldiers dropped or parachuted in behind enemy lines for reconnaissance or missions.
Their training routine involved jumping out of a plane, steering to the target and then regrouping.
Dian recalled that, at one time, he was caught in an upward draft of wind and was enjoying himself until he realised that his teammates were not with him but were way below.  
Quickly, he began his descent but realised that at the rate he was going, he would not be able to reach the target. Below him was terrain hostile to safe landing, with high voltage power lines and fences. Very soon, the sirens of the military ambulance began blaring as a signal of the danger ahead of him. 
He found himself praying as he parachuted into enemy territory at night, bullets flying everywhere.
"Depending on whether I landed on the power lines or fence, I would either be turned into Kentucky Fried Chicken or satay. No matter how I manoeuvred, I knew I just was not going to reach my target," recalled Dian.  
Desperately, he let go of his steering lines and shouted: "Jesus! Help!" 
With yes tightly shut, he felt a gust of wind lifting him up before his feet landed gently on the side of a dirt road, a little from the power lines and fences.
"I couldn't believe the miracle. I realised then that, even when we make mistakes or act foolishly, God is gracious and merciful to rescue us," said Dian.  
During the Angolan border war, Dian and his team were called to conduct night operations. With helicopter gunships hunting down communists, his team was tasked with parachuting in to "finish the job". 
Initially, Dian saw his participation in the war as his national duty. But as the death count – including civilians – rose, Dian began to wrestle with the ethics and morality of war.
Approaching his brigadier, he said: "Sir, this is wrong." In response, the brigadier shouted: "Son, wake up! This is a war!"  
Dian would find himself praying as he parachuted into border areas or enemy territory at night, bullets flying everywhere, knowing that this night could very well be his last.
As he saw pregnant women and the terrified faces of his enemies up close, he was filled with conflict. 
In one way, he felt he was born to be a soldier, and yet he was uneasy with the decision he needed to make – whether to sign on with the Special Forces for the next 10 years.
What happened next would end up changing the trajectory of his life.
From one chariot to another
In September 1984, the South Africa Defence Force held its biggest military exercise since World War Two. Codenamed Exercise Thunder Chariot, it involved 11,000 troops and hundreds of paratroopers in a conventional set-piece battle.
It was cold and windy that particular night and Dian and his team had waited hours to jump from the plane. As the platoon commander of the Pathfinders, he was one of the first to jump.  
The wind suddenly turned and became very strong, and he was dropped too early. He found himself heading at top speed towards a little hill. As he landed hard on a rock, he felt his right femur smashing and he blacked out. 
As his troops injected him with morphine, he kept hearing the words : "Jesus saved you to bring life, not death."
When Dian came to, he was trembling uncontrollably, his knee cap pointing in the wrong direction. Yet he could not be evacuated immediately as artillery was still pounding the target area.  
As his troops injected him with morphine, he kept hearing the words : "Jesus saved you to bring life, not death." Also looping through his head was John 10:10: "The thief comes only to steal and kill and destroy; I have come that they may have life, and have it to the full." 
The next day, he was flown back to Pretoria to undergo surgery. Four steel pins were inserted into his right femur. He spent the next few months recuperating in the military hospital.  
Dian knew that God had helped him make the decision regarding his career. Though he still had to finish his National Service obligations, he was no longer medically fit for battle.  
While he was in hospital, he frequented its in-house chapel. As he met with the Holy Spirit, his hunger for the things of God grew. Finally, Dian told God that, he did not know how, but he would serve Him and move from Thunder Chariot to Christ's Chariot.  
To equip himself for ministry work, he enrolled in Youth With A Mission (YWAM) as well as Bible school.
During that time, he also attended his mother's church where renowned evangelist Reinhard Bonnke prayed for his leg.  
"I believe God healed me because He had a plan for me."  
His injury and surgery had caused his right leg to be shorter than the left.  
But as he was being prayed for, Dian could feel his right leg miraculously growing out to become of the same length as his left, even with the four pins inside his right leg. 
"I could walk normally and didn't need crutches anymore. I believe God healed me because He had a plan for me," said Dian.
In 1988, Dian, then 25, journeyed to Taiwan with five other friends to serve as missionaries. 
By then, he had received many prophetic words and a Scripture confirmation from God that he was to go to Taiwan.
Though he would be heading to a land with an entirely different culture and language from his, Dian was not worried. Having emerged from the army and war, there was little that could faze him now, with God guiding him.
Go to the south! 
But which city in Taiwan was he to go?
The six friends decided to set aside an hour for individual prayer before regrouping.
Dian's hair stood on end and his heart leapt. God had spoken!  
During his quiet time, Dian felt led to read Ezekiel. A verse leapt out: "Son of man, set your face towards the south." (Ezekiel 20:46).
Was it God's instruction that they should go south? Had God spoken clearly to the others too?
Dian emerged from his room and saw his friend Neil.
He blurted: "Neil, prophesy!"
Neil looked out of the window and said: "Thus says the Lord, this is a dark place."
"Dude, the sun has gone down, that's why it's dark," came Dian's first thought.  
"Imagine if we had not sought God's direction, or if we had rationalised things and not gone to Taichung." 
Then Neil continued: "Go to the south!"
Dian's hair stood on end and his heart leapt. God had spoken!  
The group got their hands on a map of Taiwan and asked God: Which city in the south?
All of them picked the same city: Taichung. And so they left for Taichung the next day.
Enroute to Taichung, they met an older missionary at a bus station, who handed them a directory of all the missionaries serving in Taiwan.
Their group arrived in Taichung at about 7pm but they had no idea where to get off the bus. Eventually the bus driver pulled into the bus depot and all of them alighted.
They had been praying for three years that God would send someone to come and help them.
By this time, night had fallen and they could not read the signs which were in Chinese, not even to find a hotel.
Searching for a payphone, Dian opened the directory of missionaries they had been given earlier in the day. Their call to the first number went unanswered. The second number belonged to a Mr and Mrs M Balk from the Finnish Foreign Mission.
An old lady answered the phone and, Dian began telling her their story, adding that they needed accommodation and were willing to work for it.
"Praise God you have finally come!" she excitedly exclaimed, cutting him short.
"What do you mean?" he asked.
"We talk later. Where are you?" she replied. After calling a Taiwanese person to the phone, they were successfully located and picked up.
They would later learn that the couple whose number they called was in their 80s and ready to retire. But no replacements from Finland had been sent to relieve them. They had been praying for three years that God would send someone to come and help them.
"Imagine if we had not sought God's direction, or if we had rationalised things and not gone to Taichung," said Dian, now 58, adding: "One reason Christians may not experience the supernatural is because they don't respond to the leading of the Holy Spirit. Someone called it the 'paralysis of analysis' – analysing things instead of moving."
During his time in Taiwan, God would send many people and resources to support him in his missionary work, including his late wife, Dawn, who was also from South Africa, and a Chinese "mother" who fed them and opened doors to many churches for them. 
Dian and Dawn faced many challenges in their early years in Taiwan. They would cycle to Chinese language classes, even through life-threatening typhoons, because they did not want to waste the precious school fees that were paid out of their meagre savings. 
There was also a time when they were sent to support a blind church pastor. They lived in a little room at the back of the church. Understandably, the grounds were not very clean. Come night time, cockroaches would emerge by the hundreds and run all over them. 
"Dawn never, ever complained. She knew that, with Jesus in the boat, we can smile at the storm. I thank God for her," said Dian. 
In his 14 years in Taiwan, Dian gained enough mastery of the Chinese language to read the Chinese Bible and preach in Mandarin fluently. 
He and Dawn also taught English and preached God's word at Glad Tidings Bible College, later establishing a church for students who were new believers. 
Because you are mine
In his early years in Taiwan, Dian recalled being "very religious" and having a deep desire to please God.
He would stay away from alcohol and fast for 40 days a year. Every day, he would pray for two hours and read at least 20 chapters of the Bible.
"I love you not because you fast and read the Bible all the time. I love you because you are mine."
One day, he heard God telling him: "Stop reading the Bible and praying. Go to 7-11, buy a beer and drink it."
Dian was stunned. He wondered whether the instruction was from the devil, but recognised it as the voice of God.
Seeking to obey, Dian did not read the Bible or pray for three days but found that was the longest he could go without doing so. In order to resume praying and reading, he forced himself to go to the 7-11 convenience store opposite the Bible college where he taught at and bought a Budweiser.
He took his first sip, then a second and a third.
"It was the most anti-climax moment ever. I thought when I drank it, there would be lightning in the sky, goosebumps or some kind of spiritual epiphany. But nothing happened," he said. He threw the can away after three sips.
The next morning, he woke up early and saw the silhouette of a figure at the foot of his bed. Immediately, he knew it was Jesus.
"He said to me, 'Dian, I love you not because you don't drink or because you fast and read the Bible all the time. I love you because you are mine. You cannot do anything to make me love you more than I already do,'" related Dian, tears welling up in his eyes even as he recounted the memory of three decades ago.
"The God of comfort came into my car and physically hugged me."
In the years ahead, God would reveal more and more of Himself as a loving Father to Dian.
In 2006 when Dawn, aged 45, died suddenly from heart failure right in front of Dian, his heart was shattered.
He became a single parent of three children, then aged eight, 12 and 14. 
As he wept in his car, he felt a deep embrace and he lost track of time in the hug. 
"The God of comfort came into my car and physically hugged me, though I didn't see Him. When I came round, the deep pain in my heart had disappeared," said Dian.
10 Ah Ma's
One day, in the late 1990s in Taiwan, Dian was praying on the rooftop of his little house, which was just next to a rice paddy field.
He was feeling insignificant in the work he was doing, as his church had only 50 students at the time, while the churches in Korea were seeing mass revivals. 
Suddenly, he heard a voice saying: "Thank you for coming to Taiwan."
Before he could make sense of the voice, he saw a vision of himself before God on Judgement Day.
"Where are the 10 Ah Ma's (old aunties) I asked you to look after?"
Jesus was standing before him, in a glistening white robe, asking Dian: "Where are the 10 Ah Ma's (old aunties) I asked you to look after?"
In the blink of an eye, the 10 ah ma's appeared in heaven and Jesus said: "Very good. One hundred marks."
Then Jesus turned to a man in black suit and tie who was next to Dian. Somehow, Dian knew that the man's assignment was not 10 Ah Ma's, but a million souls.
When Jesus asked him about his assignment, the man replied: "I have brought 800,000 people to You."
"Well done. Eighty marks," came Jesus' reply.
Dian was puzzled. How could he get full marks for 10 old aunties while the other guy only received 80 marks for 800,000 souls?
"We may do things that appear good, but that may not be what He asks for."
Jesus told him: "What this man has done, he has done by his own power and by his own virtue."
Dian interjected with: "Lord, we have also started an orphanage."
"Never asked you to," Jesus replied with a smile, and the vision ended.
"It was a reminder for me not to compare myself with others, but to stay focused on what He has called me to do, and we will be judged solely on that basis," said Dian soberly.
"Nobody can boast of anything since what needs to be done can only be done by His power and grace.
"We may do things that appear good, but that may not be what He asks for."
Changed by the Father
After 14 years of living in Taiwan, Dian was called to ministry work in Singapore via New Covenant Ministries International (NCMI) in 2003.
He started a small church – New Covenant Church – in Singapore, which in 2014 merged with Cornerstone Community Church.
Currently, Pastor Dian is in the executive team of Cornerstone Community Church. The three children are now young adults. 
As part of his work, he preaches in various churches here, including the Chinese churches. He also taught at Tung Ling Bible School and the School of Supernatural Ministry. 
In light of the Judgement Day vision that he had earlier, he is focusing his energies on inhabiting a fathering role to the individuals, leaders and churches which he mentors.
He hopes to bring people into the fullest potential of their calling by discipling and revealing the Father to them.
"When we truly experience God as our loving Father – knowing that not just by intellectual assent but deep conviction – it changes us," said Pastor Dian.
---
RELATED STORIES: 
"Cancer did not take her. I have taken her home," God whispered to a grieving mother, who would go on to fight for the next generation
The story of faith behind Taiwanese toast franchise Fong Sheng Hao
"Do we trust in God's abundance, or operate from a fear of lack?": Missionary family sees God's provision again and again
If you have enjoyed reading Salt&Light...
We are an independent, non-profit organisation that relies on the generosity of our readers, such as yourself, to continue serving the kingdom. Every dollar donated goes directly back into our editorial coverage.
Would you consider partnering with us in our kingdom work by supporting us financially, either as a one-off donation, or a recurring pledge?
Support Salt&Light