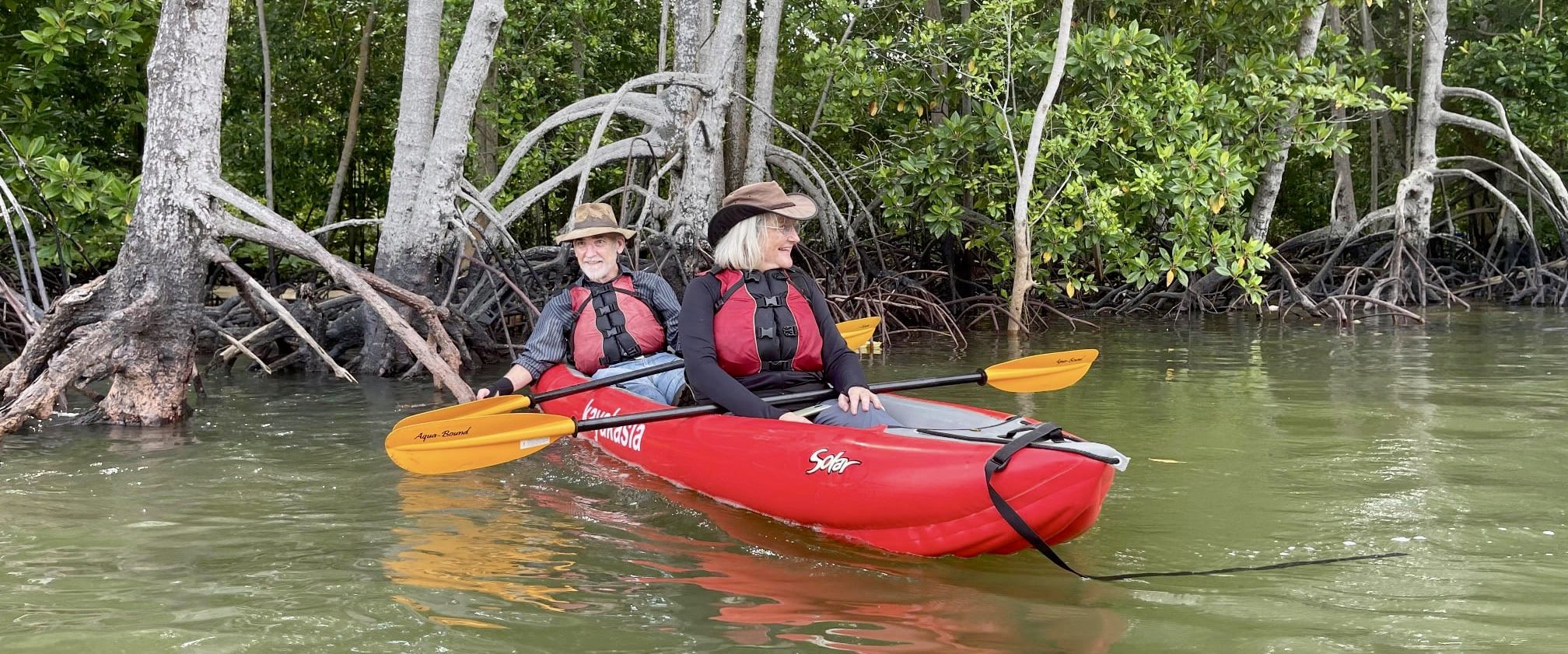 Rev Dr Andrew Reid and his wife Heather (pictured on a kayaking tour of Pulau Ubin during their four years in Singapore), took guidance from the Bible and advice from Heather's parents for their marriage. All photos courtesy of the Reid family.
When Andrew Reid got engaged to Heather McKay in 1978, her aunt sent him a sympathy card.
In it, she wrote: "Every sympathy Andrew. You'll need them all."
The strong-willed and feisty Heather comes from "a family of jokers". 
The "unlikely couple" was 22 at that time. This year, they celebrate their 42nd year as man and wife.
In July, after four years in Singapore, the Reids moved back to Australia .
On Saturday (September 4), Rev Dr Andrew Reid, 64, began his role as Discipleship and Training Pastor at Cross and Crown Church in Melbourne. The church was planted by a Malaysian-born Chinese whom Andrew had previously mentored.
Heather, 65, is currently focusing on her PhD in the Old Testament, and conducting Zoom-based Hebrew-language tutoring. 
The couple met at a beach mission organised by Scripture Union in Australia. They were among the young Christians who ran coffee shops and children's programmes as an outreach to holiday makers who throng big beach campsites over the Christmas break.
"It's a very Aussie thing" quipped Heather. 
She told Salt&Light: "Andrew was incredibly serious. He told me that 'as a Christian, our purpose in life is to serve God until we die' – which sounds very noble but doesn't sound much fun.
"I said: 'Why would God make such a beautiful world if it was all about work and no enjoyment? He thought I was a bit over the top."
Andrew said: "She thought I needed to get a life.
"We didn't take to each other and we didn't take each other's addresses when we left." 
After summer, he went off to Moore Theological College. She went off to finish her studies in physiotherapy. 
But God had plans to bring them together.
Her strength, his steadiness
In the first week of college, when walking to the train station, Andrew spotted Heather coming out of a house. It turned out she lived there with three other women. The couple joke that 20-year-old Andrew started visiting her house to get to know her flatmates.
A friendship blossomed between the two as they found common ground. They both had grown up in Papua New Guinea, and it turned out that they had attended the same primary school. They also discovered that their parents knew each other as their fathers had been on the board of Scripture Union.
Andrew, the introvert, discovered a depth in the reflective Heather, who on the surface was "outgoing, joking and fun". She had the qualities he liked in a woman: Strength and intelligence.
Heather, the extrovert, found the advantages of having "someone who was slow and steady". She found him "grounding". 
Ordinary parents serving a great Lord
"We were young and stupid when we got married," said Heather. They were 23 at that time.
Their youth and personality differences could have spelled disaster for their marriage, particularly in an age when there were few resources to guide to-be-weds.
The young couple spent hours reading Scripture together to work out what they wanted for their marriage. They also took a cue from the marriage of Heather's parents, Max and Barbara "Barb" McKay.
Heather's parents were "phenomenally influential" role models who left a spiritual legacy for their six daughters and sons-in-law, said Andrew. (See Part 1 of their story.)
Andrew and Heather in turn have shared this legacy with their sons, and in their 40 years of ministry, also with the couples they prepare for marriage.
Heather's father Max McKay was a pilot in World War II, a maths professor, and a Masters record-breaking athlete. However, it was not his intelligence but his godliness that the couple admired most about him.
Heather's mother, Barb, was trained as a primary school teacher. She tutored kids and cared for her own mother who had Parkinson's Disease. After getting married, she stayed home to care for her six daughters, and did ministry work as a volunteer for the rest of her life.
Said Heather: "A lot of who Mum was was enabled by who Dad was. In other words, they enabled each other." 
Andrew described his mother-in-law as "a Proverbs 31 and Ephesians 5 sort of woman".
"What Heather has seen is a family model where the parents are committed Christians and read their Bibles regularly and know how to apply it to themselves," he said.
Heather described her parents as "an ordinary man and an ordinary woman who served a great Lord". They went to be with the Lord in the 2010s. 
In Part 2 of their story, the Reids shared with Salt&Light five lessons for marriage they learnt from Heather's parents:
1. Apologies are more important than face
Growing up, Heather was at one point "quite strong minded and rebellious", which meant that she often got into trouble. 
"They were willing to lose face to acknowledge wrong to their daughter. I was only eight at that time."
"Once somebody did something, and they couldn't find a culprit. They thought I was lying when I said wasn't the one who did it. So they punished me," said Heather.
"When they found out that it was one of my sister's friends, my parents apologised to me for being unjust."
She was only about eight years old at that time.
"You think that they would lose face, but in fact, that grew more respect. Because that told me: For them, justice is more important than face. They were actually willing to lose face to acknowledge wrong to their daughter. 
"If we did something where we thought we'd done wrong by our children, we would apologise and repent. We've done that to each other.
"If you are able to acknowledge faults and apologise for doing wrong, that is not a loss of face but a gain."
2. Commit to resolving arguments
Heather and her sisters saw their parents fight. But they also saw them make up. 
"Don't look, girls," their mum would joke as she shared a kiss or cuddle with her husband, Max. 
Not letting the sun go down on your anger (Ephesians 4:26) would be difficult for the Reids. 
"Andrew finds conflict stressful and finds it difficult in the midst of an argument to go straight to to make up because he needs to cool down," said Heather. She also admitted that she can get "a bit irrational late at night".
So they talked about melding the heart of Ephesians 4:26 – of not storing up grievances – with their personalities.
"That is, of letting the sun go down, but with the promise of resolution, instead of trying to resolve it at two in the morning," explained Heather. 
"He would go to bed and put his arm around me, even though he didn't really feel like it."
Andrew would say to her: "I can't talk about this now. We will resolve it tomorrow when we're both a little bit calmer."
Said Heather: "And then he would go to bed with me and put his arm around me, even though he didn't …
"… really feel like it," continued Andrew.
This communicates his commitment to her. 
The couple find that they are able to have a reasonable discussion after a good night's sleep. 
"Often we laugh in the morning and we go, 'We are such idiots. It wasn't a problem after all,'" said Heather. 
Andrew is often the first to apologise, said Heather. "A lot of what he was sorry about was not that he was wrong, but that we had had conflict."
3. Reclaim sex for marriage
Heather's parents were from a generation that did not talk about sex.
Yet before his six daughters got married, Max would sit down, man-to-man, with each son-in-law to talk about honouring his daughters in all ways (see Part 1 of this story, below).
"He made a mark on us young Christian men": A tribute to a father who was role model to six sons-in-law
Heather's mum, Barb, "was very reserved" and did not like talking about sex. "But she did work very hard at trying to present sex in a way that redeemed it," recalled Heather. "She talked about it in a way that helped us to have a rounded attitude."
She was glad that, even though her parents may not have told her "everything there is to know", she did not find out about sex at school or from peers who make it seem dirty. "That's not the way God wants it to be," she said.
"Christians talking about sex redeems sex. And it redeems it for the purposes that God planned."
When the Reids had their own children, matters of sexuality were part of their sons' general Christian education "from the time they could understand things", said Andrew. 
For instance, when Heather was pregnant with their second child, they talked to their elder son about "the baby in mummy". If they saw dogs mating, they talked making puppies. They also watched their pet giving birth.
As part of their "desire to reclaim sex for marriage", the Reids also deal openly about sexual issues in pre-marital courses they conduct. 
Said Heather: "Too many Christians avoid talking about sex, which means that the voice that everybody hears is the world's voice. So Christians talking about sex redeems sex. And it redeems it for the purposes that God planned."
4. Money that is doubly God's  
"At one point my dad was giving away 60% of his income to God," said Heather. "He and mum could have been very wealthy at the end of their lives, but they weren't. Dad couldn't see the point in keeping for himself more than what he needed." 
"The people who support you are giving money to God."
It shaped the Reids' attitude to money when Andrew was looking at going into ministry.
Heather recalled her dad telling them: "The people who support you are giving money to God.
"Every Christian has a responsibility to recognise that all money, every possession, everything comes from God.
"But those in ministry have that responsibility twice over. The money has been given by God to someone and then, by that person, back to God. And as you use it, you need to think about it as doubly God's."
5. Identify your earthly heritage 
In the final days of Max's life when his family was packing up his apartment ahead of his move to a nursing home, they found his thesis.
Heather recalled that they asked him: "Dad, what do you want to do with this?"
Max replied: "You can throw it out. It's only good for a doorstop."
Max was a mathematician and an acting vice chancellor at university.
"My earthly heritage lies elsewhere in you girls and your mum," Max had said.
"When I look back on my life achievements, my family is at the top. The other things are there, but they're not top."
---
Read Part 1 of the story to find out what Heather's father said to his sons-in-laws before they married his daughters. What he said surprised them, and may surprise you:
"He made a mark on us young Christian men": A tribute to a father who was role model to six sons-in-law
RELATED STORIES: