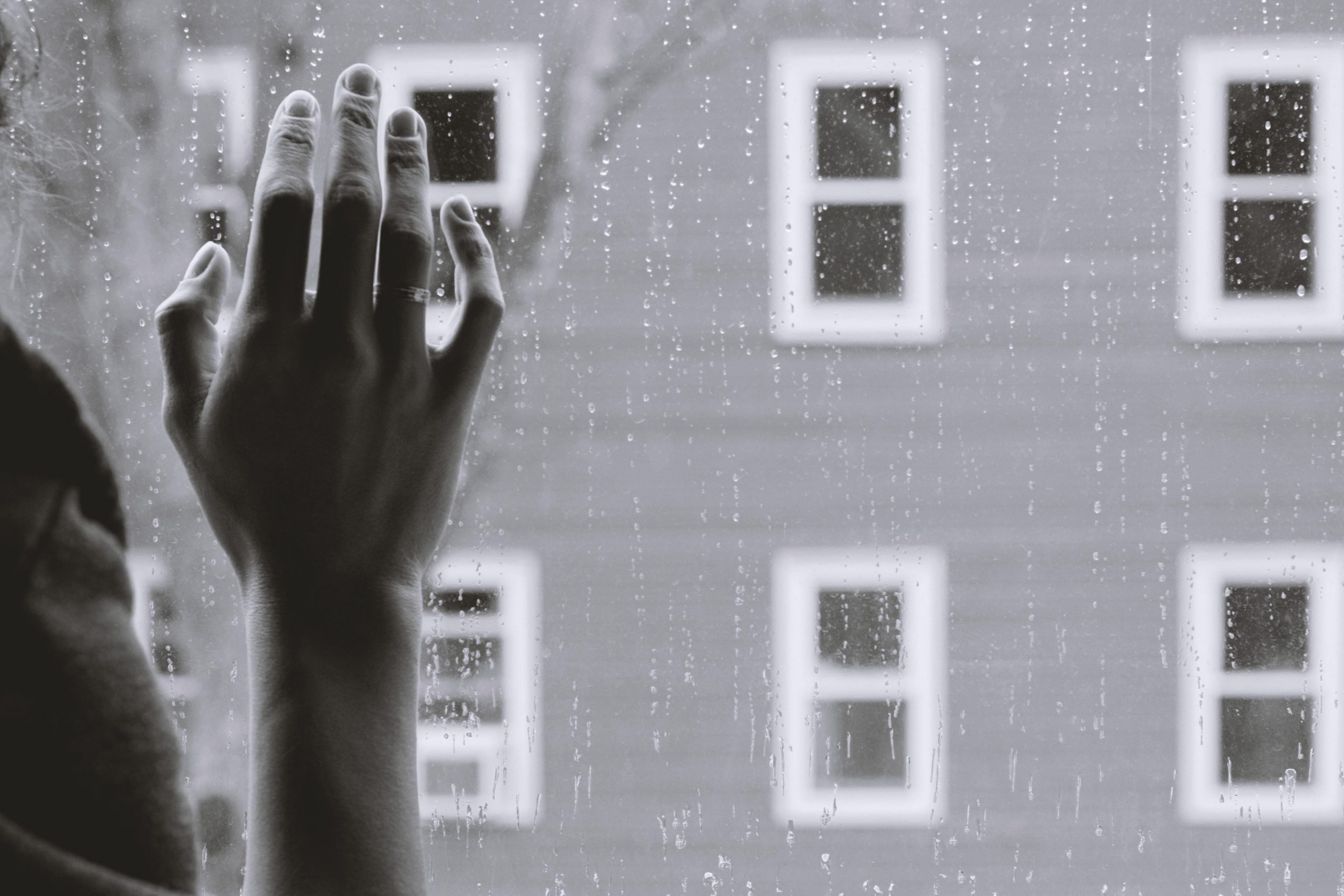 Senior Consultant Psychiatrist, Dr Ken Ung, offered this hope to traumatised families: "If you look at long-term studies of trauma, the natural history is towards recovery." Photo by Kristina Tripkovic on Unsplash.
When Joan Swee lost her husband nearly three decades ago after two battles with cancer, she did not just lose her best friend and teenage sweetheart, she lost a partner in parenting.
Her husband, Henry Chia, had been a very involved father and their sons, then just six and eight, felt the loss keenly.
"My pillow was wet with tears every night for six months."
"Daddy was like their rock. The very physical presence of the daddy was missing. My children were very badly affected."
On top of that, the family also lost all that was familiar and dear to them. They had been living in Hong Kong because of Henry's work. When he passed away, Joan, only 35 at the time, and her sons returned to live in Singapore.
"With the death of their Daddy, we were facing multiple losses. We lost our home in Hong Kong.
"The boys lost their schools, their friends, the church community, all that they were attached to – people, places, things, food. Everything was just taken away from them."
While Joan dealt with her grief – "my pillow was wet (with tears) every night for six months" – she also had to help her sons work through theirs.
She shared this on Salt&Light Family Night (August 31) as the chat show dealt with how to talk to children about traumatic events.
"Jesus showed us that it is human to grieve."
From the questions posted on Slido that night, the nearly 200 viewers who logged in knew exactly what she was talking about.
Many wrote about their struggles walking children through abuse, divorce and death. Nearly 1 in 3 knew of someone or had a child who had experienced trauma.
Following her loss, Joan co-founded Singapore's only widow support group, Wicare. Now a counsellor and grief recovery specialist, she also founded Whispering Hope Singapore to help people manage losses.
Also on the panel with Joan were Senior Consultant Psychiatrist at Adam Road Medical Centre, Dr Ken Ung, who specialises in adolescent psychiatry, as well as Reverend Chan Mei Ming, Assistant Pastor at Faith Methodist Church who also trains people in trauma healing.
In Part 1 of the report on this episode of Salt&Light Family Night, we dealt with the definition of trauma and how to get children to talk through their trauma as a start to healing.
We continue in Part 2 with tips on managing the trauma.
How do we help children manage trauma?
Work through the trauma
"Loss always leads to grief. Grief is an emotional response we feel when we have lost someone or something that means a lot to us," said Ps Mei Ming.
"We need to help them facilitate their grieving process. Help them to understand their grief journey as a street with bus stops along the way." 
Bus Stop 1 is denial and anger.
"Our first response to losing something or someone important to us is often denial, to not believe this is happening," Said Ps Mei Ming. "Along with doubting that it's true, we can feel angry about the loss, trying to find someone or something to blame so we can aim our anger there.
"Sometimes, we feel it's easier and safer to express anger than to express sorrow."
Bus stop 2 is hopelessness.
"We face the reality of the loss. We feel hopeless, as if nothing will ever be good again. Some people show this stage by crying, withdrawing, being depressed.
"They may not feel like taking care of themselves, doing school work or participating in their usual activities. They may resort to numbing their pain with actions that include harming themselves."
To move from this to the next bus stop, Joan shared the 4As of loss and grief.
#1 Acknowledge the loss and pain.
#2 Allow permission to grieve.
"We feel hopeless. Some people show this stage by crying, withdrawing, being depressed."
"Being Christians, we sometimes don't allow people to grieve: 'What's happened to you? Where's your faith?'
"It's so human to grieve and Jesus showed for us that it is human to grieve (John 11:1-44). In other words, we must allow for people a time to grief.
"We need to sit with people and cry with them. We need to listen when they are talking to us about what has been happening, how they are feeling."
#3 Adapt to the changed situation.
"There are some changes because we can't go back. That is the past," said Joan.
#4 Act on steps to recovery.
Take practical steps to get out of the trauma. This may mean counselling, pastoral counselling or even going for Bible study classes.
"My son had to deal with grief anger. I then had to go look for the Child Guidance Clinic. He was age 10 or 11 when it started showing up," said Joan.
Bus stop 3 is resolution.
"We get to that point of new beginnings. We come to a place of resolution, recognise that things will never be the same but we learn to live with the loss.
"They do need to go through the stages of grief and grow honestly with their loss."
"We can talk about our loss without that sharp pain that we felt when the loss was new. We accept that we cannot get these people or things back and we can accept that this new normal is going to be a part of the losses that we face.
"We can even begin to dream again with new beginnings, to plan, to move forward, to map goals no matter how small that may be."
But Ps Mei Ming cautioned against a "grief street bypass" where people do not allow themselves the time and space to be sad or angry about their loss.
"It's not helpful to tell them, 'Please get over it, it's time, grow up, stop whining.' Sometimes, they hear in church, 'You must praise God for everything.'
"This bypass is not healthy. They do need to go through the stages of grief and grow honestly with their loss."
The journey is also not a direct one, she added. Many times, people may revisit bus stops.
Joan noted that, as children get on with life, there may be triggers such as significant events that might cause them to grieve over their traumas again.
As children get on with life, there may be triggers that might cause them to grieve over their traumas again.
"Even kindy graduation, sports achievements, valedictorian speeches, or army commissioning for the guys, daddy is not there.
"Ballet classes, full of (other) mummies, they might think, 'Where is my mummy?'"
Ps Mei Ming assured that, over time, as each bus stop is dealt with properly, moving forward is possible.  
"One day, they will be able to stay in this new-beginnings situation."
At an appropriate time, when the person is ready to listen, Ps Mei Ming advised pointing a "Bible spotlight" on the situation. Psalm 13, for example, can be used to show how David grieved with his men about their losses but found solace and strength in God.
Overcome triggers with positive experiences

For those who are dealing with traumas long past, such as abuses in childhood, helping the person distinguish between past and present is vital, said Dr Ung.
Building positive experiences can give the person a sense of control.
"When the trauma gets triggered, it is easy to imagine that you are going through it again when you are not," he said.
"Help them to see that this is something that happened in the past when they were very young and truly helpless. They might not be like that now. They have grown up and have more control, and this is not happening anymore."
Dr Ung also encouraged "sowing positivity" to repair the damage of the past.
Building positive experiences can give the person a sense of control of the present and, to some degree, the future.
Pastoral way to healing
Ps Mei Ming also offered "Bible-based healing in tragic or trying times".
"I'm not suggesting that it is the only, or even that it is the best way, but I think it can be helpful and, in my experience, it has been helpful."
This would include helping children experience God's love for them.
Said Joan: "Inner healing, deliverance, praying – these let the power of the Lord come in. They may walk through forgiveness and exercise spiritual authority by the Holy Spirit, and have a breakthrough.
"We have to discern (which modality) the child needs."
Empathy when answering questions
A viewer's heart-wrenching question was how to minister to a child who had witnessed his father's heart attack and had tried but failed to revive the older man.
As a result, the child has been blaming himself and unable to step into church again.
"Hug them," said Joan simply. "It is just empathising with the loss. Say, 'I don't understand why this has happened. It must be devastating for you.'"
Agreed Ps Mei Ming: "Let that young person cry. Hold them. That's part of the grief process."
At some point, the question "Why did God allow this to happen?" might arise.
Children can be helped to understand that God does love us, God does care, but that we live in a fallen, imperfect world.
"When they start asking questions like that, they are ready to begin part of that process and that journey," said Ps Mei Ming.
It is then that the child can be helped to understand that God does love us, God does care, but that we live in a fallen, imperfect world. God had created the world perfect but because of the sin of Adam and Eve, "we are where we are today". Nonetheless, "it doesn't mean that God doesn't care".
For younger children, Ps Mei Ming suggested giving them something tangible to help make concrete the ideas. A flower may be used to represent the beautiful world that God created.
While the child holds on to one flower, the caring adult can hold on to another. The child can then be helped to identify some things in the world that are not good such as unhappy or painful events.
As each item is listed, the adult can pluck off one petal of his flower at a time. By the end of the exercise, the adult is holding on to a flower with no petals that has been "destroyed" by all the bad things that has happened.
The intact flower in the child's hand represents the world as God intended.
How do you know if someone is stuck in his or her grief?
The signs have less to do with time and more with a person's ability to function in day-to-day life.
If, after a year or so, the person is "crying as if it just happened", then there may be a need for intervention.
Grieving – being very sad every day – in the first three months of loss or trauma is "very normal", said Joan.
"It is not equivalent to depression because there is a reason for the grief."
However if, within that time, the person is not able to function – do ordinary things like chores, attending to daily hygiene and care, eating or sleeping – these are signs of depression and professional help might be needed.
If after a year or so, the person is "crying as if it just happened", there may also be a need for intervention.
Ps Mei Ming added that the denial stage may last a month or longer while the stage of no hope may go on from six to 18 months. These, however, are just general time frames because "each person is unique".
What are the signs that professional help is needed?
"It is important to be able to collaborate with professional counsellors and psychologists because there are instances where trauma can be of such a nature, such intensity, that pastoral counselling may not be adequate," said Ps Mei Ming.
Counsellors can also be called upon in situations where the parents are not the best people to whom the children can talk.
Said Dr Ung: "If you are the parents, you may not be the best person to talk to your children about your divorce.
"Age is very important too. Teens may not want to talk to me (a psychiatrist) and may want to talk to a trusted mentor instead."
Sow hope
While trauma in childhood can be awful and can have adverse effects on life, they need not define a person, said Dr Ung.
"Research shows how people can, over time, be made more resilient. They can actually bounce back. There have been many instances of people triumphing over adversity.
"The more you sow positively, great things can happen. That's the hope."
"Science shows very much that children who have been badly abused but later adopted into good, loving, caring families can have their lives transformed."
He said that studies of twins show the "power of how a positive environment and care can make a difference".
"If you look at long-term studies of trauma, the natural history is towards recovery."
He added: "The more you sow positively, the more great things can happen. That's the hope. We don't live in this hopelessness where, just because one trauma happened, terrible as it may be, that's it.
"There are things that we do and other people do that can change the trajectory."
---
A full recording of this episode will be available within two weeks. You can watch past episodes of Salt&Light Family Night on our YouTube channel here.
---
RELATED STORIES:
Talk through the heart wounds, it's the first step to healing: Salt&Light Family Night panellists on helping children through trauma
How to talk to your kids when bad things happen: Counsellors share ways to walk youths through traumatic events
"I needed to know if God still loved me": Heartbroken widow who lost her husband, but went on to found a place for those who grieve
If you have enjoyed reading Salt&Light...
We are an independent, non-profit organisation that relies on the generosity of our readers, such as yourself, to continue serving the kingdom. Every dollar donated goes directly back into our editorial coverage.
Would you consider partnering with us in our kingdom work by supporting us financially, either as a one-off donation, or a recurring pledge?
Support Salt&Light