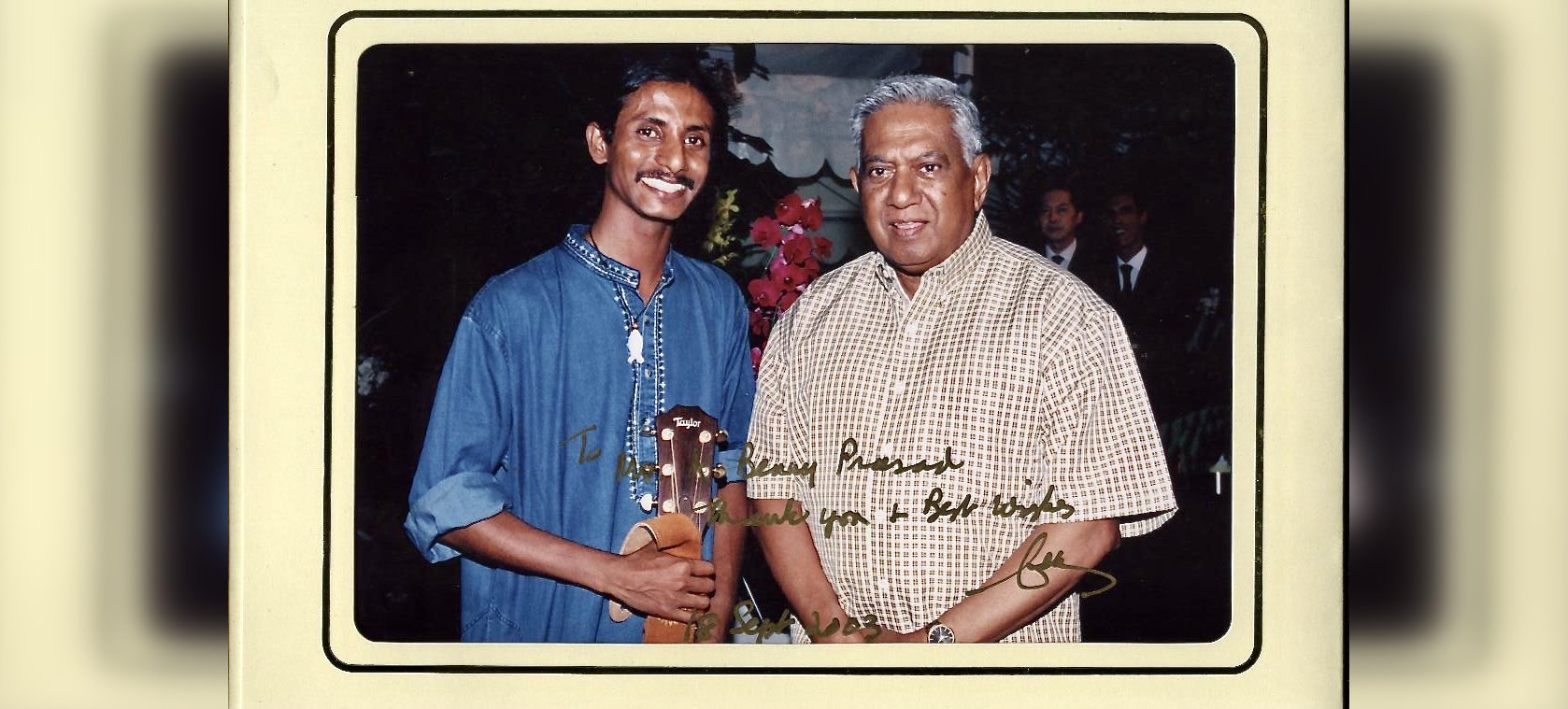 Indian instrumentalist Benny Prasad (left) with Singapore's President SR Nathan in 2003. President Nathan was  the first of many heads of state for whom Prasad would perform. All photos courtesy of Benny Prasad.
Globetrotting Indian instrumentalist Benny Prasad from Bangalore did not know that a world record for travelling existed.
That was until 2009, when a fellow countryman, 55-year-old Kashi Samaddar, broke the world record for travelling to all 194 countries in the world in the shortest time.
Prasad would go on to break a new record in six years six months and 22 days, between May 2004 and November 2010.
"I looked at my list, and I realised that I was just short of seven countries, and I had a year to go," Prasad, now 45, told Salt&Light.
"Without my story, my music is empty."
Since his wish to set foot on foreign soil came true in 1998, Prasad has been sharing his story of hope and change to inspire and encourage audiences around the globe.
He has told his story of how he went from a sickly, suicidal 16-year-old to performing at events like the 2004 Olympic Games in Greece – his first big break – and the 2006 Fifa World Cup in Germany, to worldwide media attention.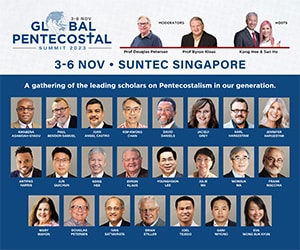 Prasad, who had been written off by his music teacher, would go on to design three guitars – the world's first bongo guitar, a 54-string guitar (a combination of six instruments), and a 20-string harp/bongo guitar.
He also became the fastest person to travel to 194 sovereign countries, 50 dependent countries and Antarctica – a total of 245 nations. 
After travelling to 257 nations over 13 years, God pointed Prasad in a new direction.
In 2015, Prasad built a 400-seater cafe and community space in Bangalore – dubbed the suicide capital of India – to reach out to the college students who are depressed and lonely. The result of was Chai 3:16 (Chai pronounced "hai" means life in Hebrew), which offers a listening ear to students, and only serves tea (the students decide what to pay).
During the recent Covid lockdown, Prasad produced The Blessing (below) in 31 Indian languages, also playing the acoustic guitar on it.
And did the same with The Lord's Prayer (below) in 25 Indian languages.
The Covid lockdown also gave him time to start creating a series of videos of travel tales and God's divine hand in his visit to each country. Miraculous "God-incidences" have included a chance meeting with two men from the Pakistani parliament – staying on the same floor as him – in a 43-storey hotel in North Korea. Through them, he was able to score that "impossible to get" visa to Pakistan – the last country on his list, enabling him to smash that world record for globetrotting. 
Prasad shared highlights of his incredible journey to Christ – and around the world – with Salt&Light. 
Tell us about your growing up years.
My dad was an aerospace scientist. And my mum worked as the assistant director of a Christian radio broadcasting agency. So I grew up with both the academic as well as the spiritual side of the world.
As firstborn and eldest grandchild on my mother's side, I had the pressure of being the role model. And so there were a lot of expectations.
I was six years old when my parents moved me from an English medium school to an Hindi medium school when they moved houses.
"I didn't find any hope, any future … At age 16, I thought of committing suicide."
I struggled because I was suddenly learning all my subjects in a new first language. All the way till high school, I could never I could never catch up.
I kept failing and my teachers kept pushing me. I did not really have either the encouragement or the interest to study. When you fail in studies, especially in India, it's as good as your failing in life.
So I thought I was born worthless and useless.
I was constantly compared with my brother and three sisters. I had very low self-esteem.
On top of that, I was born with asthma. From the age of two to the age of 16, I was on wrong medication, so that 60% of my lungs were damaged, my immune system broke down and I developed rheumatoid arthritis.
All of this came to a point where I didn't find any hope, any future either with my health nor with my studies. At age 16, I thought of committing suicide.
What stopped you from killing yourself?
At age 16, I went to a youth camp to please my mother. She gave me some money. My plan was to go for three days, and with that money, I would run away. So I packed everything and stole some things from home, like my dad's camera.
On the second day of the camp, the speaker asked all of us to bow our heads and pray. I was not interested in prayer.
But that's when I heard the audible voice of Jesus Christ. He said: "Benny, even though you are called useless and worthless, I want you."
"That was an excellent exchange. I would give my broken life and He would give me a new life."
My argument was: "Why do you want me when I have nothing to offer? I've failed in my education. I have no character. I have nothing. So what would you get out of a broken person like me?"
Jesus said: "I just want your life. And I will transform you and make you a new person."
For me, that was an excellent exchange. I would give my broken life and He would fix me and give me a new life. So I decided to quit the idea of committing suicide.
When I went home, people started to make fun of me: "Benny has gone to a youth camp. Let's see how long he will be this good person."
That triggered me. I used to be a very angry person, very violent. I used to beat up people. But God gave me the grace to control my anger.
And slowly He started to transform my life and I started to read the Bible.
How did your music journey begin?
I went for music lessons when I was 15 because my younger brother started to play the guitar. But on the first day, the guitar teacher told me that I was not fit to be a musician because I could not clap to the right beat or sing to the right tune.
Later, at the age of 17, I joined the Bible College to become a pastor. During that time, I picked up the guitar at the age of 19. It was old and broken, nobody would use it. I picked up broken strings from other musicians, tied them together and put them on the guitar.
Since I had no musical talent, nobody was willing to teach me. So I took a sheet of chords from a book called Scripture in Song and started to practise every day for seven hours. 
After two months, I performed at the talent night at Bible College. My principal said: "You have a talent."
When did you first hear God tell you about your travels?
When I was growing up, I lived very close to the airport in Bangalore. I used to see the planes landing and taking off. So I always had this desire to fly.
"Okay God, enough of me having dreams. What is your dream for my life?"
Since I was not good in reading, what interested me most about the Bible were the maps. I was fascinated with Paul's missionary journeys.
My dream came true in 1998, when I went to Sri Lanka. (I was part of the committee of a voluntary organisation that was holding a regional conference there. It just so happened that they were giving one free ticket to one individual from each country. I had no money in my pocket, but yet I was able to travel and minister through my music and testimony during the conference.)
I prayed to Jesus: "It's amazing You took me to one country. Can you please take me to one country every year?"
In 1999, I went to England and USA, in 2000 to Holland, in 2001, I went to Nepal and Tibet. So I started to see that prayer was working. I did not dream bigger because I thought this was impossible.
In 2002, I said: "Okay God, enough of me having dreams. What is your dream for my life?"
As I was sitting and praying, pondering and waiting on Him, I heard: "Benny, I want you to travel to every country by 2010."
How did you get your big break that put you on the global stage?
In 1999, I went to Sante Fe, New Mexico, in the USA, to study music in missions. A classmate gave me a video tape of Preston Reed as a Christmas gift.
"God had a different way. He took me to the Olympic Games, not as an athlete, but as an artiste."
In 2003, I got invited to attend YWAM's global arts gathering in Los Angeles. There were 400 participants from 40 nations.
God put the song Tribes by Preston Reed in my heart. I said: "God, this is impossible. Look at my fingers, I have arthritis. How can I play like him?" 
God said: "Benny what is impossible for you is possible for me."
I knelt and asked for strength and motivation. I practised this one piece for 140 hours in two weeks, learning to tap, hammer on, pull off. My fingers were bleeding. God gave me strength to not give up.
I went to the US as an unknown artist. I would only get opportunities to perform at the café during the break times. That is the worst time – people are not paying attention. It is as good as putting your picture on your chair and playing your CD. 
But having come from arthritis and being told by the music teacher I would never be a musician – to even play in a café was a big thing for me.
I gave my best, regardless of the response. Because I was giving it to the Lord as the one who led me here.
On the fifth day of the conference, suddenly I was asked to play a special song during a special offertory time. I took my guitar and played Tribes.
When I played at the café, people hardly noticed. But when I played on the main stage, I got 100% attention.
At the end of the performance, the dean of arts at YWAM's University of Nations came up to me and said: "Benny, next year is the Olympic Games in Greece. Are you interested in performing on the various stages?" I was so thrilled and excited. 
"God I really want to share my story – from being a failure, being suicidal at 16, to coming to this place."
Greece was a fulfilment of my childhood dream to perform for India at the Olympic Games. Unfortunately when I was 12 years old, I was hit by a javelin and it hit my spinal cord and I was thrown to the ground. It was a miracle I survived. But I had to end my sporting activities as my back was severely hurt. Today I still struggle with the pain. 
But God had a different way. He took me to the Olympic Games, not as an athlete, but as an artiste.
I was told I could not share my testimony at the Games. They only wanted my music. But, for me, without my story, my music is empty.
I said: "God I really want to share my story – from being a failure, being suicidal at 16, when I was written off by my music school, to coming to this place."
I asked God to help me design a unique guitar that the world has never seen, to attract the athletes to come and look at my guitar and ask me questions. In turn, I could share my story of how Jesus transformed my pain into purpose, my mess into a message.
This idea came from Jesus. 
In Los Angeles, I bought small mini drums. Then I came back to India and went to Tulsi Guitars. I designed the guitar on newspapers and put two holes in it, and said: "I want the mini drums here." And that's how this guitar became the first guitar with drums inside. I had the privilege of performing at the welcoming of South African athletes.
How did you come to play for President SR Nathan?
On my first visit to Singapore in 2003, YWAM was having their University of the Nations Conference in Singapore. I was there for my graduation. Friends asked if I would join them to perform at Church of our Saviour on a weekend evening. There I shared my testimony and played a song. Clement Chow (Singapore music veteran) asked me later on: "Benny, 18th of September is the Orchid Festival. Would you be open to share your story and your music there?" 
President Nathan was the Guest of Honour at the festival.
Generally, the general public cannot go and meet a President. There will be barricades, protocols. And I'm just an ordinary person. Nobody knows me. It's my first time in Singapore. 
The only way I could get a picture with the President is if he would approach me. It is like the story of Esther and the king. So I prayed that, if it is God's will, I would get a picture with the President. After I finished performing, the President walked up to me. He said: "Benny, why don't you bring your guitar? I would like to take a picture with you."
The next day, he sent me the photo as a gift. He had signed it.
How did you come to play for so many heads of state?
It was not my idea at all. Honestly, even till today, I don't have the capacity and ability to do it. God orchestrated those meetings each time.
For example, in Nigeria, my friend introduced me to his boss. Then his boss was impressed with my story and my music. He said: "What are you doing tomorrow? We are having a meeting with the President? Who do you like to come and do a song? So most of my meetings were just spur of the moment. It was never planned per se.
Have there been instances where you went off track and God pulled you back?
Many times! In 2003, I was in a 12th century cathedral in Latvia playing the guitar in an alternative D tuning. I was playing It is Well with my Soul. Suddenly I noticed the ambience, the sound, was just so amazing. For a flash of a second, it came to my mind: "Wow, Benny, it's your hard work that has brought you here." And suddenly I lost my memory of the song (I don't read music). So I'm just trying to continue the song and it's completely messed up. I had to leave the stage. It was such an embarrassing situation. I repented and asked God to forgive me.
When I was doing a Europe tour in 2008, I earned about €6,000 through my CD sales. That was a huge amount of money for me. I lead a very simple life. I was excited, and pride came to my mind: "Benny, it's all your hard work."
I always travel second-class on the train. I always try to save money. But for the first time, I thought I deserved first-class. So booked a train ticket from Bucharest, Romania, to Sofia in Bulgaria in a first-class cabin. It had just two people – a Chilean engineer and myself. 
"This was a lesson about not trying to count on your own achievements, instead of giving the credit back to Jesus."
In second class, I would be holding my guitar and my luggage throughout the night.
But in first class, the door was locked. I put my small bag – where I keep my laptop, my passports and other things – next to my head. And I stretched out and slept.
The train is supposed to arrive in Sofia by 6am. At 5.30am, I suddenly woke up and I saw my bag on the floor.
I open it. Everything's in there – my multiple passports, my laptop. My wallet is there – but it had shrunk down. When I opened it, everything is there – my license, my bank cards. But the €6,000 is missing.
Immediately I woke up the guy. He said: "If you have any suspicion, you can check my bags."
Then I went to the first class security personnel.
They said: "Sorry, we can't do anything right now."
I knew that this was a lesson that God was teaching me about not trying to count on your own achievements instead of giving the credit back to Jesus. I believe that the angel took the money. Because first of all, the doors were locked. If it was a thief, he would have taken the bag and as much as possible. It was very illogical that he had only taken the money.
I prayed, I repented and I said: "God, I'm really sorry for my actions."
What is the story behind your brown hat?
When I broke the world record in 2010, I landed in Delhi and CNN news channel was the first one to cover it in India.
I had a hat that said: "Thank U Jesus." They told me to remove the hat because that was a religious statement and they are a secular channel. But I really wanted to give the rightful credit to God. Because without Jesus, I wouldn't have been able to do what I have achieved – getting visas, money, protection. I did the interview, but I was very saddened.
On my way to Hawaii, for YWAM's 50th anniversary, I asked the Lord for wisdom to design something that can be politically correct, diplomatically correct and at the same time, glorify Jesus. So that's when Jesus gave me the idea to design a hat that says: "Thank U Jesus I'm an Indian" because this hat is very patriotic. Then if anyone stops me from using this, they become racist.
Please share some examples of how God has used Chai3:16.
In Dubai, there was a boy who had an an issue with his hand. Doctors told him that he will never be able to play the guitar. One day he was listening to my testimony, he prayed: "God, if Benny can play with arthritis, can you do that miracle for me?" And he was able to start playing the guitar.
Then there was one boy whose father was an official who got laid off. Life really came down on them. There were lots of arguments between the father and son. 
"God, if Benny can play with arthritis, can you do that miracle for me?"
The boy went to a railway track and thought he would kill himself. He thought that if he lay on the tracks, he might be afraid and jump off when the train came near.
So he decided to jump in front of the train when it came near. He sat down. His thoughts were just rolling and rolling. And then he suddenly realised that the train had just passed and he forgot to jump in front of the train.
Then a voice told him: "Go to Chai 3:16." He didn't know where it was. 
He came at 5.30 in the evening and he started to share his testimony about how he was on the verge of committing suicide and how it was God who showed him directions to come to Chai 3:16. That evening he gave his life to Jesus. And he was able to finish his studies in the college and he's doing well.
---
Watch Benny Prasad tell his travel stories here.
---
RELATED STORIES:
Musician Ryan Kong's God-songs: Heart-driven even in 'fig tree moments'
Blessing my dying dad and others with music: Jazz pianist Cheryl Ann Spencer
"Your art can travel but not you": An artist lets his work speak the Truth
If you have enjoyed reading Salt&Light...
We are an independent, non-profit organisation that relies on the generosity of our readers, such as yourself, to continue serving the kingdom. Every dollar donated goes directly back into our editorial coverage.
Would you consider partnering with us in our kingdom work by supporting us financially, either as a one-off donation, or a recurring pledge?
Support Salt&Light