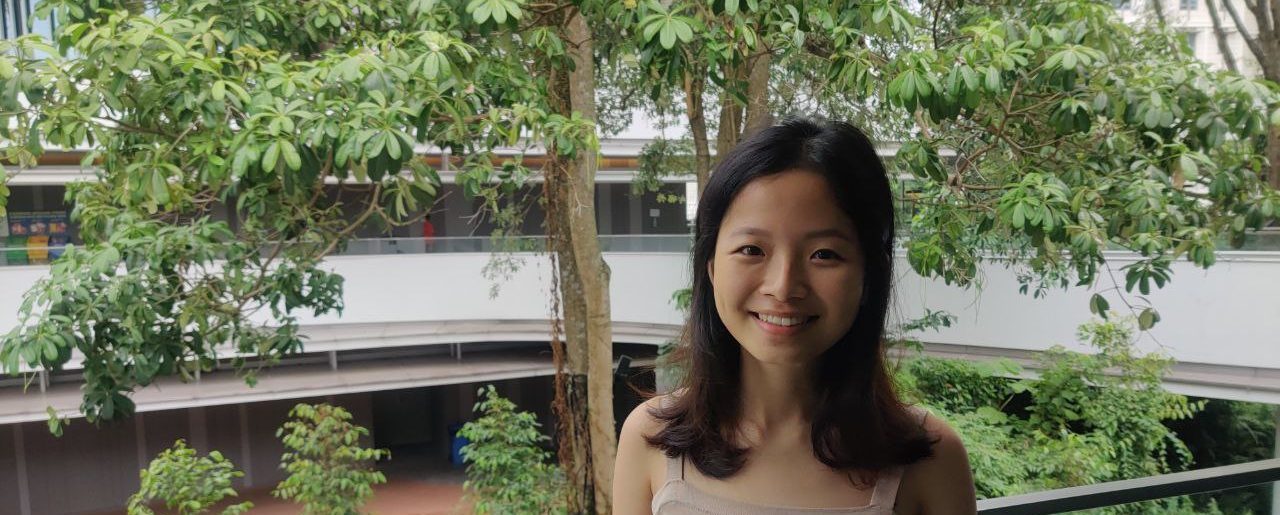 With a team of "people who want to love other people outside their circles", Eunice Chua started an initiative to bring fitness and friendship to people with disabilities. Photo taken during a visit to National University of Singapore. All photos courtesy of Eunice Chua unless otherwise stated.
It is a Monday night. A dozen yoga mats are unrolled in the grids of a Zoom meeting. The instructor demonstrates and explains the correct way to do a simple squat. Accompanied by gentle instrumental music, the figures in each grid attempt the move from the comfort of their homes. Some participants grumble that the workout is too tiring and sit it out.
"Let's do the last ten reps together!" the instructor encourages the rest. 
The class has been specially tailored for people with intellectual disabilities, with soft music, simplified exercises and dance workouts that require little or no extra equipment. The class is conducted at a pace that they can follow. 
The participants come from different walks of life. There are students, delivery riders, cleaners and more. Some are their caretakers. 
The first session on June 12, 2020 started with three participants. Now the Monday night sessions attract an average of 12.
The class, Minimal & Merry (M&M), which is free of charge, is the first of its kind organised by Being Singapore, a student-led fitness initiative that strives for inclusivity. 
Being Singapore and M&M are the brainchild of Eunice Chua, now 21, and a final-year student doing a double degree in infosystems and business at Singapore Management University (SMU). She is assisted by a team of 11 people – mainly university students from her church.
She hit on the idea during Singapore's Circuit Breaker in 2020 when online workout videos proliferated as the world went into Covid lockdowns. 
"I wanted to make exercise accessible, but I also wanted to love the participants and bless the participants through God's love", Eunice told Salt&Light.
Stepping outside her circle
Eunice's heart for people with intellectual disabilities was moved while working on a project with an organisation that was trying to make the arts accessible to people with special needs.
The project was part of Eunice's volunteer work with Conjunct Consulting, which provides sustainable recommendations to social enterprises and non-profit organisations. Conjunct Consulting recruits students from Singapore's three major universities as associate consultants; Eunice is head of the SMU chapter. The students are mentored by professional consultants.
"It made me realise that so many things are inaccessible to people with disabilities," she said.  
"I don't want to keep good things only within my circle."
Eunice was also challenged by sermons at church on "bringing the Gospel to all the ends of the earth".
Thinking of what it really meant, she was inspired to befriend and serve those "who are not really in my social circle".
"I don't want to keep good things only within my circle," said Eunice.
Her reflections during the Circuit Breaker also gave her another push.
"I was thinking about what I've been doing in my life. I've gone via a very standard Singaporean route: Primary school, secondary school, JC (junior college) then uni.
"I've only been exposed to a certain group of people who have taken similar routes – and not so much anyone outside of this circle."
She knew she needed to step out of her comfort zone.
She prayed about it and committed her plans to God. "I felt inadequate doing something so out of my comfort zone, but this was not something out of God's comfort zone," she said. 
Identifying the gap
Chua started speaking to members within the disability community and people who have worked with them.
On the church front, she was heartened to discover efforts beyond merely providing access ramps, captioning (for people with hearing impairment), or translations into words (for those with visual impairment). She also saw that people with special needs were given meaningful opportunities to participate and serve in church ministries.
Her informal research uncovered a gap in seemingly non-essential matters such as leisure activities like exercise. 
"Leisure activities make us happy and give us quality of life. And they give more dignity and independence to those who have disabilities," she said.
Pulling their weight
During Circuit Breaker, Eunice started watching fitness tutorials on YouTube and fell in love with interval workouts using one's own bodyweight. Over time, she started inviting her friends from her cell group to meet on Zoom to do these workouts together. 
Then she wondered, "Who else will benefit from this? What would Jesus do?"
"I felt inadequate doing something so out of my comfort zone, but this was not something out of God's comfort zone." 
She connected her newfound passion with what struck her during her project with Conjunct Consulting. The idea for a fitness initiative that strives for inclusivity was born. 
Looking for people who "who want to love other people" and "who wanted to be more like Jesus", she turned to friends at her church, Hope Singapore.
There, she found like-minded people with different skills who were able to help her fill the gaps.
"I am not a professional, nor even a very fit fitness enthusiast," Eunice admitted.
One friend who came onboard is Su Jin Chandran, a fresh grad, lawyer and fitness enthusiast who posts fitness content on Instagram.
Of her team mates, Eunice said: "They are people who are able to continue jogging even after the initial high is down".
An undersaturated space
To understand the needs of participants, the team reached out to past and present employees of organisations such as the Disabled People's Association. They also continue to seek the guidance of advocates and vocal members of disability communities, who provide ongoing advice on language and safety. It has helped the team create a calm, nurturing environment for the participants.
The team also learnt that people with autism, for example, are usually stressed out by loud sounds. So soft, simple instrumental music – instead of songs with booming beats – accompany their workouts.
Instructions to exercises would need to be easy to understand. Simpler, gentler exercises such as squats, windmills and lunges were chosen over complicated ones such as sit-ups and push-ups so as not to over-exert participants.
Before introducing the exercises, Su Jin researched their safety and checked their effects with other trainers. He inserted regular short breaks into the exercise routine which would allow him to check in with participants. And he takes on board feedback to improve the sessions.
Simpler, gentler exercises such as squats, windmills and lunges were chosen over complicated ones.
The team spread word of the exercise class through WhatsApp communities they had reached out too. Soon participants who came on board would tell others about it. The classes have drawn participants who have conditions like autism spectrum disorder (ASD) and attention deficit hyperactivity disorder (ADHD), amongst others. 
Being Singapore hopes to eventually start online exercise classes for people with physical disabilities as well as classes with captions for those with hearing impairment. 
"More can be done for health and fitness education among the disabled community," said Eunice. "Honestly, it's such an undersaturated space. If someone else comes in with their own variation of fitness activities, they can start it."
Judging by how their group has grown, there is a demand for such classes. 
An unexpected prayer
The exercise class starts at 8pm every Monday and lasts until 9.30pm.
The first 30 minutes are for games and chit-chat – for the participants to get to know each other, and for the instructors to bond with the participants. 
"When it comes to loving people, there's no one else that knows how to do it better than God."
Eunice has noticed that participants who are unable to join on certain weeks because of work or tiredness would log on, even for a little while, for the company. It shows that they value the emotional connection and friendships the class provides.
Eunice and team who set out to bless others, have in turn been blessed.
In February this year, one participant offered to pray for the instructors. The instructors were not aware that this participant is Christian. After checking that the others in the meeting were not uncomfortable with the initiative, the participant did as offered. 
It opened the door for the team to share a little about their faith, and "what church is or who God is or what prayer is about", said Eunice. 
They do this outside the exercise sessions – and as friends, not instructors. Outside the exercise sessions, participants use WhatsApp and social media platforms to share with the instructors what they had for lunch, video clips they enjoyed on YouTube and TikTok, and troubles they are facing. Eunice has noticed non-Christians starting to request for prayers for their struggles. 
A platform to love
The group Eunice started isn't a platform for outreach, she maintained. "That's not the primary intention. We simply want to love the community. But it's nice to see that we are also able to slowly share where this love comes from.
"Just start it … God arranges the challenges progressively for you".
"When it comes to loving people, there's no one else that knows how to do it better than God."
She encourages others prompted step out of their comfort zone to serve. "Just start it," she said. "The challenges will be dealt with.
As she has discovered, "God arranges the challenges progressively for you".
---
Minimal & Merry classes, designed for those with intellectual disabilities, run every Monday on Zoom from 8pm to 9.30pm. Classes are free. If you, or anyone you know, are keen to join, click here to sign up. The team will get in touch with you. 
---
RELATED ARTICLES:
How do Sunday Schools meaningfully include children with special needs?
Blind greeter, drummer with Down's Syndrome, inspire participants at disability-inclusive course for churches
If you have enjoyed reading Salt&Light...
We are an independent, non-profit organisation that relies on the generosity of our readers, such as yourself, to continue serving the kingdom. Every dollar donated goes directly back into our editorial coverage.
Would you consider partnering with us in our kingdom work by supporting us financially, either as a one-off donation, or a recurring pledge?
Support Salt&Light