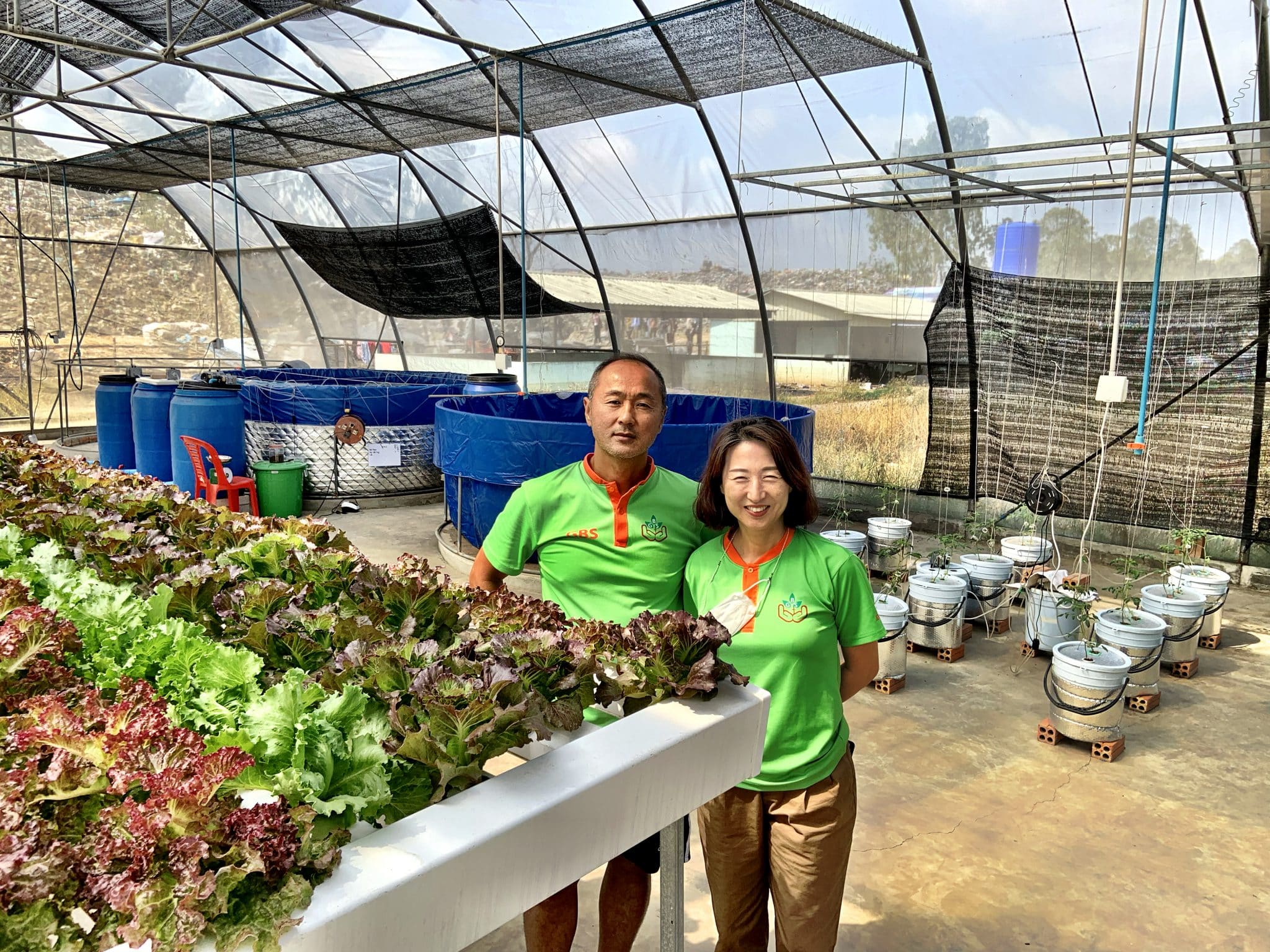 Edmund Tan and his wife Jenny at the farm he built in the landfill of Cambodia. They taught waste pickers farming skills in an effort to equip them to find alternative means of making a living. All photos courtesy of Edmund Tan.
Until they came home for their sabbatical, Edmund Tan and his wife, Jenny, spent their days in the landfill of Phnom Penh's Dangkor district.
Cambodia has some 200 landfills where the nation's trash is dumped. There, as in similar sites across the country, waste pickers make a living rifling through the garbage for re-sellable items. Most live where they work, a closed community that even their countrymen cannot and do not want to penetrate.
Life in the area roughly the size of 43 football fields is dangerous, even hazardous. There is the danger of accidents and injuries as the workers pick through the waste. The hazard to health is high, as the air is rank with the stench of rotting rubbish and the ground is soaked in toxins leaked from trash thrown out.
Yet for four years, the Tans laboured amongst the community in a Cambodian landfill, building a school and a farm that have become part of Green Bethel Community.
"Don't make us like heroes. We are small servants. God did everything for us. "
Said Jenny, 52: "The environment at the dump site is difficult. The air has a lot of dust and flies and there is the smell."
Added Edmund, 51: "I couldn't have plucked myself out from Singapore to go to Cambodia to do NGO work, much less work next to the dump site on my own. Even Cambodians don't want to work there.
"This one has to be a calling. Without this, I don't think I would go there to work."
Green Bethel Community is not their first stop in Cambodia.
They spent five years working in mission schools in the country, having sold all they had in Singapore to finance themselves.
But the couple is reluctant to depict their experience as a sacrifice.
Said Jenny, 52: "Don't make us like heroes. We are small servants. God sent us. God gave us strength and provided everything so that we could carry on. He did everything for us. All the glory has to be to the Lord."
In the nine years they were in Cambodia, they certainly experienced God "providing everything we need".
Just two words
Their journey began in 2010. Edmund was running his own mobile phone trading company. Business was doing well.
That left Jenny with the time and space to focus on God. She spent her days immersed in the Bible, Christian books and prayer – hours and hours of prayer.
"My desire for the Lord became stronger and stronger. I wanted to invest my life in God, devote my life to Him."
As she prayed, she felt God tell her: "You will have a new life in Me. You will have an exciting and dynamic life."
Then God revealed more.
"God said, 'I will take Edmund from the business.'"
When she shared the Word with her husband, he was worried. Edmund had financial responsibilities. He was supporting his mother and helping out his brothers.
"The thing that made me agree was the peace that was in my heart. Go to another place, start a new thing."
True enough, six months later, Edmund's business ran into trouble. Their investments also failed to pan out. But Jenny was unfazed. She thought that God meant to give Edmund another business to run.
As they waited in faith, Jenny heard from God again.
"When I was praying, I felt God say, 'Cambodia. School.' In my spirit, I knew that God wanted me to be a missionary."
Jenny remembered a book she had once read about an American missionary. In the last chapter, the author had said: "A real, exciting and dynamic life is a mission life."
"It became very obvious that it was missions even though we never thought about missions before and Cambodia had never come into my heart," said Jenny.
When she shared the revelation with Edmund, he asked for a week to "ask the Lord" on his own. But within three days, he told his wife he would go.
"The thing that made me agree was the peace that was in my heart. Go to another place, start a new thing, the peace was there."
Confirmation upon confirmation
In four months, they found a Korean missionary working in Cambodia and was on their way to meet him.
"The spirit seemed to say to me, 'I will scare you till you are expelled from this country. They came so near to my face. I was really scared."
Said Jenny who is also Korean: "I didn't know him at all. I found him on the Internet. But when I called him, he answered very kindly. He asked me about my calling and what God had said. He didn't think I was a crazy woman."
When they arrived, the man took them to a Korean mission school to meet the principal. As the conversation wore on, the principal confirmed their calling.
"After he heard our story, he said, 'Jenny, my hair stood up when you talked. You are the one whom I have been praying for. I had asked God for someone who didn't have a background in work, in school, but had a business background and who could speak English.'"
That perfectly described the Tans. 
There were more confirmations. In the hotel room, Edmund was watching a documentary about eaglets. He learnt that if these baby birds did not make their first flight, they would die. And if they jumped out of their nests but did not open up their wings, they would also die. But jumping took courage because they first had to fall before opening up their wings and letting the wind lift them up.
"The revelation came to me that this was a leap of faith. It encouraged me that what we were doing was the right thing."
"I realised I was supposed to be in this place. That's why the devil was so scared." 
Jenny had a different experience. That same night, she was in bed when she felt "a spirit come into the room", then another and another.
"My eyes were closed, and I was lying down and praying. The spirit seemed to say to me, 'I will scare you till you are expelled from this country.'
"They came so near to my face and pressed on me. I was really scared. It was the first time I felt that people could die of fear.
"I prayed in tongues and said, 'In Jesus' name, get out of this place.'"
Just as she was about to give up in despair, a verse came into her mind: Take heart, I have overcome the world (John 16:33).
"I proclaimed this Word and one by the one the spirits left. Then I realised I was supposed to be in Cambodia. That's why the devil was so scared that that he came and threatened me like that. It became clear evidence that this was the place God had called me to."
Within three months, the couple moved to Cambodia to work in the school, tasked to help get the school registered with the authorities and raise funds. In time, they also taught English and learnt how to run a Christian school.
Poor but never destitute
The Tans were not hired by the school nor supported by a church or missions organisation. So they had to support themselves.
They sold their car, cashed out their insurance and put their home up for sale. When they ran out of cash after six months, they sold their wedding rings.
Recounted Jenny: "Once, we had nothing to eat. So I told him, 'Today let's do fasting.' And he said, 'Okay.'
They sold their car, cashed out their insurance and put their home up for sale. When they ran out of cash after six months, they sold their wedding rings.
"The moment he said that, a missionary friend came by with food. A short-term missions team had visited and brought a lot of food, and he thought of us. We never ever had to skip a meal."
On another occasion, an acquaintance of Jenny visited them because she wanted to experience short-term mission.
"I told her, 'You can stay in my house but I cannot buy food for you. I don't have money.'
"Instead she said, 'Don't worry. I brought some money to pass to you. I wanted to support missionaries and I think you really need the money.' She supported us S$2,400.
"Because of this, we learnt how to share. When we receive money, we share not only with people serving in the ministry but with the locals, widows and children," said Jenny.
In their second year in Cambodia, they took in a missionary's daughter. The girl's mother, a single parent, had to return to the US to attend to another daughter there. She did not have enough to pay for her daughter to go home with her. So she left the girl behind in Cambodia.
Inside the envelope was the exact sum Jenny had prayed for – $200. And on the envelope was the very verse that had come to her earlier in the day.
"I brought her to our house. We had $400 to sustain us. But this girl ate very well and within two weeks, the $400 disappeared."
Jenny prayed and asked God to provide them another $200.
"A verse came into my heart: I will not leave you as an orphan. I will come to you (John 14:18)." 
That very evening a short-term missionary team visited and gave them an envelope of money. They had asked for the "poorest missionaries" there and other missionaries had pointed them to the Tans. Inside the envelope was the exact sum Jenny had prayed for – $200. But more amazing was the fact that on the envelope was the very verse that had come to her earlier in the day.
Said Jenny: "We have a lot of this kind of small and intimate love stories with Jesus. He is a living God and He makes a lot of beautiful stories for us to make our lives so beautiful.
"I'm so happy to be a missionary. It is a privilege and an honour. When Edmund had a comfortable life, I was never as happy as I am now. I tell God, "You are the treasure that I have found.' I hope everyone finds the treasure of Jesus in this world."
Added Edmund: "From a businessman's perspective, Jesus is the best investment.'"
That is not to say that they did not have moments of sadness about their financial state. On one occasion, their daughter was out with other missionary kids. All of them ordered a Coke but she could not because she did not have the money.
"She asked me, 'Others can order Coke, why can't I? At that time, my heart was so sad for my daughter," said Jenny.
A lesson in trust
For three years, they lived like this, all the while hoping that they would be able to sell their house.
"We thought that if we sold the house, we could continue our mission work for five years, maybe 10 years," said Jenny.
"We have a lot of this kind of small and intimate love stories with Jesus. He is a living God and He makes our lives so beautiful."
But God dealt with them about that. One day, they realised that they had been leaning on the house and not on God.
Said Edmund: "It was a rebuke and I accepted it. When I work and build or plan things, I use my engineering training and plan and troubleshoot.
"When it comes to faith, you can't do that. When it comes to faith, you have to be like a child and believe."
They both repented before God. One week later, their apartment which had been on the market for three years was sold. They had planned to use the proceeds to build a school seven hours from Phnom Penh. God had other plans.
Said Jenny: "God told us, 'Don't touch this money. You will see My miracle through My providence, not this house.' God is amazing. He trained us to lean on Him."
Instead, He led them to buy and fully pay for a small HDB flat which they then lent to a family member. The little bit of cash they had left went into buying an old car to get around and to finance another year of their stay in Cambodia.
But they were not left without help. Four churches later found out about the work they were doing and are now supporting their work.
Work among waste  
After three years of working with the Korean mission school and learning how to run a school, the Tans moved on to set up a learning centre in the hills for the tribe on the northern side of Cambodia.
Two years after that, God led them to Green Bethel Community.
The work had begun years ago. A medical team had visited the community of waste pickers living and working at the landfill to provide them with healthcare.
In time, this team left and another came to create a physical community there with a centre and a church.
Then God gave the assistant pastor working in this ministry a vision to build a school. She did not have the know-how. But the Tans came to mind. So she approached them.
Edmund and Jenny prayed for three months before making the decision.
The children in the community need a school of their own because many of their parents are not documented.
Without an identity card, they cannot register their child in regular schools. So some, who are already aged 17, remain illiterate.
The school is also a place the Tans impart the Word of God in the hope of transforming lives.
Said Jenny: "Because the work is very tough, many of them take drugs, gamble or drink. Some as young as 13 are already taking drugs. They also go into debt again and again. Only Jesus can change them."
Edmund has built a farm in the community as well. It had always been his dream to be a farmer.
That the assistant pastor had a similar vision was confirmation that this was part of God's plan.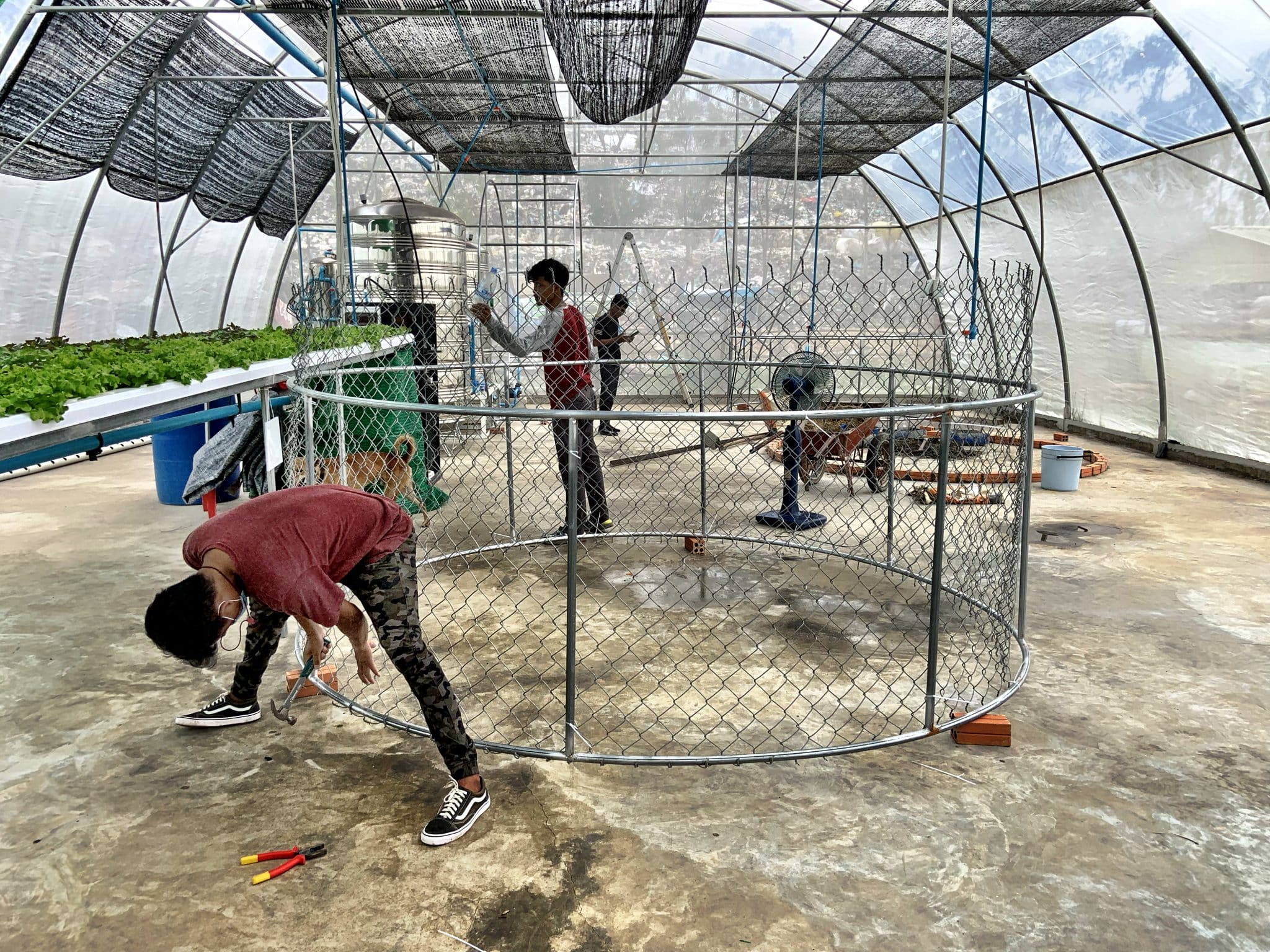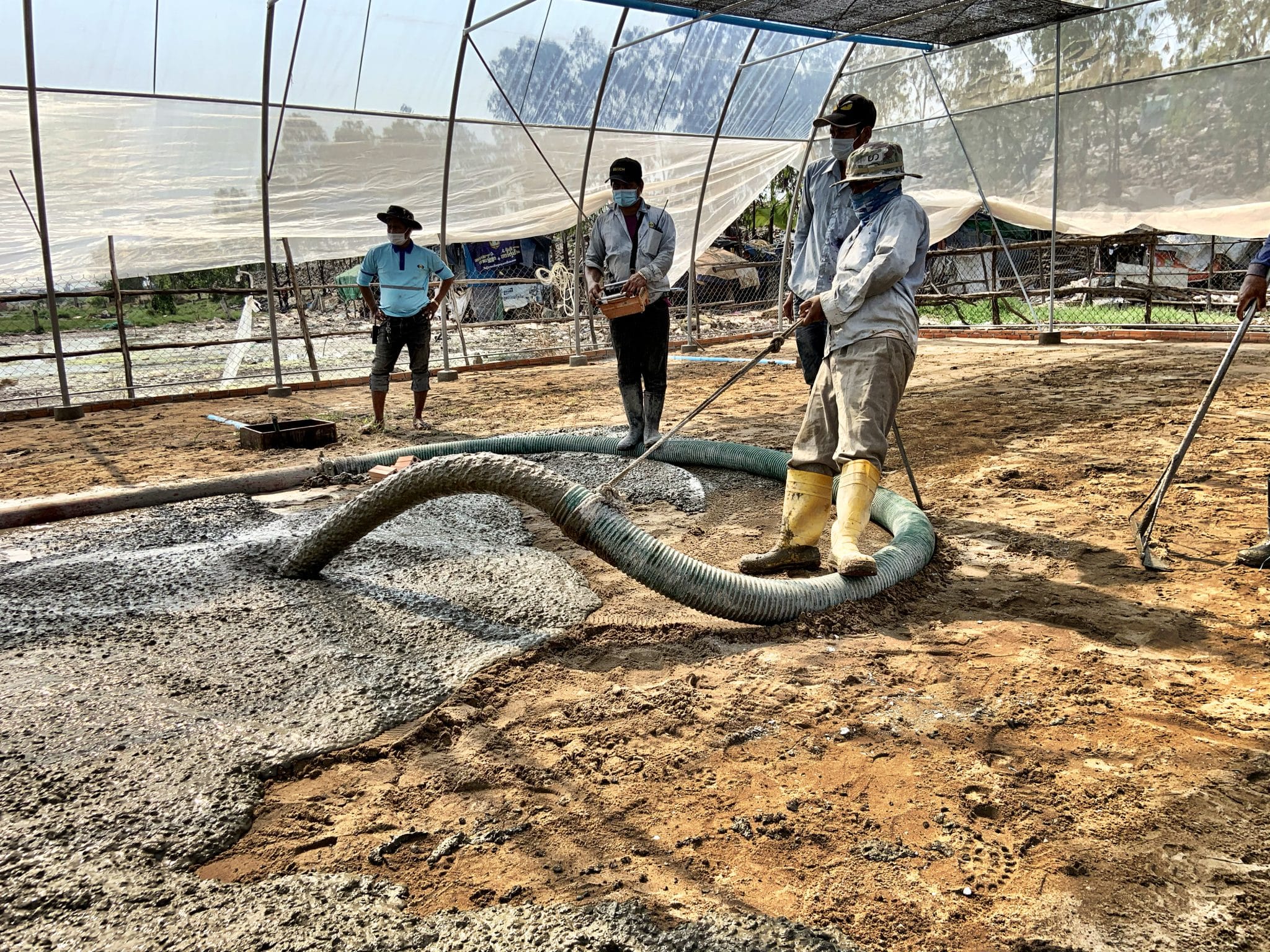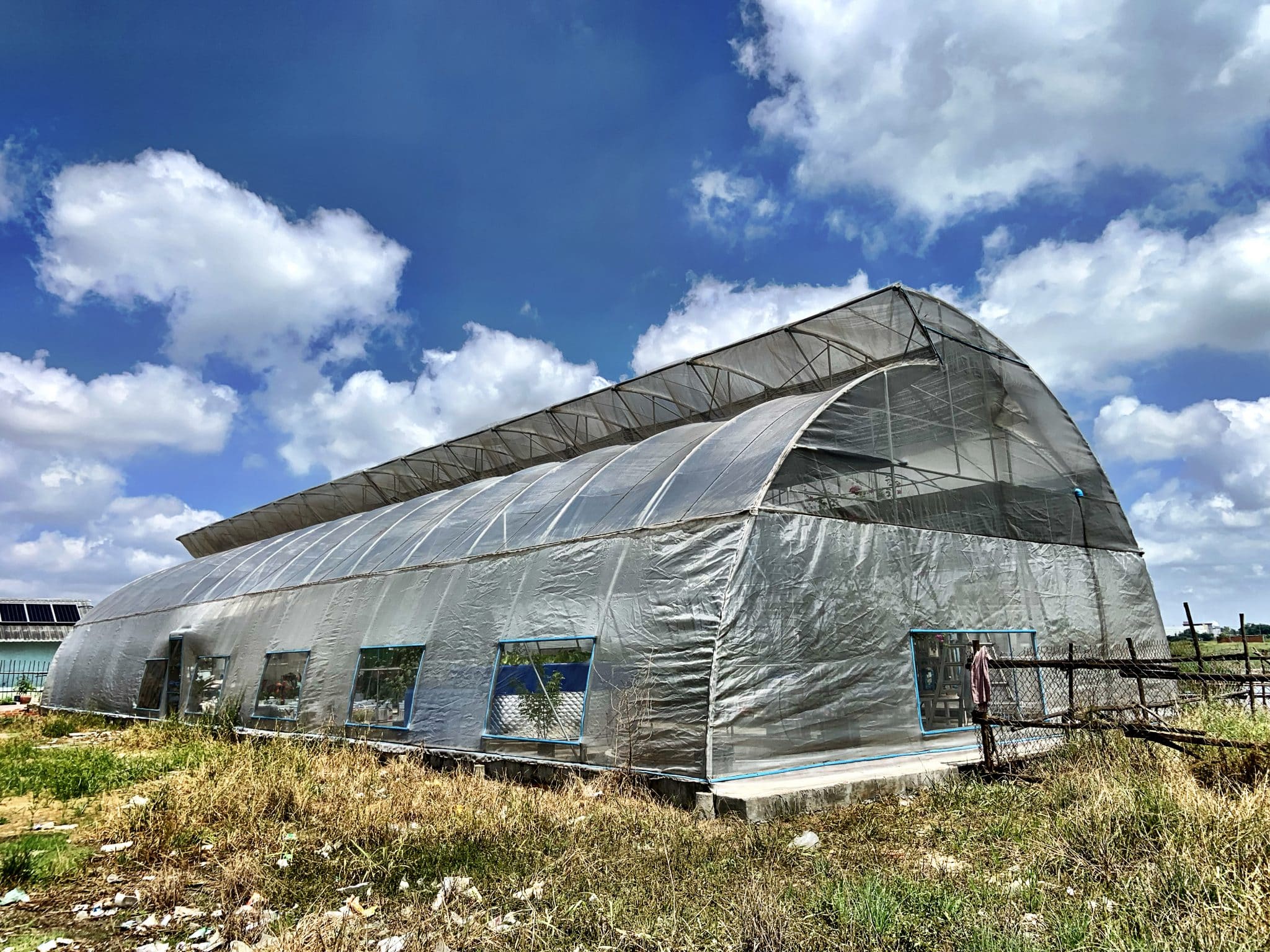 At the farm, people are taught how to do aquaponics, land farming, fish farming and poultry farming to give them an alternative way of earning a living. Beyond that, Edmund teaches them about God through practical farming skills.
Said Jenny: "God really made him to be a missionary. During Covid, everyone told him not to go to the landfill because the environment was very harsh. But he went every day – Monday to Saturday – to build the farm school and lead worship as well as train teachers. He's so diligent and faithful."
While Edmund puts his engineering expertise to good use putting up physical buildings, Jenny teaches the Bible and disciples the locals so they can run the school and the farm.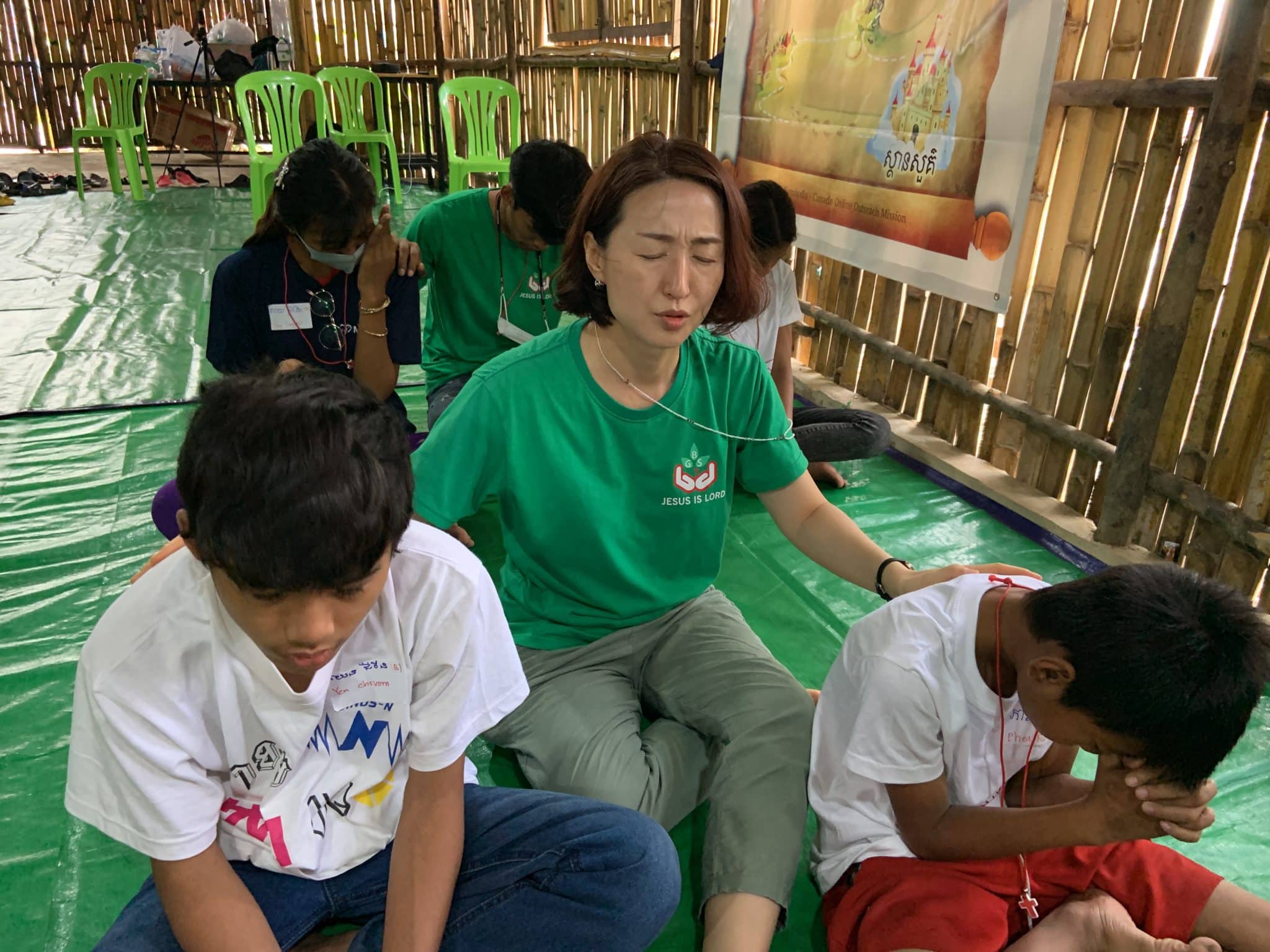 Green Bethel Community now has a canteen and even a Taekwondo centre, with different missionaries in charge.
This year, the Tans returned to Singapore to rest and enrol in Tung Ling Bible School. Their plan is to return to Cambodia to set up mission schools across its 24 provinces.
"We are just a small piece of His Kingdom. We are nothing. Anyone with a heart for God can do this and even greater," said Jenny.
Agreed Edmund: "We are just one small story."
---
RELATED STORIES:
A picture of a sitting toilet confirmed this couple's call to missions
"God is bigger than chilli padi!": How the Unlabelled Run is transforming lives
If you have enjoyed reading Salt&Light...
We are an independent, non-profit organisation that relies on the generosity of our readers, such as yourself, to continue serving the kingdom. Every dollar donated goes directly back into our editorial coverage.
Would you consider partnering with us in our kingdom work by supporting us financially, either as a one-off donation, or a recurring pledge?
Support Salt&Light