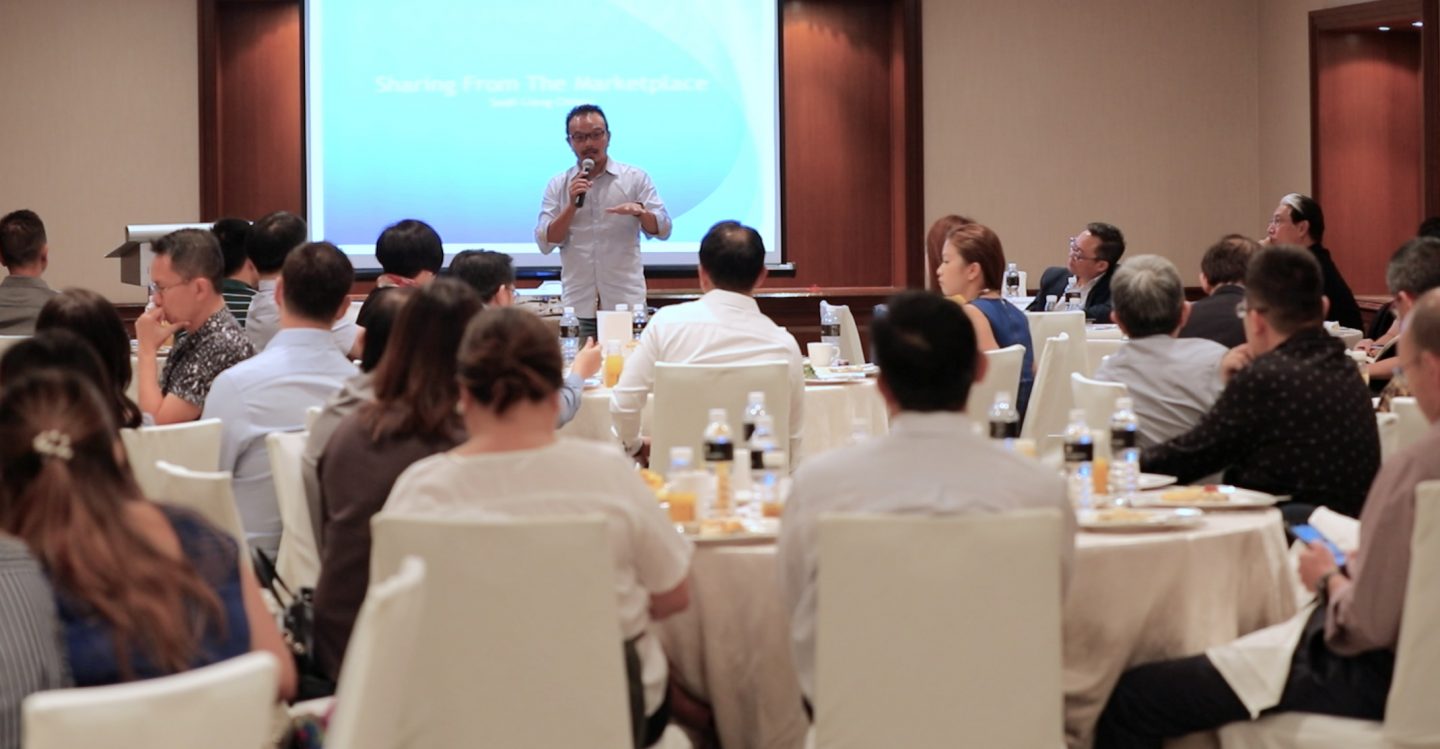 Seah Liang Chiang sharing his journey of starting One-North Marketplace Ministry
What do you say when your pastor asks you to start a marketplace ministry?
"Yes." That's what Seah Liang Chiang said.
Yes, to seeing the need. Yes, to facilitating the work of God in his workplace. Yes, to the call of transforming the city right where he was. Yes, to the responsibility of equipping and encouraging fellow marketplace believers to make a difference.
Yes, to starting One-North Marketplace Ministry.
He related his story at a recent Marketplace Connect, a breakfast meeting for marketplace leaders and pastors to network and share resources.
"One day, you will start a church for Me."
The journey has been rewarding though not without challenges, says Seah, 52, who works in One-North and attends Aldersgate Methodist Church. For anyone seeking to embark on a similar startup journey, he shares four points of note:
1. Answer God's call with clarity
Agreeing to lead this ministry was a decision Seah did not take lightly. It was a step of faith in response to the call he'd heard from God over 30 years ago. "God spoke to me. He said: 'One day, you will start a church for Me.' 
"I had no idea what that meant then." However, it wasn't long before he realised "the seed that was planted 30 years ago was coming to fruition through this".
Seah was clear: There was a need to be met; the marketplace in One-North was a field ripe for harvest, awaiting the transformative work of God through His people. God Himself had issued the call – not a generic one, but a personal word to Seah. 
More significantly, his church leaders were doing what the early church had done in Acts – they were sending him out with their blessings and the responsibility for this ministry.
There was cohesion and clarity to the direction that God was leading him in. So, what now?
2. Learn from others who have gone before
Like any good Methodist, Seah formed a committee – never mind that his committee had a grand total of one member, who was his wife, Lorraine Chua. He quips: "She had no choice. But none of my church members wanted to join because no one knew what this was about! We were so new!"
When the two-person committee looked to their pastor, Rev Dr Lorna Khoo, for specifics on what to do, Seah says: "My pastor looked at me and she said, 'I don't know!' "
What Ps Lorna knew, however, was that the body of Christ beyond their church building was bigger than within, and that there were others who had started similar ministries and groups elsewhere. She suggested that Seah seek their advice and ideas.
Seah connected with marketplace ministers like Melvyn Mak, from TBN Asia, and Rev Jeffrey Tay, who runs Alpha courses in the workplace, amongst others.
Eventually, he decided to use the God@Work equipping materials to kickstart the ministry, and practicality determined other factors such as the programme schedule and timing.
3. Remember that you do this in God's strength
Finding a suitable location for the ministry proved difficult; there were corporate sensitivities to be managed and government regulations to abide by. Still, after much searching, Seah was eventually led to a place where he could host the meetings.
Having rented the room and procured the materials, he was ready to launch the ministry. But … would anyone come?
The key to the success of any ministry is its people; they are the heart and soul of programmes and the lives where truth is applied. Nothing happens without committed and engaged followers.
Seah was ready but he had, literally, an audience of one – his faithful wife, Lorraine.
It was not for a lack of trying. He had approached almost every church member who worked in the area but was turned down for a wide variety of reasons.
God said four words to me: "Do you love Me?"
"I couldn't sleep!" As an experienced entrepreneur who had sold and even listed companies he started, Seah was not unfamiliar with stress. He admits: "I've gone through a lot of corporate-based stress. But somehow, this was different. I was unable to sleep at 3am, and I was literally in tears!"
He'd always had things under control. There was always a sense of confidence in his various endeavours; not this time. "I felt like I had let God down.
"I felt like I had let my church down … because no one was attending my course."
As he prayed and sought God for answers, Seah said: "God spoke to me that night. He said four words to me: 'Do you love Me?' "
That was it. No answer. Just one question, in four words. 
It was not a question that needed any deliberation: "Of course, Lord! I love You." Having said that, Seah immediately felt the peace of God in his heart and he slept.
Reflecting upon that night, Seah shares: "I needed to rely on God's strength, to do what I needed to do faithfully. My role was to organise talks and all. It was not my role to fill up the seats – that was God's role."
4. Put on the right hat when working with others
There was one other lesson Seah learnt: When leading a marketplace ministry, he needed to wear his marketplace hat.
People who were not from his church would ask him: "Which church are you from? Why are you doing this?"
Things started gaining traction as fellow Christians from different denominations joined forces.
He could see that saying this was an Aldersgate Methodist Church ministry immediately curbed the curiosity and interest shown. "My approach to this ministry wasn't right. It was important that I put on my marketplace hat and not my church hat." 
Taking action, Seah changed the name of the ministry to One-North Marketplace Ministry. With the blessing of his church pastors, he ran this as a ministry with its base in the marketplace, instead of one that was an extension of the church.
Things started gaining traction as fellow Christians from different denominations and groups joined forces. Together, they organised prayer meetings, workplace Alphas and equipping courses.
They also worked closely with church leaders and got them involved. Seah notes that there is a strong and legitimate need for spiritual covering but crucially, the open lines of communication between these groups enables them to better equip the members. 
Starting a marketplace ministry is not an extension of an ego-fest, but rather, it is a lived-out application of Philippians 2:3-4: "Do nothing out of selfish ambition or vain conceit. Rather, in humility value others above yourselves, not looking to your own interests but each of you to the interests of the others." It is servant leadership, embodied after Jesus and His ministry.
Seah concludes: "I have been deeply encouraged by the ways in which God has taught me what it means to serve. And on this journey, I've learnt what it means to seek affirmation from Him and not from man. Most importantly, I have learned to be more dependent on the Holy Spirit."
Useful links and resources:
Some marketplace fellowships in Singapore: