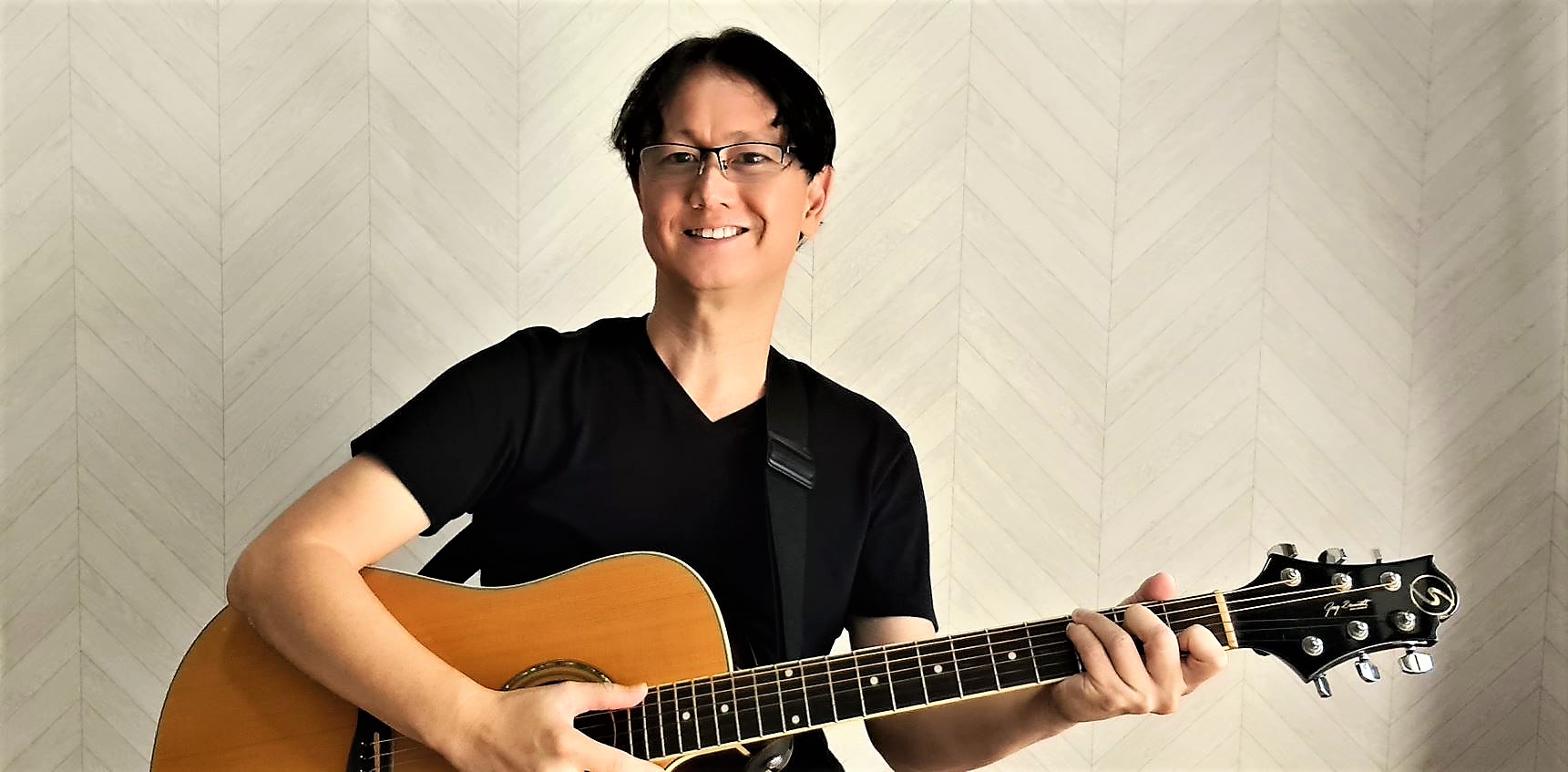 Playing the guitar and singing have always been Robin Choo's passion. Now, he uses both and his expertise in technology to share the Gospel. All photos courtesy of Robin Choo.
At 52, Robin Choo has finally found his groove.
A computer science graduate from the Nanyang Technological University, his entire career had been devoted to the tech industry. He even founded his own IT company selling software solutions to schools and enrichment centres.
Robin will be performing for God and the Gospel.
But Robin has always nursed a deep interest in music and performing.
"Since I was young, I've always been singing and strumming the guitar. It started when I was in secondary school. My older brother threw me a guitar and said, 'Nah, here's a guitar.'
"He taught me a few chords, a bit a strumming and I picked it up from there."
Robin got good enough to win first prize at his school's talent competition when he is was in Secondary Two, wowing judges in the final round with a rendition of Barry Manilow's I Made It Through the Rain.
"If you know the song I am talking about, you're my generation," he said with a laugh.  
Come October 3, Robin will be performing again. This time, he will be doing it for God and the Gospel.
He is set to showcase 12 Christian songs he composed over the last five years in a fundraising livestream concert via Facebook. The proceeds will go to the Presbyterian Community Services (PCS), a voluntary welfare organisation initiated by the Presbyterian Church in Singapore that reaches out to the community.
"Why PCS? Because I am a Presbyterian, no other reason," said Robin who worships at Glory Presbyterian Church.
The way back 
By his own admission, Robin has had a trouble-free life.
"In my studies, everything went pretty smoothly. I managed to get to university and came out to work in Creative Technology because I am a creative guy and I like music.
"I was a developer, leading their design team. I was pretty happy."
Marriage and two sons followed.
Even though he was introduced to Christianity as a teen and thought of himself as a Christian, he never went to church or gave the faith much thought.
Over the years, his older brother and his wife's sister would invite his family to church but they were always too busy.
Then, in 2008 his wife was diagnosed with breast cancer.
"She was 39 then. Though it was in the early stage, she was very down.
"At that time, her sister and my older brother who are both Christians ministered to her. My wife felt the Holy Spirit touch her and she became a Christian.
"When she became a Christian, she became even more Christian than I was. Instead of my bringing her to church, she brought me back to church."
A season of stillness
Five years ago, Robin scaled back on work, brought in partners to help him at his company and used his free time to write Christian music.
"I slowed down for health reasons. I was getting dizzy easily. It was a case of overwork, under-sleep.
"Music has always been in my heart. So, with more time to relax, the inspiration (for the songs) came," said Robin who was in the choir during his junior college days.
He ended up composing six songs in the span of two weeks. Not since he was 18 and "wrote songs all about love" had he written songs.
Asked why his songs all seem to be verses from the Bible, Robin explained: "I'm not good with words. So, when I see a verse, I will hum (a tune) to it.
"Once you understand why you are here, (sharing the Gospel) is the only way."
"If the tune looks good, I will use the verse and tweak it to fit the melody. I wanted to start off with prayer. That's why the first song is The Lord's Prayer."
Other songs were inspired by church liturgy.
"We recite the Apostle's Creed every week so I wrote The Apostle's Creed.
"The latest song Glory Be to the Father, the main part of it comes from a prayer in the church bulletin. It reminds me to glorify God always."
After he composed the songs, Robin decided to release them online. With a second-hand keyboard, he recorded The Lord's Prayer.
"I just wanted to share the Gospel through music."
Asked why the sudden interest in evangelism after all these years, Robin said: "When you go to church every Sunday – we haven't missed any Sundays – you learn more and more.
"Once you understand why you are here, (sharing the Gospel) is the only way."
Bringing cheer through music  
Beyond going public with his production, Robin had no other plans.
"At the beginning, I didn't know what to do with the songs other than to sing them and release them, and get people to listen to them."
But that first step would lead to another and then another.
To showcase his songs, Robin started his own YouTube channel and also posted his music on his Facebook account.
Meanwhile, because he had cut back on his work and had more time on his hands, he started to do volunteer work.
Robin joined the Volunteer Guitar Connection. The group performs for the community, using their musical talents to bring cheer to the those in old folks' homes and children's homes.
"I also got my busking licence. Because of Covid, I never managed to perform in the streets. But I did do online busking. I call it BuskingRobin."
Through these avenues, he made friends. The friends, most of them non-Christians, then became his Facebook friends. So, every time he posted a Christian song, they would get to see it. This became Robin's way of using social media to share the Gospel.
Two years ago, he added another dimension to this.
"I watched this video by Ray Comfort from Living Waters. He has this way of evangelism that is pretty interesting.
"I even wrote a song based on the way he evangelises called Good Works Not Enough."
Inspired, Robin began posting Christian messages on his Facebook page every day as another way to reach out to the audience he already had from the friends he had made.
"I used to be a very shy guy. So, this is my way of doing evangelism,"
Then, he chanced on another way of expanding his online reach.
An avid Liverpool fan, Robin wrote a song about his favourite football team when they won their first Premier League title in 2020. He received a lot of comments for his video.
"All these Liverpool fans commented (on the song) and I friended them. They get to see my posts which has Liverpool stuff but also all my Christian stuff.
"I used to be a very shy guy. I'm getting better but I'm not someone who is very vocal. So, this is my way of doing evangelism," said Robin who does not serve in his church's worship ministry but in its social media ministry.  
Faithful in little
It is Robin's fifth year of song-writing this year.
"I just want to use my little talent to share the Gospel."
To commemorate the occasion, he released a new song Glory Be to the Father along with an e-album on September 1 to raise funds for PCS. The digital album is a compilation of 12 of the Christian songs he had composed and released as singles over the last five years.
The highlight of the fundraising effort, which spans 40 days, is the livestream concert on October 3.
This is Robin's most ambitious project yet and the culmination of all his interests – music, technology, volunteerism and evangelism.
"I had raised funds with Volunteer Guitar Connection and that's how I got the idea to do a livestream to raise funds."
The hope is that S$10,000 will be raised through this.
But all this is just the beginning. Robin plans to do more fundraising events every two months.
"It'll probably be a different charity each time. I don't know where all this will lead to. But I just want to use my little talent to share the Gospel."
---
RELATED STORIES:
Musician Ryan Kong's God-songs: Heart-driven even in 'fig tree moments'
"Our intent is missional," says founder of The Fireplace Collective creative agency
Songs from the soul: A search for her lost voice led a singer-songwriter to find much more
If you have enjoyed reading Salt&Light...
We are an independent, non-profit organisation that relies on the generosity of our readers, such as yourself, to continue serving the kingdom. Every dollar donated goes directly back into our editorial coverage.
Would you consider partnering with us in our kingdom work by supporting us financially, either as a one-off donation, or a recurring pledge?
Support Salt&Light