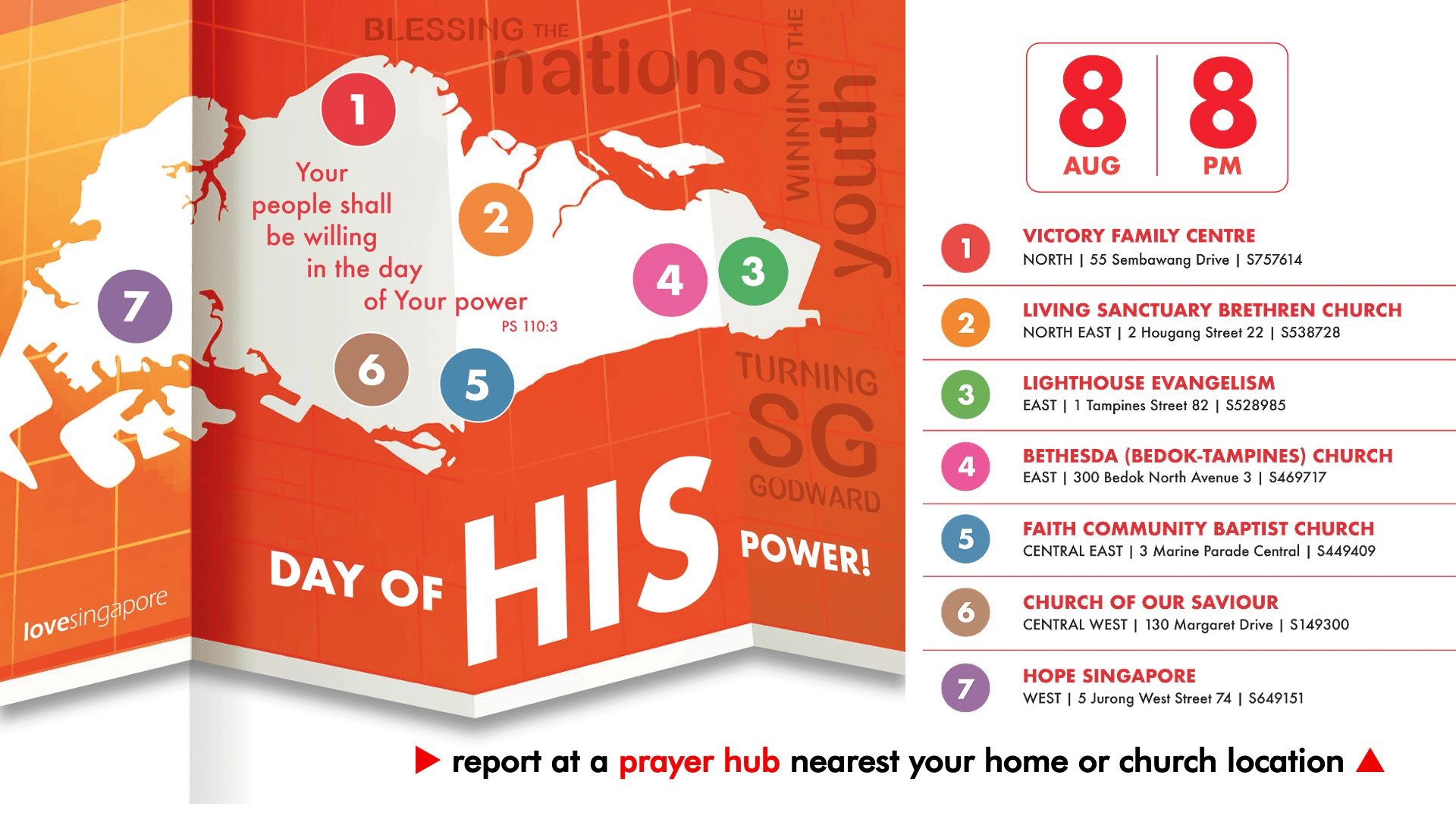 This year's DOHP 2023 will take place in English in seven different churches at 8pm on August 8, while the Mandarin DOHP will be held at St Andrew's Cathedral on August 6.
This year's Day of His Power (DOHP), a rousing evening of worship and prayer uniting churches across the nation to stand in the gap for Singapore, takes place in seven different churches at 8pm on August 8.
Traditionally held on the eve of National Day, this year's DOHP is the second year after the Covid pandemic that Christians from all over Singapore are invited to gather in person to intercede as one Church.
DOHP climaxes 40.Day Prayer 2023, which this year is presented via videos and written devotionals in English, Mandarin and family versions, presented by 40 different pastors. 
The three strategic areas for prayer this year are: Turning Singapore Godward, winning the youths and blessing the nations.
"If we do nothing, we risk losing the youths to the world. If we do nothing, we scorn the purpose for Singapore as the Antioch of Asia."
Last year, more than 5,000 people gathered at DOHP 2022 at six centres to seek the face of God and intercede for Singapore. More are expected this year with an additional centre. 
The seven regional churches across the island will host DOHP in English on August 8, while St Andrew's Cathedral will anchor DOHP in Mandarin on August 6.
"We can never overestimate the importance of prayer," said Pastor Jeff Chong, Senior Pastor of Hope Church and Chairman of LoveSingapore, a parachurch unity and prayer movement that kickstarted the 40.Day Prayer Season.
"Prayer should always be our first resort, not our last."
Ps Chong pointed out that increasing social, economic and political turmoil in Singapore and the world has escalated the urgency of prayer.
Fear and disillusion are growing – the steady rate of growth of Christians in Singapore, for example, has dropped from 2% in the past few decades to a dismal 0.6% in the most recent decade from 2010-2020.
"If we do nothing, the growth rate of Christians in Singapore will likely fall further in the next decade. If we do nothing, we risk losing the youths to the world. If we do nothing, we scorn the purpose for Singapore as the Antioch of Asia," Ps Chong told Salt&Light.
"But when we turn to God in prayer, He is able to do immeasurably more than all we ask or imagine." (Ephesians 3:20)
Come and join your fellow brothers and sisters in Christ to call out with one voice to one God as one Church. 
Find out more on DOHP and 40.Day 2023 here.
Where to gather for Day of His Power 2023
In English
August 8, 2023 | 8pm-10pm 
Seven regional prayer hubs (see below)
No registration required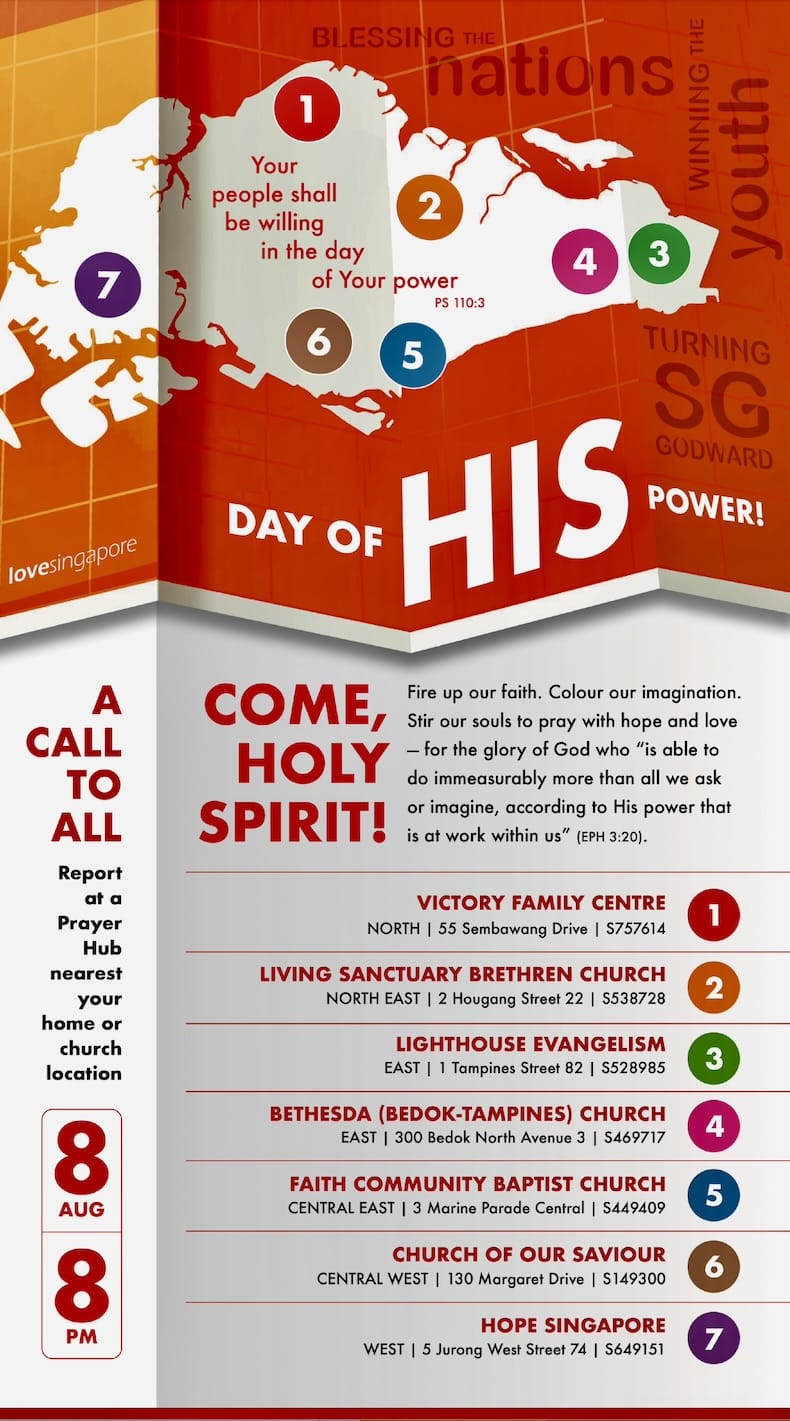 NORTH
Victory Family Centre Sembawang,
55 Sembawang Drive , S'pore 757614.
NORTHEAST
Living Sanctuary Brethren Church,
2 Hougang Street 22, S'pore 5538728.
EAST
Bethesda (Bedok-Tampines) Church,
300 Bedok North Avenue 3, S'pore 469717.
1 Tampines Street 82, S'pore 528985.
CENTRAL EAST
Faith Community Baptist Church,
3 Marine Parade Central, S'pore 449409.
CENTRAL WEST
130 Margaret Drive, S'pore 149300.
WEST
5 Jurong West Street 74, S'pore 649151.
In Mandarin 
August 6, 2023 | 7 pm – 9 pm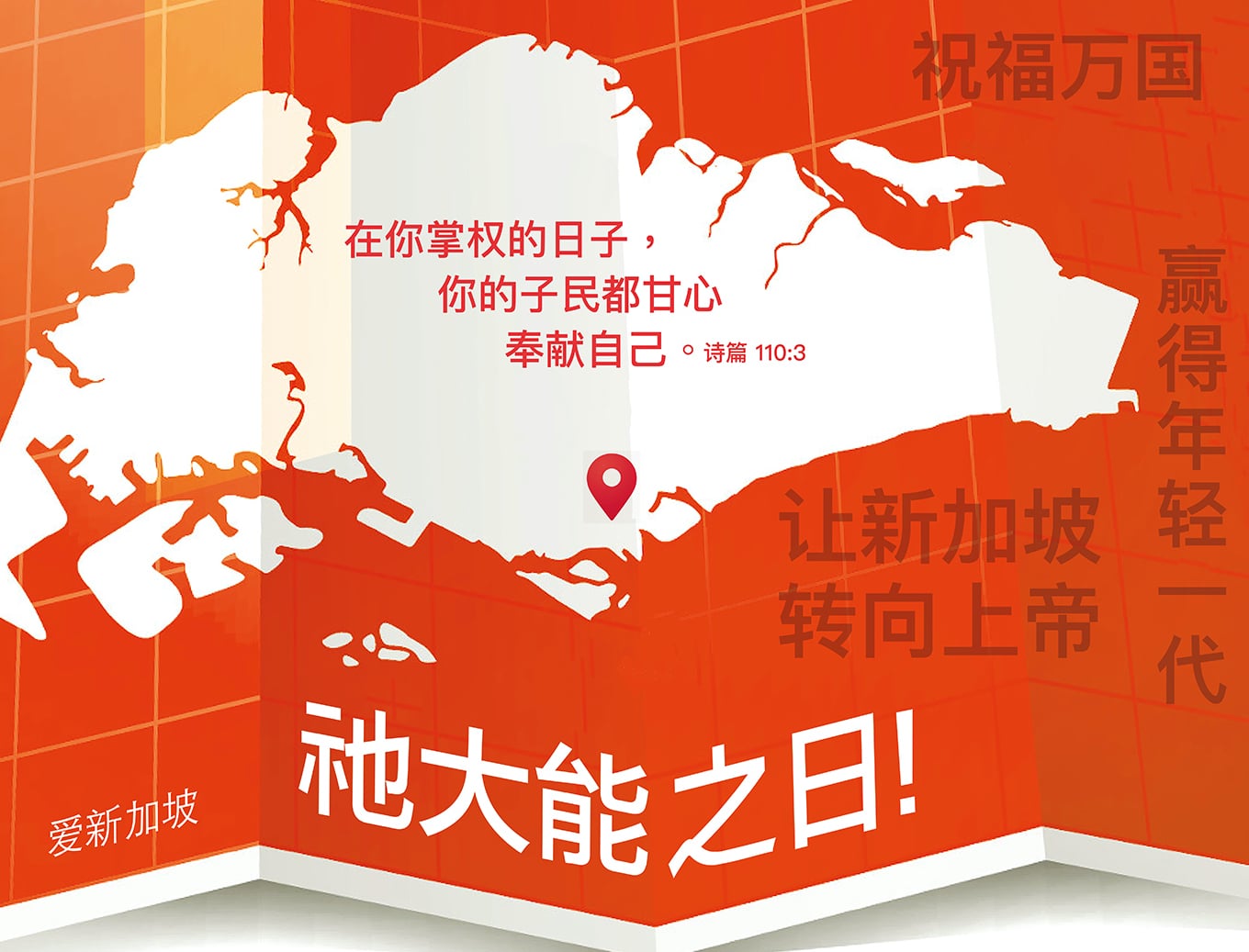 11 St Andrew's Road, S'pore 178959. 
If you have enjoyed reading Salt&Light...
We are an independent, non-profit organisation that relies on the generosity of our readers, such as yourself, to continue serving the kingdom. Every dollar donated goes directly back into our editorial coverage.
Would you consider partnering with us in our kingdom work by supporting us financially, either as a one-off donation, or a recurring pledge?
Support Salt&Light