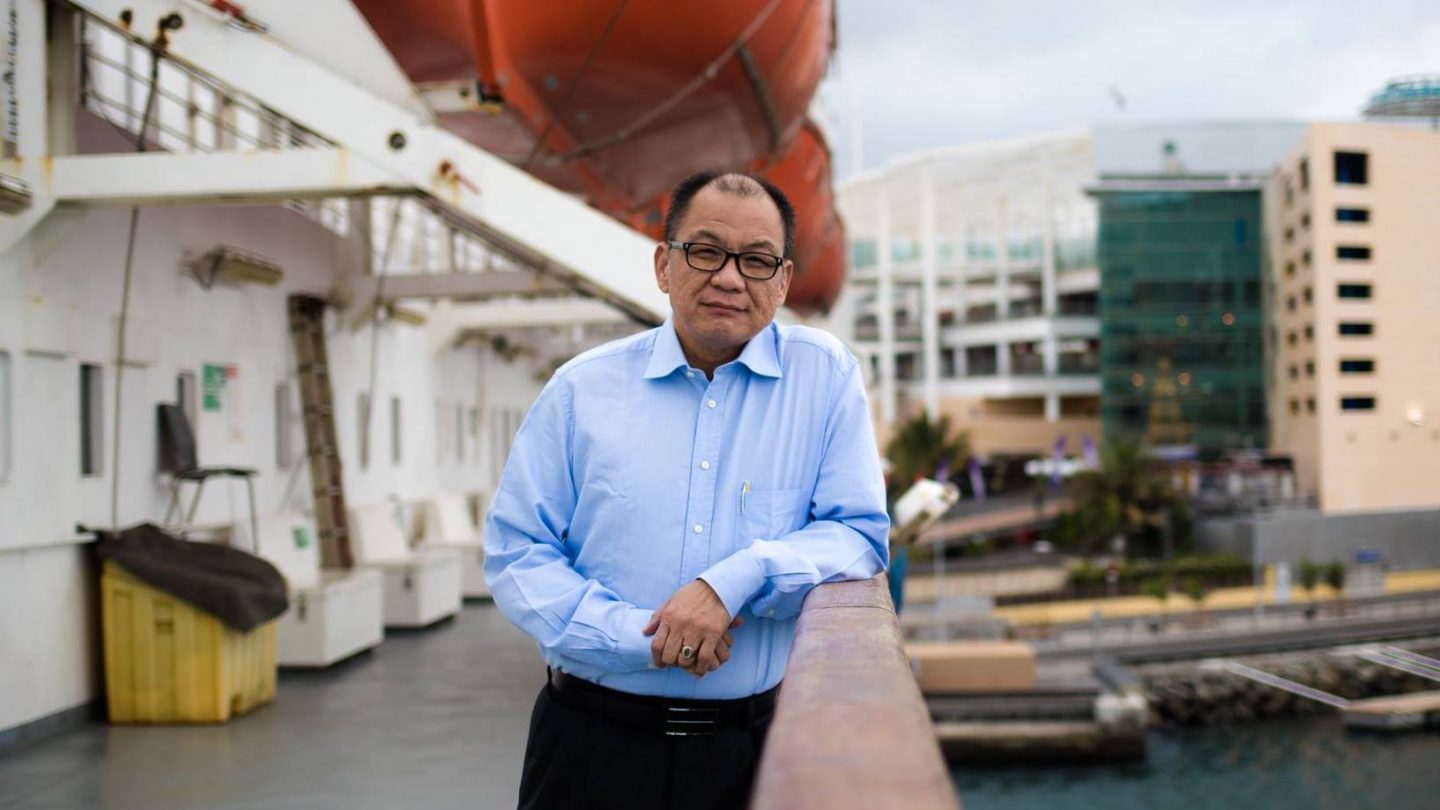 "I believe with all my heart that God is in control," says OM's International Director Lawrence Tong. Photo from OM International's Facebook page.
With an increasing number of country borders rapidly closing, missionaries all over the world and their agencies have been hugely affected – both in funding and operations.
One of OM's hardest hit ministries is Logos Hope … which typically sees thousands of visitors daily.
But even though his organisation has had to cope with the rapidly evolving situation, Lawrence Tong, International Director of one of the world's largest missions agencies, Operation Mobilisation (OM), has complete trust that God is in control.
In a phone interview with Salt&Light, Tong said that while many of his organisation's activities have been paused or disrupted, Proverbs 19:21 has kept things in perspective. 
"We can have the best of plans for our mission organisation and for ourselves, but ultimately God's purposes will prevail and we have to submit ourselves to His will.
"It may not have anything to do with the coronavirus, but it has everything to do with our posture before God, acknowledging that He is God."
Not fear, but prudence
While none of the 5,500 OM staff in 110 countries has been infected with the virus, Tong said that it has "definitely impacted the way we do business and ministry".
All OM events, conferences, international meetings and short-term ministries have been put on pause until June 15, while all those on short-term mission trips have been recalled, he said.
"This is a time for us to come together and assure our friends that there is a God who is in control."
"It is not out of fear. We are simply practising prudence. We want to cooperate with governments and help to contain the situation." 
He added that OM has also set up an international COVID response team of about 12 people to monitor the situation and ensure that its activities all around the world abide by government guidelines.
One of OM's hardest hit ministries is Logos Hope, which announced on Wednesday (March 18) in a Facebook post that it is closing to the public.
The OM ship, which has about 400 volunteers from more than 60 different countries, is currently docked in Kingston, Jamaica, and was slated to cross the Atlantic for annual maintenance in the Canary Islands before embarking on its European leg. 
"At this stage, it is expected that the ship will remain in the Caribbean region for the next three months," the post read. "Work is ongoing to determine how the vessel's schedule will alter over these coming months."
It added that a response team has been put in place to monitor developments and make decisions in accordance with the advice of all relevant authorities.
Tong said the decision to close the ship to the public was made to cooperate with the local authorities and also because the public had been staying away from the ship.
"With the scares about passenger ships and cruise liners being infected, the Logos Hope was not spared of that though no one on board was infected," he said.
Logos Hope, which is the world's largest floating bookstore, typically sees thousands of visitors going through its doors daily.
Trusting in Him again and again
Another concern for OM, which relies heavily on donations from Christian communities worldwide, is the economic impact the coronavirus will have on mission work. 
"We have to be wise with resources, sensitive to the Spirit's leading, and trust Him again and again."
Tong said: "Many people are facing tremendous economic challenges because of this virus. Businesses and personal income are all being affected, so I think the giving to OM will be affected as well.
"That's something that we need to pray about, that God will continue to provide for us."
Nevertheless, he also noted "a beautiful thing" – in its 63 years of operation, OM has never had to halt the ministry because of a lack of finances. 
"Through thick and thin, through all economic crises around the world, through some of the most difficult times, somehow God delivered us and we pulled through. I believe that this time will be the same.
"By God's grace, we can make it. We just have to be wise with the way we steward our resources, be sensitive to how the Spirit is leading us, and at the same time continue to trust Him again and again."
March 26: Pausing to pray
In a time where many are being forced to pause, Tong is taking this opportunity to pray and reflect.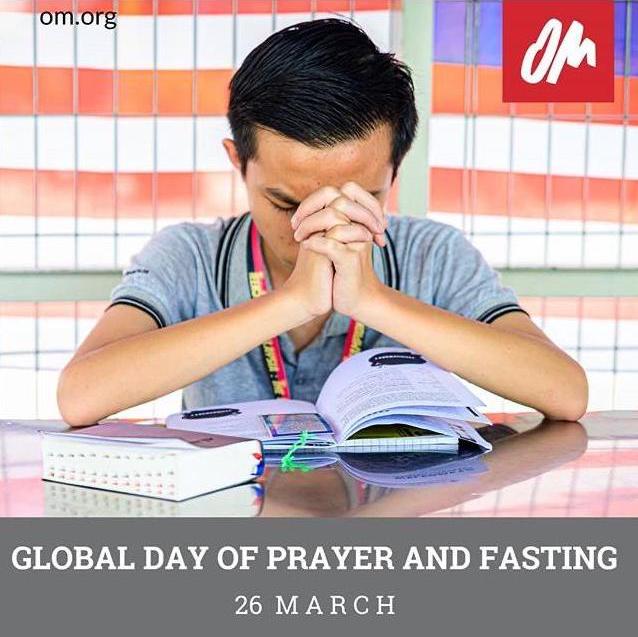 A verse that has taken prime position in his mind during this crisis is Philippians 4:6-7, which commands believers not to worry but to make our requests known to God, trusting that His peace will guard our hearts and minds.
He said: "The first thing we did was to call for an extra time of prayer. Last week, we joined with another missions organisation, SIM International, to have a global day of prayer.
"Military minds, economic minds cannot deal with the simple virus. So, what is God saying?"
"On March 26, all the OM teams around the world will pause and spend 24 hours fasting and praying."
OM, as an organisation, is also taking the time to reflect on what God is trying to say through this crisis, he added.
"This morning we had a prayer meeting, and I shared this with the team: The world has never seen a more powerful military nation than America. The world has not seen a more powerful economic country like China. Everybody seems to be able to deal with the problems around the world.
"And yet, God allowed a small virus to humble all of us. Military minds, economic minds cannot deal with the simple virus. So, what is God saying?"
Not a time to retreat
While we may not be able to go for overseas mission trips in a while, we can still pour more of ourselves into our relationships, spending time encouraging one another and rediscovering our friendships, Tong said.
"If we are not going overseas for ministry, there are plenty of things we can do locally."
"This is also a great opportunity to practise compassion and hospitality. Wherever we are, we can be salt and light to the local people, help a neighbour who is in need or join a group that can encourage other people."
For example, staff from his office recently expressed a desire to invite some Malaysian workers who have affected by the travel ban to stay in their houses, he said.
"If we are not going overseas for ministry, there are plenty of things we can do locally," he added.
Despite much disruption to existing ministries, Tong believes this is not a time for believers to retreat.
"I think this is a great opportunity to share the love of God with people, especially those who need some hope and reprieve from the stress and pressure.
"This is a time for us as a Church, as a people of God, to come together and journey with our non-believing friends and assure them that in the midst of all this, there is a God who is in control.
"I believe with all my heart that God is in control."
---
If you'd like to contribute to the work of OM, click here.
"God directed me from the beginning": Singaporean Lawrence Tong on leading Operation Mobilisation
If you have enjoyed reading Salt&Light...
We are an independent, non-profit organisation that relies on the generosity of our readers, such as yourself, to continue serving the kingdom. Every dollar donated goes directly back into our editorial coverage.
Would you consider partnering with us in our kingdom work by supporting us financially, either as a one-off donation, or a recurring pledge?
Support Salt&Light