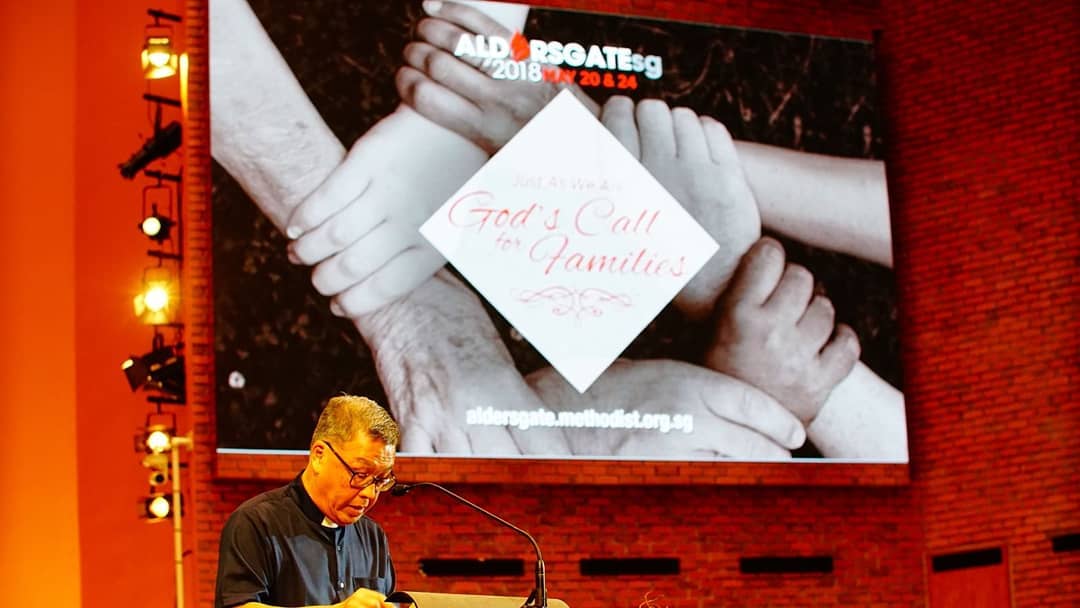 Bishop Emeritus Dr Wee Boon Hup speaking at the 2018 Aldersgate Singapore celebration. Photo by Paya Lebar Methodist Church.
Christians should not abandon or withdraw from their families even during the lowest point of any problem, said Bishop Emeritus Dr Wee Boon Hup.
The former Bishop of The Methodist Church in Singapore, who has been married for more than 30 years, was speaking on Thursday (May 24) evening at the Methodist Church's annual Aldersgate Singapore celebration, which commemorates the movement's founder John Wesley's experience of assurance by the Holy Spirit. 
He said that Christians should not give up on their families because of the nature of God, who pursues His children relentlessly no matter how far they have distanced themselves from Him. 
"Our God is an eternal jealous lover. We can run away from him, but there is no place we can hide.
"He is not willing for any one of us to perish, and that is the nature of his immeasurable length, breadth, height and depth of the love he has for us," he said during his lecture at Paya Lebar Methodist Church. 
So don't give up working and nurturing and attending to the garden that is your family.
"To be like him in that way is humanly impossible. But God has provided a way by giving us the Holy Spirit in our inner being."
He said that though believers will be tested at times when it comes to living with one another, it is important that we tap on the "strength available to power us on with his love" and continue to serve our Father. 
He referenced Ephesians 3:14-21 and called for members to say this prayer for their families, asking for God's strength and power to love when it comes to difficult situations such as parents trying to love a child who has disappointed them. 
He cited the story of the Wesley family and their familial issues to remind the congregation that no spouse, marriage, family, or child is perfect. 
He also said that the seeds of rebellion were sown since the time Adam and Eve "chose to heed the words of another" and Satan broke the family up, while subsequent generations lived in ways that separated themselves from God. 
Nurturing the family
Bishop Emeritus Dr Wee, who previously served as the Chairman of the National Council of Churches of Singapore, said that not giving up also means that Christians must continue working at their relationships even during the good times.
"Sometimes we assume that everything is okay when things are not okay. So don't give up working and nurturing and attending to the garden that is your family. Removing weeds from it, taking out things that should not be there, investing in it, and enriching what is there.
"I think we should not assume once you get it right, it will always be right. Because family has to do with relationship, a particular solution may not work in a different setting," he added. 
What can the church do? 
The long-time pastor felt that many activities that churches organise take individuals away from the family. Churches also presume that once a family attends church together, the family is doing well, though "many of us come to church with our issues at home".
"I think the assumption is that if you are in church, we can take you out to do a project or organise events and you can leave your family behind.
"If we are really serious about strengthening family within the church, the way we plan our programmes, the way we schedule activities should intentionally be family-friendly." 
To do so, churches should also think more about providing childcare services, or opportunities for family members to take part in projects together. 
If you have enjoyed reading Salt&Light...
We are an independent, non-profit organisation that relies on the generosity of our readers, such as yourself, to continue serving the kingdom. Every dollar donated goes directly back into our editorial coverage.
Would you consider partnering with us in our kingdom work by supporting us financially, either as a one-off donation, or a recurring pledge?
Support Salt&Light