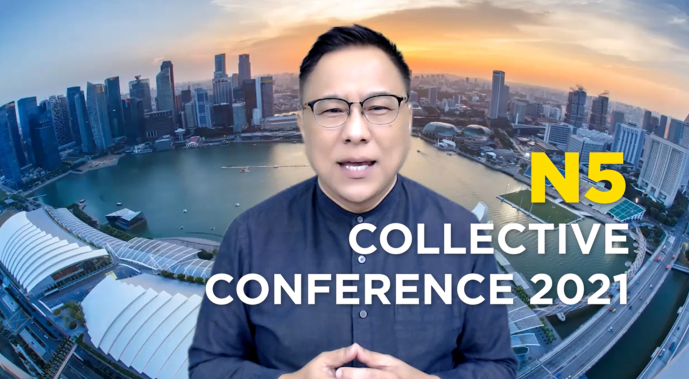 The vision for the conference is based on Nehemiah 5, which describes how the rebuilding of Jerusalem's walls came to a standstill because of financial issues and oppression, says conference founder Bernard Lim.
Former Prudential financial services director Bernard Lim knows what it feels like to be broke.  
Like many other Singaporeans, he and his wife were caught up in a frenzy of property acquisition in the early years of the 2000s.  
In 2006, he bought a landed property in the east. Barely a few months later, he purchased two more condominiums in the city.  
He thought he was making good investment decisions – borrowing and leveraging a heavy 90% for the properties so that he could flip them for profit in the future.  
From Distress to Destiny
He was neither watching the market, nor enquiring of the Lord, he said ruefully. His business then was doing well, and his wife had quit her job to enjoy the tai-tai life.  
Then the global financial crisis hit and the market crashed in 2008.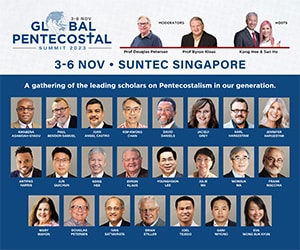 His insurance business took a deep dive and property prices plunged. Lim tried to cut his losses by selling his properties at huge losses.  
He eventually lost a six-figure sum. Burdened by his debts, he sank into depression. His wife Caron went back to work.  
"It was a nightmare. I couldn't talk to anyone about it because of the shame. We looked normal but the floor beneath us was caving in," said Lim, 58.  
His finances were eventually restored.  
Lim emerged from those years of financial despair with a greater empathy towards others who find themselves in similar situations either because of unwise financial decisions or unexpected financial events in their lives.  
It motivated him to start not only a training and consulting company for financial coaching, but also a social enterprise that offers bursaries and pro bono financial counselling to the poor.  
Since then, he has been engaged by banks, insurers and other firms to train more than 10,000 financial services practitioners around the world. He is also an adjunct trainer at SMU Academy, the professional training arm of Singapore Management University.  
Indeed, Lim has seen God "restoring the years the locusts have eaten". (Joel 2:25)  
What the 58-year-old did not know then was that God was not done with him, and was leading him to his latest "assignment" for this year.  
The birth of N5 conference 
Wanting to do their part for those struggling during the pandemic last year, Lim and his wife delivered food packs to Bangladeshi construction workers in Geylang with Project Providence.
Lim also helped to look out for Malaysian workers by linking them up with donors. These Malaysians had jobs in Singapore, but because of the lockdown, they were stuck in Malaysia and were struggling financially.   
When these initiatives were completed at the end of last year, Lim asked God: What's next? How else can I help? 
He was led to meditate on the Book of Nehemiah and somehow he found himself stuck at Chapter 5.
The chapter was about the rebuilding of Jerusalem's walls coming to a standstill because of financial issues and oppression. A famine forced the poor to borrow from the rich and mortgage their farms in order to pay the imperial tax and to avoid starving.
He was led to meditate on the Book of Nehemiah and somehow he found himself stuck at Chapter 5.
Money lenders milked the crisis by charging exorbitant interest and enslaving the children of those who could not repay the loans. Land grabbing, slave trading and debt slavery defiled the Holy Land.  
Around the time Lim was studying Nehemiah, he had coffee with Timothy Wong, Managing Director and Regional Head for DBS Group Research, who shared with him a DBS report entitled: "Same Storm, Different Boat: Impact of Covid-19 on financial wellness in Singapore".  
The findings in the report, which leveraged on its database on 1.2 million non-wealth customers in Singapore, gave a bleak picture of the situation.  
The report found that the lower-income group was the worst hit in the pandemic. Lower-income earners ($2,999 & below) constituted about 49% of people who had experienced a drop in salary. Among this group, about half saw their incomes cut by more than 50%. 
"I was very troubled. I saw that many Singaporeans could be in serious trouble if the pandemic persists. It paralleled the situation in Nehemiah 5. I thought the body of Christ should come together to do something instead of relying solely on the Government to help," said Lim, who continued waiting on the Lord for his next steps.  
During a prayer meeting with the fathers of the Elijah 7000 movement in July this year, he found himself sharing with them about Nehemiah 5.  
The next moment, he suddenly blurted out: "Today is the official launch of the N5 Collective Movement".  
"I had no clue what I was talking about, what was to be done with the N5 Collective Movement or how. It was like my tongue just lost control of itself," said Lim.  
"Why plan a conference for the marketplace and not prepare the Church first?"  
Puzzled over all these stirrings in his heart, he and his wife arranged to meet church mate and sister-in-Christ, Mrs Lai Kheng Pousson, to seek counsel on how to pray for a movement.
Their meeting was postponed several times until they met online on July 15. That day, the Love Singapore 40-day prayer devotion happened to be on Nehemiah 5.  
When sister Lai Kheng heard that he was then busy with planning a commercial conference on financial wellness, she remarked: "Why plan a conference for the marketplace and not prepare the Church first?"  
Surprised at her comment, Lim told her that they had already invested much effort on the commercial conference.  
Yet the night before he was due to make a pivotal decision on whether to invest a good sum of money on a platform for the commercial conference, Lim had a dream.  
A dream in the nick of time
In the dream, Lim was sitting among an audience in an open-air conference. He could only recognise a sister-in-Christ sitting next to him. No one else was familiar.
A man walked up to him and passed him a list of names, asking him to take attendance of the people around him.  
Lim was stumped because he did not know anyone, apart from the friend next to him. She then turned to tell the man: "He is not ready for this yet."  
Lim woke up at 3am and asked the Lord what the dream was about.  
"Turn your attention to the church. You are not yet ready to do the conference for the marketplace," came the reply. 
The morning after, Lim told the team which was working on the commercial conference to drop the project and prepare to do one for the church instead.  
"It was a 180-degree turn. There was trepidation, of course, but I also knew God required explicit obedience. There was no point arguing with Him. If it is time to do it now, then it is now. I can only obey and take one step at a time," said Lim.  
"The speakers are people who actually walk the talk."
Being well-versed with finance matters, Lim knew the important topics to cover and had a structure in mind.  
Day 1 would focus on the personal aspects of finance: Having a Kingdom-mindset towards money, tackling greed and debt, defining biblical financial freedom as well as delving into investments and giving legacy. 
Day 2 should cover the relational aspects of finance: How husband and wife communicate with each other about money matters, what parents need to teach their children about wealth, how members of the Church can support each other's financial well-being and how resources can be best used to care for those in the community, and beyond, through missions in the nations.  
Lim made some calls and reached out to several people. God provided the speakers.
The two-day online conference will feature over 30 speakers and panellists, including well-known names from the Church and the finance industry.  
"We hope to have authentic conversations on real life dilemmas and situations regarding money, not just talk about the theological aspects of it. The speakers are people who actually walk the talk," said Lim.  
"If financial freedom means you get to do whatever you want with whatever you have, whenever you like … we have become our own gods."
Former President of the Insurance and Financial Practitioners Association of Singapore, Leong Sow Hoe, for instance, will speak to financial services professionals about how they can impact the church, community and nation through their roles in the marketplace. 
Raymond Gabriel from People Systems, one of the largest social enterprises in South-East Asia, will talk about how entrepreneurship, money and the Kingdom may not be at odds with each other.  
Founder of Life Planning Associates, Benny Ong, will touch on the seven rules of financial freedom while discussing the popular question many Singaporeans have: How much money is enough?  
"Financial stewardship isn't about what you do with what you have when you have it. It is about always having a Kingdom perspective when handling money regardless of how much you have and no matter what financial situation you may be in now," said Lim, who is also the founder of FinCARE Global, a social enterprise that provides affordable financial wellness tools and programmes to those who need it.
Increasingly, believers are buying into the world's definition of what financial freedom is.  
"If financial freedom means you get to fire your boss, wake up whatever time you want, do whatever you want with whatever you have whenever you like it, and retire early, then that is the greatest bondage of all. We have become our own gods," he said.  
"The conference is timely because the pandemic has accentuated the polarising inequalities that exist in society, from the high-net worth individuals snapping up property to the ones who are unable to put food on the table.
"Issues such as snowballing debt bringing out the darker side of humanity are of current interest in the latest Netflix hit show Squid Game because these are real struggles," he added.  
Serving God or Mammon? 
Timothy Wong, Managing Director and Regional Head for DBS Group Research, said Singapore has been blessed over the past 50 years in order to be a blessing. The Church in Singapore has to steward these blessings. 
"It is critical that believers be equipped with the right perspective, skills and tools to turn money into our servant and not our master."
"The Bible mentions money over 2,300 times. Jesus says that where your treasure is, there will your heart be also. The N5 conference gives us an opportunity to explore what this means in practical terms, especially in the unprecedented times that we live in," said Wong, who will be speaking at the N5 conference about how the Church can respond in times of economic crisis.  
Said Senior Pastor Benny Ho from Faith Community Church (Perth), who will also be speaking at the conference: "Our Lord Jesus made it clear that a disciple cannot serve both God and Mammon. He literally positioned money as an alternative to God.
"Money is one thing that claims to be able to provide what God alone can – such as provision, protection, security and independence. It is, therefore, critical that believers be equipped with the right perspective, skills and tools to manage money and turn it into our servant and not our master." 
Lim hopes the conference can be a stepping stone to the formation of new communities: 
"We need the Nehemiahs to rise up and be the example, speak truth in love and get people organised within the walls and beyond."  
Within the Body of Christ where believers will be discipled on Kingdom principles in money matters and where the Church will be a safe place for financial matters to be addressed and discussed openly. This is so that believers will look out for one another and the needs of the community and nations.

A community of Kingdom-minded financial services professionals who will serve people in their financial needs or distress and to use their vocation as opportunities for outreach and impact.
"Our prayer is that the Body of Christ in Singapore will reawaken to her Antioch call," said Lim. "It starts with uncomfortable conversations and discipleship in the area of finance within the church.
"We need the Nehemiahs to rise up and be the example, speak truth in love and get people organised within the walls and beyond."  
---
To register for the N5 Conference or find out more, click here. 
---
MORE ON KINGDOM INVESTMENT:
"God doesn't need our money; He wants us to reflect His character": GIC's Dr Jeffrey Jaensubhakij and Pearpop's Peter Han on God's future economy
Financial capitalism is outdated, says economist who offers alternative for purpose-centric business
If you have enjoyed reading Salt&Light...
We are an independent, non-profit organisation that relies on the generosity of our readers, such as yourself, to continue serving the kingdom. Every dollar donated goes directly back into our editorial coverage.
Would you consider partnering with us in our kingdom work by supporting us financially, either as a one-off donation, or a recurring pledge?
Support Salt&Light