Day 38: Where the wind blows
A LoveSingapore 40.Day prayer and fast devotional, following 2022's theme of To Live Is Christ: A Journey Through the Book of Philippians.
LoveSingapore // August 7, 2022, 12:01 am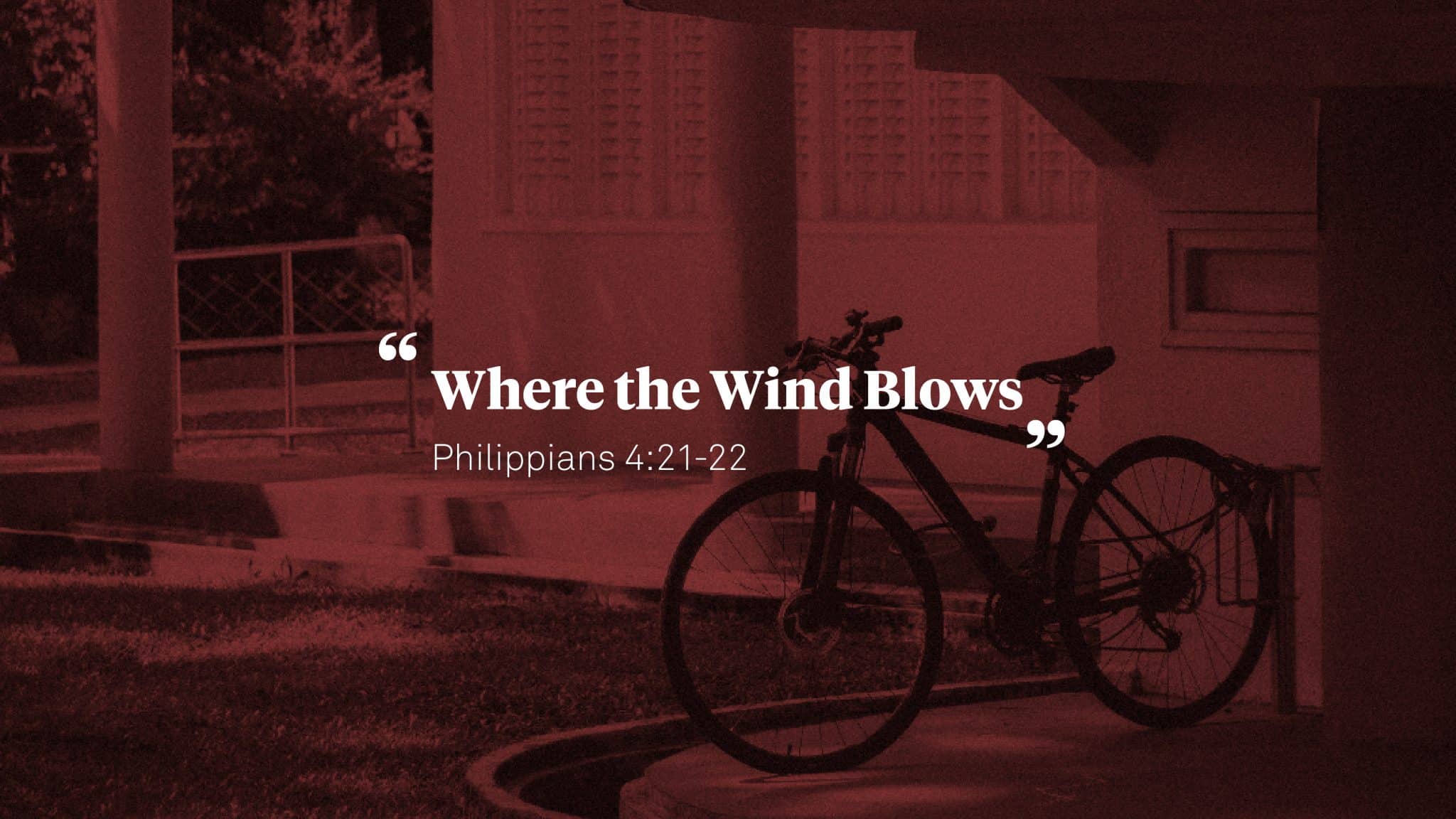 Bible reading for 40.DAY 2022 |  Philippians 4:21–23
---
Paul started this letter with greetings to the saints. Now, in something like a postscript, he ends with greetings from the saints – with a dramatic punchline.
He may have been dropping hints at the beginning when he said that the entire Praetorian Guard and all the rest knew that his imprisonment was for Christ (Philippians 1:13).
The tantalising question is, who are all the rest that are hearing about Christ because of Paul?
If all means all, then all the rest includes Caesar's bodyguards as well as the Captain of the Guard, Sextus Afranius Burras, who was then Caesar's personal advisor.
Everything Paul does, says, or writes is laced with Gospel.
And now, at the end of the letter, Paul modestly tips his hand: All the saints greet you, especially those of Caesar's household (Philippians 4:22).
This is astonishing, even if Caesar's household doesn't mean his immediate family. The term refers to all the civil servants and government officials in his court.
That some of Caesar's inner circle are now in Paul's saintly circle is not surprising, if you know Paul. Everything this man does, says, or writes is laced with Gospel.
And remember, he dictates this letter while being chained to Caesar's bodyguards 24/7 in four-hour shifts. How could they not hear the Gospel? Out of the abundance of the heart, the mouth speaks (Matthew 12:34).
Paul was not ashamed of the Gospel. Run his head through an MRI scanner and all you will see is Gospel.
Turn him loose in Macedonia and he turns the province upside down for Christ. Tie him down to Caesar's bodyguards and he turns the Roman court upside down for the Gospel (Gordon Fee).
Paul is a prisoner of Caesar. But first and foremost, he is a prisoner of Christ.
With saints in Caesar's household, Paul and the Philippians now have friends in high places.
Paul is a prisoner of Caesar, the Lord of the Roman Empire. But first and foremost, he is a prisoner of Christ, the Lord of the Nations – on behalf of the Gentiles (Ephesians 3:1). And now in his chains he has found or made disciples at the heart of the Empire that crucified his Lord.
This should bring profound comfort and courage, not only to the Philippians who suffer at the hands of their fellow Romans. But to all who share in the sufferings and service of Christ amidst a crooked and perverse generation – among whom we shine as lights (Philippians 2:15).
The word of God is not bound (2 Timothy 2:9).
The wind blows where it wills (John 3:8).
The grace of the Lord Jesus Christ be with your spirit (Philippians 4:23).
Pray Now
1 The Gospel is the power of God for salvation (Romans 1:16). What is the state of evangelism in Singapore? A "Faith and Work" research done by LoveSingapore in 2016 and 2017 showed a lukewarm interest in evangelism among Christians in the marketplace. Only 35.2% intentionally witness at work. The rest are either passive (51.2%) or unwilling (13.7%). 
Those who love the Lord love the lost.
Self examine. Why do we hold back? What excuses do we make in a nation that preserves and protects our right to profess, practise, and propagate our faith? Are we ashamed of the Gospel? Is our lack of love for the lost due to a loss of our first love for Christ? Those who love the Lord love the lost.
Turn to God in repentance. Cry out for personal and church-wide revival. Evangelistic fervour. Fresh passion for God. Deep  compassion for the lost: "I speak the truth in Christ … I have great sorrow and unceasing anguish in my heart. For I could wish that I myself were cursed and cut off from Christ for the sake of my people" (Romans 9:1-3). Do we have such compassion for our fellow Singaporeans? Ask God to break our hearts for the 82% of us who are cut off from Christ. May we imitate Paul. He did not wait for opportunities to witness. He created them! Even in the most difficult circumstances. Whether on trial before governors and kings, or on a doomed ship at sea, or stranded on a remote island, or chained to Caesar's body guards, he always took the initiative to preach the Good News. Pray for such pro-active witness by Christians from all walks of life in all circumstances all across Singapore.
2 Dark days are ahead. Covid-19 will not be the last pandemic in our lifetime. Whatever curveballs come our way, the call to evangelise remains the same. In an interview for Celebration of Hope, Pastor Edmund Chan was asked how Covid-19 had shifted his paradigm concerning evangelism and discipleship. Here is his excellent response. Turn it into intercession for God's community of faith in Singapore:
"It's people who disciple people. You are the delivery system." – Rev Edmund Chan
"The Great Commission has not changed. The basic need of man has not changed. The need for the Holy Spirit to convict has not changed. The need for united prayer and collaborative effort has not changed. The medium has not changed: God uses people to reach people. And as you use technology and other media, don't forget to distinguish the media from the medium. Programmes and technology do not disciple people. It's people who disciple people. You are the delivery system." (Edmund Chan)
You shall be my witnesses (Acts 1:8).
3 The wind blows where it wills, and you hear the sound of it, but you don't know where it comes from or where it goes. So it is with everyone who is born of the Spirit (John 3:8). Pray: Lord, pour out Your Spirit. Unleash Your rushing mighty wind all across Singapore. Embolden us to go wherever the Wind blows. To take the initiative. To create opportunities where we don't see any. Come blow our minds with Your mighty acts until Singapore turns Godward!
---
Follow Salt&Light on Telegram, Facebook or Instagram for more of LoveSingapore's daily devotions until August 8, 2022.
If you have enjoyed reading Salt&Light...
We are an independent, non-profit organisation that relies on the generosity of our readers, such as yourself, to continue serving the kingdom. Every dollar donated goes directly back into our editorial coverage.
Would you consider partnering with us in our kingdom work by supporting us financially, either as a one-off donation, or a recurring pledge?
Support Salt&Light