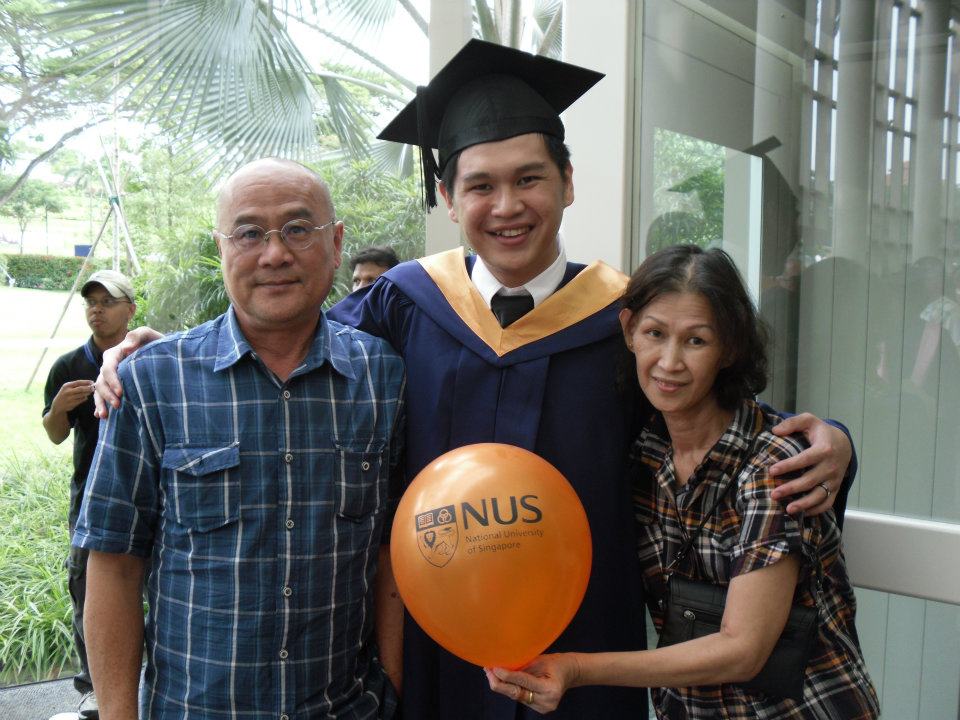 Pulse Tan (centre) with his parents. Because of his humble beginnings, Pulse has a heart for the underprivileged and the underserved. All photos courtesy of Pulse Tan unless otherwise stated.
Pulse Tan grew up poor.
His father did not complete secondary school and worked mostly blue-collar jobs. There were long periods, sometimes years, when the elder Tan would be out of a job. 
To supplement the family income, Pulse's mother held down three jobs.
Pulse was good enough in his studies to be awarded Edusave scholarships and bursary awards. But the family still had to borrow from relatives quite frequently.
Said the 35-year-old: "I was often angsty growing up. I made few friends because I struggled to understand my feelings and my circumstances.
"It took me a long time, much later in my adulthood, to better understand my heavenly Father's love and provision for me, and also to let go of past hurts and mend the relationship with my dad.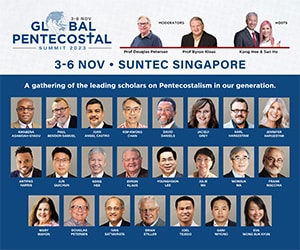 "When I did, the relationship with my dad just blossomed and I can see Daddy God restoring all the lost time. My dad and I are very supportive of each other now. We frequently hug and encourage each other."
Because of those early difficult years, Pulse learnt to be tenacious in the face of challenges. He developed a soft spot for the underprivileged as well, which led to his volunteering at grassroots activities at MacPherson SMC (Single-member Constituency).
"I serve there because it is one of the poorest and oldest districts in Singapore."
Pulse also co-founded a business that looks at helping people live well in the face of the rising cost of living.  
A better life
"Cost of living is something close to my heart because of my underprivileged background," said Pulse.
This April, LifesDAO was launched, with Pulse as its CTO. The start-up gives lifetime access to health, beauty and recreational services to members who sign up and pay a one-time fee.
"Think of it like a country club membership. But instead of paying an annual membership fee, you pay just once. And instead of club facilities, you get to enjoy lifestyle services."
Last month, it gave away credits worth S$60,000 to 120 vulnerable individuals and families in the South East CDC.
Purchased at a time when members can afford a better life, the credits that give access to the services remain viable even when financial situations change. Each LifeDAOs credit is equal to S$1 and they are used to pay for 100% of the expenses.
Pulse conceived the idea as a "protection against inflation" so that people can maintain a certain standard of living even as prices escalate.
"So, for example, if you get retrenched, there are some things you cannot give up, and you have to pay your bills. What you tend to give up is self-care, your gym membership, facials, Traditional Chinese Medicine (TCM). You downgrade to a lower standard of living.
"With LifesDAO, you pay a one-time fee and, every month, you get a certain number of credits to use at our merchant retailers. At the end of the month, if you don't use it, the credits get reset and the next month, you get another set of credits."
LifesDAO is doing more to help. Last month, it gave away credits worth S$60,000 to 120 vulnerable individuals and families in the South East Community Development Council (South East CDC). The credits will be distributed over 10 years to protect their standard of living. This is part of the start-up's tithe to God.
The benefits of LifesDAO's business model extends to the merchants as well. "With the coming recession, we will play a bigger role in the cashflow of merchants."
Security in the midst of uncertainty
Behind the simple idea of LifesDAO is the complex cutting-edge technology of blockchain and smart contracts.
"I developed the NFT in a way where I can devalue and destroy stolen or hacked assets, and replace the stolen assets to victims."
The "DAO" in the company's name stands for Decentralised Autonomous Organisation. DAOs are decentralised and automated organisations that have neither management nor directors. The idea for such an entity arose from cryptocurrencies whose key feature is that they are not controlled by any central authority such as banks or governments.
DAOs take this decentralisation and apply it to entire organisations. With no central body and no humans, DAOs make decisions in a bottom-up management approach using an automated system. These decisions, therefore, bypass human errors and also human manipulations.
The credits the start-up gives out are generated by NFTs (non-fungible tokens). NFTs are one-of-a-kind digital creations that represent real-world objects like art, music, videos and tickets.
In the case of LifesDAO, the NFTs represent store credits that are based on its real-world value. The NFTs are given via a smart contract system. According to a LifesDAO white paper Pulse penned, the same smart contract system allows NFT holders to buy services at LifesDAO merchant lifestyle outlets.
But why use NFT at all?  
"I wanted to put purpose and technology together."
Said Pulse, dealing in NFTs allows LifesDAO to continually update the credits to the latest blockchain standards. More importantly, it affords users a measure of security that is unparalleled.
Pulse explained: "The concept is rooted in financial security. Financial crime is rife in today's world. Whether it's money in the bank, credits, web3 or NFT assets, there are always phishing scams and hackers targeting the vulnerable.
"When I developed the NFT, I did it in a way where I can always devalue and destroy stolen or hacked assets, and replace the stolen assets to victims. This isn't something that current banking and web3 standards can achieve.
"The way we've developed our NFTs, we would never have an issue with laundered credits or a rogue asset generating credits for a malicious source."
Pulse dubbed this unique piece of blockchain technology "Magic Metadata".
So far, LifesDAO has up to 500 people using their NFT tokens and 100 merchants on board.
Building a biblical business  
LifesDAO is not Pulse's first start-up. He set up a social media agency during his second year as a Psychology undergraduate at the National University of Singapore (NUS).
91 Branding and Marketing, named after Psalm 91, is built on "strong stewardship principles".
"We tithe 10% of our company revenue to the church to help underprivileged children. It was tough because we tithed based on revenue, not profit."
With one start-up in the bag, Pulse did not expect to set up another. But, one day, the idea for LifesDAO came to him.
"I wanted to put purpose and technology together."
As he toyed with the idea, and spoke to friends and church leaders about it, the inspiration took shape.
"I realised how privileged we are. Where she lived, there were insects, snakes, scorpions."
"What I really struggled with was: Am I the person to start this? Is this a right time to start it?"
Then, the passage in Genesis 41 came to Pulse. It was a lesson on how Joseph stewarded wealth in times of plenty so that all of Egypt could live comfortable in lean times. This perfectly articulated for Pulse what LifesDAO was all about.
He wrote the code for the app, got together a few investors and got the start-up going with S$100,000. His biggest investor, now the CFO of LifesDAO, is Luke Ho.
Luke, 30, a financial advisor, has always had a heart for the underprivileged. He served in a social centre started by his church, giving tuition to the children there. Visiting his former girlfriend, who lived in a poor rural village, also softened his heart.
"I realised how privileged we are. Where she lived, there were insects, snakes, scorpions. It floods regularly.  
"The generator was behind the house and next to it there would be a cow or a horse. When it kicked over the generator, the power would die."
That was why the premise behind LifesDAO attracted Luke.
Now at the market validation stage, the LifesDAO team is 17 strong. This includes staff who work on its social media presence and those who manage its virtual community. All but Pulse and Luke are full-timers.
Stewarding wealth
LifesDAO does not levy a fee from their pool of merchants nor function on a profit-sharing model. Instead, proceeds from the sale of membership are put in a trust structure. Luke then invests the money and the returns funds the company.
Luke, said Pulse, is very good at what he does. In fact, Luke is Pulse's financial advisor, which is why he trusts Luke with his company's finances as well.
"He has this circle model with Purpose in the centre. Money is on the outside of the circle."
Asked if he has an issue being a Christian whose job is to continually generate wealth, Luke said: "It was one of the things that I struggled with in my practice, more so than I do right now because the profit margin on our end is not very high."
Pre-Covid, Luke was doing so well that he was earning six-figure sums annually.
Concerned that it was "getting to my head", he sought the advice of Christians in the finance industry.
One of them was Christopher Tan, co-founder and CEO of Providend Limited, the first fee-only wealth advisory firm in Singapore. Christopher has nearly 20 years of experience in the wealth management and financial planning industry.
"He was kind enough to guide me through on how he balances his faith and wealth. He has this circle model with Purpose in the centre. Money is on the outside of the circle. He likes to say that money is an enabler, not the purpose."
"Money is an enabler, not the purpose."
Pulse attests to his CFO's efforts to not let wealth dictate his life. "A lot of financial advisors today wear 95% of their wealth. Luke came to meet me with this primary school-looking backpack with holes in it and he took the MRT."
LifesDAO is stewarding wealth in another way – by making sure their transactions are cybersafe. They are developing blockchain-based technology for tracking transactions and making payment. They are also hoping to change the perception people have of NFTs.
Said Pulse: "NFTs have been misused for negative financial gain like in wash trading where they artificially increase the value of the NFT.
"But NFTs were meant to do things like proof of payment so there is blockchain record. We are trying to put NFTs back on track."
For now, the team has dreams for the future. The first target is 650 members to 100 merchants. Then, 3,500 members and 300 merchants. The ultimate goal would be to have 17,500 members to 500 merchants.
Said Pulse: "The battle is the Lord's. For 2023, we just want to steward this platform."
---
RELATED STORIES:
"God is the CEO": The divine initiative behind heritance app shows His heart for legacy-leaving
From selling rojak to flipping cars in the US, he now has a start-up that helps people live their dreams
Money talk: What these parents teach about managing finances and what their children learnt
If you have enjoyed reading Salt&Light...
We are an independent, non-profit organisation that relies on the generosity of our readers, such as yourself, to continue serving the kingdom. Every dollar donated goes directly back into our editorial coverage.
Would you consider partnering with us in our kingdom work by supporting us financially, either as a one-off donation, or a recurring pledge?
Support Salt&Light