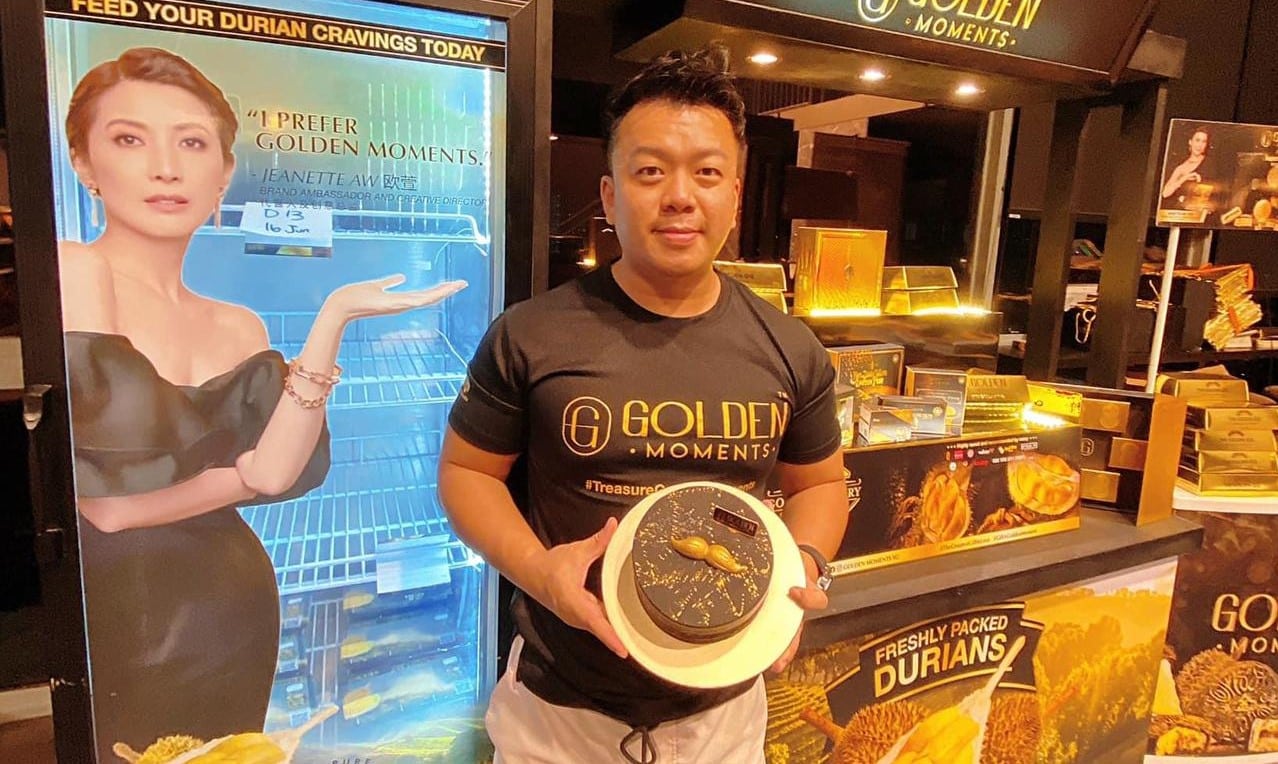 Josiah Jeremy Seow, CEO of premium durian company Golden Moments, believes in creating a company that impacts lives for God. Photos courtesy of Josiah Jeremy Seow.
When Josiah Jeremy Seow decided to include a lucky draw with every box of his Golden Moments mooncake purchased, the CEO of the premium durian company was only thinking of one thing.
"I was thinking of rewarding my customers," said the 34-year-old.
So, he worked with various brands to offer a bounty of gifts from electronics to furniture, jewellery and healthcare products. Among the items available was a 75-inch smart television.
What happened next was simply out of the ordinary.
Salt&Light social media strategist Levan Wee had been thinking of getting a PS5 for a friend he had made just a few months ago. The friend works in a coffeeshop Levan frequents.
"I asked God, 'Is there a way to bless him with a TV?'" 
"We hit it off quickly. We talked about video games and all, and I got to know him a little," Levan told Salt&Light.
Levan felt prompted by God to buy the man a PS5 for his birthday. He admitted he was reluctant at first: "It is so expensive and I also waited for two years to get one for myself but I haven't even gotten it!" But Levan decided to obey.
In the week that followed, as Levan spoke to his new friend, he discovered that the man had been saving up for a PS5 but his current television was not good enough to fully support the visuals of the new games. So, he had to save up for a new television first.
Said Levan: "In my heart, I'm thinking: That's okay. The PS5 surprise is coming!
"But I also asked God, 'But what about the TV? Will he be able to afford it? He works so hard seven days a week. Is there a way to bless him with a tv, too? But I don't have the money.'"
An unexpected win
Since it was the season of the Mid-Autumn Festival, Levan wanted to buy mooncakes. His fiancée urged him to buy it online at Golden Moments. So, he went to the website, added the items to his cart but then changed his mind.
"But I felt a prompting to just get the durian mooncakes. I am not sure why."
As he did so, a spin-the-wheel draw appeared. Levan thought it was a gimmick. 
"But Olivia said, 'Give it a try! Maybe can win.' I was like, 'No lah, won't win.'"
"He was stunned to hear about the gift which I explained to him is from God."
As he pondered over this, Olivia began to pray about it and Levan, still doubting, clicked on the wheel. To his surprise, he landed on just the thing he needed – a 75-inch 4k TV.
"I have never won anything in my life because I literally don't take part in contests," said Levan.
"But God provided the TV for the kopitiam (coffeeshop) man so he can play his upcoming PS5 in better quality visuals!"
Levan has told his friend that he intends to give him the new television and firmly believes that God engineered this to show his new friend the love and provision of God.
"He is a non-believer and he was stunned to hear about the gift which I explained to him is from God. It gave me a chance to share about Jesus for the first time."
Feeling strangely warm
The man behind Golden Moments is Josiah who started the company in 2017 because he had always been a durian lover.
"I saw that there was no one specialising in building a durian brand. No one was using social media to create such a brand."
But he wanted more than just to be the number one durian brand in the world. He wanted to share an important value with his customers and staff.
"The greatest mistake anyone can make is that we assume that we have enough time," he told Salt&Light.
"Time is free but it is priceless. You can spend it but you can't keep it. You can use it but you can't own. And once it's lost, you can never get it back.
"That's why the company is called Golden Moments." 
This relational approach to business comes from his own conversion experience.
Josiah grew up in a family from another religion. But when he was in secondary school, a friend invited him to church. He liked the teaching and the atmosphere of the church and returned week after week.
"I felt: How come I'm tearing? I felt so warm. This warmth around me was something that I had never experienced before."
On his fifth visit, as he was singing worship songs during the service, he started to cry.
"I felt: How come I'm tearing? I felt so warm. This warmth around me was something that I had never experienced before.
"Later, I realised that was an encounter with the Lord, an experience with God."
That very day, when there was an altar call, Josiah responded and "gave my life to Jesus".
Asked what compelled him about Christianity, he said: "It's about a relationship. It's about you and your Father, about a God that you communicate with and who responds to you in several ways – in encounters and in the Word of God. It is so real."
A greater purpose
There would be more encounters with God.
In 2011, while Josiah was working at an advertising job he loved, God asked him to resign.
"During my Quiet Time, there was a prompting in my spirit to go and join the Bible School at my church. God never told me what would come after that but there was just that soft prompting."
"The greatest mistake anyone can make is that we assume that we have enough time."
At first, Josiah ignored it because the course would take eight months, during which time he would be without any income. But the prompting came a second and then a third time.
"I also ignored it but I just didn't feel peace in my heart. It was a testing of my faith and sacrifice, a chance for me to grow deeper in the Lord, to have a deeper connection with Him.
"But the moment I decided in my heart – Father, I will go – the peace that surpasses all understanding grew (Philippians 4:6)."
This lesson that his purpose in life was not to be successful or have great riches, but to hear the heartbeat of God, was an important one. It is what shapes how he runs Golden Moments.
"I always believe in 'kristos kai kosmos', to bring Christ into the marketplace, to be at a level of positive influence and empowering people and to be able to bring out the best version of people.
"The heartbeat of God for me is to use my business to impact lives. As a leader, my role is not just about ensuring the P&L (profit & loss bottomline) but most importantly to bring out the best version of my staff, to help them discover their greatest potential.
"Knowing this has helped me to be clear in my calling and my purpose."
His purpose in life to hear the heartbeat of God is what shapes how he runs Golden Moments.
So, when Josiah realised that one of his employees, a star performer, might actually do better if she worked for another company, he told her so.
"I told her, 'You should not be in my company. If I keep you, you won't be able to be the best version of yourself.'
"I felt deeply in my heart this is what I needed to do."
After he spoke to her twice about this, she was convinced. She is now in an industry that allows her to fulfil her potential. Even though he lost a good employee, Josiah is "super happy to see her growth".
Because of his value of making time for loved ones, Josiah is not one to insist that his employees overwork.
When he discovered that one of his key employees was working till midnight almost every day, he sat her down to have a good talk with her.
He found out that her long hours were because she truly loved her job. But she also had a personal reason for not wanting to go home. He ended up praying for her.
Listening to God's rhythm in business
The way Josiah runs Golden Moments is unusual. Though creative and forward-thinking, he purposes to move with the times and seasons God appoints.
In his first year of business, he launched with snowskin durian mooncakes. Just two weeks shy of the Mid-Autumn Festival, at the busiest of time for the company, he "sensed the need" to go for a mission trip.
Josiah obeyed and went. When he returned, the few thousand boxes of mooncakes at his online store had been sold out and he had earned a six-figure revenue.
Each year after that, during the peak mooncake season, he has gone on mission trips until the Covid-19 pandemic put paid to  travel.
When Covid struck, business actually improved by up to 400% because Golden Moments was already an online entity.
This year, just when he was about to visit his China office, Josiah caught Covid even though he had taken three American vaccines and three China-made ones. The trip had to be postponed.
"We prayed and, in the end, God opened up the door in July and I flew over.
"I realise that that period of time was for me to spend more time with my family to build a deeper spiritual relationship with my wife and my family because I would later be travelling a lot and I needed to build a level of spiritual intimacy before that."
Today his brand is trademarked in eight countries, has operations in both China and Malaysia and is valued at eight figures. Josiah attributes this to the grace of God and prayer.
"I know that more work is done on bended knees than in front of a desktop. The higher I need to go, the lower I need to bend my knees.
"I have a prayerful wife. I was sleeping once and when I opened my eyes, I saw a hand over my face. My wife was praying for me."
A business that impacts
Josiah has looked to help people beyond his staff and customers.
"More work is done on bended knees than in front of a desktop. The higher I need to go, the lower I need to bend my knees."
In 2018, he partnered Club Rainbow, a non-profit organisation that supports and empowers children with chronic illnesses and their families by providing services that would enrich their lives. Together, they organised a Christmas party for the children.
The children got to write down the presents they wanted for Christmas and the Golden Moments team went shopping to get them exactly what they desired.
Josiah dressed up as Santa Claus and even invited a church friend who uses a wheelchair to share an inspirational message.
Recently, he worked with HCSA Community Services on a Father's Day campaign in which Golden Moments helped the halfway house raise funds. Ex-offenders were given a chance to share their stories of transformation on social media.
Josiah chose this cause because he was once a counsellor in the prison ministry at his church.
"We wanted to give them a platform to inspire people about treasuring their golden moments with their loved ones.
"We were told that the ex-offenders felt empowered because no one believed in them. But after sharing their journey, they felt empowered and useful because their experience could help others.
"I am also a work-in-progress. I'm unworthy, underserving, super imperfect and I am grateful for God's grace that allows me to make a small impact."
---
RELATED STORIES:
"Heaven is full of good food": ieatishootipost's Dr Leslie Tay
Drugs made him lose his family, God restored their relationship: The work of The Helping Hand that you can support this mooncake festival
"Someone comes in not just to eat a piece of cake but to leave feeling happy": The Seahs of Kki sweets
If you have enjoyed reading Salt&Light...
We are an independent, non-profit organisation that relies on the generosity of our readers, such as yourself, to continue serving the kingdom. Every dollar donated goes directly back into our editorial coverage.
Would you consider partnering with us in our kingdom work by supporting us financially, either as a one-off donation, or a recurring pledge?
Support Salt&Light