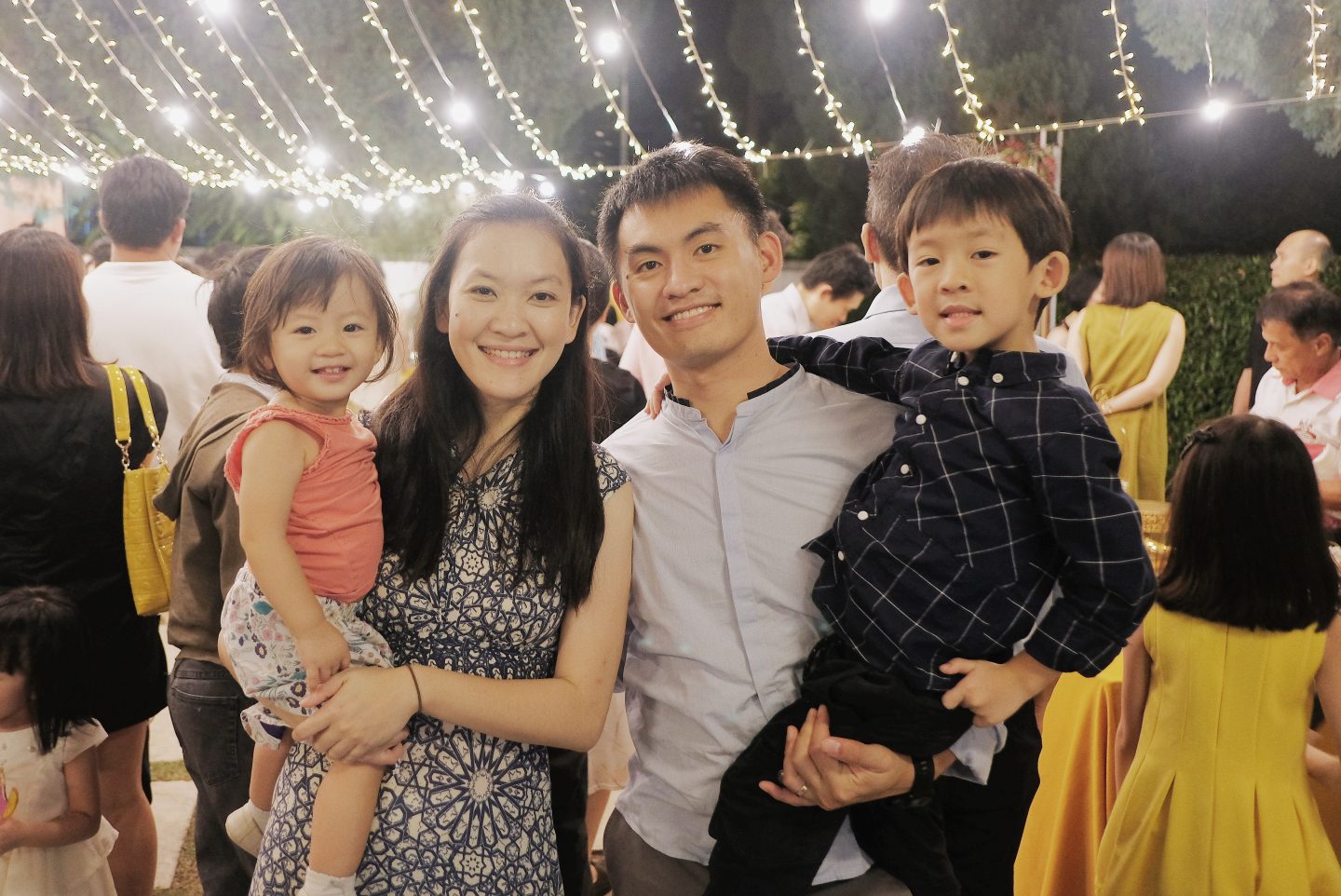 Husband and wife Emerson and Esther, both 32, daughter Ezrielle, 1, and son Ezra, 5. The couple is on a quest to encourage gift giving. "Ultimately, the focus shouldn't be the product itself. We use the products to remind people of God," says Emerson. Photo courtesy of Esther Lin.
Can you offer someone a gift even if you are in the midst of grief? Emerson Ang and Esther Lin did.
The couple, both 32, started Project En Courage, an online Christian gift shop, during a season of painful bereavement.
Since her university days, Lin had dabbled in craftwork, drawing designs on postcards and bags she sewed. As more friends asked for the gifts she made and more doors of opportunity opened, she and Ang decided to launch Project En Courage (PEC) in June 2015.
Lin's father, Michael, was gravely ill then, and just a month before the launch, he died at the age of 62.
Project En Courage was so named as a reminder to turn to God for courage during challenging times.
Michael, the former CEO of automotive company Tabernacle (Auto) Services, was diagnosed with Stage 4 lung cancer in 2013. The diagnosis came as a shock to the family.
To create more memories together, the family went for photoshoots and holidays while he still had the strength. 
His health deteriorated even as the couple started work on PEC, says Lin, a former private English tutor.
"At the back of my mind as I started work on PEC, I was always worrying about my dad," she says. "I'm also someone who can't sit still – if I do, I'll mope about, I'll worry, I'll brood. So working on PEC was also a way for me to channel my energies and worries to something else."
In a blog post to mark the launch of PEC on June 14, 2015, she wrote: "This project has already been a blessing to me … especially in a season that has been very tough. Daddy himself was in full support, and a few days before he departed, though unable to speak and often very drowsy, he muttered the word 'shop' to ask about its progress and smiled to see the website."
The ultimate giver
The couple put much thought into naming Project En Courage:
"Project" – PEC is not so much a business as a "little family project". "Our products are intentionally priced as low as possible to encourage gift-giving," says Lin. "We do make a marginal profit, but mainly to sustain the work and effort put into PEC." Ang, who works in the Singapore Armed Forces, is the sole breadwinner of the family. The couple has two children, aged one and five, and another child due next year.
"En" – This represents grace, which is read as "en" (恩) in Mandarin. Lin's Chinese name includes that character too, and the couple hopes to convey God's grace through PEC.
"Courage" – A reminder of how PEC was started during a difficult season when Lin's father battled cancer, and the importance of turning to God for courage.
Project En Courage, which does not have a physical storefront, offers products ranging from stationery, such as pencils and rulers, to household items such as doormats and tissue boxes.
The couple, who worships at Truth Bible-Presbyterian Church, says PEC was started as they saw a need for "practical, affordable and encouraging gifts" as they had seen many Christian gifts that were overpriced and simply ornamental.
"Cookie-cutter gifts are often impractical and the recipient may have little use for them other than putting them on display," Lin says. But gifts are still significant because "sometimes, there isn't a need to say much, but a simple gesture of love can encourage a person".
Their bestselling products are the doormats and pencils, which some have bought in bulk for children in their church Sunday School. The tissue boxes, which feature English and Mandarin text on different sides of the box, are typically bought for more melancholic reasons – but have still been a blessing to others.
"I choose the words to put on the products with much prayer, and let the Lord lead."
"There was a Singaporean overseas – she contacted us after her friend's dad in Singapore passed away. She couldn't be around to support her friend, so she asked if we could hand-deliver the tissue box to the columbarium and we did," says Lin. "I'll never forget that request."
Almost all of PEC's 20-plus products on sale feature God's Word, either in the form of a Bible verse or a song lyric related to the product.
For instance, its pens and pencils have the lyric "to write the love of God above would drain the ocean dry" from the hymn The Love of God is Greater Far engraved on them. Its wooden rulers have Psalm 90:12 engraved on them, the English King James Version on one side and the Mandarin version on the other.
"People don't usually think about their lives when looking at a ruler. But when you have a verse on the ruler which tells us to 'number our days' and there are numbers on a ruler … it clicks," says Ang.
While Lin is the creative juice behind the product designs, Ang is the one who chooses the words on the product. "I choose the words with much prayer, and let the Lord lead," he says.
"Ultimately, the focus shouldn't be the product itself. We use the products to remind people of God."
He also comes up with the short write ups about the significance of the lyric or verse on the product. These write ups appear on the website, and on labels or short notes as part of the product's packaging.
A check on PEC's Facebook page shows that among the reviews with comments, all had a mention of the product packaging. A user review noted that "the goods are always high in quality and packaged with so much thought and artistry".
Encouraged by others
The manufacturing of the products is outsourced to various suppliers. "Sourcing for reliable manufacturers is always a challenge, because there are many firms out there trying to earn a fast buck and don't provide good quality items," says Lin.
One of PEC's first teething problems: The first batch of wooden tissue boxes had termites when it arrived.
"It was terrible. It was a nightmare," says Ang. "It could be that in the process, while the goods were waiting to be shipped, they got infected. We had to throw away the whole batch and we didn't even dare to keep it in the house."
Meanwhile, in running PEC, the couple has also offered ad-hoc job opportunities to persons with disabilities and ex-offenders, by roping them in to help with packing the products.
Lin hopes to model her father in terms of how to run a business.
"He didn't worry too much and he was not calculative," she says.
"He was always generous, always ready to encourage, to give, to reach out to those in need or those looking for jobs. He was very trusting; he would just welcome people and give them opportunities.
"The way he ran his business was really a testimony of how a Christian business ought to be."
For now, the couple has no plans to set up a physical store or scale up for higher profit. They are careful to prioritise family time over profits.
"If ever the time we spend on PEC encroaches on the time we spend with our children, PEC will take lower priority," says Ang.
He and Lin are thankful for customers who give positive feedback, and for their understanding neighbours who have had to bear with the frequent movement of products near their home.
Lin adds: "As we encourage others, we ourselves have been encouraged!" (Proverbs 11:25)
Project En Courage has a store-wide sale of 10% off all items, till Dec 13. Use promo code "SALE10". You can buy their items here. PEC will not be able to meet any last-minute requests for Christmas delivery, so shoppers are encouraged to place their orders early. This article was not sponsored by PEC.
If you have enjoyed reading Salt&Light...
We are an independent, non-profit organisation that relies on the generosity of our readers, such as yourself, to continue serving the kingdom. Every dollar donated goes directly back into our editorial coverage.
Would you consider partnering with us in our kingdom work by supporting us financially, either as a one-off donation, or a recurring pledge?
Support Salt&Light