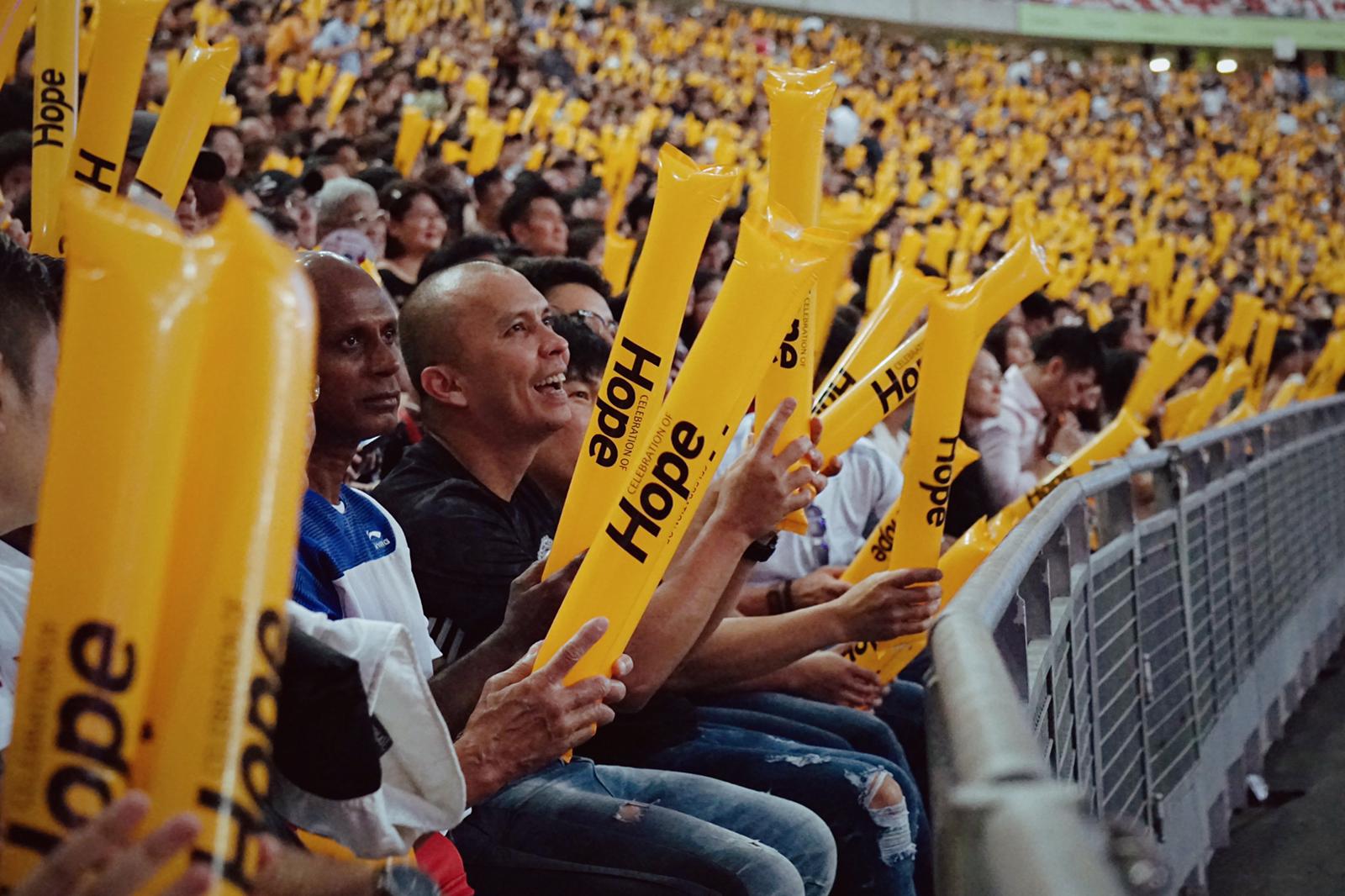 "This is a vital step towards revival in this land," said Bishop Rennis of the historic Celebration of Hope event over May 17-19. Photo by Cordelia Yeo.
History was made at the Singapore National Stadium this past weekend (May 17-19) when thousands convened for one reason only: To fulfil the Great Commission (Matthew 28:18-20).
Over three days and six rallies, more than 100,000 people heard testimonies and messages of God's power and amazing grace in four languages.
At press time, 1,910 people had prayed to receive Christ, another 1,525 rededicated their lives, whilst a thousand more expressed interest to find out more about the Good News.
There were specific programmes just for the Chinese, Tamil and Filipino language groups – the first of its kind in Singapore of this scale. 
The three-day Celebration of Hope, which took two-and-a-half years of planning, saw the coming together of 227 churches. It was jointly organised by the Evangelical Fellowship of Singapore (EFOS) and the National Council of Churches of Singapore (NCCS). 
All hands to the plough
A total of 18,000 volunteers from the various churches worked shoulder to shoulder to produce six rallies over the three days (Psalms 133:1-3).
"It was really a good feeling when everyone came together and praised God." – Nicholas Aishwar, a student performer
From the dolled up preschool performers, to the youth runners drenched in perspiration.
From the ushers who stood for hours, to those who sat for hours in front of computers working the social media and livestream of the rallies.
Those who could not make it to the meetings stayed on their knees, praying for the event. Teams of intercessors from different churches took turns to pray, starting at 9.30am daily till the end of the evening sessions.
Everyone played their part with a heart prepared to serve, living out Romans 15:6: "… so that with one mind and one voice you may glorify the God and Father of our Lord Jesus Christ".
"It's an unforgettable experience. It was really a good feeling when everyone came together and praised God. I could really feel the power and presence of God. I will remember this for a very long time," summed up Nicholas Aishwar, who performed on the opening night with Drumslight, Lighthouse Evangelism. 
Families came together to put their hands to the plough. Karen Chew from Victory Family Centre volunteered with her husband and son, all three serving in different capacities and in different parts of the 50,000-seat stadium.
"It is always nice to be able to serve the Lord, and even better to be able to do it as a family," she quipped, quoting Joshua 24:15. 
A group of ladies from All Saints Church reported for duty at 6am on Saturday morning. When asked what time their shift would end, they chorused: "We don't know! We guess, whenever it ends tonight," and chuckled.
Not a murmur, not a grouse!
At 10pm, after a 16-hour shift, they were still upbeat, still smiling.
"Bye! Praise the Lord! All for His glory!" they called out as they finally made their exit from the tunnels in the bowels of the stadium.
United in purpose
This camaraderie was not lost on our overseas guests.
"The uniqueness about Singapore is the coming together," noted Cathie Clancy, an Australian artiste who flew in specially to perform at the "Colours of Hope" rally for families and children. "Hundreds of churches volunteered their time, their energy, for this harvest.
"The zeal for the Lord and the willingness to work together really showed." 
"It is always nice to be able to serve the Lord, and even better to be able to do it as a family." – Karen Chew, volunteer usher
Keba Jeremiah, a Bollywood musician who was in town just to perform at the Tamil rally, was equally impressed: "It was surprising to see so many churches coming together; so good to see harmony in the body of Christ, uniting together and reaching out."
The response to the Chinese rally was especially overwhelming. Tickets were booked out weeks before and over 40,000 were wait-listed.
They were not entirely left out as the rallies were video-streamed on COH's Facebook page and on YouTube for those who could not make it to the venue.
The livestream garnered about 100,000 unique viewers on the internet, with viewers tuning in from as far away as Mongolia.
There was sign language on the video streaming as well. "The network of interpreters among the churches is really small so we've met each other before but have never worked together. God is working in His people. It's been amazing!" said Abigail Chow of Wesley Methodist Church.
At the different venues, the message of hope was conveyed through song, dance and testimonies.
When celebrities took to the stage, the excitement in the stadium crowd was palpable. While some fans came only hoping to get a glimpse of the stars, they got even more – they rarely heard faith testimonies of how the celebrities' lives had turned around.
"Your experience is your testimony." – actor Noah Yap
It was no-holds-barred for those who shared on the public platform.
Hong Kong singer, Wong Cho Lam, shared with the Chinese congregation how his anger towards God turned to an epiphany.
Prabhu Solomon, an award-winning film director from Chennai, India, shared about deliverance from alcoholism at the Tamil rally.
"Every believer needs to recognise and remember that their testimony is just as valuable and powerful as those who went on stage," said Timothy Yeo, a volunteer from Covenant Evangelical Free Church.
"As believers, we are all called to bear witness and testify to the death, resurrection and ascension of our Lord Jesus Christ (Acts 1:8)," he reflected.
The Good News
"Celebration of Hope is about sharing the Good News God has given to you and I, that others will come to know the hope, the solid and lasting hope in the name of Jesus," said Bishop Rennis Ponniah, the Chairman of COH, in his opening address. 
Many who responded to the appeal and brought friends and family to hear the Good News were moved by their colleagues' and loved ones' response.
Each rally ended with an altar call, which saw hundreds streaming down the bleaches at each meeting. Some wanted to find out more, others rededicated their lives to Christ, and many more received the gift of salvation. 
To these new believers, Bishop Ponniah encouraged: "It does not end here for those who have found true hope. They must go on sharing this hope."
For the church at large, Celebration of Hope leaves a legacy for the next generation of Christians as Singapore celebrates its 200th anniversary since the founding of modern Singapore in this Bicentennial year.
"It is really awesome to be able to pass this hope that we have in Jesus to the next generation. Maybe, God-willing, they will have something even bigger than this in their time," said David Leong, from Grace Methodist Church, a 30-year children's ministry veteran, who performed at the families and children rally on Saturday.
Bishop Rennis Ponniah's words lingered even as the stadium lights were dimmed on Sunday night: "This is a vital step towards revival in this land." 
If you have enjoyed reading Salt&Light...
We are an independent, non-profit organisation that relies on the generosity of our readers, such as yourself, to continue serving the kingdom. Every dollar donated goes directly back into our editorial coverage.
Would you consider partnering with us in our kingdom work by supporting us financially, either as a one-off donation, or a recurring pledge?
Support Salt&Light