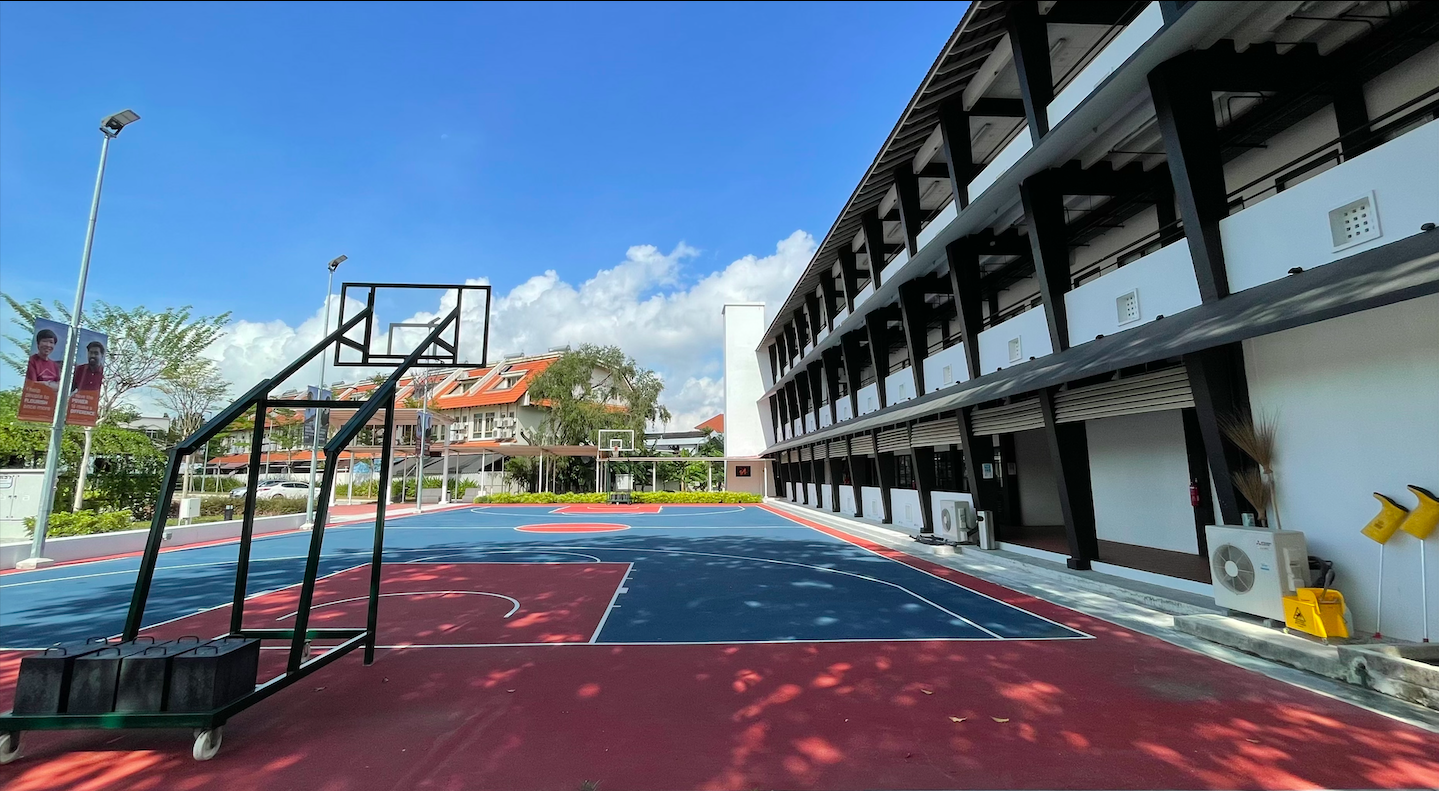 Kampung Siglap is a training and retreat centre created specially for clients of family service centres and other social service agencies. It opened its doors on March 1, 2021. All photos by Tan Huey Ying.
Among the residences of Frankel Estate, a long three-storey block – once home to Siglap Primary School – has been given a new lease of life.
It opened its doors on March 1 as Kampung Siglap, a retreat and training centre for clients of New Hope Community Services and other social service agencies.
Through camps and retreats, the centre aims to not only to teach life skills to low-income families to help them break out of the vicious cycle of poverty. But also provide a restful environment to inspire hope and change. 
The repurposed school block now houses spaces for contemplation, courts for various ball games, several training rooms and a cooking studio. There are also dormitories and private rooms for live-in camps and retreats. It also has a small cafe that is open to the public.
Kampung Siglap the brainchild of Pastor Andrew Khoo, 63, founder and chief executive of New Hope Community Services (NHCS), who saw the need for "consistent, meaningful and deeper engagement between those who want to provide help and those who need help".
Kampung Siglap is the latest in Ps Andrew's serial efforts to revolutionise services available to the displaced and disadvantaged.
Seventeen years ago, Ps Andrew started Singapore's first shelter for the homeless, believing that his Christian faith is best expressed through meeting the needs of the community.
It soon led to the founding of NHCS.
NHCS initiatives – such as converting unoccupied rental flats into temporary accommodation for the homeless – have gained government support and spurred other social service agencies and organisations to expand services to the displaced. 
The gift of time
Kampung Siglap was birthed to extend and complement the work of NHCS, which also includes engaging youths-at-risk.
It also addresses a critical gap in today's social service landscape: Sustained contact and engagement and follow-through care with clients after a crisis has been resolved or averted. 
While immediate needs are met, underlying problems are seldom addressed or repaired. 
Time and resource constraints mean that NHCS and other social service agencies so far have been only been able to meet the most immediate and practical of needs.
For example, while shelter and food may be taken care of, underlying problems – complicated and intertwined issues at the root  – are seldom addressed or repaired. 
"In normal settings of everyday life, people are always in a hurry, and the mind is full of problems and issues – it cannot really work well," Ps Andrew points out.
Kampung Siglap aims to change that by providing a conducive environment for "changing one's life perspective".
"Change can only happen in the context of a relationship, because trust is the currency of all the things we are trying to do to bring about change.
Whether it is a social service-client relationship  or a parent-child is a moot point.
"The time you spend with someone makes a big difference," he said.
Inspiration to hope
Through the years, NHCS noticed that camps and retreats drew maximum participation and impact.
"That's why I thought, the next best thing we can do for our clients is to have a retreat centre."
"Trust is the currency of all the things we are trying to do to bring about change."
"Going for a retreat somehow makes you more relaxed. There is no hurry. No need to think about the next meal, or rush home to cook," said Ps Andrew.
Programmes run at Kampung Siglap are mainly designed for families, children and youth. They include live-in weekend retreats to help families build emotional resilience and learn skills to help them cope better with daily life. The restful surroundings of Kampung Siglap also encourage family bonding. 
Other programmes include activities and camps to help children and youth build character.
Ps Andrew also hopes that the peaceful surroundings of Kampung Siglap will inspire them to transform their lives.
"I use the word 'inspire' because we cannot impose change on anyone," he said. "What people need is not more knowledge or education. That is necessary, but what they need more is inspiration.
"Many have the knowledge, but they've lost their confidence, they've lost their hope. We are bringing people to this place to inspire them to dare to hope again."
Ps Andrew however believes that this change cannot be forced nor directed by another. It has to be self-initiated and self-driven.
A bridge of help
While NHCS is the main organisation behind Kampung Siglap, Ps Andrew's intends for the space to serve the entire sector of social service agencies – and to generate partnerships with them and across the community.
"This place is too big for NHCS alone," he said.
It is also "a bridge" between those who can serve, those who have needs and those who can meet the needs.
"We connect the two here," says Ps Andrew.
The "many amazing volunteers" at the centre come from all walks of life, and help with everything from maintaining the community garden to furnishing the training kitchen. And even with digital transformation. 
For example, Kampung Siglap currently has more than $1 million worth of computers ready to be distributed to families and individuals in need of one. They were donated by JP Morgan and Citibank in Singapore after company-wide overhauls, and were refurbished by volunteers participating in the Digitisation for Social Good (#D4SG) campaign.
A web for good
This diverse web of partnerships is what Ps Andrew hopes to see as more people find out about their work at Kampung Siglap.
Regular volunteers include members of Bethesda Frankel Estate Church (BFEC), who helped raise $1 million for the renovation costs of Kampung Siglap. The church also contributed $1 million to the project which cost almost $7 million in total.
The partnership with BFEC was a divine answer to prayer. 
NHCS had started the project without specific partners in mind. But soon after the Siglap space was up for consideration, Ps Andrew found out that BFEC, which is just across the road, had been praying for years to somehow use the abandoned school premises to bless the community.
Ps Andrew sees the community at Kampung Siglap as "facilitators who inspire" people to believe that they can do something for themselves and transform their lives.
"We are God's workmanship, and whatever we do, the outcome is seen to be a masterpiece of God," said Ps Andrew, quoting from Ephesians 2:10.
"We don't serve with any other attitude than that."
---
Kampung Siglap is open to volunteers from all walks of life. Find out here how you can be a part of their work.
RELATED STORIES:
Ps Andrew Khoo, founder of S'pore's first homeless shelter, has given refuge to over 900
If you have enjoyed reading Salt&Light...
We are an independent, non-profit organisation that relies on the generosity of our readers, such as yourself, to continue serving the kingdom. Every dollar donated goes directly back into our editorial coverage.
Would you consider partnering with us in our kingdom work by supporting us financially, either as a one-off donation, or a recurring pledge?
Support Salt&Light