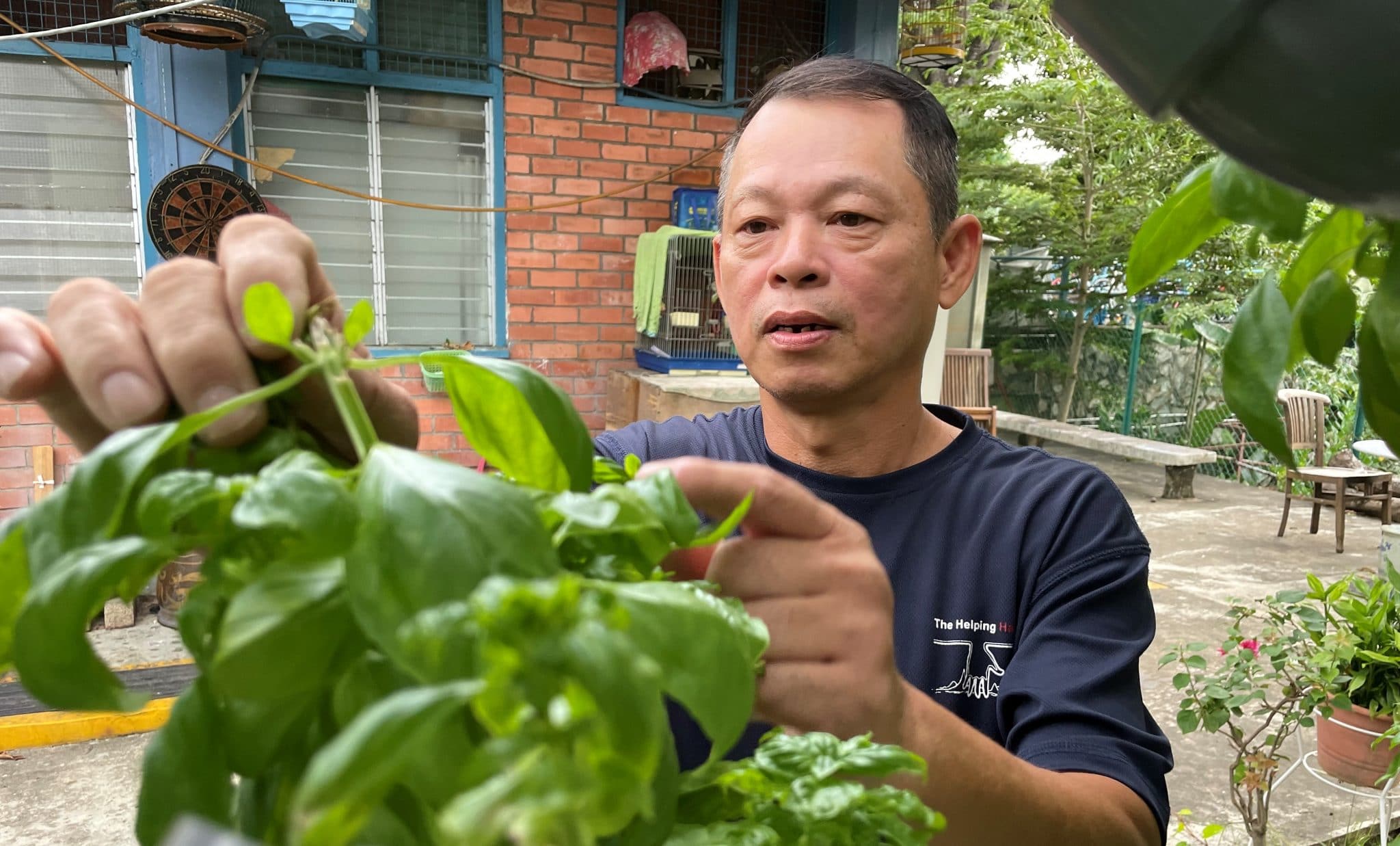 When his mother passed away the year he turned 13, Jed Lim's happy childhood ended. Years of being in a gang and consuming drugs would follow, till God changed his life. He will take part in a fundraiser organised by The Helping Hand to share his testimony of transformation. All photos courtesy of Jed Lim.
On a clear January afternoon this year, Jed Lim ran 3.5km with a perfect stranger.
The two were paired up – ex-offender and a member of the community – as part of efforts by The Helping Hand (THH) to give their residents a chance to share their journey of transformation, and for the public to appreciate that change is possible.
It was a forerunner to the upcoming THH Ride & Run to Restore 2022 in July to mark the 35th anniversary of THH.
His road to the halfway house was one that began with a personal tragedy.
Jed, 55, had signed up for the first run that raised funds for THH's programmes for one simple reason: "I wanted to put myself to good use and contribute to society because I was given a chance to turn over a new leaf."
When asked if it was awkward to strike up a conversation with someone he did not know, he said with an easy smile: "He's not really a stranger. He's a brother-in-Christ.
"It took us about 15 minutes to break the ice. Then, we were able to talk about a lot of topics."
A helper who works at the urban farming project at THH, Jed chatted at length with his newfound friend about gardening because the man was interested in plants and had some knowledge of them.
"We also talked about our lives, how many siblings I had and how I ended up at The Helping Hand," said Jed.
His road to the halfway house that rehabilitates former drug addicts began with a personal tragedy.
The beloved son
The youngest in a family of five girls and three boys, Jed was, by his own account, pampered. His mother would reserve the best part of the chicken – the drumstick – for him and make him extra sets of clothes for the Chinese New Year.
"My mum treated me like a king and spoiled me."
The family was well-to-do. His father had his own company supplying oil to fishing boats and they had a car – no small feat for a family in 1960s Singapore.
"I had a happy childhood," he said.
All that changed in 1980 when Jed was 13. His mother died of a heart attack after suffering poor health for a period.
Jed distinctly remembers accompanying his mother to the clinic for check-ups. She could not even manage a flight of stairs without needing to rest for a few minutes, her face turning deathly pale.
After his mother's death, Jed was left adrift.
"I had a deep impression because it happened quite often. I knew she was sick."
For a year before she passed away, she was in and out of the hospital. While his stay-home mother lay ill, the family struggled to plug the gap she left. His five sisters chipped in to do the chores and mind Jed.
But Jed himself was having the time of his life.
"I never cared about my mum. Instead, I just cared about playing. I would go out and play with my neighbours."
What started as harmless football games among the boys soon opened the door for more dangerous ties with the gang that operated in his estate.
The lost boy
After his mother's death, Jed was left adrift.
His father worked long hours and was often too tired for anything else when he came home. His siblings, aged between two and 12 years older than he, were all busy with their own lives.
"They bluff you. They say, 'You won't get addicted.' But you will."
"I tried to find another type of love to replace my mother's love. That's why I fell in with the secret society."
Jed dropped out of school around the time of his mother's death after failing several levels of primary school. He simply had "no interest in studying."
"I still have my primary school record book. All red. I read my teacher's comments – 'very talkative'. I keep it to remember how naughty I was."
He believes that it was then that his life "start(ed) to rot."
To earn some money, Jed got a job at an unlicensed stall operated by a gang, selling whatever they could get their hands on: from fruits like durian to all kinds of imitation goods.
"Sometimes, we had to run away from the teh goo (licensing authorities). At first it was quite fun. I quite enjoyed earning my own pocket money."
Living that life, young Jed picked up smoking. His fourth sister, then only 20, tried to discipline him.
"She would smell my mouth and fingers when I got home. She tried to cane me until I snatched the cane from her and caned her back.
"I was angry then. But I feel sorry now. She was so caring."
Too deep in trouble
Glue sniffing was next. Then, theft. Jed and his gang brothers stole material from a construction site to re-sell. When he was arrested, he was sent to a boys' home for a year. He was 16.
That first brush with the law did nothing to set Jed straight. He continued with the gang and even got into drugs.
"They bluff you. They say, 'You won't get addicted.' But you will. And when you're addicted, it's mental torture. You just want to chase that intense feeling."
His drug habit and gang life would land him in prison 12 times for offences ranging from drug consumption, fighting to threatening the police.
"In those days, it was darkness. When your brother calls you to fight, you can't say no even if it is not your problem. We are the secret society.
"If your brother has something, you have to be part of it. How can there be peace? There was no freedom."
In all, Jed would spend some 20 years behind bars and be caned three times. "One stroke will bleed; really, really painful. Second time, get phobia."
But it was still not enough to make him want to change for the better.
"We are stiff-necked, stubborn people. We know it's bad but we still do it. Till now, I cannot understand it.
"I never thought of getting out. I was so deep into things. Even my siblings gave up on me. My father didn't say much because he was afraid that I would say he was lor soh (naggy)."
A wasted chance for change
In 2010, Jed managed to secure a place at THH after being in prison for five years. It was not his first encounter with Christianity. Nearly a decade earlier, he had heard the Gospel while in the Drug Rehabilitation Centre (DRC) and had gone to a Christian halfway house after his release.
This time, though, it was different.
"I saw quite a number of addicts turn over a new leaf. They were doing a good job serving in ministry, sharing the Gospel, helping society. I asked myself, 'Why they can? Their record was worse than mine. Yet, they still can be so good.'
He even became a project staff member at THH. Then, pride seeped in.
"They explained that it was not by their own strength. It was God. So, I told God, 'If You want to use me, I will let You use me.'"
Jed became a Christian at THH and worked to get his life right. He earned Class 3, 4 and 5 driver's licences which allowed him to drive cars, heavy vehicles such as lorries and tractors, and public buses. He also got his taxi driver's licence.
Jed is especially proud that he managed to do it all in a year.
"Not that I was smart. But I put God in first place and The Helping Hand helped me."
He even became a project staff member at THH.
Then, pride seeped in. Against the advice of the staff at THH, Jed asked to leave the halfway house to strike out on his own as a taxi driver.
"I thought I could make it. Didn't need God. I could use my own strength and ability."
For four years, Jed remained clean. But he worked nights, leaving him with no opportunity to attend church or have a Christian community.
"When you drive, you are mobile. You don't know how to spend your money because morning you sleep, at night no shopping. The only thing is makan (eat). What else can entertain you?
"My real mistake is arrogance and pride."
"So, temptation comes to attack. Drugs come in."
Soon, instead of looking for customers, he was looking for his next fix, spending more time in public toilets and at car parks consuming drugs than plying his trade on the roads.
In 2017, he got into a fight with a shop owner who had insinuated that Jed did not have enough money to purchase goods from his store.
When he was arrested, he tested positive for drugs. So, on top of the 70-day sentence for the altercation, he was sentenced to seven years and five strokes of the cane for the drug offence.
Jed thought of ending his life then.
"My father had just passed away and now this silly mistake. I couldn't cope with my life, I couldn't sleep, I had no more encouragement for living.
"My real mistake is arrogance and pride – think everything you can, never put God first place."
A humbled man
In prison this time around, Jed became a changed man.
"I don't know why but I just followed God's Word. It made me more humble, more responsible. This time, no wrong, no fighting, no arguing.
"I sincerely said to God, 'You died for our sins and that is very great. I want to be a vessel, to be a light for others because You saved my life.
"I don't know why but I just followed God's Word. This time, no wrong, no fighting, no arguing."
"I want my life to be used to save their lives, too, so we can all meet up in heaven.'"
As he devoted himself to the Bible and to weekly worship services, Jed found "a sweetness there in a God who blesses me."
Though he was sentenced to five strokes of the cane, by the time the sentence was supposed to be carried out, Jed had turned 50 and was above the age limit for caning. He believes it was God's mercy that allowed him the reprieve.
On two occasions, Jed experienced miraculous healing from a terrible runny nose.
He told Salt&Light: "On Saturday, I prayed. 'My runny nose is so heavy, how to go to worship You in the chapel? It is my only time to worship You at a service. If You are good, You must heal me so I can attend service to worship You."
Both times at 3am on Sunday, he was well.
"I am a black sheep but the Lord still accepted me."
While serving his sentence, Jed worried about settling the Build-to-Order (BTO) flat he had booked before his arrest.
"When I come out, how? I will be homeless, my life will be gone. I will be rotten again. So, I prayed, 'Lord, You must help me. If You help me, I will commit to You.'"
With the help of his siblings, Jed was able to complete the administration for his flat. He paid for it in full with his savings, CPF and share of the money from the sale of his father's home.
Another miracle was to come. Those who are convicted of crimes with violence usually cannot get a place at a halfway house. But somehow, Jed was placed back at THH.
"I am a black sheep but the Lord still accepted me and gave me a second chance to come to The Helping Hand to serve.
"God gave me a new life. Miracles happened over and over until I felt that there is a God that I can trust."
"When you dwell in God's love, every day is sweet."
One more miracle Jed experienced was that he was able to quit smoking overnight.
"I told God, 'I don't want to touch cigarettes.' Now, when I see cigarettes, I don't have any urge. I can't stand the smell."
Instead of darkness, Jed's days are now spent in sunlight. He completed a Digital Agriculture Operation Manager course and works on THH's urban farming project. He is also faithfully attending Adam Road Presbyterian Church and is looking forward to serving there.
"Now, I have peace. I can see the road ahead. I have a future and a hope because when you dwell in God's love, every day is sweet."
The Ride & Run to Restore 2022 is a fundraiser to celebrate the 35th anniversary of The Helping Hand.
You may participate through registering for the ride/run/walk, supporting the participants or donating to the event. Learn more here.
---
RELATED STORIES:
Smoking by 8, wanted in Singapore by 25: This "no hope" prisoner is now a pastor
"I want people to know that with God, all things are possible": Anil David, ex-offender and recipient of President's Award
"God saved me to save others": Ex-offender who donated kidney to woman who would become his wife
If you have enjoyed reading Salt&Light...
We are an independent, non-profit organisation that relies on the generosity of our readers, such as yourself, to continue serving the kingdom. Every dollar donated goes directly back into our editorial coverage.
Would you consider partnering with us in our kingdom work by supporting us financially, either as a one-off donation, or a recurring pledge?
Support Salt&Light