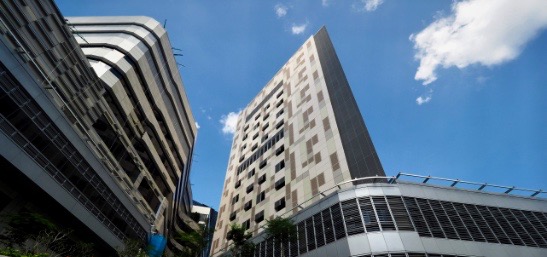 Case #63733, a pastor at Grace Assembly of God, is part of the second-largest Jem-Westgate cluster in Singapore. But, having seen God's faithfulness through last year's "harrowing" experience, she has "full trust in God". Photo from www.ncid.sg.
Asymptomatic and with nothing amiss, Case #63733 was in an online work meeting on Tuesday, May 25, when she received an SMS informing her that she had tested positive for Covid-19. 
She is part of the Jem and Westgate cluster which is currently the second-largest cluster in Singapore.  
The 30-year-old Singapore Permanent Resident is a pastor at Grace Assembly Of God – which had been one of Singapore's largest and earliest infection clusters in 2020.
"My mind went blank," she told Salt&Light in an email interview. 
She had opted to go for the swab test as part of the surveillance testing operations offered to those who had visited the Jem or Westgate malls between May 10 and 14. She had visited Jem on May 11.
As she was getting ready to be sent to the hospital, she did a mental run-through of all those she had come into contact with.
"I got worried about what would happen to them," she said, as she recalled the "harrowing" experience of the church a year ago.
Last year, a total of 17 staff at Grace Assembly were infected with the coronavirus, many more staff and members were quarantined, and members and their families experienced widespread abuse and ostracism in their workplaces and schools.
Uncanny timing
In fact, on the same day that she had received the news of her infection, Grace Assembly had just sent gifts to staff at Tan Tock Seng Hospital (TTSH) and National Centre for Infectious Diseases (NCID).
They had wanted to show their support to the healthcare staff after a slate of news reports described how TTSH staff had been turned away from hotels and had taxi rides cancelled as the TTSH cluster grew in early May.
"We were glad that our affected pastor was responsible and had responded voluntarily to the surveillance testing."
Grace Assembly had sent flowers, snacks, thank-you cards and an appreciation video as a gesture of solidarity with the frontliners.
Just a few hours later, the church was informed of Case #63733's infection.
Senior Pastor Wilson Teo told Salt&Light: "The timing was just uncanny. I received the news in the late afternoon on Tuesday, shortly after the staff was notified that her swab result was confirmed positive.
"We were caught by surprise when we received the information because we had suspended our on-site services after 2 May, and besides essential personnel, our staff have been instructed to work from home since then. Hence, we were wondering how the affected staff could have gotten infected. 
"Nonetheless, we were still glad that our affected pastor is responsible and had responded voluntarily to the surveillance testing operations for those who had visited JEM and Westgate. Otherwise, she may not have been detected given that she was asymptomatic. 
"Given how Singapore has boosted our contact tracing capabilities in the last one year, we were quite confident that the authorities would be able to track down and ringfence those in close contact with the affected staff in a much shorter time than before."
"As believers, with our faith anchored in God, let us spread hope and encourage fellow believers."
The church has acted swiftly.
"We swung into action straight away to gather the facts and the timeline of events to prepare an official announcement to send to our members upon MOH's release of the information about our affected pastor in their daily updates," said Ps Teo.
"We wanted to ensure that our members get the information from the church directly rather than through the media or other sources.
"With the announcement, we hope to allay their fears and to assure them that the church is providing the necessary emotional and spiritual support to the affected staff." 
Arrangements have also been made to clean and disinfect both church premises located in Tanglin and Bukit Batok as a precautionary measure.
Stay the course, God is still at work
Case #63733 said she was relieved and glad that she had gone for the test. "Otherwise, I could still be moving around and infecting other people unknowingly.
"During this period when we can only watch our services online … there are still testimonies of healing, salvations and baptism of the Holy Spirit."
"Having witnessed how God has seen Grace Assembly through the harrowing episode last year when we were a Covid-19 cluster, I have full trust in God that He will see me through this too. 
"We may not understand why and what God is doing through this pandemic now. But someday all this shall pass, and we shall see the good things that God has in store for us."
This morning (May 29), she was given the all-clear to be discharged from NCID after two consecutive PCR tests on May 27 and May 28 returned negative. 
"I thank God for the peace and assurance," she said on receiving the news. "I am also grateful for those who have been praying for me and encouraging me over the past few days."
Ps Teo added: "Covid-19 can affect anyone – regardless of age, race, religion, gender or nationality – anytime and anywhere.
"However, beyond the bad news that we are faced with every day, trust that God is still doing a great thing during these unpredictable and challenging times."
As online church services continue uninterrupted this weekend, Pastor Teo has this message for believers who might be feeling discouraged by the long Covid-19 battle: "Our God is not limited by time or space. With technology, we can continue to minister to others and touch lives. 
"During this period when we can only invite friends and loved ones to pray or watch our services online, and listen to the message behind a screen, there are still testimonies of healing, salvations and baptism of the Holy Spirit.
"So, as believers, with our faith anchored in God, let us spread hope and encourage fellow believers and others who need to know of the Good News."
---
RELATED STORIES:
https://thir.st/blog/i-dont-see-this-as-a-setback-grace-assemblys-senior-pastor-wilson-teo-on-the-churchs-new-covid-19-case/
"This virus will not defeat us": Senior Pastor Wilson Teo, Grace Assembly of God