Day 39: Benediction
A LoveSingapore 40.Day prayer and fast devotional, following 2020's theme of In the Long Run – A Journey Through the Book of Hebrews.
LoveSingapore // August 8, 2020, 12:01 am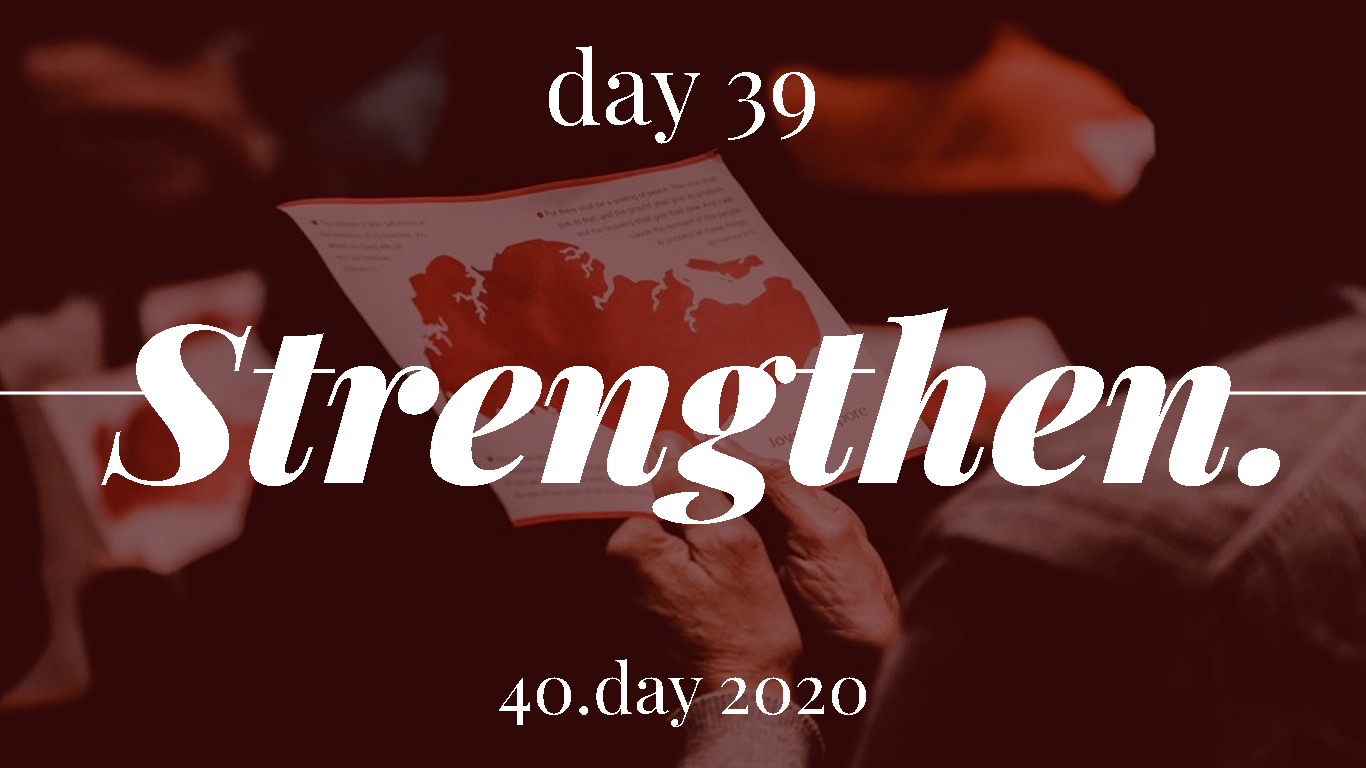 40.day 2020
Bible reading for 40.DAY 2020 | August 8: Hebrews 13:
---
 The sermon is finally over. So what's for lunch? That's what many of us are thinking about during the benediction. That is, if your church does benedictions. If not, you are missing more than lunch.
What is a benediction? It's a blessing. No new arguments. No more dos and don'ts. Just a simple but powerful impartation of God's blessing on the community of faith. On second thought, however, it's not so simple.
Benedictions in the Bible are quite well planned and structured. They blend liturgy and doxology with prayer and praise, promise and precept. They pick up key motifs from the message and impart them as takeaway blessings to the congregation.
The prayer expressed in the benediction is that God will equip you with everything you need to do his will.
Look again at the benediction of the Sermon to the Hebrews (Hebrews 13:20-21). The God of peace in verse 20 recalls the Preacher's invitation to enter God's rest and to pursue peace with everyone.
The Resurrection, though not mentioned in the Sermon, is presupposed throughout. Death is not the last word. Jesus came to destroy him who had the power of death and to set us free from the fear of death. Never fear!
The great shepherd calls to mind the Great High Priest who intercedes for us, gives us rest, and leads us into the Holy of Holies through his death.
The blood of the eternal covenant is the living nerve centre of the entire Sermon and the whole Bible. Jesus sacrificed himself to inaugurate the new and better covenant that removes our guilt, cleanses our conscience, and seals our salvation.
The prayer expressed in the benediction is that God will equip you with everything you need to do his will. And that God himself will work in you whatever pleases him through Jesus Christ (Hebrews 13:21).
The final doxology echoes the high Christology of the Sermon to the Hebrews: to Jesus Christ be glory forever and ever. Amen.
Benedictions work because God gives his ministers power, not just to preach his Word, but also to impart his blessings to the congregation.
Amen.
Prayer Track
We now conclude our journey through Hebrews with 12 benedictions composed from different parts of the Sermon. In your prayer group, speak these blessings over one another in faith. Then pronounce them on your loved ones and your church family.
•   Now may the God of all Truth who has spoken to us in these last days through Jesus his Son help you to pay closer attention to his Word, never neglecting it or drifting from it, but holding it firm to the end. Amen.
Hebrews 1:1-2; 2:1-3
•   May the Lord of the Sabbath keep your heart free from the hardness of unbelief, the deceitfulness of sin, and the burden of busywork so that you may enter his Rest. Amen. Hebrews 3-4
•   May Jesus Christ who always lives to pray for you save you completely and eternally as you draw near to God through him. Amen. Hebrews 7:21-25
•   May the God of Israel write his laws on your heart and mind so that you may know him personally and intimately through Jesus Christ our Lord. Amen. Hebrews 8:10-12
•   May Jesus Christ who entered the holy place by his blood secure your eternal redemption and purify your conscience from dead works to serve the living God. Amen. Hebrews 9:11-14
•   May Jesus Christ the Great High Priest over the House of God open the way for us to resume our gatherings in faith, hope, and love, and all the more as we see the Day drawing near. Amen. Hebrews 10:19-25
•   May the God who created the worlds from things unseen give you unshakeable faith to stake your life and future, not on the things that are temporal and tangible, but on the things that are invisible and eternal. Amen. Hebrews 11:1-6
•   May the God of Israel who spared his people from the plagues of Egypt and delivered them from slavery keep you safe from the virus and set you free from the pandemic of sin and death. Amen. Hebrews 11:28-30
•   May Jesus Christ, the Pioneer and Perfecter of our faith, who endured the Cross, despised its shame, and sat down at at right hand of God, give you grace to strip away every weight and sin so that you may run with endurance the race that is set before you. Amen. Hebrews 12:1-2
•   May God our Father who disciplines every child he receives correct and guide you into his will so that you may share in his holiness, bear lasting fruit, and inherit eternal life now and in the age to come. Amen. Hebrews 12:5-11
•   May Jesus Christ who is the same yesterday, today, and forever strengthen you by his grace and ground you in his Word so that you will never be led astray by false teachers and strange teachings. Amen. Hebrews 13:8-9
•   May the Lord Jesus who shed his blood to make you holy also make you worthy to share his sufferings in this present evil age so that you may also be glorified with him in the age to come. Amen. Hebrews 13:12-13
---
Follow Salt&Light on Telegram, Facebook or Instagram for more of LoveSingapore's daily devotions until August 8, 2020.