Day 30: Promise keeping
A LoveSingapore 40.Day prayer and fast devotional, following 2021's theme of From the Ground Up: A Prayer Journey Through the Book of Nehemiah.
LoveSingapore // July 30, 2021, 12:01 am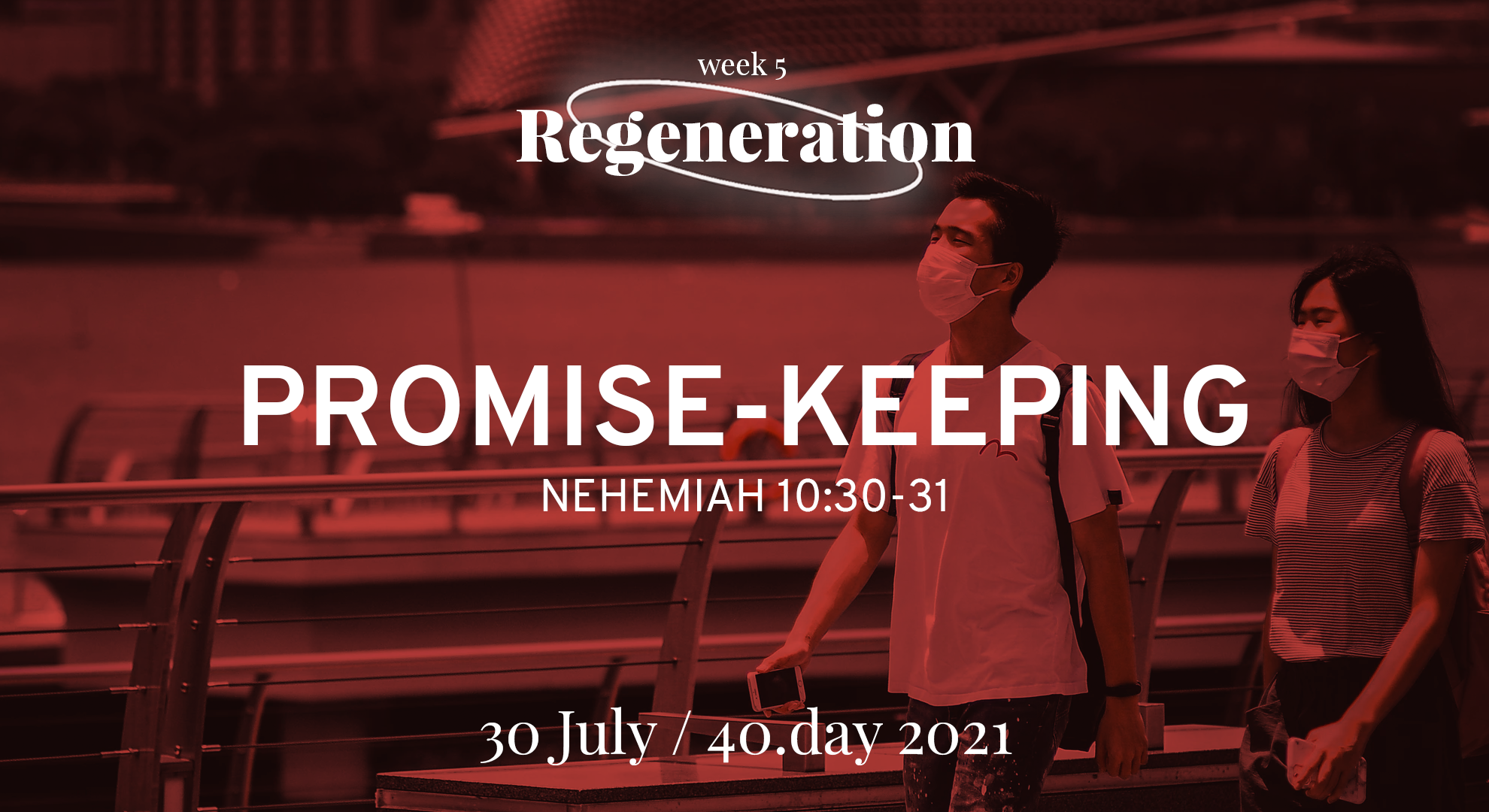 Bible reading for 40.DAY 2021 |  Nehemiah 10:30–31
---
Revival without repentance is a miscarriage. Without fruit of repentance, the covenant renewal in Nehemiah 9-10 would be a sham.
Thankfully, the community crowns the occasion with pledges to rectify abuses that could trigger another exile. These include inter-faith marriage, violations of the Sabbath, and neglect of God's house (Nehemiah 10:30-39).
Interracial marriage was always allowed in Israel, provided the foreigner embrace the Jewish faith and keep the Law. Rahab the Canaanite and Ruth the Moabite married Jews on these terms. Both women are included in the genealogy of Jesus.
God is not racist. His own Son has Gentile blood.
God is not racist. His own Son has Gentile blood. It's inter-'faith' marriage that God forbids.
And why so? Because all races matter. God loves them as much as He loves Israel. He set Israel apart to bring salvation to all the peoples of the earth (Genesis 12:3; Isaiah 49:6; Galatians 3:14).
This has been God's plan ever since He divided the human race into different peoples at Babel (Genesis 11-12). For this plan to succeed, however, Israel must remain set apart to God (Deuteronomy 7:3-4).
The pledge of Nehemiah 10:30 sets the standard for Israel and the Church. That believers marry believers. That parents train their children to love God and live by His Word. And that each generation pass the faith on to the next (Deuteronomy 6:1-7).
Same-faith marriage, therefore, is essential for the survival of the Church in the long run. A house built from conflicting blueprints will not stand. Be not unequally yoked (2 Corinthians 6:14).
The second pledge is to avoid buying from foreigners on the Sabbath (Nehemiah 10:31a). One might claim that this was okay, since only the foreigner worked.
But try arguing with God on the grounds of a technicality! No way. One compromise leads to another, until Jerusalem mutates into a shoppers' emporium on the Sabbath. This is precisely what happens later on (Nehemiah 13:15-17).
Keeping Sabbath days and Sabbath years holy helps keep Israel holy.
The third pledge is to observe the sabbatical years by suspending agriculture and forgiving debts (Nehemiah 10:31b). This allowed the poor to glean what grew by itself and to start a new year well fed and debt free.
Keeping Sabbath days and Sabbath years holy helps keep Israel holy. Jubilee!
The road to hell is paved with good intentions and poor excuses. Neither Old nor New Testament has any place for confessions of faith that leave lifestyle and practice unaffected (HGM Williamson).
Declarations are useless without deeds. Bring forth fruit in keeping with your repentance (Matthew 3:8).
Wall of duty
1. God does not mince words. Where correction is needed, He is politically incorrect: You brood of vipers! Who warned you to flee from the wrath to come? Bear fruit in keeping with repentance. And do not presume to say to yourselves, 'We have Abraham as our father' (Matthew 3:7-9). Have we bought into the wishful thinking that we can have revival without repentance? Ask God to set our thinking straight. 
2. Pledge to uphold same-faith marriage in your family and church. Reflect on Paul's warning to the Corinthians. Although it is not explicitly about marriage, the principle applies: Do not be unequally yoked with unbelievers. For what partnership has righteousness with lawlessness? Or what fellowship has light with darkness? What accord has Christ with Belial? Or what portion does a believer share with an unbeliever? What agreement has the temple of God with idols? For we are the temple of the living God; as God said, 'I will make My dwelling among them and walk among them, and I will be their God, and they shall be My people. Therefore go out from their midst, and be separate from them, says the Lord, and touch no unclean thing; then I will welcome you, and I will be a father to you, and you shall be sons and daughters to Me, says the Lord Almighty.' Since we have these promises, dear friends, let us purify ourselves from everything that contaminates body and spirit, perfecting holiness out of reverence for God (2 Corinthians 6:14-18-7:1).
Pray for our young. May they never be blinded by romantic lust. May they trust God for a born-again life-partner who will always love God above all else. May they realise that God does not put these commandments in our way to make us miserable, but to spare us from misery (Ray Stedman): The misery of split loyalties in an unequally-yoked marriage. The shame of pushing Christ to the margins in order to please an unbelieving spouse. The agony of irreconcilable differences that impact values, decisions, priorities, and lifestyle.
Pray for parents. May they never condone inter-faith marriage, but disciple their children well. May they never forget that God instituted marriage as a holy union between one man and one woman for the purpose of raising up godly offspring who keep the faith and pass it on from generation to generation (Malachi 2:15).
Sabbath is a gift from God, an opportunity to slow down, refresh, and restore our soul.
3. Pledge to keep the Sabbath holy. Sabbath is a gift from God, an opportunity to slow down, refresh, and restore our soul (Psalm 23:2). Don't squander it. Sabbath-keeping is a healthy discipline for keeping all other days holy as well.
4.  Pledge to remember the poor (Galatians 2:10). Ask God for His righteous anger against greed and hoarding. For a compassionate response to the poorest of the poor. Being open-handed and unsparing instead of tight-fisted and calculative. Being just, innovative, and holistic in our approach to serving the poor. 
---
Follow Salt&Light on Telegram, Facebook or Instagram for more of LoveSingapore's daily devotions until August 8, 2021.