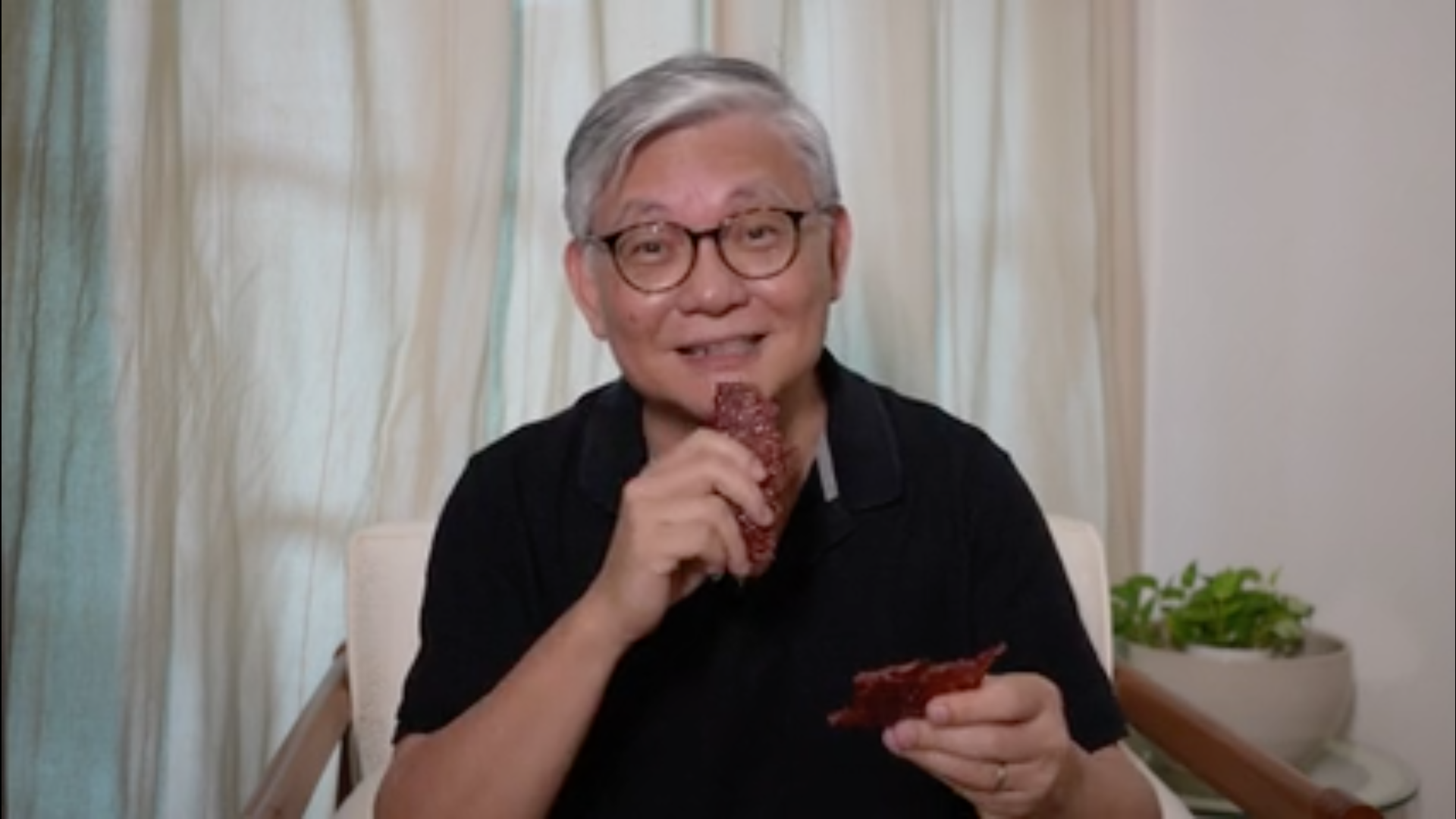 Using bak kwa to illustrate how micro-learning works, Dr Tan Soo Inn of Graceworks shares how he is moving online though he is "still committed to the personal element in learning." Screenshot of video by Stampede Pictures.
For the longest time I held out on using video lectures as my primary way of teaching, especially when I taught in seminaries.
I had minimal PowerPoint presentations which I often felt were distractions. I continued to be committed to showing up in the classroom, standing in front of the class, and delivering my lecture.
I did this in the face of growing literature that the lecture was not an effective way to teach because the learner, the student, was passive. Besides, there was a plethora of new interactive ways to teach.
Friends and colleagues encouraged me to record my lectures, get my students to listen to my lectures before class, and use classroom time for discussions.
Learning in-person
Why did I keep to the lecture for teaching?
For a number of reasons: One, I am a late adopter who hates change and takes a long time to change.
Mainly, it was because I strongly believe that teaching, and definitely Christian teaching, should be personal. After all, Jesus didn't throw us content from heaven. He came in person and walked among us.
"My students didn't seem to mind. And many of my students became my friends."
If content was all a student needed, he or she needn't come to class at all. He or she could stay at home and listen to his or her teachers of choice online.
I understood that teaching-learning must be interactive. I would intersperse small-group interactions throughout the lecture. The students would do "instant processing" and, in their small groups, would process what they had just heard. This would then lead to Question & Answer sessions that would involve the whole class. I would also meet small groups of students for meals outside of class time to get to know them personally.
Sometimes, there would also be project work where the class was divided into small groups, each group had to work on a project, and then present the findings to the class.
Of course this approach to teaching works best in smaller classes. But my students didn't seem to mind, if the class evaluations were anything to go by. And many of my students became my friends.
Moving with time
Recently, however, I have had a change of mind.
I have recorded my material on spiritual friendship. I am also in the midst of recording material on spiritual mentoring. Why am I doing something I have resisted for so long?
For two reasons: One, the louder ticking of the clock.
I am at a season of life when I have to rethink how I do things.
As I move beyond my mid-sixties, I find my energy levels waning — just slightly, but waning nevertheless, and I must ask myself how many times I will have to give what is basically the same lecture, though I must say that I am always updating my material.
The thing is, a day may come when I will find it physically too demanding to lecture, though I don't think that day is coming anytime soon.
But I am at a season of life when I have to rethink how I do things.
The second reason I am now recording my material is the growing popularity and use of microlearning.
Microlearning is a piece of learning content that can be consumed very, very quickly. Some people define microlearning as being as short as 90 seconds. Others go as high as 10 minutes. (The Microlearning Guide to Microlearning, Carla Torgerson.)
I used to be turned off by the idea of anyone having to listen to, say, a one-hour recording of my teaching in audio or video.
Heck, I wouldn't want to listen to myself teaching for one hour. But mini lectures of around 10 minutes each? That sounded doable.
Microlearning The Friendship Way
Carla Torgerson also tells us why microlearning is gaining in popularity.
A convergence of three factors make microlearning the most popular kid on the block right now: The proliferation of mobile phones, our social connectedness and everyone's very busy schedules. (Torgerson, 12).
We could also add that, with so many of us working from home during the Covid pandemic, many have been forced to be familiar with working and learning online.
For more on microlearning, watch this video:
But I am still committed to the personal element in learning.
What I hope to do is to incorporate consultations/tutorials into the microlearning courses, either live or online. So folks can learn the content at their own pace, then bring their questions to a consultation where those specific questions will be addressed.
The first microlearning course that Graceworks is offering in partnership with our friends, the Biblical Graduate School of Theology, is The Friendship Way, a course on spiritual friendship.
(If you sign up you will also get a list of questions that will help you interact with the various segments. And if you want, and we are not assuming that all want this, you can sign up for a free consultation this year. Next year, you will have to pay for a consultation. Needless to say, we are trying to keep costs down all round so this can reach as many as possible.)
 
This new initiative is a watershed development for Graceworks. If it works, we have a number of other courses in the pipeline.
But, whatever the delivery platform, our hope and our prayer is that it will touch and change lives.
---
Republished with permission from Graceworks.
BGST launches micro-learning Theology for Life platform
The Theology for Life (TFL) platform helps Christians grow in faith and equip them for ministry at work, church, and society. Launched on September 3, 2021, by The Bible Graduate School of Theology (BGST), its training content is contextualised to relevant contemporary issues from Asian Christian contexts.
The platform is organised into a range of courses. Each course comprises a number of short training units of teaching material, along with a workbook containing lesson outlines and questions for discussion. The courses can be completed by individuals at their own pace, or used as material for mentoring or in small groups, freeing mentors and leaders up to dedicate more time to personal and pastoral support.
Click here to register for a free account or explore the curated range of offerings.
If you have enjoyed reading Salt&Light...
We are an independent, non-profit organisation that relies on the generosity of our readers, such as yourself, to continue serving the kingdom. Every dollar donated goes directly back into our editorial coverage.
Would you consider partnering with us in our kingdom work by supporting us financially, either as a one-off donation, or a recurring pledge?
Support Salt&Light