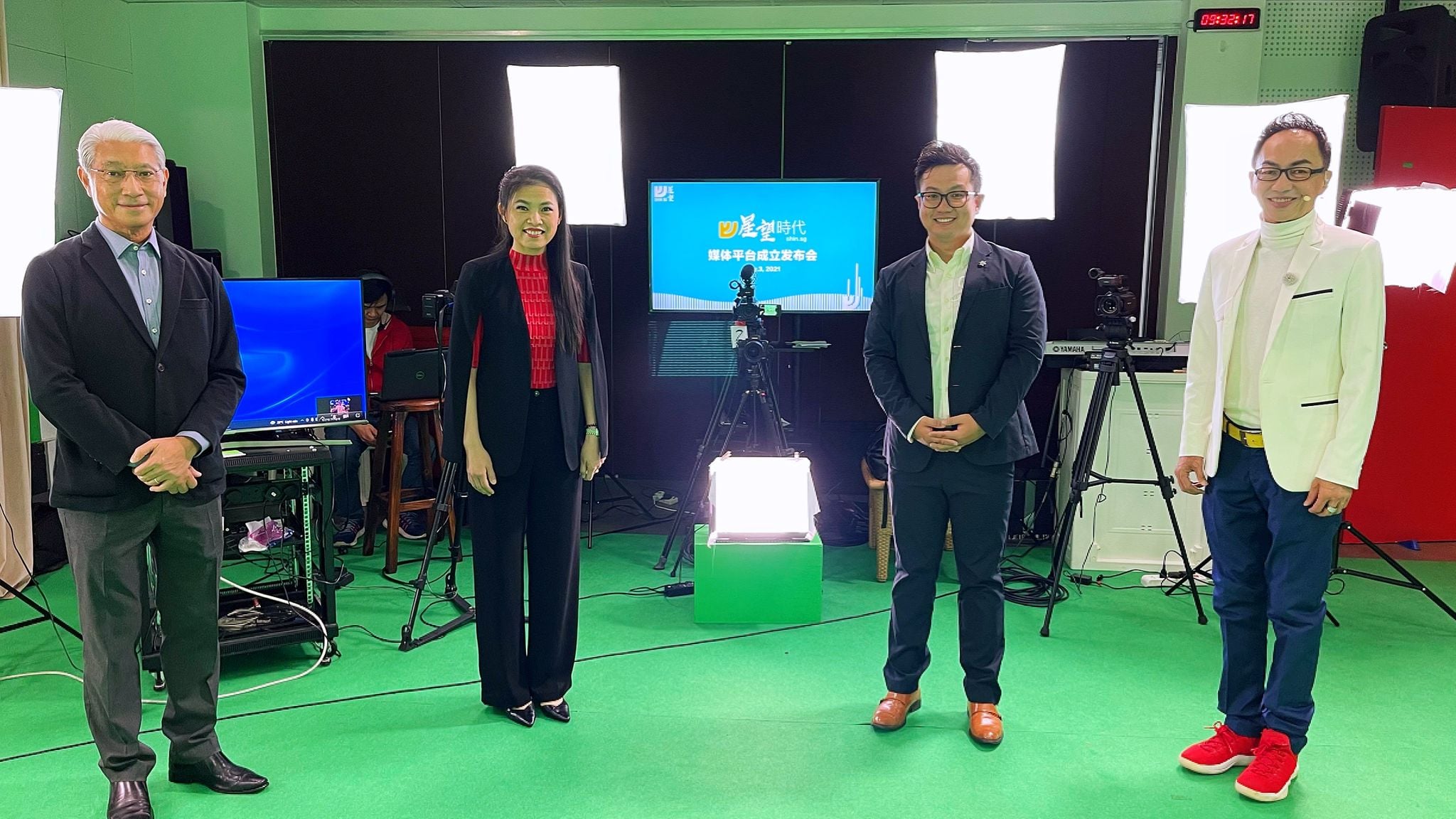 Newly launched media platform 星望时代 Shin SG started to support the Chinese church community. Founders of Shin SG: (Left to right): Lucas Chow, Eunice Hong, Rev Desmond Tien and Ephraim Yeo. All photos by Shin SG.
I remember the first time I shared about Jesus in Mandarin. I was around 14 then and new to the faith.
I had heard of how wonderful Heaven would be – a huge city of pure gold where there will be no more death, mourning, crying or pain – and I was eager for my grandma to receive this new-found gift too.
So one day I came home from school, dropped my bag, went straight to the kitchen and blurted out anxiously: "阿嬷,你要相信耶稣。" ("Ah ma, you must believe in Jesus.")
Though we had a lot of laughs recalling this conversation (by God's grace, she eventually came to know the Lord), in hindsight, I could have used some help so that it did not come across as a rude awakening. 
A platform built to serve
Perhaps you, too, have friends and loved ones whom you'd like to reach out to, but you feel daunted by the language barrier. Or maybe you have a burden for the Mandarin-speaking community, whether in Singapore or overseas.
星望时代 Shin SG would like to help with that.
With a mission to Serve all Churches, Edify all Saints, the newly launched media platform desires to support the Chinese church community in reaching out to the lost. 
Going beyond church walls, countries and cultures, 星望时代 Shin SG was started in response to the trend of digitalisation, which has been fuelled by the pandemic.
Recognising the growth of the online church, four individuals have come together to answer the call to fulfil the Great Commission. They are:
Preparing for the days ahead
Speaking at the media launch on November 3, Eunice shared how it all started with a vision that God gave her in 2018, way before COVID-19 hit our shores.
"I saw many phones and screens circling around me. God told me clearly that I had to start preparing for the days ahead when everyone would be on their screens watching videos and shows, so He wanted me to prepare a digital platform for Him," she recalled.
"God wanted me to use my experience in the media industry for the Gospel to be preached through media."
"My company specialises in systems integration, and I was clueless about new media, broadcasts and livestreams. But I told the Lord, 'If You're willing to use me, I'll step out in faith.'"
Eunice then went on to establish Xinwave Media and Management, which allowed her to meet her three teammates.
As she prayed, God led her down paths to each one of them, said Eunice, adding that it was God who provided for her areas of lack through these individuals who came with their talents and experience.
Lucas, for instance, had stepped down from his role as CEO of MediaCorp in 2011, and the Lord impressed upon him to serve the Chinese church, especially in the media field.
Since his participation in Love from the Stars in 2015, he has invested his time into other major evangelistic events such as Celebration of Hope in 2019, as well as media companies such as Thirst Collective.
"God wanted me to use my experience in the media industry to help others, for the Gospel to be preached through media," he said.
Love from the stars
Revealing more details about what content can be expected in the coming days, the pioneering team said that platform intends to assist churches in three broad ways:
Organising evangelistic events
Publishing testimonies
Sharing of original Chinese worship songs
Heard of the song 《情非得已》by Taiwanese singer Harlem Yu? You'll be able to listen to the testimony of its composer, Malaysian songwriter and director Jovi Theng, as he shares about how God helped him overcome his smoking addiction.
Shin SG's first evangelistic event Love from the Stars 2021 on Dec 18 is organised with Christmas in mind.
You can also tune in to Chinese originals from Awaken Generation and the Artistes Christian Fellowship, to name a few. Resources like these will be made easily accessible for fellow believers to reach out to the Chinese-speaking community.
In addition, there are plans to produce shows that discuss how the faith relates to various issues in life, broadcast large-scale live events for Christmas, New Year and Good Friday, as well as conduct workshops to equip the Chinese church in new media.
In fact, you can save the date for its first evangelistic event, which will be held live on Facebook and YouTube on December 18, 2021, at 8pm.
Organised with Christmas in mind, Love from the Stars 2021 will see Chinese church communities in Singapore, Malaysia and Taiwan collaborating to bring audiences a night of songs and games, with prizes to be won. Celebrity guests from different countries will be joining in too.
What's in a name?
Finally, for those curious about how the name came about, here's a brief breakdown.
In choosing our logo, we want to lift His name on high.
星 ("xin") : Beyond the association with Xinwave Media and Management (星威传媒), it recalls the fulfilment of the Abrahamic covenant where God promised Abraham descendants as numerous as the stars in the sky. Because of how it sounds, 星 also brings to mind its connection to Singapore (新加坡).
望 ("wang"): The hope we can have in Christ.
星望 : When combined, the two words sound similar to the concept of 兴旺 ("xin wang") in John 3:30. "He must become greater; I must become less." (主必兴旺,我必衰微)
时代: Refers to the times that we're in – a time for the Lord to be greater and magnified.
Rev Desmond also explained the thinking behind the logo, which is based on the letter Shin (ש) in the Hebrew alphabet. 
"This letter is found in our Lord's name, Yeshua. Shin also represents God's protection. So in choosing this as our logo, we want to lift His name on high," he said.
The pursuit of salvation
As I reflected on what 星望时代 Shin SG intends to do, I found this to be an apt name indeed.
In this digital age, it's so important that the online space carries not just the latest news and happenings, but also the Good News. And God's protection is required to be able to do all that.
Looking back on the experience I had with my grandmother, I wonder how I would have shared Christ with her differently if a platform like 星望时代 Shin SG had existed back then.
In any case, our God is a creative God that uses different ways to pursue the hearts of His beloved.
May the Lord use 星望时代 Shin SG as one of these avenues to draw your Chinese-speaking friends and family closer to Him!
---
RELATED STORIES:
Bible with fresh, new look being launched with Chinese readers in mind
"Instead of complaining about the Internet, can we make it life-giving?": Lucian Teo
If you have enjoyed reading Salt&Light...
We are an independent, non-profit organisation that relies on the generosity of our readers, such as yourself, to continue serving the kingdom. Every dollar donated goes directly back into our editorial coverage.
Would you consider partnering with us in our kingdom work by supporting us financially, either as a one-off donation, or a recurring pledge?
Support Salt&Light