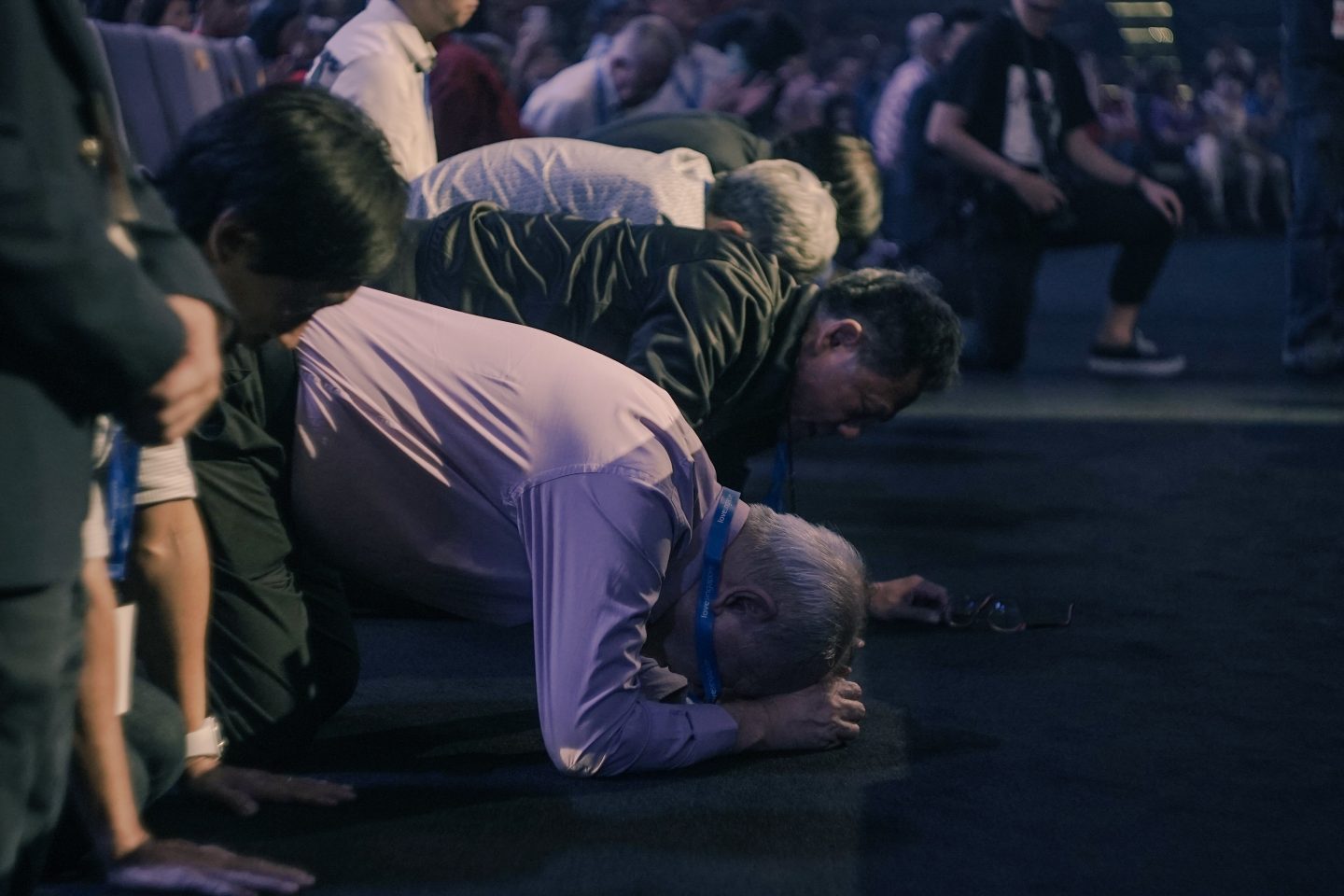 Throughout the hall, pastors, fathers and mothers knelt down to ask from the Lord forgiveness for their long-time indifference towards the issue of abortion.
Churches under the LoveSingapore network commemorated Singapore's Bicentennial year and renewed their commitment to uphold traditional family values at tonight's Day of His Power celebration (August 8).
Opening the annual National Day Eve event after the worship session, Joseph Chean, executive director of Youth With A Mission Singapore, recounted Singapore's founding history and how the Lord had a hand in turning Singapore from an unknown fishing village to a first-world global metropolis.
Through Sang Nila Utama, a prince from Palembang, the island got its name of Singapura 720 years ago, which means "Lion City" so that it becomes a place "where the lion of Judah shall rule and reign", Chean declared to the crowd of about 5,000.
Then in 1819, God used Great Britain to turn the "unknown", "unchurched" and "unreached" island around, as leaders from the country introduced the English language and rule of law to the country.
Most importantly, they brought in Christianity, which leaders such as Sir Stamford Raffles believed would be a force that could change society for good, Chean said.
From there, God also brought missionaries, who before establishing churches, "went out to the streets" and built churches and schools that are still standing, a testimony to their legacy.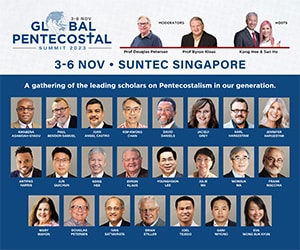 Even the Japanese occupation of 1942-1945 was a prophetic act, he said. The Japanese renamed Singapore Shonan-to, or "Light of the South".
"God has a greater purpose for us beyond ourselves."
"The name forever reminds us that despite our darkest time, come what may, Singapore has a destiny, and the destiny is to be the light to the nations, and the light to the uncured and the unreached," he said.
When Singapore separated from Malaysia in 1965, it was the strong government led by the late Lee Kuan Yew that brought Singapore from third-world to first- within one generation, he added.
"Brothers and sisters tomorrow we celebrate being 54 years old. Everything that you and I are enjoying today is because the Lord's hand was upon us.
"Singapore must not only rejoice and enjoy all that God has given to us. We must remember we are the light through the nations. God founded us, God done his work on us, God has a greater purpose for us, beyond ourselves. The purpose is to reach the unchurched and the unreached."
After his speech, Chean led the 5,000-strong crowd to say a thanksgiving prayer for Singapore, followed by a pledge to play their part to continuing building Singapore for God's glory.
Silent towards abortion no more
Later in the evening, Pastor Ian Toh of 3:16 Church led the crowd in a corporate prayer of repentance over the abortions done since the procedure was legalised 50 years in Singapore ago.
He got pastors first to kneel and repent for disregarding the issue in their churches. "When was the last time you heard a sermon about abortion?" he asked.
During the prayer, he led the pastors to pledge they would teach "your church about the culture of life", "the next generation about the sanctity of life", and to be a community that supported unwanted pregnancies in the church.
Dr Tan Siew Pin, a paediatric specialist doctor, came on stage on behalf of healthcare professionals, followed by Jason Wong and Jennifer Heng, who represented fathers and mothers respectively. All of them, who asked forgiveness for their apathy towards the issue while kneeling, were in tears by the end of their prayers.
"Dear son, dear daughter, daddy is sorry. I rejected you when you were in your mother's womb, I turned against you … Please forgive me," said Wong.
Pastor Norman Ng of 3:16 spoke next, directing the crowd to make a declaration: "Jesus, plead your blood over our sins and the sins of our nations. God, end abortion and send revival to Singapore."
He mentioned the work that pro-life organisations Safe Place and The Heartbeat Project are doing – Safe Place offers residential and case management services for pregnant women, while The Heartbeat Project shares stories of families who kept their children despite the difficult circumstances surrounding the pregnancy.
"In our father's house there is more room for more children."
Such networks are crucial to inculcating a "culture of life", Pastor Ng said, because "if we don't disciple a generation, the world will". Already, the trend among young Christians is worrying, he pointed out, referencing a study released this year by the Institute of Policy Studies. The report found that a third of Christians aged 18-35 said abortion was not wrong at all, and another 30% of them responded that it is "wrong only sometimes".
"It's not just a political matter, it's also a spiritual one," he added. The local Church should also take a pro-active approach in changing mindsets towards abortion, and accept responsibility of unwanted and unplanned pregnancies. If the Church wants to see a society without abortions, then the church must provide the solution, Pastor Ng said.
On stage, he announced that, on October 5 this year, there would be a carnival held at St Andrew's Cathedral to commemorate families and Children's Day. "There, we will declare every child is a blessing and not a burden."
The carnival will also be a platform to encourage Christians to look into fostering, given that there are currently 535 children in foster care as of 2018 figures from the Ministry of Social and Family Development, and another 631 children and youths in residential care.
If every church in Singapore foster one child, then "we would have provided for most of the vulnerable children in Singapore", Pastor Ng said.
He added: "In our father's house there is more room for more children."
If you have enjoyed reading Salt&Light...
We are an independent, non-profit organisation that relies on the generosity of our readers, such as yourself, to continue serving the kingdom. Every dollar donated goes directly back into our editorial coverage.
Would you consider partnering with us in our kingdom work by supporting us financially, either as a one-off donation, or a recurring pledge?
Support Salt&Light