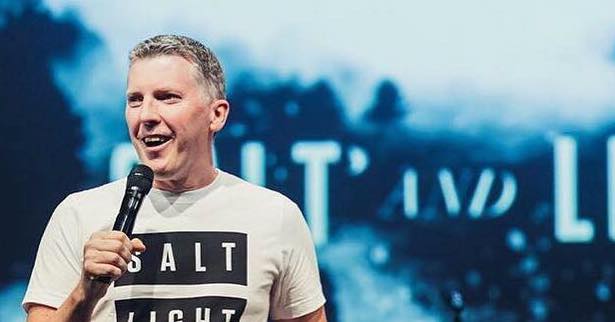 Chris Gore is the director of the healing ministry at Bethel Church. His oldest daughter is physically and mentally disabled. Photo from Chris Gore's Facebook page.
For some parents, a miracle is hearing your special needs child who has never talked before say "Mama" for the first time. And Chris Gore, director of the Healing Rooms at Bethel Church in the US, has been seeing an increasing number of these miracles.
When Salt&Light spoke to him recently, he said he's heard over 70 reports of full or significant breakthrough in children who were on the autism spectrum.
"One of my greatest passions as a healing minister is to see children healed," said Gore, who is also on the leadership team at the church.
"The child is a perfect gift from God but the condition is not from God."
"Genesis 1:26 says that we are created in the image of God. And God doesn't have disability, God doesn't have autism."
The father of three believes that God can restore things back to their original design, which is what he's been seeing with special needs children.
"Let's believe Jesus for that abundant life," he said. "Abundant life for our children is one where they are free of seizures, spastic muscles, autism, social isolation and language barriers.
To Gore, each person is a perfect gift from God and that should be the identity of the child. For example, he would never say "an autistic child"; instead, he would say "a child with autism".
"If we're not careful, the sickness, disease or condition becomes the identity," he explained. "It's only when we pull the identity apart from the condition then can we recognise that the child is a perfect gift from God, and that the condition is not from God."
Shalom peace
Gore does not speak from an ivory tower but from the crucible of first-hand experience – his eldest daughter has spastic quadriplegia with cerebral palsy. Charlotte, 24, is physically and mentally disabled as well as wheelchair bound.
It is the family's journey with her that really thrusted Gore into healing ministry, as they learn to understand the heart of God towards healing and towards Charlotte.
"So many parents are trodden down by society and they struggle with condemnation and guilt. I've had people try to minister to me, they want to cast the devil out, or worse, they tell me she's like that because of my sin," said the author of Walking in Supernatural Healing Power and The Perfect Gift.
"My daughter's taught me more in life than any preacher has ever taught me."
"That's not the Gospel. We've got to bring hope, encouragement, the Gospel of Jesus to these families and minister out of love. Of all the kids we've seen, not once have I rebuked or cast the devil out. The answer is Jesus and releasing the shalom peace of heaven."
To the parents who think that God had put you in this situation to teach you a lesson, that's not the Gospel either, said Gore. God is not a chess master who's trying to force you into a corner. However, He is able to turn what's thrown at us into something beautiful.
"I couldn't be more thankful for the journey I've been through because I probably wouldn't be here today if not for that journey," he noted. "My daughter's taught me more in life than any preacher has ever taught me. She's taught me patience, kindness, perseverance and long-suffering. She's taught me faith, she's taught me Jesus."
Walking in hope
As Gore sees God healing children with special needs, he finds that he needs to deal with the dichotomy of knowing God heals but not seeing it happening in his family.
"Do I live in tension? Yes. Do I still believe? Yes. Have I seen Charlotte healed yet? No. Do I see special needs kids healed? Yes, all the time. But the absence of the miracle does not define the nature of God," he said.
Reminding parents to guard their heart, Gore cautions parents on two counts – do not be overly focused on miracles and do not be offended at God.
"The absence of the miracle does not define the nature of God."
"If your contentment is in the miracle, then you're going to lead a miserable life until the day you get the miracle. Our contentment must be because we have Jesus and it brings us to a place of great freedom," he said.
Gore deals with disappointments by making sure he doesn't get offended at God. He knows he has an offence with God when he isn't able to celebrate in the breakthrough of someone else who gets healed of a similar condition – and he doesn't want that.
"How we deal with the disappointments of today will determine the fruitfulness of what we walk in tomorrow," he added.
"My job is to love, and to keep loving my daughter daily. I need to learn how to fill myself every day so that I become hope-filled. As believers, we really should be the most hope-filled people on the face of the earth."
If you have enjoyed reading Salt&Light...
We are an independent, non-profit organisation that relies on the generosity of our readers, such as yourself, to continue serving the kingdom. Every dollar donated goes directly back into our editorial coverage.
Would you consider partnering with us in our kingdom work by supporting us financially, either as a one-off donation, or a recurring pledge?
Support Salt&Light