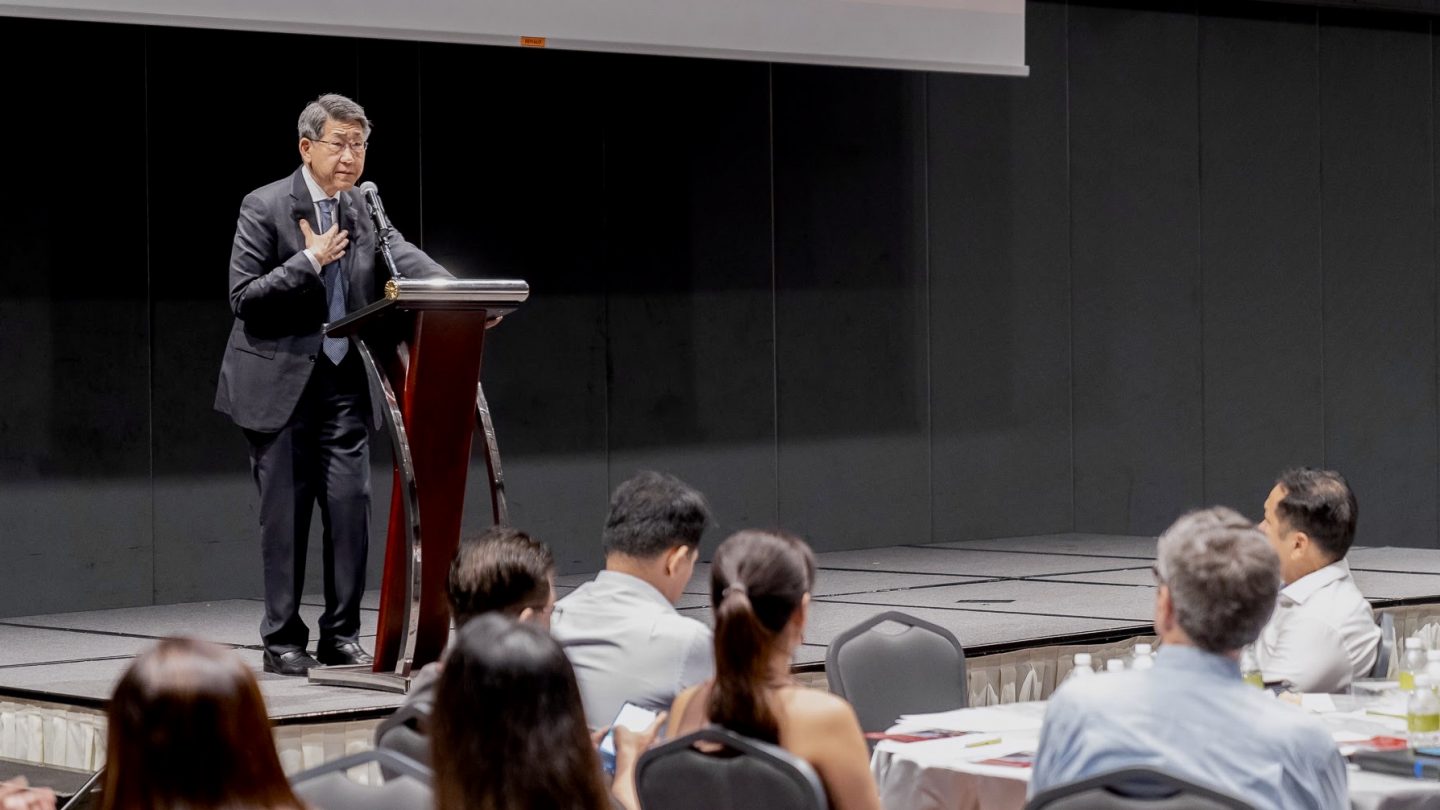 "Get to know God and have a relationship with the one true living God, who will give you peace and joy. Because that's what I have today," shares CEO of Far East Organization, Philip Ng. All photos courtesy of Alpha Singapore.
"Is there more to life than this? All of us live on this planet, work in this island, work in this community – it is a very nice place, I must say, lovely real estate," said Philip Ng, 60, CEO of Far East Organization, drawing laughter from the crowd that had gathered at Park Avenue Convention Centre to hear him speak at the opening of Alpha Everywhere in Changi Business Park.
Ng who, together with his brother Robert, tops Forbes' billionaire list in Singapore, is known for his sharp business acumen in the real estate industry.
"Even freehold is not good enough, because what we strive for is eternity."
"But this real estate is not even freehold, it's leasehold. And even freehold is not good enough, because what we strive for is eternity," he added.
"We're told through the revelation given by the Holy Spirit to the prophets that there will be a new earth and a new heaven. (Revelation 21:1) Freehold isn't as good as eternity."
This coming from a man who made most of his wealth through property.
But even wealth could not give him the answer he was searching for in life, much like King Solomon, who lamented the meaninglessness of it all in Ecclesiastes 1. Thanks to his God-given wisdom, King Solomon amassed wealth untold, yet he could not find meaning in life as he wandered away from God.
"All of us work very hard for our families. We do sometimes think: What are we doing all this in aid of? 
"We may have our issues and situations. Many people out there, even for those of us who are happy, there is some brokenness in us. That's my lens on the world – that we are all broken people. That's why I was always searching for myself … I was searching for God," said Ng.
He did not find God despite attending a Christian school, taking up a course in theology while in King's College London and marrying his wife, Vy-Vyen, who is Catholic.
That is, until he was invited to an Alpha course in 2000.
From golf buddies to brothers-in-Christ
"I started attending Alpha because my friends asked me to do it," he confessed.
A golf buddy's wife wanted her husband to get to know Jesus Christ. The Alpha course was going to take place on Saturday afternoons – the time when her husband would normally be out on the green with his golf buddies.
"Faith is not a suspension of your intellect but a journey with a supernatural God."
"The best way to get her husband to sit down for the Alpha course was to get his golf buddies to come along as well. Because if all the golf buddies are at the Alpha course, who's going to play golf with him?" recounted Ng with a chuckle.
During the Alpha course, a facilitator said something that struck a chord with him: "Sometimes, our head does get in the way and we are too cynical, too sceptical about things. We should think about believing so that we understand, rather than understanding so that you believe.
"The chasm that I thought was between me and God – the reconciliation and knowing that Jesus is the Son of God and God Himself – that closed up as I ruminated," revealed Ng, who, together with his friend, came to accept Jesus as Lord and Saviour.
But he was quick to point out that "faith is by no means a suspension of your intellect and suspending what you know to be true". Rather, "faith is a journey with a supernatural God".
"The Alpha course is an open invitation to a relationship with the Lord," said Ng, who encouraged the 200-strong audience to engage in robust discussions with the Alpha facilitators, for no questions are out of bounds and they need not fear being judged.
Standing for the Truth
The other verse that resonated was John 14:6: Jesus said to him, 'I am the Way, and the Truth, and the Life. No one comes to the Father except through me.'
"It is a very powerful verse that works itself in my life – in the way I live, the way I work, and in my family as well. In everything that I do, it's got to do with the fact that Jesus points the way. Everything is centred on Jesus," said Ng.
"He is the Way: If you don't know the way to doing something, you can always count on Jesus Christ, you can always pray to Him for His guidance.
"The problems of the marketplace aren't going to go away but what changes is the peace and joy found in Jesus."
"For many of us in business, truth is very misunderstood and perhaps, scarce – there is fake news, mistruths and many ways to spin a story. 
"But truth is absolute, it cannot be malleable. Even if we're not Christians, we want to lead a life of truth," he said. "It really should be important to all of us as people who have families and friends, as people in business. Truth is very important, it's a cornerstone and Jesus says that He is the Truth.
"I believe wholeheartedly that when we know that Jesus is the Way – that He stands for the Truth and He is the Truth – then we will have life eternal in the Lord God Almighty.
"Coming to faith and coming to Jesus Christ does not mean that our situations change. The market is still the same. The government is still going to impose ABSD (Additional Buyer's Stamp Duty)," Ng said, cracking up the crowd.
"The problems of the marketplace are not going to go away but what changes is the peace and joy found deeply in Jesus Christ. That's what I have today through knowing God."
If you have enjoyed reading Salt&Light...
We are an independent, non-profit organisation that relies on the generosity of our readers, such as yourself, to continue serving the kingdom. Every dollar donated goes directly back into our editorial coverage.
Would you consider partnering with us in our kingdom work by supporting us financially, either as a one-off donation, or a recurring pledge?
Support Salt&Light