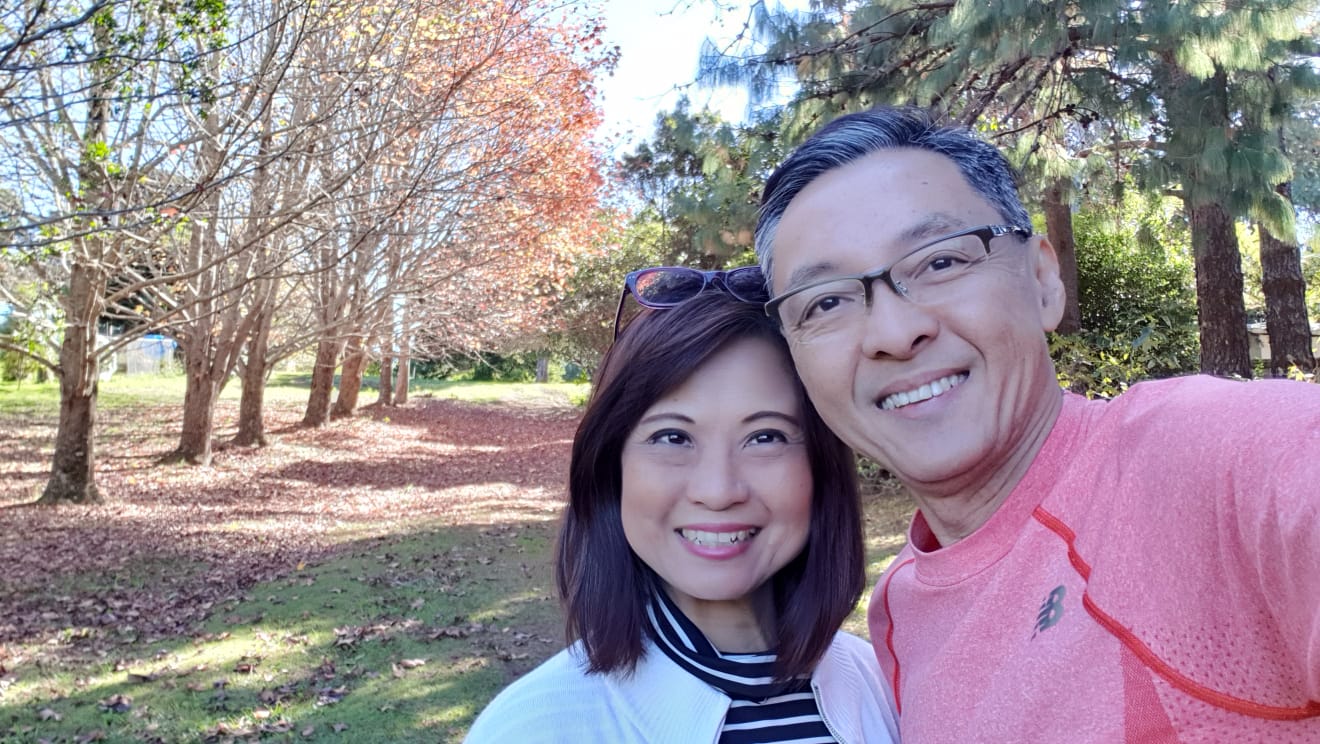 Chia Sie Yong (right) had prayed for wife Cheryl to be healed. "But the greater miracle was the transformation of her life," he said. She went to be with the Lord in September. All photos courtesy of Chia Sie Yong unless otherwise stated.
"People would think that to tell a story of hope, a sick person must be healed. But what if they are not healed? What kind of story are you going to tell?"
I am sitting in the living room of Chia Sie Yong, 62, a bereaved husband who in September lost his wife of 32 years to an aggressive form of pancreatic cancer. It took her life in a short 13 months.
As he shares about wife Cheryl Kay's journey – from chemotherapy to watching her take her final breath – it is evident that grief has been a close companion of his family in the past year.
But so has joy and peace.
It was the joy of experiencing God's goodness that spurred Cheryl to bless others through cooking and art, even as she grappled with the discomfort of treatment and the sorrow of a life cut short.
It was the peace of God's sovereignty that sustained her through the uncertainty of her illness, even on her deathbed when she pointed an index finger to heaven, showing others that she knew where she was going.
And it is this enduring joy and peace that gives Sie Yong, a polytechnic lecturer, the confidence to say: "There is hope in God even in suffering and pain. Even if a person dies of cancer, there is still a redemptive story, a beautiful story to be told."
From denial to peace
Cheryl's story began in August 2020, after she complained about a bloated stomach.
A CT scan showed a tumour in her pancreas, and a biopsy dropped the bombshell: Fourth stage pancreatic cancer.
At 57, her whole world was turned upside down in a moment.
Cheryl, who had not been in poor health, struggled to understand how and why this had happened to her. She was the youngest of six siblings in a family that, until then, had had no history of cancer.
"But she never once got angry with God. She never blamed God," said Sie Yong. "By nature, she's someone who doesn't blame people when things go wrong."
Instead, she burrowed deeper into her faith.
Before each chemo session, she would spend two hours alone in her room worshipping God, praying, singing and crying out to Him.
Before chemo, she would spend two hours alone worshipping God, praying, singing and crying out to Him.
"She was telling God, 'This is Your battle, not mine, to fight. I just want to worship You, to praise You.' So that's what she did," said Sie Yong. 
And as she worshipped, something in her changed. Those close to her could not help but notice.
"At first, she was in denial. But then I saw peace in her," said Karen Koh, a close friend of Cheryl's and a staff member at Riverlife Church. "She chose to trust God and to leave her days to God. She didn't struggle anymore." 
Pastor Dinah Lee from Riverlife Church, who journeyed with Cheryl, was struck by this change too.
She recalled: "Yes, she was battling the pain, she was battling the unknown future, but there was a spirit of hope in her, and a posture of surrender to the Lord."
In a prayer, Cheryl had written: "God, Your love for me cannot be separated by anything else in all creation. In everything and every circumstance, present or in the future, I know that You have watched over me and extended Your love to me."
Painting pictures of hope
Shortly after Cheryl was diagnosed, God gave her a vision of a red-and-white lighthouse by a stormy sea, shining a beam of light into the raging darkness, said Sie Yong.
Though waters were rough, the vision instilled in her a sense of calm. Even in the midst of her own trial, she resolved to stand firm and be a beacon of light for others.
So, the primary school art and science teacher began looking for ways to bless others with her gift of cooking and art.
Whenever she went for chemotherapy, she would bring along cookies, glutinous rice, mango pudding and blueberry muffins for clinic staff to enjoy.
She also painted three verses for them to display in the clinic, in hopes of encouraging other cancer patients.
One, a paraphrase of Isaiah 58:11, had ministered to a patient who had just been diagnosed with pancreatic cancer, said Dr Choo Su Pin, her oncologist from Curie Oncology.
"(The patient) was struggling to come to terms with the diagnosis and was highly anxious. But when she saw the painting 'Where God guides, He provides', she said, 'Wow, it's so true. I should believe in that'. And she was not a Christian," she said.
Impressed by Cheryl's positivity and peace, Dr Choo also asked her to encourage a newly diagnosed cancer patient who was petrified by the thought of undergoing chemotherapy. 
"Despite going through everything, Cheryl could see blessings all the time. She was not wallowing in self-pity, and she was willing to share that blessing with other people," said Dr Choo.
Art therapy
With more time on her hands, Cheryl, who has three adult children, began painting Bible verses for her close friends and immediate family members during the weeks she felt well enough to do so. 
She also opened her home to three friends she had met at a cancer support group. They fellowshipped over steamboat, and she later organised a Thermomix demonstration for them.
When Cheryl learnt that one of them enjoyed creating art, she organised an art therapy session for the group.
"She was so easy-going, caring and hospitable, authentic and open," said Tan Ai Ling, 70. "We knew each other for a year at most, but we got along so well, it was as though we'd known each other for ages."
The group would often pray together. Cheryl's friendship helped to make her own cancer journey easier, said Ai Ling.
"Sometimes she'd ask real questions about death, or share that she was feeling sad about leaving her family, hoping that the Lord would give her more time," recalled Ai Ling.
Cheryl had not always been this fervent in her faith or intentional about reaching out to others, said Sie Yong. But it was during her cancer journey that God "boosted" her trust in Him and moved in her heart to be a blessing to those around her, he said.
Despite having to go through what some may call an unfair lot in life, she amazingly still saw the goodness of God, recalled Sie Yong.
Cheryl was thankful that she had the time to paint. She was thankful for the opportunity to bless others with her gifts. She was thankful that God had led her to a good oncologist. She was thankful that she had a good and loving Shepherd to whom she could entrust her life.
She sang Goodness of God by Bethel Music unceasingly:
And all my life You have been faithful
And all my life You have been so, so good
With every breath that I am able
Oh, I will sing of the goodness of God
She would choke up every time she sang this chorus, Cheryl's son, Justin, 26, told Salt&Light. 
"With literally every breath that she was able, she wanted to give glory to God and she tried to do her best for Him," he said.
It is something that amazes Sie Yong – even today.
"We had prayed for a miracle of physical healing. But later we realised the miracle was something else: The transformation of her life. That's an even greater miracle," he said.
"I saw my wife coming out of her shell, blossoming and blooming in her faith."
Letting go
Despite going through some 15 cycles of chemotherapy – including three different types of cancer drugs – doctors found in mid-2021 that the cancer had spread to other parts of Cheryl's body.
During this time, the family struggled with the tension between praying for healing and preparing for the end of life.
"The cancer markers were like the stock market. Go up, sad. Come down, happy."
"We wondered, is it wrong to pray for healing but think about preparing the family for when you're not around? Or should we prepare for the end of life and not pray for healing?" Sie Yong recalled.
"But over time we began to pray: 'God, we want to glorify You. We want to seek the Healer rather than the healing.' The healing became secondary. The Healer, God, became the central focus.
"If God wants to bring the healing, fine. But if You don't want to bring the healing, then use her current limited time to do what is glorifying to You."
With this shift in mindset, they stopped looking at the fluctuations of the cancer marker test results.
"It's like the stock market. Go up, sad. Come down, happy, " said Sie Yong. "After a while, we said: 'God, you are in control.'"
Cheryl's health soon began to deteriorate and she was admitted into the hospital three times. Sie Yong and their twin sons took turns to take care of her.
Growing frailer by the day, she suffered from a great deal of pain and discomfort.
"Towards the end she said it was enough," said Sie Yong.
So an ambulance sent her home on the morning of September 6 – for it was her wish to leave the world in the familiarity of home. 
"When you let go, you have to have faith that God will take care of your family."
Sitting by her side, Sie Yong told his wife that while there is faith in wanting to live on for God, there is faith, too, in dying. 
"When you let go, you have to have faith that God will take care of your family, of those around you. Knowing that you're going to meet God, that's faith. If you don't have faith that you're going to heaven, then you'll struggle. You need faith to face death itself," he said.
It was clear that Cheryl had this faith, right until the very end.
When her church friend Karen visited her to say goodbye, Cheryl pointed a single index finger up to heaven.
"She was telling me she wants to go back to see her Father. She was at peace even at her last moment," recalled Karen.
"Mummy, do you love Jesus?" asked Cheryl's son, Austin, 26. Though weak and through eyes closed, Cheryl nodded vigorously. 
In her final week of her life, Cheryl saw a vision of herself at the edge of a swimming pool. At the other end, across the water, was Jesus beckoning to her.
"At the time she said, 'Maybe Jesus is asking me to walk on water.' But after she passed on, we realised that Jesus was calling her Home," said Sie Yong, adding that it was perhaps this vision that gave her courage and comfort in her last days.
A ripple effect
It has been three months since Cheryl's passing, and the hole she has left in her family's life is palpable.
Sie Yong misses her companionship and the things they did together. Walking in the park. Travelling. Talking. Her cooking. Her laughter. And how she gave endearing nicknames to their sons. 
He also mourns not being able to grow old with her. 
Watching older couples walking hand in hand would make his heart sink. For almost half a year after her diagnosis, he wondered: "Why can't I live with my wife until that age?"
But yet there is joy in his eyes when he speaks, and hope in his voice as he shares about the future.
"In the last year, I saw how God really took care of us. I saw how He worked, and I have no doubt that God will take care of me from now onwards. How? I also don't know. But because of my experience with Him, my relationship with Him, I can trust Him to take me through," he said.
"She is irreplaceable and the loss will always be there. But God can redeem the loss."
"Yes, I'm grieving. I still have pain and sorrow. She is irreplaceable and the loss will always be there. But God can redeem the loss," he said.
Already he has seen evidence of this redemption – in how Cheryl had drawn closer to God, and the ripple effect it has had on the family and others beyond.
"This whole journey has deepened my faith like never before. Through this, I have begun to understand God better. It redefined for me the goodness of God, who He is and how He can use something so bad for His glory," he said.
His son, Justin, said that watching his mum taught him to number his days and focus on things that really matter. His sister, An An, 30, added: "She taught me not to look inwards in self-pity, as she gave whatever she had left to others."
Cheryl also touched those she met, such as An An's cell group leader, who had said: "Wow, your mum is so inspiring. Even though she is going through so much, she has so much joy."
Friends like Karen expressed how they were inspired by Cheryl's resolute faith.
"Sometimes it's difficult to see God's hand in our life, especially through a difficult journey, but I saw how Cheryl chose to trust His heart. She knew He intended good for her life," said Karen.
"If one day I were to go through a difficult journey, her journey will encourage me that God is good even when bad things happen to us."
All these stories encourage Sie Yong that what Cheryl went through had not been in vain.
"Cheryl didn't waste her cancer. Her whole journey was totally used by God from start to end," he said.
Laughing, clapping, thanking God 
The peace that God gave Cheryl throughout her journey is one that her family continues to experience today.
Families who have a dying loved one are usually anxious, distraught and distressed, said Dr Choo. But not the Chias.
"Cheryl didn't waste her cancer. Her whole journey was totally used by God from start to end."
"The whole family was at peace. They were sad, but they were at complete peace. It's quite remarkable. This kind of peace is only God-given," said Dr Choo.
In a video of Sie Yong scattering his late wife's ashes in a cemetery garden, the family can be heard laughing and clapping.
The children chuckled as they added water to the container holding her ashes, so that they could clear it "Mummy-style" – a reference to how their practical mum would always add water to soap bottles to ensure every last bit would be used up. 
"It sounds a bit weird, but God gave us a lot of joy," said Justin. "We were laughing and clapping, thanking God for her life."
Sie Yong added: "Our knowledge that she is eternally home, free from all pain and suffering, is absolute. The joy of knowing we will be reunited one day fills us with hope and confidence to move on. Though on this side of eternity, it is hard to perceive it, but we see with eyes of faith."
---
MORE CHRISTMAS STORIES ON NEW BEGINNINGS:
"The pay was so high, I couldn't bear to leave": Geylang brothel owner's struggle to walk away from her old life
"The pay was so high, I couldn't bear to leave": Geylang brothel owner's struggle to walk away from her old life
"The pay was so high, I couldn't bear to leave": Geylang brothel owner's struggle to walk away from her old life
"The pay was so high, I couldn't bear to leave": Geylang brothel owner's struggle to walk away from her old life
If you have enjoyed reading Salt&Light...
We are an independent, non-profit organisation that relies on the generosity of our readers, such as yourself, to continue serving the kingdom. Every dollar donated goes directly back into our editorial coverage.
Would you consider partnering with us in our kingdom work by supporting us financially, either as a one-off donation, or a recurring pledge?
Support Salt&Light