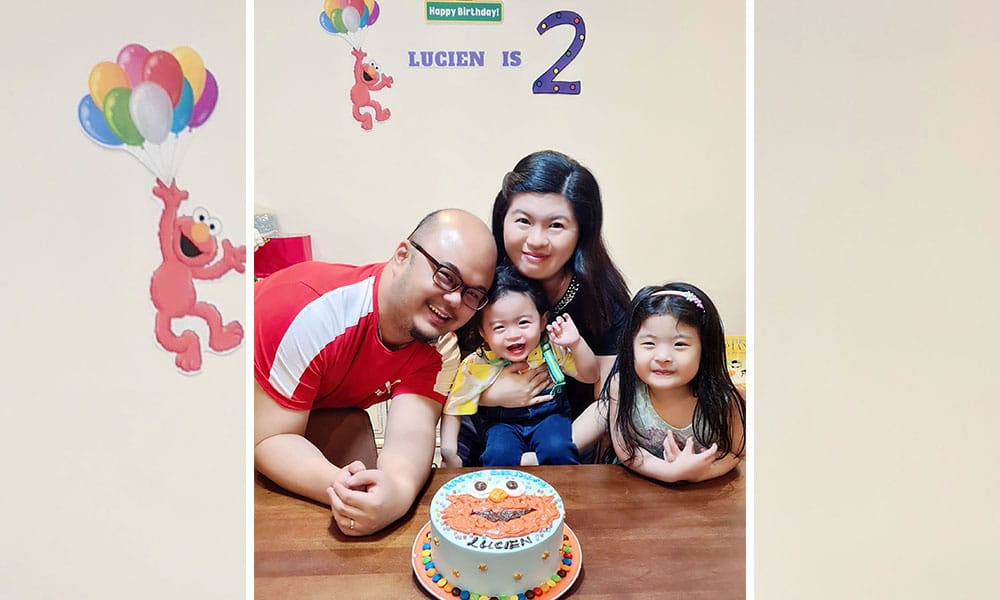 When Cheryl Mah (second from right) and her husband prayed for God to heal their son, Lucien, she was not expecting the answer that she eventually got. Photo by Cheryl Mah via Methodist Message.
"When Lucien was a newborn, I had prayed to God to not let him grow up so fast, so that I could enjoy his early childhood years for a longer time. I often joke that I did not mean for God to slow him down by so much!"
Cheryl Mah's wry humour belies a tough journey of ups and downs that started with her second pregnancy in 2019.
Neither she nor her husband, Jonathan, could possibly have imagined what would happen – after all, her first pregnancy resulting in the birth of their first child, Arielle, had been relatively uneventful.
Lucien's rocky start
While pregnant for the second time, she was diagnosed with a number of prenatal complications including abnormal bleeding and group B Streptococcus. Additionally, she contracted hand, foot and mouth disease from an unknown source in her second trimester.
In her last trimester, the doctor gravely pronounced that she had placental insufficiency and promptly performed an emergency caesarean section delivery after 30 hours of non-progressive labour.
"I broke down and wept my heart out due to the escalating costs we faced."
Her son Lucien was born premature with a birth weight of only 1.95kg. He had barely passed his oxygen test, and nearly landed in the neonatal intensive care unit of Mount Alvernia Hospital.
This was when hospital bills soared beyond their budget.
To compound their woes, the insurance company repeatedly rejected their application for a medical and hospitalisation insurance policy for Lucien.
It was only after almost two frustrating years and a few rounds of appeals that the application was approved, albeit with several added stipulations.
The curveball
At Lucien's 15-month polyclinic check-up, the doctor noted his small size and weight of about 7kg and referred him to a paediatrician at the KKH Department of Child Development (DCD).
The paediatric appointment was the start of a long chain of interviews, tests and treatments involving the departments of ear, nose & throat, ophthalmology, nutrition, and the speech and occupational therapy clinic.
Then came the news that Cheryl and Jonathan were not expecting.
Lucien was diagnosed with global development delay (GDD), a condition in which the child shows signs of significant delays across more than two areas of development.
In fact, he was found to be significantly delayed in all five child developmental areas and at least one to two years behind his peers.
"Even though I was aware that Lucien had developmental delays, it was still a shock to me to receive this diagnosis. I had never heard of this condition before," Cheryl said.
"God, heal him quickly"
The DCD eventually referred Lucien to the Early Intervention Programme for Infants and Children (EIPIC) and he was enrolled in September 2021.
The bills from EIPIC, childcare and ongoing medical appointments became a heavy burden, on top of outstanding family-related debt that the couple are still paying off.
Cheryl confesses: "Right before Lucien was offered a place in EIPIC, I broke down and wept my heart out due to the escalating costs we faced.
"My husband and I laid hands over Lucien at night and prayed fervently for God to heal him quickly. We wanted God to heal him of all these developmental issues so that he could catch up faster, and we would not have to face the huge wave of bills headed our way."
Unexpectedly loved by God and man
But God did not answer Cheryl and her husband's prayer the way they had expected.
Instead, He sent help for their journey in the form of unwavering kindness and support from wonderful teachers, as well as financial assistance from family members – even from the most unexpected people – sometimes in the exact sum that they needed.
The family made stoic sacrifices and lifestyle adjustments.
The couple also received prayer and emotional support from their cell leader and Cheryl's colleagues.
Cheryl said: "Lucien is so well-loved by his teachers and everyone around him, which is more than we could have asked for."
In order to make EIPIC a reality for Lucien, the family made stoic sacrifices and lifestyle adjustments.
Tearfully, they parted with their helper who had been Lucien's main caregiver and a huge pillar of support for the family. Lucien was placed in full-day childcare as both Cheryl, a staff worker at Ang Mo Kio Methodist Church, and Jonathan work full-time.
After a long day at work, they would return home to take care of their two children and tend to household chores.
The day Lucian yelled "push"
While she acknowledges that there are still plenty of milestones that 2.5-year-old Lucien has yet to achieve, such as feeding himself with utensils, speaking in short sentences and participating in age-appropriate activities, Cheryl's pride is evident as she recounts Lucien's progress in small ways since EIPIC.
"He can now use singular words or word approximations to communicate, do simple things like help to take off his clothes and put them into the laundry bag, and performs better at physical activities such as playing ball or picking up toys he dropped.
Cheryl found out about this when she saw him pushing his 5-year-old elder sister, Arielle, while yelling "push".
"He even has a better understanding of how some things work, such as using the thermometer to scan the forehead for temperature checks."
Recently, Lucien learnt the word "push" from his EIPIC teachers.
Cheryl found out about this when she saw him pushing his 5-year-old elder sister, Arielle, while yelling "push".
"Most parents would be concerned about this action from their child. But I thought it was a funny sight, and was happy that he knew the meaning of this word!" Lucien and Arielle are close and have the usual petty disagreements that occur between siblings.
Cheryl also learned with amazement that Lucien could differentiate and say the names of different colours, and point out parts of the face such as the eyes, nose and mouth. "It warmed my heart so much to know that he is learning quite well."
"Every step is a small win"
As for what the future holds, she simply says: "In spite of the circumstances, we are celebrating every single step no matter how small, and continuously giving thanks to God for his progress. Every step is a small win for us."
While Lucien's situation has caused Cheryl and her husband to experience many ups and downs, they continue to have faith and trust that God will keep His promise to never forsake them.
"If it is God's will to throw us curve balls, then I trust that it is also His will to show His authority and power by sending help that only He can. The joy of the Lord is our strength!"
---
This article was first published in the Methodist Message, May 2022, and has been republished with permission. 
FOR MORE STORIES LIKE THIS:
Understanding their grief: 5 ways to support parents of children with special needs
"Our boy is not a project, he is to be loved": Q&A on raising children with special needs
If you have enjoyed reading Salt&Light...
We are an independent, non-profit organisation that relies on the generosity of our readers, such as yourself, to continue serving the kingdom. Every dollar donated goes directly back into our editorial coverage.
Would you consider partnering with us in our kingdom work by supporting us financially, either as a one-off donation, or a recurring pledge?
Support Salt&Light