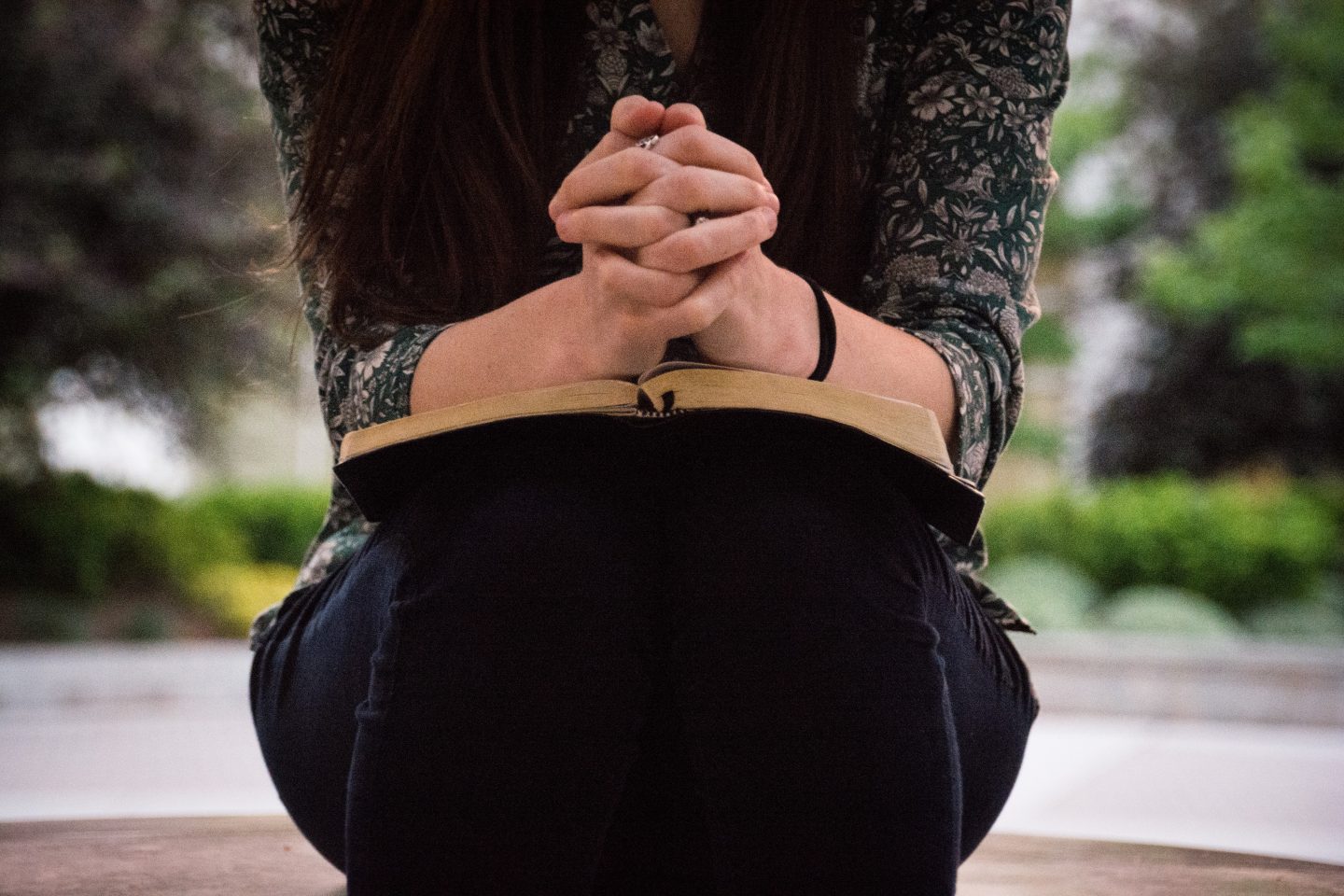 Circuit Breaker may feel like a time of endless waiting and uncertainty. We take a leaf from Tan Lay Leng's period of recovery from a slipped disc, when her waiting in the "wildnerness" gave her a deeper understanding of God. Photo by Olivia Snow on Unsplash. All other photos courtesy of Tan Lay Leng.
After more than 15 years of teaching, I resigned from the Ministry of Education in 2013 and enrolled myself into Tung Ling Bible School. Upon my graduation from the School of Ministry, pain greeted me.
It snapped at my back so suddenly and aggressively, I could not react. I slumped onto the floor. I could not sit up, so I laid down sideways. I had just parked my car on Deck 5 at Plaza Singapura. Whenever I heard someone locking their car, I called for help. No one heard me. I saw a couple walk out of their car diagonally in front of me. I thought they would have seen me, but they walked off.
In the wilderness, I experienced God in a deeper and more profound way.
I reached for my mobile phone and called a friend. Seven of us were meeting for dinner. Two early birds came, but could not locate me. One of them called me and finally found me next to my car's rear tyre. They later told me that when they were attending to me, a vehicle reversed into the empty lot beside my car. We were in the driver's blind spot. Thank God they were there to stop the driver. Thank God for protecting me.
The pain was excruciating and I could not get back to the car to lie down. My friends summoned the ambulance. I was wheeled to the Accident & Emergency (A&E) department at Singapore General Hospital, with pain pulling on my back.
A long night began at A&E. Any slight movement would induce pain. Being X-rayed was painful. Putting on the diapers was painful. Lying on the bed was painful. I was thoroughly exhausted, but I could not sleep. I was told my painkiller was already very strong and the dosage could not be increased. I could not remember how I passed the night. But morning did come.
I had suffered a relapse of my slipped disc. The running on the performance treadmill when I was teaching was taking a toll on my physical body. And my spiritual walk.
I did not know then that I would be slipping into my Heavenly Father's love. "Therefore I am going to allure her; I will lead her into the desert and speak tenderly to her." (Hosea 2:14).
Waiting in the desert
From 2013 to 2015, as I recuperated from my lower back pain, I grabbed back my intimacy with God.
I learnt that when God has accomplished what He wants in our lives in the desert, He will bring us out. But to prepare us for a mission He has given us to fulfill, we need to spend adequate time there.
In the wilderness, I experienced God in a deeper and more profound way.
Having the luxury of time, I kept reading and journalling promises from His Word, from the classic Streams in the Desert devotionals and from many other reading sources.
My inner being became stronger as I became aware of how I had used my own strength trying to do the Lord's work. I felt God encouraging me to patiently endure, and saying that He would not withhold any good thing from me.
God also raised friends to provide superb hospitality. We had countless chats over tea and they sent encouraging stories and scripture passages to our chat group. 
I was loved into my second year in the wilderness. I was lavished with extravagance. I made several overseas trips to visit friends who were doing missions work in Japan, Korea and China.
This period of waiting allowed me the time to seek Him, to know what He wanted me to do.
At the start of the third year without a regular income, I succumbed to the temptation of making things happen on my own strength. I applied to teach in a school and was given a verbal acceptance.
The very next day, I received a call. The school decided to offer the post to another candidate. When this door closed, I experienced mixed feelings – excitement that God had something else in mind for me, but I also questioned Him: How long I must wait?
But this period of waiting allowed me the time to seek Him, to know what He wanted me to do. And to go do it together with others in the body of Christ.
God began to open my eyes at the seminars and conferences I attended. 
I began to speak at length with my prayer partners about what it means to be the Church, and what God's heart for the Church is. My horizons widened. God surfaced many ungodly beliefs I had, which I had to put to death. He opened my eyes to see that a "good" Christian is not necessarily one who is serving God actively in church. In fact, they may be doing 10 activities and miss their assignment from God.
In the desert, over a span of three years, other deaths happened. My aunt-in-law breathed her last, bowing to cancer. Barely less than a month later, I lost two colleagues to the Mount Kinabalu earthquake. One was a friend. We had many quality conversations. I was prompted to ask him for a catch-up session but procrastinated.
Then a cousin passed on. And I grappled with the death of a 12-year-old girl suffering from cancer whose video I watched at a prayer meeting.
Planting seeds
At the same time, a birth took place. I documented my wilderness journey in a book Precious Moments in the Wilderness, published in 2016. Readers wrote in to share how my wilderness journey encouraged them to press on to see God's purposes in their own journey.
Today, I write stories of everyday, ordinary believers who go about quietly and passionately to do what God has asked them to do for Archippus Awakening. Their successes and struggles encourage my own heart. 
I may not be receiving a regular income, like in my days of teaching. But I learnt what it means to work from a posture of rest and trust in God. There is no need to perform, no need to strive when we work from a relationship of love with God.
I may not be receiving a regular income. But I learnt what it means to work from a posture of rest and trust in God.
Also, together with a small group of young adults from different churches, I pray for their generation to be awakened to God's purposes.
In this precious journey, I have cried out countless times for the Lord to help us. 
As I stepped into the year 2020, God bombarded me with messages on sowing seeds.
A prophetic-artist friend, Lynette Ong, used her drawing of a bird with a haversack of seeds, sowing them onto a field to encourage me that:
"Those who sow in tears
Shall reap in joy.
He who continually goes forth weeping,
Bearing seed for sowing,
Shall doubtless come again with rejoicing,
Bringing his sheaves with him." (Psalms‬ 126:5-6‬) 
And sow I do, taking time to listen to young adults. While holding back my own perceptions and the temptation to give advice, I began to recognise how this reaps trust from them. Such sowing and reaping does not happen all the time. Neither does it spring up overnight. We plod on with an understanding between each other to speak the truth in love.  
As I am writing this, I hear the words of the Holy Spirit, saying: "Lay Leng, pour your heart out to them. Work the soil."
Without knowing what I have gotten myself into, I have responded "hineni" – "here I am" in Hebrew.
If you have enjoyed reading Salt&Light...
We are an independent, non-profit organisation that relies on the generosity of our readers, such as yourself, to continue serving the kingdom. Every dollar donated goes directly back into our editorial coverage.
Would you consider partnering with us in our kingdom work by supporting us financially, either as a one-off donation, or a recurring pledge?
Support Salt&Light