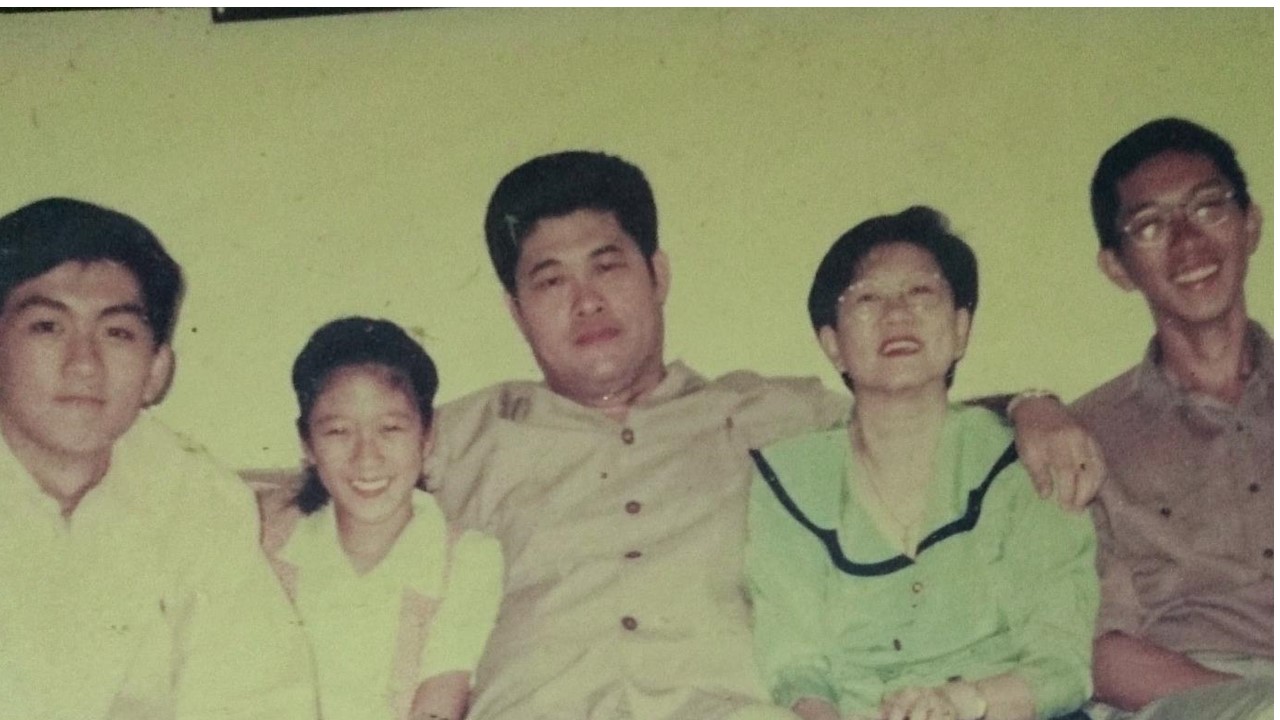 Adrian Lee on the extreme left, in one of the last photographs with his family.
The death of a loved one is always traumatic. To have a child taken away by mishap, even more so.
Psychologists say the loss of a child can inflict the worst possible kind of grief that can bring devastation to families. They even say the wound that is left in the parents' lives can never heal, and the bleeding in their hearts never stops.
Anne Lee tells a different story.
Unlike most, who are generally uneasy and reluctant to talk about death – much less that of their own kin – Anne talks about the demise of her son with remarkable calm and strength.
Granted, Adrian has been gone 22 years. But even at the time, her family stoutly declared that death had no sting.
Grace in grief
Adrian was studying in Raffles Junior College and planning to read Medicine at university. He was 17 going on 18 when a car knocked him down as he was cycling towards MacRitchie Reservoir for canoeing practice. It was a route he was familiar with and not too far from home.
The teenager lost consciousness instantly and died 12 hours later on June 29, 1996 . The driver of the car was later convicted for negligent driving.
"For my family, the Lord just enabled us, gave us the strength to overcome quickly and move on."
When asked if she feels pain, Anne says: "The Lord is so full of grace, and we didn't feel so bad. I don't know how to explain it; it's as though the Lord just took over us, put that grace with our family, which no human words can explain. 
"The verses, 'His grace is sufficient' (2 Corinthians 12:9) and 'death has no sting' (1 Corinthians 15:55-57) become so real when you are experiencing something like that." 
But grief did overtake for a time. Anne pauses as she recalls: "Just after Adrian passed away, I felt that my children were very sad and my husband was also very quiet.
"So I called all of them together and said, 'Let's have a good cry. Let's release everything to the Lord and just worship Him.' So, we all cried as a family and released everything to the Lord, and after that we were done with it."
There's an indefinable serenity to Anne.
She goes on to say: "For most people, death is the most difficult thing, I do acknowledge that people respond to grief in various ways. But for my family, the Lord just enabled us, gave us the strength to overcome quickly and move on."
The blank cheque
I, too, knew Adrian. He was in my Sunday School class as a pre-teen. Absolutely a dream to have in class; a sweet child with a crew cut, smiley with dimples and considerate.
I could tell that, even at that age, he had a heart for God, and I always had this thought that if any child would continue into full-time ministry, it would be him.
At his wake, I wept. It was Anne who consoled me: "It's okay, Karen. Adrian has gone home to be with the Lord."
I remember those calm words clearly. What a reversal of roles!
Anne's surrender to God's sovereignty and her ability to take His word at face value with a tenacious trust continue to amaze me even as we talk in the here and now.
At his wake, I wept. It was Anne who consoled me: "It's okay, Karen. Adrian has gone home to be with the Lord."
She lets on that, a couple of years before Adrian passed away, God had prepared her – although she didn't know it at the time. At a church camp, the congregation was challenged to put at the altar a blank piece of paper to denote a blank cheque.
It was an act of complete obedience and surrender to God. For Anne, it was also a defining moment.
"When I left the piece of paper on the altar, I wept and wept. I didn't know what God wanted. But that altar call secured me spiritually, come what may, because it was a blank cheque."
When she lost Adrian, God sustained her with Romans 8:28: "The Lord gave me this verse soon after Adrian's death: 'In all things He will turn it around for good for those who believe in Him.' I believe that was what kept me going. I wanted to see something good coming out of this."
A posthumous testimony
Indeed, at least 12 people received Christ at the two evangelistic services during the wake. There were others who revealed that they had fallen away and were challenged to start their faith walk anew after hearing the family's testimonies.
After the funeral, a few of Adrian's fellow canoeists who were Christians started a group to pray together. The number of believers within that 40-member canoeing team grew and within a year, 70% counted themselves as Christ-followers. 
At least 12 people received Christ at the two evangelistic services during the wake, after hearing the family's testimonies.
Still more people came forward with their stories in response to the book Anne was impressed to write.
Printed in 1997, Triumph in Tragedy, Your Choice, God's Way chronicled the family's journey through the tragedy.
"I knew that it was the Holy Spirit who led me. On my own, I would not want to tell people about my family. I hesitated, but I had many confirmations, even from the pulpit," Anne says.
"It is not a literary work. The book is not to talk about my problem but to tell people how powerful their God is." 
Many readers wrote in to share how the book encouraged them at important junctures of their lives to stay the course of faith.
The 67-year old muses: "On hindsight, I am glad I wrote it. Up until two years ago, my friend said one of the pastors in an Auckland church preached from this book about trials and tribulations. After so many years, it is still remembered! Really, it is nothing spectacular, but it is God who wants to touch lives."
In spite of the accolades, Anne holds dearest to her heart the testimony spoken posthumously by Adrian himself – the testimony of a 17-year-old youth, who was able to touch so many lives, and the assurance that he is definitely in Heaven.
Many came to the wake. So many that his college even rented a bus to bring his college mates. People spilled out of the sanctuary and were standing all the way to the lift lobby.
"It made me really glad that, though his was a short life, it was fruitful," says Anne.
"It made me really glad that, though his was a short life, it was fruitful."
The teenager was not only active in church, he was also deeply involved in Student Venture, a group affiliated to Campus Crusade. He would often witness about the love of God to his classmates, encouraging them in their faith journeys.
Says Anne: "Choices are important. In any situation, you can choose to see it from God's perspective or from your own. You can look up (to God) or look down (at yourself). If you choose to look down, doubts will come.
"It also can be my choice to say that God is sovereign. So instead of saying, 'Why, God?' I choose to say, 'Why not?'"
One regret
Anne's only regret was that she was not allowed to meet the female driver who caused the accident, due to police protocol. "Till today, I don't know her name but I wish I could meet up with her and tell her we have forgiven her long ago. It was an accident. It was not premeditated, so why should we hold her accountable? 
"I know from the inner healing ministry I was in, that we need to let her hear that we have forgiven her and that she must move on with life."
The biggest take-away for this grandmother of three, who is still involved in the counselling ministry in her church, is: "God can do what He wants to – He is a sovereign God – but it's never to harm you.
"The second thing is that He never tests you more than you can take. So, God knows what I can take. He has a plan behind it. You may not see anything coming out of it but if you have the Word and believe, it will work out for good. You work with Him to overcome.
"At the end, I still have hope, the blessed assurance, I have hopes to see Adrian in heaven. Death is supposed to be the end, but for Christians, it is not the end."
If you have enjoyed reading Salt&Light...
We are an independent, non-profit organisation that relies on the generosity of our readers, such as yourself, to continue serving the kingdom. Every dollar donated goes directly back into our editorial coverage.
Would you consider partnering with us in our kingdom work by supporting us financially, either as a one-off donation, or a recurring pledge?
Support Salt&Light