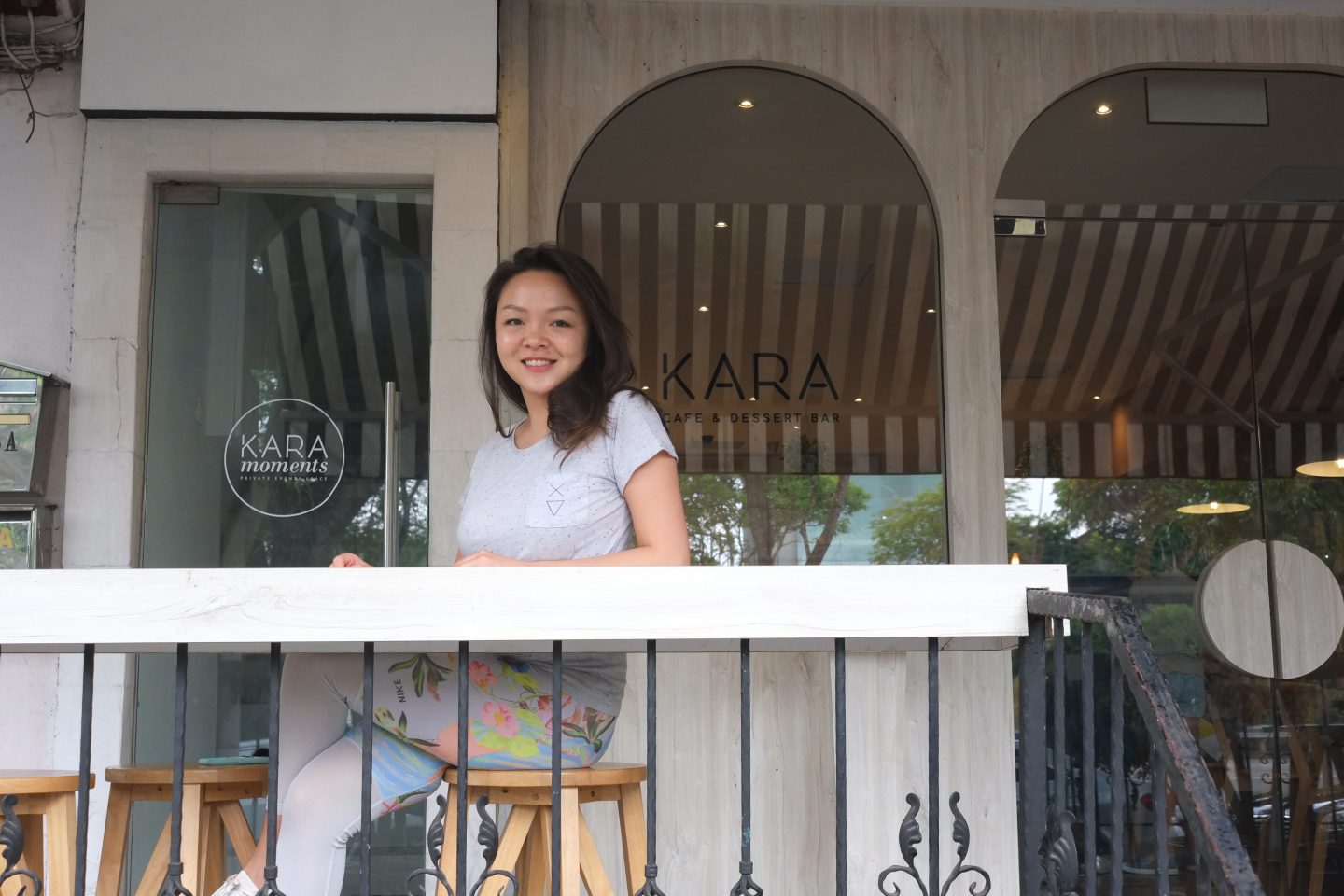 Kara Café & Dessert Bar owner, Lee Li Ping, has committed to retaining and paying her eight full-time staff as well as giving free frozen yoghurt to teachers, even as her profits have fallen by more than 50%. Photo by Gracia Lee.
It is often said that behind every business is a story.
For Kara Café & Dessert Bar, the story is one of redemption and surrender to God, as told through the life of its owner Lee Li Ping, 32.
A few years ago, Sogurt, a popular home-grown frozen yogurt brand, had just been the shell of an ailing business, which reflected the state of Lee's own tangled life.
But God met her in her darkest valley and gave her a new life in Christ, which she now expresses through a business that she has repurposed for Him.
The peak
Lee was just 23 and fresh out of university when she set up Sogurt, backed by her parents and an intense love of frozen yogurt.
When she opened her flagship store at Bukit Timah Road in March 2010, business got off to a roaring start.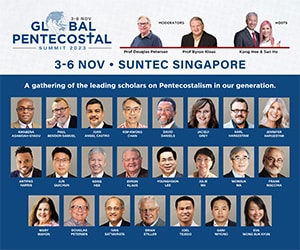 Customers streamed in continually as word quickly spread on social media, which Lee used expertly to extend Sogurt's reach.
In just six months, she managed to break even.
That year, she opened two more outlets.
The following year, she opened another five.
It was a flurry of constant activity: Running the outlets, signing new leases, entertaining journalists from various media outlets and hiring more Sogirls, the collective name of the brand's largely teenage part-timers.
At its peak, Sogurt had eight stores and a community of more than 100 Sogirls.
It was all Lee had envisioned for Sogurt: A place where people could be comfortable, hang out with friends and enjoy themselves over good frozen yogurt.
Lee was a young entrepreneur, and a successful one at that. She relished it, and it bolstered her self-confidence.
Her success flamed the fire of her pride, convincing her that she did not need God. Even though she had grown up in church and was baptised as a little girl, she had fallen away from the faith "big time" when she was in her early teens, she said.
"I was young and cocky lah. I went pretty far with my own efforts and talents and strengths, and it was working. Even without God, I was achieving a certain level of worldly success."
But that would not be the case for long.
Rock bottom
In 2015, business hit rock bottom.
"We made a couple of bad calls," Lee admitted.
Apart from being stuck in several bad leases, she also faced a declining frozen yogurt trend and competition from other stores. "We really started bleeding … in a year if we weren't careful, we could lose a million dollars."
The crisis spilled over into her relationship with her parents, who were funding her venture and had become more involved in the business as it expanded. In particular, her relationship with her father became strained.
Growing up, she said, her father was "a typical Asian dad, emotionally absent". She always yearned for his approval, but never seemed to be able to gain it.
This worsened when they began working together. They could not see eye to eye and often clashed with each other over their differing viewpoints.
"Isaiah 61:1-3 broke my shame and the lies of condemnation … It reminded me that He is my Redeemer and Restorer." 
She felt resentful, but also wrestled with the guilt of losing her parents' hard-earned money and the shame of failing to live up to others' expectations.
All the confidence that she had built in herself over the past few years was "completely wrecked", she said.
As if all this was not enough, she suddenly suffered a mysterious health issue when her menstrual cycle stopped. Visits to multiple doctors, specialists and alternative medicine clinics were fruitless in diagnosing what was wrong.
Fearing that she would be barren at such a young age, she spent hundreds of dollars seeking out every possible treatment, even unconventional ones. But nothing worked.
"Everything was crumbling. I was at my wit's end," she said.
She had always prided herself on being strong and capable of seeking out solutions to her problems, but things were spiralling faster and faster out of her control.
Back to the Father
In this season of helplessness, God led her to Sonship, a small community church, where she found an authentic community that allowed her to be vulnerable.
"I felt so safe that I could just drop off all the masks and all the pretences and say: I need help. I realised that I didn't have to be all these things (to be worthy). That's when healing came," she said.
It was spiritual healing that came first.
"It was just the process of the Lord knocking down whatever I had built with my own strength, and then rebuilding me up again."
As she read the Word and journeyed with her community, she began to realise how much God loved her as His beloved daughter.
Quoting Isaiah 61:1-3, she said: "These words broke my shame and the lies of condemnation that led myself to believe that I was too far gone, irredeemable and unlovable. They reminded me that He is my Redeemer and Restorer." 
It was then that she stopped trying to wrest control over her life. She surrendered everything to Him.
With the help of a Christian mentor, she also worked through the deep emotional issues she had been grappling with, one of which was her tense relationship with her father.
By God's grace, she found the restoration she had always sought. In a counselling session with her father, all the buried hurt she had was brought to light, where it was met with understanding and deep reconciliation.
"At the end of the session, we looked into each other's eyes and told each other 'I love you'," said Lee.  
They then held hands and dedicated their business to the Lord.
A new chapter
The spiritual and relational healing she experienced paved the way for the restoration of her business.
"Once there was that alignment and my dad and I could see eye to eye, we could communicate effectively and make wise decisions. And it felt, for the first time, like a real partnership," Lee said.
They set out to rebrand Sogurt in a bid to increase revenue by selling food and drinks.
But this time, the process was different. "The rebranding was really a journey of partnering with the Holy Spirit for ideas and inspiration, and it was so different because my whole journey I had been doing it by myself," she said.
The final product was Kara Café & Dessert Bar, which was launched in 2017. On top of frozen yogurt, it now sells a host of grain bowls, pastas and grilled sandwiches, as well as coffee, tea and smoothies.
"Kara, or qarah in Hebrew, has the same root word as Kairos, which is to be at the right place at the right time, and to meet the right people. In Latin, Kara also means beloved," Lee explained.
The name reminds her of how God welcomed her home as His beloved daughter even though she had rebelled against Him.
She wants the café to be "a Kingdom business run on Kingdom principles", but admits it is difficult.
"One part is a capitalistic approach, where you need to do whatever it takes to make sure that you scale and make money. The other part is very socialist, caring for human wellbeing and human flourishing. It seems to be the other extreme and does not make business sense."
But she prays for wisdom whenever she has to balance these two seemingly conflicting aspects: "You really have to look to Christ and find the answers in Him. He really has the solutions, through the Word, through our relationship with Him."
A Kingdom business
Lee believes her calling is to reach out to and invest in the next generation, and hopes that her business will be a vehicle for her to engage and have a voice in the public sphere.
"He makes all things beautiful in His time. Trust His time, trust His plan, trust His hand."
She has begun doing so in the two-story loft that sits above her café. It had previously been rented out to an interior design firm, but Lee felt that "the Lord wanted something special for that space".
She has since converted it into a cozy private event space she now calls Kara Moments. Apart from hosting birthdays and gatherings, Lee also rents out the space for Christian talks and seminars at a discount.
Since last December, Lee has used it to hold monthly Kara Loft Sessions, two-hour-long sessions of food, worship and prayer,  open to the public.
"There are a lot of people who want God and need God, and want to experience Him, but the church, as an institution, is too intimidating," she said.
She hopes that these loft sessions will be a safe place where both believers and seekers can come and soak in God's presence through worship, as well as be part of a community where they are seen, loved and accepted.
"People who are worn out can come to chill, relax, get refreshed, sing songs and connect. Really connect," she said, stressing that these sessions, however, are not meant to replace church services.
There have only been four sessions so far, but she has already seen God's hand moving in the place.
"The crowd is so diverse. People from different age groups and completely different life experiences come into the same space and feel as one, praying together as strangers and finding healing and freedom. That was something we could not have planned for."
Coming full circle
Looking back on the lowest points of the past nine years, Lee said: "I didn't know at that point, but it was just the process of the Lord knocking down whatever I had built with my own strength, and then rebuilding me up again."
She has now come full circle.
After opening and closing about 15 outlets over almost a decade, only her flagship store remains.
"We're back here, back to where we began, but with a newfound purpose," Lee said.
Come what may in the next decade, she is ready to surrender everything to the Lord just as she has for Sogurt.
"He makes all things beautiful in His time. Trust His time, trust His plan, trust His hand."
If you have enjoyed reading Salt&Light...
We are an independent, non-profit organisation that relies on the generosity of our readers, such as yourself, to continue serving the kingdom. Every dollar donated goes directly back into our editorial coverage.
Would you consider partnering with us in our kingdom work by supporting us financially, either as a one-off donation, or a recurring pledge?
Support Salt&Light