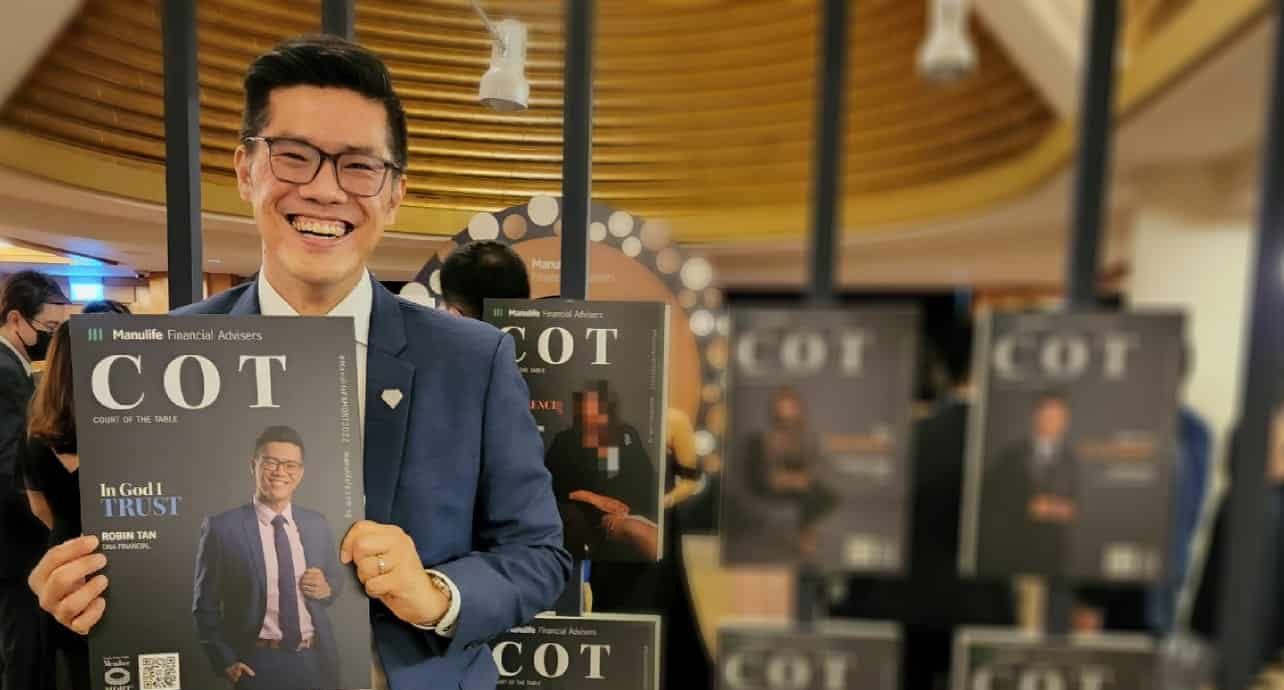 Robin Tan thought that having left his life of hard partying behind, he would be in the clear. But God would lead him on a path to deal with transformation from the inside out. All photos courtesy of Robin Tan.
He was a self-confessed hard drinking, womanising "hard-core party animal" who smoked and gambled till he lost everything. 
The litany of mistakes was long.
Driving drunk one day, he ended up on the wrong side of the road, crashing into an oncoming car. Thankfully, no one was hurt.
"Jesus, I want to follow You. Unless you remove these urges, I cannot. But I am willing to surrender to You."
At work, he was asked to leave because the many late nights meant as many no-shows in the office the next morning. 
He tried to quit drinking and get his life right. But when the girl whom he thought was "the one" broke up with him, he returned to the bottle. Depressed and suicidal, he challenged God and tried to change.
Again and again he failed.
At the end of his rope, he gave up his desire to be what he pictured to be a "normal Christian" and wrote God a long letter.
"I told Him, 'I want to follow Jesus. Unless you remove these urges, I cannot. But I am willing to surrender to You.' "
That was the day – February 7, 2012 – that Robin Tan's life changed completely. The desire to drink, smoke and live the loose life left him.
He enrolled in a diploma course in the prophetic ministry and committed his life to serving in church.
He thought his demons were behind him. But he had more battles ahead.
Rebel with no cause
From young, Robin was a rebel with a "deceitful heart", he told Salt&Light.
In primary school, his mother once gave him $10 to buy books at a book fair. He took two books but did not pay for them. Instead, he used the money to buy two video movies from a video rental shop.
When questioned, he lied.
"When my mother found out the truth, I got beaten hard."
On another occasion, he stole from his mother to buy Japanese anime collectible cards.
"My mum found out one morning before school. She was so furious she was screaming and shouting at me. She threw my cards out of the window.
"It wasn't peer pressure. Nobody taught me to do it. It was just me."
His parents are Christians and Robin went to church regularly. On the surface, he appeared to be a youth on fire for God.
"I knew God. I had some encounters with God that felt real. At a church camp, I was slain in the Spirit, I saw visions of good and evil.
"My heart was very hardened."
"The encounters brought me closer to God but I wouldn't say I worshipped God. It was not a relationship that was so close that I would call myself a disciple of Christ. I told people I was a Christian but my actions weren't always like that."
By secondary school, he had started gambling, placing football bets with bookies and smoking. 
In junior college, he missed classes and flunked out. When the school asked to meet his parents, he got a friend to impersonate his mother.
By then, Robin had stopped going to church. His parents were in a different church so he could hide this from them. But not for long.
"My mum has the gift of prophecy and God would show her visions. She always warned me, 'You can hide from me but you cannot hide from God. God shows me.' "
None of that stopped him.
"My heart was very hardened."
By 21, he was frequenting Orchard Towers almost every night, downing a bottle of whiskey each time.
Heart and body healed
But when, at 29, Robin finally surrendered his life to God, the change was nothing short of miraculous.
He not only went to church faithfully, he attended prayer meetings and cell group, devoting up to two weeknights a week as well as weekends. He also shared his testimony of transformation freely to encourage others.
That same year, 2012, he enrolled in a diploma course in the prophetic ministry. At the inauguration ceremony of the course, those who moved in the prophetic came to pray for the students.
"One pastor prayed for me and said, 'The last seven years of your life, you have been in the wilderness. But God is going to lead you out of the wilderness, not just you but your family also.' "
There was more. When the pastor in charge of the ministry prayed for Robin, he wept.
"My pastor saw a vision of my mum on her knees praying for me. She was crying out to God. That really broke my heart. It was a healing for my heart."
"For some reason, I had thought my mother didn't love me as much as she loves my sisters. But that couldn't have been further from the truth.
"After she prayed for me, I had a clean bill of health. I believe God healed me."
Robin began to cultivate spiritual disciplines. He prayed, fasted and read the Bible.
"I was hungry for God. During that season, I was experiencing God on a daily basis. My life was different because I finally took God seriously.
"As a youth, I had had those encounters but I was unyielded to God in my life. You can have all those experiences but still be unyielded."
Then, at a conference, a woman stepped forward to pray for Robin.
"She told me, 'Young man, God told me to pray for your liver. I don't know what that means.' "
But Robin knew. After his years of excessive drinking, smoking and sex, the thought had crossed his mind that he might have liver failure, lung cancer or a sexually-transmitted disease.
"After she prayed for me, I went and had a medical check-up. I had a clean bill of health. I believe God healed me."
Pride of life
While Robin was experiencing spiritual highs, there was still something in his life with which he had not dealt.
He was a financial advisor and, at first, had worried that spending so much time away from work would affect his business. Instead, he ended up doing "exceedingly well". 
"I wanted money for my selfish reasons more than for the Kingdom of God."
Soon he was able to clear the debts he had incurred from his life in the fast lane. But, in time, wanting more money became Robin's focus.
"I think I have a tendency to get hooked easily – I became obsessed. The kind who gets greedier when your account is bigger.
"My friend remarked that, in my earlier years, I had lust of the flesh and lust of the eyes. But now I had pride of life.
"I wanted to have more for myself. I had to make more money, as much money in the shortest time possible. Why? I don't understand."
But he did not immediately think there was anything wrong with wanting so much, especially since he was generous towards God.
"I gave to church, to ministries, to missions, whatever. But I gave out of the abundance that I had. I wanted money for my selfish reasons more than for the Kingdom of God."
Not content with the income from his job, Robin turned to investing.
During the quiet months of Covid lockdown, he went into day trading. Again, raking in seven figures came easily.
Back to basics
The thought of retiring early came to mind.
"I didn't realise my heart had become proud. That was my King Nebuchadnezzar moment (Daniel 4:28-35)."
Then, in September 2021, his investments began to fall through one by one. He lost everything.
By then, he was already married with children. His loss was not just his alone. "Dazed and zombified because of the scale of things", Robin became depressed and suicidal. All this strained his marriage.  
"I thank God we have a common faith."
"I lost everything – what God had blessed me with, what God had delivered me from. This was not like my drinking problem. It was much worse. I thought of jumping down."
He came clean to his wife and, though there was friction, she was very supportive. 
"There were times when we were in arguments and we came very close to calling it quits. But the Holy Spirit prompted me and I literally sensed it was time to shut up and cool down.
"Then we would pray together. I thank God we have a common faith."
Robin realised that over time he had let his "dependence and reliance on God wear thin". That had allowed sin to take root.
Going back to the basics, tending to his love for God and relationship with God is what he has been purposing to do. He also hopes to share lessons he has learnt with others facing similar struggles.
"The problems are still there, the financial consequences. But now it doesn't matter to me anymore, having money or no money.
"I'm going back to God and trusting in His mercy and grace."
---
RELATED STORIES:
"I was a hardcore party animal": Paid sex, gambling and drinking every night but he was empty inside
She left church for 20 years, tried New Age spiritualism – but God called out to her
In a coma and dying, she saw visions that readied her for life without limbs when she awoke
If you have enjoyed reading Salt&Light...
We are an independent, non-profit organisation that relies on the generosity of our readers, such as yourself, to continue serving the kingdom. Every dollar donated goes directly back into our editorial coverage.
Would you consider partnering with us in our kingdom work by supporting us financially, either as a one-off donation, or a recurring pledge?
Support Salt&Light