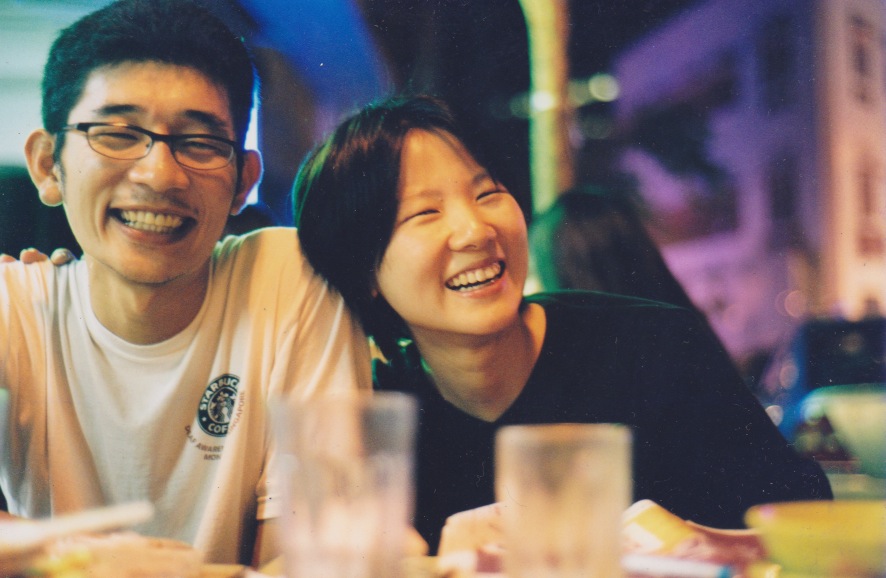 Eitaro Ogawa and Tamae Iwasaki in their younger days. The husband-and-wife team moved to Singapore in 2001 to work at a local art institute. Photo courtesy of Eitaro Ogawa and Tamae Iwasaki.
They are known for HDB: Homes of Singapore, their photo compilation of HDB flats. But Eitaro Ogawa and Tamae Iwasaki will soon be moving on to greater heights. Their next project will be one that, in their words, "redeems art" for the Kingdom. 
The artists, who together go by the name Keyakismos, a derivative that expresses their belief in the power of collaboration, are planning to move back to Japan in 2019 to set up a faith-based art collective. 
The art collective will "house" the house of prayer (Isaiah 56:6-7) they have been inspired to start, although the husband-and-wife team are still deliberating over which part of Japan they will move to. 
This could well be a lifelong assignment, but it will have swift beginnings – whether or not they have a physical building. Eitaro, 45, says it will be established as soon as the first batch of volunteers gathers to form the art collective. 
"The place doesn't make it a house of prayer. His house already resides in our hearts. As long as we are gathered, He is here. We are talking to Him.
"If work is worship, having food is worship, gathering to have a meal is worship, then everything we do is a prayer unto God." 
"Everything we do is a prayer unto God."
Creative scheduling
The couple hopes to introduce Jesus and the Good News of His Kingdom to all who come to participate in the art collective. The specifics have yet to be worked out, but Eitaro plans to start each work day with prayer.
"We will tell them: Pray for your families, your relatives, the communities you belong to, and Japan," he says, drawing from his experience with Pameran Poskad, their recent exhibition showcasing postcard-sized artworks submitted by members of the public. 
"What I'm imagining is, we work for half a day, and after lunch, we can read the Bible together, we can worship together, we can learn together." 
Christians and non-Christians alike can interact during their shifts, and Eitaro and Tamae are also looking forward to inviting Singaporeans to visit their "ever-expanding" project.
 

Land of the risen Son? 
Japan clearly became the place God was sending them back to when, to prepare for their call to missions, they left their jobs at the Singapore Tyler Print Institute (STPI). 
The decision to move was not made without reservations. "After working for 17 years in Singapore, we both told ourselves we cannot work in Japan anymore. It's such a different culture," Eitaro says. 
But at 3am one night about two years ago, God woke him up to read Ezekiel chapter three. In Ezekiel 3:4-6 and Ezekiel 3:10-11, God tells the prophet he will be sent to the "people of Israel", who speak the same language as he does.
Eitaro sensed it meant Japan, where only about 1% of the population are Christians, was his next destination. His thoughts were confirmed by the teachers he met at Tung Ling Bible School, where the couple went to study.
In Japan, many Shinto temples are open 24 hours a day, and one would always be able to see a person there, praying. (Shintoism is one of the two main religions in Japan; the other is Buddhism.) "They are genuinely praying and seeking help," Eitaro shares.
"But they have gone to somebody else, not Jesus. What's happening to our house of prayer?"
Eitaro hopes that through his and Tamae's work, the lost in Japan will bring their burdens to Jesus (2 Chronicles 6:32-33).
Sacred art, all around us
God is the consummate Creator, after all, and art plays a central role in His society. For one, it reflects God's image in man. He also made sure early on that His glory would also be known through the aesthetic (Exodus 35:30-35). 
God made sure early on that His glory would be known through the aesthetic.
"Why do people talk about colour, fashion, hairstyles, paintings, tasty food, nice furniture, good architecture? Because we desire beauty, and these are images of God in us. God made all things good (Genesis 1:31).
"Our time at STPI taught both of us that as human beings, we are only 'secondary creators'. We can't create anything without God," Eitaro says, adding that humans are just collaborators availing themselves for His use. 
"We need wood to create a table. We need fish to cook food. We need flowers to paint flowers. But we cannot create wood, nor fish, nor flowers. That's done by Him. And we often forget who the original creator of the world is."
Tamae, 45, offers: "It's like celebrating a master chef who comes up with an amazing recipe, but actually, God's hand is all over it."  
This was their experience when they decided to come up with HDB: Homes of Singapore. Released in March 2017, the book was nine years in the making, from conception to print.
When the couple finally started collating photos in 2013, with the help of co-author and architect Tomohisa Miyauchi, they had hopes to coincide its launch with the 2015 SG50 celebrations.
But three years passed and they did not have enough money to get it out. They had gone into the project with "faith and lots of prayer" but were beginning to feel disheartened, Tamae says.
"When we work with God, the results will be far more than what we can do."
Then Miyauchi, who was the co-curator of the Singapore Pavilion at the 2016 Venice Biennale, was picked to produce an installation. He chose to feature the photographs of the flats, which became the exhibition's centrepiece. After that, funding from both the public and the government's heritage board slowly came in. 
"Venice was even better. It was such a perfect timing. The installation was so beautiful," Tamae says.
"Everything happened beyond our imagination," Eitaro adds. "It showed us that when we work with God and wait for things to happen, the results will be far more than what we can do (Ephesians 3:20-21)."
Finding closure 
While Tamae was ready to leave her job immediately after she sensed that God was calling them to the mission field, Eitaro was more hesitant, and asked for signs.
One of them turned out to be a rainbow. It was the last day of September 2016, which marked the end of their fifteenth year with STPI. That evening, they saw a full rainbow outside their workplace. 
It was also almost exactly 15 years to the date when they had spotted a similar rainbow outside their hotel window – a place near STPI – the morning after they first arrived in Singapore in October 2001. 
"Then Eitaro said, 'Yes, this is enough'," Tamae recalls. 
"God never fails to show me my next step, and it's so good to know that someone is watching over me, walking with me," she adds. "Life has become more challenging, but then I need Him more. I pray more, and He gives me more."
"I have this Father who has never forsaken me." 
To find out more about Eitaro and Tamae's journey of coming to Christ and how their marriage was restored, read the first story from this two-part series: