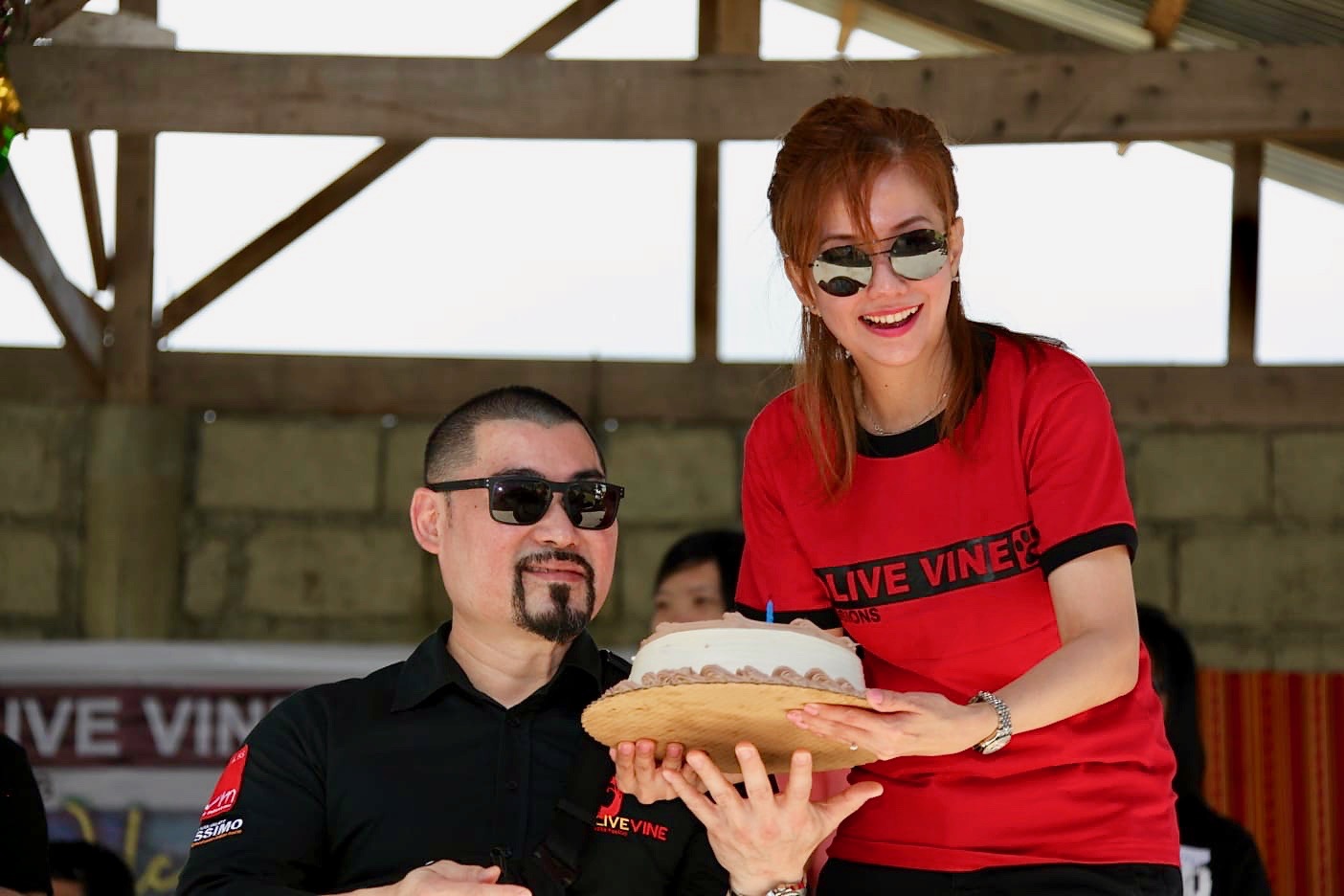 In 2013 Jason Ong was so ill that he was awake only two to three hours a day. Judith was constantly crying out to the Lord to save her husband. All photos courtesy of Judith Halim.
As Jason Ong lay on his bed dying, his wife Judith was filled with pain.
She had already gone through a great deal, having been abandoned in a foreign land with a special needs child. Now it looked like she would soon lose her second husband, her partner in missions.
One night, when she could not sleep and was crying and praying all night long, Jesus appeared to her.
"He held me in his arms like a child and patted me and told me that all would be well," said Judith.
The next day, Jason told her he had a similar encounter with Jesus, who had told him: "I am moved by the tears of your wife. I will heal you."
A miracle
The couple did not have much time to process what the visions meant.
Ironically, the pain in Jason's head intensified. He called his doctor to ask for morphine to die with dignity.
Instead, the doctor asked him to go for another brain scan. After seeing that scan, he told Jason to seek a second opinion with another doctor at the National Neuroscience Institute (NNI).
The NNI professor told him that a miracle had already happened because the scan showed that the tumour had grown to the size of two eggs.
One was in the brain and one was outside. Technically that would have pushed his brain out of the brain cavity or he would have had a stroke or be in a coma.
Yet Jason was still alive and able to talk to him!
"I asked my wife if she would release me as I was very tired. She cried and said, okay I will release you."
The professor, however, said Jason had to have surgery soon.  
Three days later, the doctor removed the tumour inside Jason's brain and cut away most of the tumour that was outside his brain. Knowing that he was a servant of the Lord who wished to teach and preach, the professor was careful not to touch the main artery or facial nerves.
More than 80% of the tumour was removed and the surgery was a success.
But Jason came out of surgery not able to see. He could not breathe well and was in tremendous pain.
"At that time I just felt so tired and it was my lowest point after 10 years of  fighting cancer.
"I asked my wife if she would release me as I was very tired and wanted to go home to God. She cried and cried and said, okay I will release you," recalled Jason.
"Jesus is here"
That took place on a Saturday afternoon in March 2013, a day after the surgery was done on Friday.
At around midnight that Saturday, Judith, who was sleeping on a sofa in the corner of his hospital ward, woke up to the cries of Jason.
"He was shouting, 'Jesus is here, Jesus is here' and he was trembling so much that the hospital bed was shaking hard," recalled Judith.
"His presence was so strong that I got a glimpse of what holiness looked like."
She quickly made her way to his bed but, halfway there, she was overcome by the presence of the Lord. The weight of His presence was so heavy that she could not proceed forward and fell down on the floor. In the presence of God, both of them could only utter the words: "Thank you, Jesus."
"I did not see His figure  but His presence was so strong that I got a glimpse of what holiness felt like and looked like. It is so holy and awesome that I cannot describe it in words," said Jason.
Feeling a hand touching his forehead, he took a deep breath and fell asleep.
Judith saw him take that breath and returned to the sofa to sleep.
The next morning, Jason woke up and saw his wife still sleeping on the sofa. He realised that he could see, could breathe and was no longer in pain.
Attempting to walk, he found to his surprise that he could, even though he knew he was not supposed to after having gone through major brain surgery.
He decided to take a shower, careful not to wet the bandage on his head.
"He said he had never seen anyone recover so fast in his years of professional practice. This is a miracle!"
When he emerged, he saw a commotion. The nurses were panicking and the bell was ringing because they thought a patient had gone missing.
He told them he went to bathe and got a scolding from the nurse, who said it was very dangerous for him to do so. She called for the doctor, who asked if he was all right.
"He said he had never seen anyone recover so fast in his years of professional practice. This is a miracle! I said, yes, God is good," smiled Jason. 
By Monday, only three days after the surgery,  the doctor agreed to have him discharged.
"I will still praise Him"
Today, Jason and Judith continue to live by faith. There is still a possibility of a relapse as a remnant of the tumour is left.
"Even if it comes back, come what may, I will still praise God and say that He is good," said Jason.
He tells his doctor that he will  not go for his annual check up unless the symptoms return.
Jason and Judith, who are ordained pastors, are still keeping up their humanitarian work overseas, the restaurant business, and training and equipping the body of Christ through conferences and seminars.
Joel is now 24 years old and helps out with customer service and food preparation at Olive Vine.
After his encounter with Jesus in the hospital, Jason is especially focused on calling for holiness in  the lives of believers.
"If you look at my face, there is no part that looks like I am holy or that makes me look like a pastor. But God took a rascal and made him a pastor. I will give anything in the world to meet with Jesus and His holiness again," said Jason.
"Holiness is addictive," he smiled.
If you have enjoyed reading Salt&Light...
We are an independent, non-profit organisation that relies on the generosity of our readers, such as yourself, to continue serving the kingdom. Every dollar donated goes directly back into our editorial coverage.
Would you consider partnering with us in our kingdom work by supporting us financially, either as a one-off donation, or a recurring pledge?
Support Salt&Light