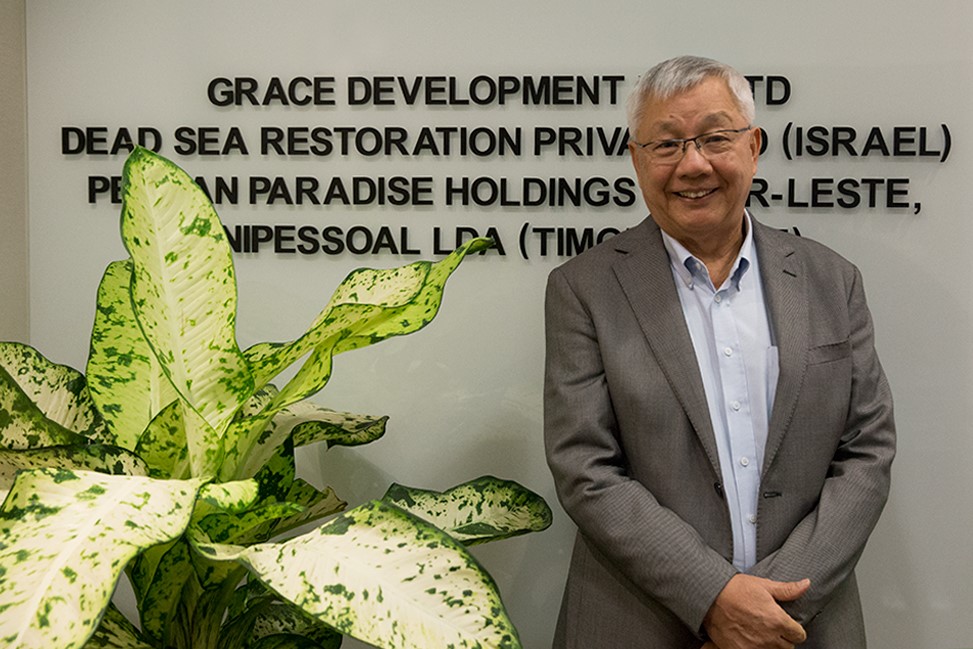 While we like to regale with the stories of success and victorious battles, we shun away or gloss over the tough and low points.
Yet it is the difficult moments that mould our character the most – they make or break the person within.
The decision to do business God's way is not always smooth sailing. It can be fraught with unexpected problems as Datuk Ong, the founder and developer of Sutera Harbour, found.
To Datuk, trouble comes with the territory of trusting God: "The enemy wants you to be a lukewarm Christian. We can all say we love the Lord and will surrender, but most times we do not surrender anything. When we serve the Lord fervently and stick to His Word, then it becomes a big challenge."
Yet, he remains undaunted, with an indomitable spirit, often quoting: "The way we live is the consequence of the size of the God that we believe in."
His God is big … way big!
Big problems, bigger God
To finance the Sutera Harbour project, Datuk Ong had to take out an initial loan of US$300 million at an exchange rate of RM2.5 to US$1 in 1993. Four years later, when the Asian Financial Crisis hit the region, many local currencies were thrown into a turmoil and some went into a free fall against the American dollar.
To stop further losses, the Malaysian government introduced capital controls and pegged the ringgit at RM3.8 to the US dollar. As Sutera Harbour's loans were denominated in US dollars, the revaluation caused his debt to balloon from 750 million to almost 1.4 billion ringgit.
Overnight, he was saddled with a RM 450 million debt that took him another 15 years to clear. 
They say it never rains but pours.
Not only financially down and out, his wife, devastated by the financial losses, left him within the year in 1998 and remarried a couple of years later. His marriage had irrevocably broken down and his children were estranged from him.
Rock bottom
"I reached rock bottom, with nothing to prove, nothing to show and nothing to hide."
"At the pit of my life was also where I found God. I realised that I can deny him, or go all out for Him … I can lose everything but not my salvation."
What does a man do, or even think, when his life has utterly unravelled and he is left with nothing?  
"At the pit of my life was also where I found God. I realised that I can deny him, or go all out for Him. At the end of the day, we must consider if our salvation is worth what we lose. I say my salvation is more important – I can lose everything but not my salvation."
The verses that saw him through that dark period of his life still hold dear today … reminders that he serves a great and loving God.
"For I am convinced that neither death nor life, neither angels nor principalities nor powers, neither the present nor future, nor any powers, neither height nor depth, nor any anything else in all creation, will be able to separate us from the love of God that is in Christ Jesus our Lord." Romans 8:38-39
Dark moment
In 2015, God came through again for another dark two hours in Datuk Ong's life.
He had taken his family on a holiday in the United States of America and they were journeying by train from Washington to New York. There was 15 of them in all, immediate and extended family.
What would have been a happy occasion turned tragic. They were travelling on the  train that made headlines on May 12, 2015. Amtrak Passenger Train188 derailed while rounding a bend.
The first carriage Datuk and his wife were in and was destroyed on impact. Seven in his carriage died, one had to have his legs amputated. In his carriage, Datuk Ong and his wife were the only ones who survived with minor injuries.
In the chaos, they could not contact the other members of his family and had no idea if his four children, his sisters and their spouses were alive or dead. It was the second darkest moment in his life.
Sitting in the midst of the accident,  his wife challenged him to declare Psalms 91. And in true Datuk Ong fashion, he prayed and declared that Psalm in full over each of the other family members lost in the wreck.
When he finished praying after two hours, his phone rang. His daughter called to say every one of his family travelling in the other carriages had escaped unharmed.
What the enemy intends for evil, God can and will use for good.
Restored and renewed
Over the years God restored to Datuk Ong what he lost. He is now happily settled into his third marriage and reconciled with his children. 
"The journey is painful because we look at the worldview and we are so shy about it. In God where is there bitterness? If the grace of God can be extended to us, we can also extend it to other people.
"We do have bitterness, but we don't keep it too long. We have to release and let it go. When God tells us to forgive others, it is to release our bitterness and for our own good.
"I  share with my people all the brokenness. It is nothing embarrassing. Every time you share, you give the glory to God. It's God's grace and nothing else but His mercies."
Read here for Datuk Ong's life story and the management principles with which he runs his companies
If you have enjoyed reading Salt&Light...
We are an independent, non-profit organisation that relies on the generosity of our readers, such as yourself, to continue serving the kingdom. Every dollar donated goes directly back into our editorial coverage.
Would you consider partnering with us in our kingdom work by supporting us financially, either as a one-off donation, or a recurring pledge?
Support Salt&Light