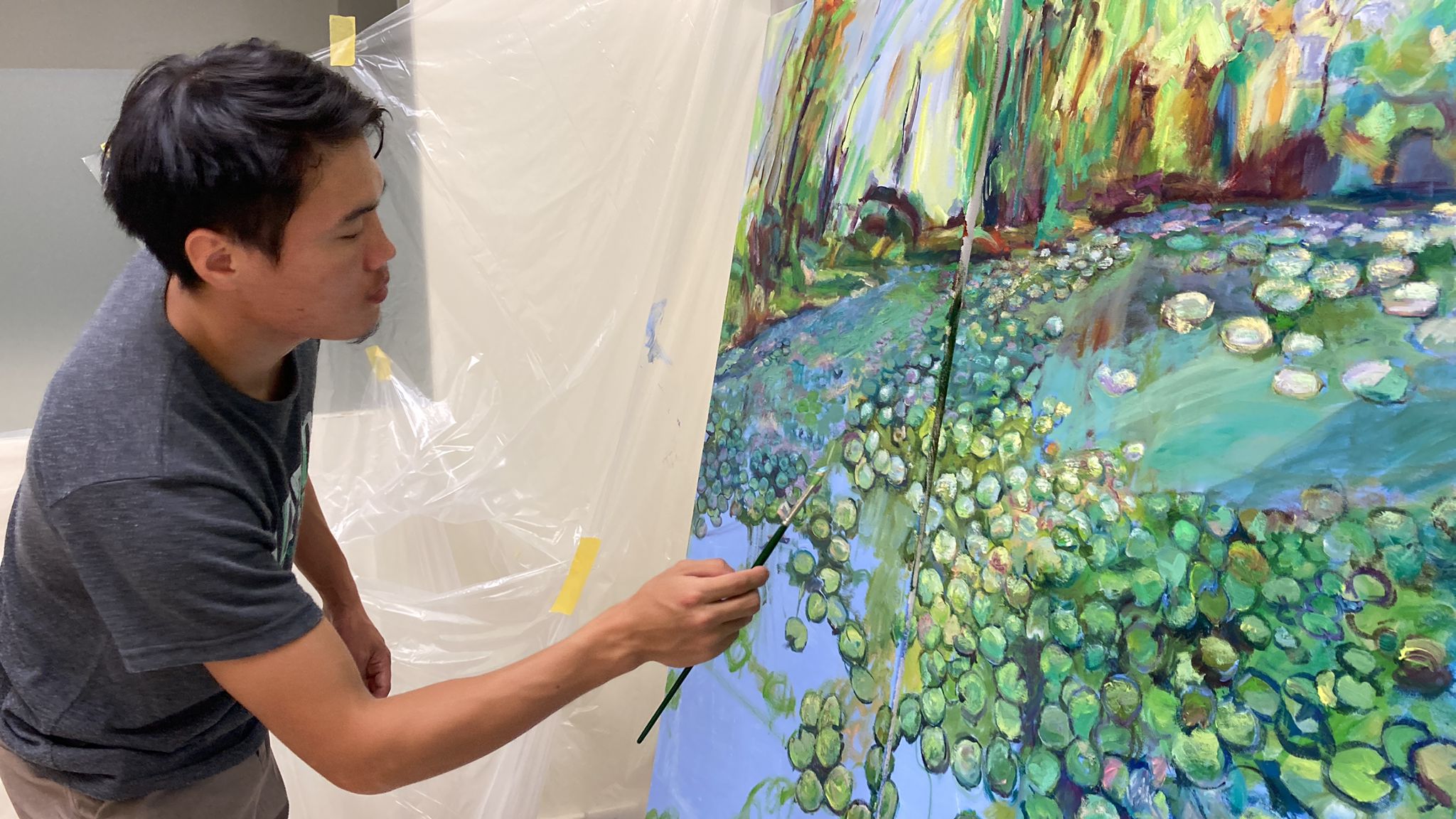 Byambajargal is said to be the first Mongolian artist to have held a solo exhibition in Singapore. Photo by Thomas Franks.
A bed of colourful flowers stands out as it rests on a vast grassland with shades of green that complement the backdrop of steep mountains and an azure sky.
The ripples of a pastel blue stream are accompanied by the rustling of trees by the riverbank.
Such scenery from the paintings 'Quiet Morning' and 'Along the River' are artist Byambajargal's interpretations of Psalm 23's "green pastures" and "quiet waters", which King David the Psalmist uses as metaphors for God's providence – except that his paintings depict the magnificence of the landscapes of his homeland, Mongolia.
However, the beauty of his works belie the arduousness of his journey to becoming a professional artist.
Early years
Now 26, Byambajargal – or Byamba as he is known to friends – did not have the typical childhood.
His father abandoned the family. With his mother struggling to raise him and his siblings, he was fostered to a rural family for whom he had to work as a shepherd.
By the time he was seven, Byamba was already herding hundreds of sheep and goats in the Mongolian countryside.
The job was so physically demanding that he broke his arm.
While this was disabling for a time, and the memory painful, he would go on in later life to persevere and prove himself an artist.
No mountain too high
His efforts have paid off. Now an accomplished artist, he is the first Mongolian to have held a solo exhibition in Singapore. Entitled 'Moving Mountains', the two-month-long showcase was at Sound of Art, a faith-inspired art gallery in i12 Katong. 
It was his first overseas art exhibition, and was graced by the Mongolian Ambassador to Singapore as well as other representatives from the Mongolian Embassy.
"It's beyond my wildest dreams that I'm in Singapore and holding a solo exhibition here."
Speaking to Salt&Light last month through a translator, Byamba said: "I'm a nobody, but God has blessed me with such amazing favour.
"It's beyond my wildest dreams that I'm in Singapore and holding a solo exhibition here.
"I've met so many of His people who showed me the different aspects of God's love, generosity and wisdom."
Indeed, God's fingerprints are on every season of his life, even his darkest valleys.
The orphanage
After Byamba's arm injury, he was sent back to his village and cared for by his grandmother. When she passed away, he was left without a guardian and the police took him to a children's home near Ulaanbaatar, Mongolia's capital.
There, Byamba could finally play with other children, as well as attend school and church instead of having to work to support himself.
It was also at the orphanage that Byamba embarked on his journey of becoming an artist.
American visitors who observed his colouring and drawing gave him a colouring book. Subsequently, with the encouragement of his school teacher, he took part in art competitions and won prizes. 
A woman who had met Byamba only once before offered to pay his tuition fees.
His translator, Yee Ling, told Salt&Light: "Unlike other subjects, art is a subject he found very effortless to do. He's never thought of himself as gifted, it's just something that he's always enjoyed doing from young."
It was a dream come true for Byamba when he was accepted into the Mongolian National University of Culture and the Arts, the country's most prestigious art university. Moreover, a woman who had met him only once, years before, offered to pay his tuition fees.
This allowed Yee Ling and Byamba to meet through the non-governmental organisation (NGO) she was running in the 2010s.
The NGO provided stipends and bursaries for children from disadvantaged backgrounds. However, as Byamba did not have family, Yee Ling personally monitored the processing for him, to ensure that his funds were correctly administered.
Later, Byamba moved into the student dormitory run by the church Yee Ling attended and participated in its services.
University life
Going through university "wasn't easy" for him, Yee Ling said. "He had to work very hard at it.
"The process involves knowledge and practice, and he had to start from his first year at university handling materials correctly, mastering techniques.
While the talent and skill for painting came naturally, finding the money to support himself was not so.
"But at the end, there's a sense of satisfaction from creating something unique, and something that beautifies the world."
While the talent and skill for painting came naturally, finding the money to support himself was not so.
Byamba's tuition fees were paid for, but he did not have money for his daily necessities, let alone for the paints and canvases he needed.
"He lived far from school in an awful part of town where there was no running water, with a cemetery on one side and an old rubbish dump on the other and surrounded by factories," Yee Ling shared.
To support himself, Byamba did any job he could find. It usually involved construction and road building. Occasionally, he was a temp at a kebab stall where drunk people gathered at night.
He went to work immediately after class and his boss forced him to skip class at times, to work from morning till night. At times, he worked at temperatures of -30 degrees and afterward, had to walk 10km home at night.
Looking on at his rich classmates who could afford to buy cars and go to restaurants and drink beer after class, Byamba was often tempted to drop out of school so he could use the money he had for his daily expenses instead.
However, he endured his circumstances and managed to graduate two years ago, in the midst of the Covid-19 pandemic.
Yee Ling said: "He is the very first – and only – person in his entire family history to have attended university and graduated." 
At the core of his resolve was his faith in God to see him through.
A future and a hope
Byamba, like other children at the orphanage, was allowed to attend church. There, his Sunday School teacher told him about Jesus, and he pictured God to be someone who gives gifts.
"For the first time in my life, I had enough to eat and that's why I thought that God is a very generous God."
"For the first time in my life, (at the orphanage) I had enough to eat and that's why I thought that God is a very generous God," said Byamba, who was baptised at 11.
God not only continued to provide for Byamba, but also revealed Himself to him.
"An American pastor had come to visit the orphanage and prayed for me and suddenly, I just knew God was real. I was just convicted that God was real."
He added: "The love shown by God's people drew me to God. 
"Before I started going to church, life was very difficult and Christians were the only ones who ever showed me any kindness, so I was drawn to God that way."
God's ambassadors
Yee Ling was one of those Christians who went the extra mile for him.
She had thought that the paintings on the walls of the orphanage were works of a professional artist. It was only later that she realised they were painted by Byamba in his teenage years.
"Life was very difficult and Christians were the only ones who ever showed me any kindness."
When she chanced upon a Salt&Light article on the art gallery, 'Sound of Art', in July 2020, she realised it would be a good platform for him.
She had her reservations, as it was rare for even established artists to be accepted for gallery representation, let alone someone fresh out of university like Byamba.
Nonetheless, she contacted Sound of Art and Byamba's 'Moving Mountains' exhibition was set in motion.
Sound of Art co-founder Galven Lee, 33, told Salt&Light: "Many of our clients who bought his art were Singaporeans, who are particularly inspired by his story of rising from a very humble background, being touched by God, turning to Christ, and ultimately, using all of his artworks as an expression of his faith in God.
"We hope he will see himself as a channel of God's blessing to Mongolia."
Through God's eyes
Although shy by nature, Byamba is not bashful about giving credit to the One who inspires his vision as an artist.
He said: "Before starting every painting, I pray and ask God for guidance.
"Before starting every painting, I pray and ask God for guidance."
"I ask that both the process and the painting will please Him and be a blessing to those who see it."
Being a painter has also shown Byamba the splendour of his surroundings through the lens of his Designer, helping him capture intricate details in his works.
"Most of my art depicts natural landscapes and the animals (in Mongolia), so I hope it brings glory to God the Creator by drawing attention to the beauty in what He does. 
"God gave me eyes to see the beauty of His creation and a heart to respond in appreciation."
It is no surprise that he knows Psalm 23 by heart. "To me, this Psalm means peace," he said. "For example, verse 2: He makes me lie down in green pastures, He leads me beside still waters. 
"It's very real to me. I know; I've been there in green pastures and still waters."
"God gave me eyes to see the beauty of His creation and a heart to respond in appreciation."
The peace that the Psalm holds for Byamba has also brought peace to the lives of others. A comment on his personal website by a Dr Burenjargal from Mongolia reads: "Having his paintings on the walls is a blessing for the patients and staff of the hospice.
"They aren't just decoration; they cheer us up and have sparked peaceful reminiscing."
Byamba's favourite part of Psalm 23 is verse 5: You prepare a table for me in the presence of my enemies.
It is the most real to him "because there are many people that I need to forgive from my past".
While the memories of his hardships continue to be difficult, he testifies that God's providence has meant one open door after another for him to pursue his passion for art, for His glory.
"God gave me the interest and ability to draw and paint, and at the same time brought me to a place where there was art instruction and materials, and provided the funds so I could access them.
"He helped me make the right choices and to persevere through difficult times and provided all I need, be it people or necessities."
God also enlightened him on how his talent for art could be used to bless people. Byamba said: "Previously I was ashamed of my past and disadvantaged background, but now I realise that what's happened in my life actually shows God's goodness and can encourage others."
Covid restrictions
Graduating from university did not mean life was no longer tough. Covid-19 lockdowns were strictly enforced in Mongolia, and he struggled to find work to get by. There was nothing available – not even stints as a waiter or security guard. 
Never losing hope, Byamba continued painting and chose to look for ways to use his gift to bless others instead. He harnessed technology and conducted art classes over Zoom for children's homes and orphanages.
When restrictions were eased, he conducted in-person sessions for these children, as well as at nursing homes and hospices.
He also brought supplies, paintings and art materials to a home for elderly with disabilities.
As the opportunities became available, "from time to time, we travelled in a small group to different parts of Mongolia where he would paint", Yee Ling shared. "Since he specialises in landscapes, painting outdoors is an important part of his art creation process."
She added: "Once, we headed out to a famous, frozen waterfall and suddenly a lockdown was imposed.
"We were stuck in the snowy countryside for two weeks praying the money wouldn't run out before the lockdown did. At least Byambajargal got a painting out of it!"
Moving forward
Byamba's next stop is a prestigious art residency in France. He is currently applying for a Schengen visa which, if approved, would see him spending September in that area of Europe, doing what he loves most.
The plan is for him to stay in a small village next to a French botanic gardens and produce oil paintings inspired by his surroundings.
Byamba said: "I want to constantly improve so as to produce art that uplifts the Creator, that edifies and encourages the viewer and enhances its surroundings, wherever that is."
"My dream is to someday have a home for children from a similar background to mine, where they will find love and security and where they find their place in this world.
"I'm reaching that dream one painting at a time."
---
Salt&Light's interview with Byambajargal was organised by Sound of Art. 
Byambajargal's exhibition in Singapore ended on June 30, but his paintings can be viewed at and bought through Sound of Art. 
One family's calling to use art to share Gospel and raise funds for COVID-19 victims
If you have enjoyed reading Salt&Light...
We are an independent, non-profit organisation that relies on the generosity of our readers, such as yourself, to continue serving the kingdom. Every dollar donated goes directly back into our editorial coverage.
Would you consider partnering with us in our kingdom work by supporting us financially, either as a one-off donation, or a recurring pledge?
Support Salt&Light